Los Angeles Soccer:

Amobi Okugo
March, 24, 2012
3/24/12
9:01
PM PT
By
Scott French
| ESPNLosAngeles.com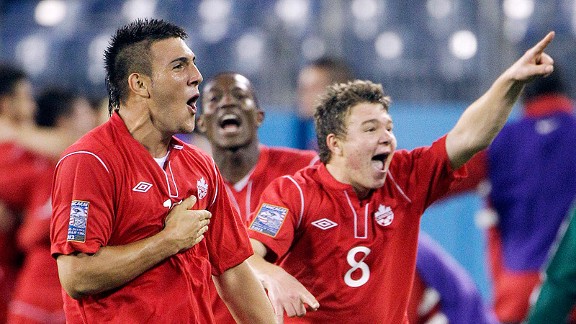 AP Photo/Mark HumphreyLucas Cavallini, left, and Doneil Henry celebrate one of Canada's goals against the U.S.

The bad news arrived for the U.S. under-23 national team before kickoff, and it just got worse. And now the Americans' qualification for this summer's London Olympics is in doubt.

U.S. Soccer announced before the game that star forward Juan Agudelo had suffered a torn meniscus and was returning to the New York Red Bulls for rehab. The team responded with a listless performance against Canada, marked by criminal defensive work on two set pieces that irretrievably altered CONCACAF's Olympic qualifying tournament.

The expected outcome -- that the Americans and Mexico would be the region's representatives in London -- appears almost certainly dead.

Canada tallied twice off corner kicks for a stunning 2-0 victory Saturday in Nashville, and it can win the Group A title with an expected victory Monday over last-place Cuba, a 4-0 loser to El Salvador.

The U.S. needs a victory over the Salvadorans to finish second, which likely would set up a clash with Mexico with an Olympic berth on the line. Form (and Agudelo's absence) suggests the Americans would struggle in such a matchup; one of two upsets -- Cuba over Canada or, Sunday at Home Depot Center, Honduras over Mexico -- would be necessary to avoid the showdown.

Only the semifinal winners March 31 in Kansas City, Kan., qualify for the Olympics.

Keeping tabs on the road to London:
The Americans lacked spark, were outbattled and fell apart defensively, and that was enough for Canada to claim a deserved triumph.
Both goals came from corner kicks on which D.C. United goalkeeper
Bill Hamid
's shortcomings were key.
March, 12, 2012
3/12/12
8:54
PM PT
By
Scott French
| ESPNLosAngeles.com
CARSON -- Jorge Villafaņa celebrated his call-up to the U.S. Olympic qualifying roster Monday with 90 solid minutes in a friendly against the L.A. Blues. The Goats' 1-0 defeat at Home Depot Center's Track and Field Stadium couldn't knock the smile from his face.
"I'm happy to be called up for the qualifiers," said Villafaņa, who as
Jorge Flores
(he legally adopted his mother's name last fall) made Chivas' roster five years ago after winning a television competition for the chance. "Can't wait to be there with my teammates and the national team. It's going to be a great experience and a good opportunity for all the players who will be there."
Villafaņa was among 19 players on University of Akron coach
Caleb Porter
's U.S. under-23 national team roster for the March 22-April 2 qualifying tournament, which will determine CONCACAF's two entrants for the men's soccer tournament at this summer's London Games. Home Depot Center will stage one of the first-round groups, but the U.S. will play in Nashville, Tenn., with the all-important semifinals and the title game in Kansas City, Kan.
Galaxy midfielder
Michael Stephens
, former UCLA midfielder
Amoki Okugo
(with Philadelphia), former Chivas defender
Zarek Valentin
(with Montreal) and San Diego's
Joe Corona
(with Club Tijuana) are part of the group set to convene Tuesday in Nashville. Porter has one player to add before the 20-man tournament roster must be finalized March 20.
Villafaņa, who in the last year has been converted from left-sided midfielder to left back, grew immensely the past two seasons and impressed the U.S. staff during a January camp with the U.S. U-23s and last month's stint in Frisco, Texas, before a Feb. 29 victory over Mexico's U-23s. He's the first-choice backup for
Ante Jazic
with Chivas, and Goats coach
Robin Fraser
likes how he's developing.
"You get picked for a national team, you're obviously doing something right," said Fraser, who made 26 international appearances for the full U.S. national team from 1988 to 2001. "I think he's a determined player who wants to play well wherever he's put on the field. An opportunity arose for him [at left back], and he's taken in and run with it. … I just think his confidence and understanding has grown greatly."
January, 12, 2012
1/12/12
10:46
PM PT
By
Scott French
| ESPNLosAngeles.com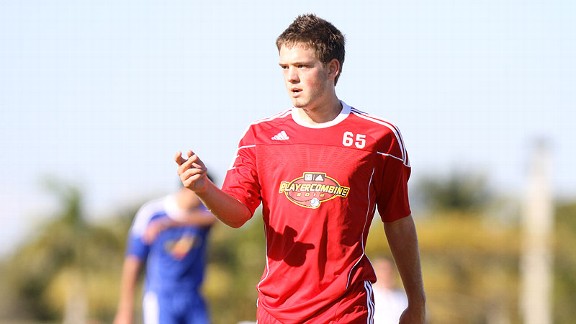 Major League SoccerUCLA's Kelyn Rowe, who was drafted No. 3 by New England, says he's honored to going to that organization.

CARSON -- Chandler Hoffman had heard the buzz, how his superb performance at Major League Soccer's pre-draft combine in Florida -- on top of his 18-goal, All-America showing for NCAA semifinalist UCLA -- had vaulted him into the top five, maybe the top three in the MLS SuperDraft.

So when Commissioner Don Garber began announcing the New England Revolution's selection with the third pick Thursday morning at the Kansas City Convention Center -- first noting the player was a Generation adidas signing from UCLA -- Hoffman got excited.

For a second or two.

It was Bruins teammate Kelyn Rowe the Revolution grabbed at No. 3, and Chandler sat down to wait. And wait. And wait.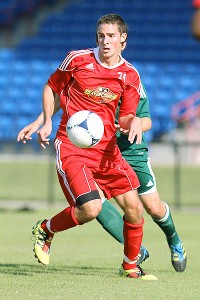 Major League SoccerIt was a longer wait than expected for UCLA's Chandler Hoffman, who was picked No. 13 overall by the Philadelphia Union.
By the time the striker from Birmingham, Ala., finally heard his name, he first round was two-thirds through and the Philadelphia Union, choosing 13th, was giddy.

"Pretty surprising. But good for us, right?" Union assistant coach John Hackworth told the league's website. "We get one of the best young attacking players in he country, someone that's proven to put the ball into the back of the net. There's nothing more valuable in all of soccer."

Hoffman's slide down he draft table was one of the big stories out of the headlining festivities at the National Soccer Coaches Association of America's annual convention, but not the only one involving local players.

There was Rowe, an attacking midfielder from Federal Way, Wash., whom New England coach Jay Heaps described during ESPN2's draft coverage as "a really critical player to our team."

And there were UC Santa Barbara standouts Luis Silva (Los Angeles/Salesian HS), who went to Toronto FC with the fourth overall selection, and Texan Sam Garza, taken by San Jose at No. 6.

Plus UC Irvine's Miguel Ibarra, a quartet of UCLA players, English midfielder Andy Rose most prominent among them, and several other hopefuls from local schools who now turn their attention to Tuesday's four-round supplemental draft.


January, 6, 2012
1/06/12
3:26
PM PT
Galaxy midfielder Michael Stephens, Chivas USA defender Jorge Villafaņa and departing UCLA star Kelyn Rowe are headed to Home Depot Center for a U.S. under-23 national team camp that begins Sunday.

The U-23s, preparing for Olympic qualifying in March, will train at HDC until Jan. 25, then head to Costa Rica for two matches against club teams. While in Carson, they will scrimmage twice against the full national team, which will be training Jan. 13-20 at HDC.

Stephens, an attacking midfielder who has played primarily on the flank for the Galaxy, is one of three UCLA products on U.S. coach Caleb Porter's 22-man roster, joining Rowe and Philadelphia Union midfielder Amobi Okugo.

Villafaņa (Anaheim/Anaheim HS), formerly Jorge Flores, is a fifth-year midfielder/defender, primarily on the left wing, for Chivas.

Rowe, the Pacific 12 Conference Player of the Year in 2011, is readying for Thursday's Major League Soccer draft. He signed a Generation adidas contract following his sophomore season with the Bruins and is expected to go early in the first round. He is at the MLS Player Combine in Fort Lauderdale, Fla., but is scheduled to fly to California on Monday.

Others with local ties in camp are defender Zarek Valentin, who went from Chivas to Montreal in November's MLS expansion draft, Los Angeles-born midfielder Joe Corona from Club Tijuana and Calexico's Isaac Acuņa, a Club America midfielder on loan to second-tier Merida.


December, 19, 2011
12/19/11
3:20
PM PT
By
Scott French
| ESPNLosAngeles.com
Chivas USA's roster could soon be bolstered by the additions of two more midfielders, Frenchman Nicolas Dieuze and Ecuadoran Oswaldo Minda.
Both have been in head coach
Robin Fraser
's sights for some time, and although the club has announced nothing on either of them, their signings are thought to be imminent if not completed.
Dieuze, 32, who has played alongside Chivas assistant coach
Greg Vanney
and midfielder
Laurent Courtois
, spent part of October on trial with the Goats, playing 45 minutes in an MLS Reserve League victory over Vancouver.
Chivas has been looking at Dieuze since his contract with second-tier French side Grenoble Foot 38 ended last spring, and his acquisition is expected to be completed soon, his representative told MLS-News, a French website that focuses on America's league.
Dieuze played with Courtois at Toulouse from 1999 to 2001 and was Vanney's teammate at Bastia from 2001 through 2003. He then returned to Toulouse for five years, spent a season with Le Havre and two at Grenoble.
"I think he's an excellent two-way midfielder," Vanney said in October. "He's an interesting player. We're always looking to gain some experience. ... He was always one of the fitter players -- he's a guy who can cover ground. Extremely fit, hard-nosed, yet has technique. He's a leader, was a captain at Toulouse for a while and helped them into the [UEFA] Champions League."
Minda earlier this month told Guayaquil daily
El Universo
he'd been offered a three-year contract by the Goats, and he says he's coming to Los Angeles. Saturday's title-series finale in Ecuador's Serie A was his final game for Deportivo Quito, where he's played since 2008.
"Dear God, this is so amazing," Minda told reporters after Deportivo Quito toppled Emelec to claim its third national title in four years. "This club has given me so much. ... It's a shame I have to leave this institution that has given me everything and now gives me these tears. That has helped me and given me so much love.
"I came [to Quito] fulfilling a dream, and I'm reaching another."
Fraser, who wasn't available for comment Monday, said earlier this month that Minda was "a talented, intense, focused player that we've identified that we have interest in."
ELSEWHERE:
In other MLS news ...
Columbus signed central defender
Chad Marshall
(Riverside/Rubidoux HS) to a contract extension that will keep him with the Crew through 2015. No terms were announced, but Marshall, 27, a two-time MLS Defender of the Year, made $250,000 last season.
Montreal signed Canadian international
Patrice Bernier
, 32, a Quebec native who played for the Impact in the second tier a decade ago. The defensive midfielder has been in Europe since 2003 and has been with Danish club Lyngby since August.
Philadelphia midfielder
Amobi Okugo
spent a week training with Freiburg and told soccer blog The USA 10 Kit that the German club told him they'd be in contact with his agents. Okugo, 20, left UCLA following his freshman season to sign a Generation adidas deal and was the No. 6 pick in the 2010 draft.
UC Santa Barbara junior
Sam Garza
has accepted a Generation adidas contract offer, the Soccer By Ives blog reports. UCLA's
Kelyn Rowe
and
Chandler Hoffman
also are considering GA deals, and Rowe, SBI says, has European options.
December, 8, 2011
12/08/11
2:30
PM PT
By
Scott French
| ESPNLosAngeles.com
American preparations for Olympic qualifying in March continue next week in Florida, and the roster U.S. under-23 national team coach Caleb Porter has selected includes one player each from the Galaxy and Chivas USA.
The Galaxy player we know:
Michael Stephens
, a second-year midfielder from UCLA who plays a prominent role off the bench for the MLS Cup champs.
The Chivas player, not so much:
Jorge Villafana
, a name unknown in soccer circles. It's winger
Jorge Flores
, who has legally changed his last name, something the club expects to announce Thursday. Villafana is his mother's last name.
Former Chivas defender
Zarek Valentin
, now with the Montreal Impact, and UCLA product
Amobi Okugo
, a midfielder with the Philadelphia Union, also are on the list.
The camp, which runs Dec. 15-23 in Lakewood Ranch, Fla., is the second gathering of players under the new regime. Porter, head coach at the University of Akron, was hired in October to run the Olympic program.
The Americans meet Canada, Cuba and El Salvador in group play of CONCACAF's qualifiers for next year's London Games. The finalists in the eight-nation competition advance to the Olympics.
December, 2, 2011
12/02/11
1:30
PM PT
By
Scott French
| ESPNLosAngeles.com
Major League Soccer's annual Generation adidas tour of Europe begins Monday, and the 18-man team Sporting Kansas City coach Peter Vermes will guide includes Zarek Valentin, who would still be part of Chivas USA if he were still in the Generation adidas program.

Valentin, 20, who went to Montreal in last week's expansion draft, is one of four players "graduated" last month from the developmental program on the roster for the 10-day trip, which includes games against Ajax Amsterdam's reserve team, FC Volendam and Almere City FC. Vermes played for Volendam in 1990.

The other "graduates" are Columbus midfielder Dilly Duka and Tony Tchani and Philadelphia forward Danny Mwanga.

Garden Grove's Luis Gil (Santiago HS), a rising midfielder with Real Salt Lake, Philadelphia midfielder Amobi Okugo (UCLA) and Seattle defender Michael Tetteh (UC Santa Barbara) are among continuing GA players on the roster.

MLS's decision to "graduate" Valentin from the GA program led the Goats to leave him exposed in the expansion draft, where he was nabbed by Montreal coach Jesse Marsch, a former Chivas captain. Galaxy coach Robin Fraser last week said it "extremely baffling" and said he was "extremely, extremely disappointed" to see Valentin, 20, pulled from the program.
GA players do not count against clubs' salary caps nor roster sizes.
MLS officials have not addressed the reasoning behind the decision despite requests to do so.

The GA roster is bolstered by former GA Kevin Alston, a defender for New England, and three Home Grown Players: New York's Sacir Hot and Matt Kassel and D.C. United's Conor Shanosky.


March, 30, 2011
3/30/11
7:27
AM PT
By
Scott French
| ESPNLosAngeles.com
Irvine's Bobby Wood scored the first goal and UCLA's Kelyn Rowe added a goal and an assist to lead the U.S. past Suriname, 4-0, in its opener at the CONCACAF U-20 Championship in Guatemala City.
Wood, who plays for 1860 Munich in Germany, scored in the 19th minute as the Americans romped to a 3-0 halftime advantage. Rowe set up
Conor Doyle
's 37th-minute goal and tallied in the 81st.
Joe Gyau
also scored for the U.S., which outshot Suriname, 27-2, and took 11 corner kicks while conceding none.
Wood and Rowe were joined in the starting lineup by Chivas USA defender
Zarek Valentin
and former UCLA midfielder
Amobi Okugo
, who plays for the Philadelphia Union. Oxnard's
Moises Orozco
(Oxnard HS), who is in UANL Tigres' system, replaced Okugo at halftime.
The U.S. will close Group B action Saturday against Panama. Quarterfinal winners will advance to the July 29-Aug. 20 FIFA U-20 World Cup in Colombia.
March, 17, 2011
3/17/11
12:50
PM PT
By
Scott French
| ESPNLosAngeles.com
Chivas USA's top draft pick, three current or former UCLA stars and rising prospects from Irvine and Oxnard are part of U.S. under-20 national team coach Thomas Rongen's roster for the region's qualifiers for this summer's FIFA U-20 World Cup.
Rookie
Zarek Valentin
, Chivas' top pick (at No. 4 overall) in January's draft and an projected backline starter, is one of seven Major League Soccer players headed to Guatemala for the March 28-April 10 CONCACAF U-20 Championship, which will send 12 nations to the July 29-Aug. 20 World Cup in Colombia.
The team gathers Sunday in Dallas, so Valentin will depart after Chivas' opener Saturday night at Home Depot Center against Sporting Club Kansas City and likely will be unavailable for three games: March 26 at home against MLS champ Colorado, April 2 at Toronto FC and April 9 at home vs. Columbus.
UCLA's contingent: All-American
Kelyn Rowe
, a freshman midfielder, and junior forward
Eder Arreola
(Chino Hills/Chino Hills HS), plus former Bruins standout
Amobi Okugo
, a Philadelphia Union midfielder.
Also chosen: Oxnard's
Moises Orozco
(Oxnard HS), a playmaking midfielder in UANL Tigres' system in Mexico, and Irvine's
Bobby Wood
, a forward promoted to German second-division club 1860 Munich's top team this winter.
December, 2, 2010
12/02/10
4:27
PM PT
By
Scott French
| ESPNLosAngeles.com
Major League Soccer's Generation Adidas trek to Madrid started off swell, with a 2-1 victory over Real Madrid's reserve team Thursday.
Galaxy forward
Tristan Bowen
(Van Nuys), former UCLA standout
Amobi Okugo
and rising star
Luis Gil
(Garden Grove/Santiago HS) are among 19 players -- all either in MLS' developmental Generation Adidas program or recent grads -- on the team guided by FC Dallas coach
Schellas Hyndman
.
Injured Chivas USA midfielder
Blair Gavin
is one of two current GA players who are missing the trip.
Sporting Kansas City forward
Teal Bunbury
, who last month made his U.S. national team debut, and Columbus midfielder
Dilly Duka
scored for the MLS side. Okugo, who plays for Philadelphia, was a standout in midfield, and Real Salt Lake's Gil came on in the second half.
Others on the roster include national-teamers
Juan Agudelo
(New York) and
Brek Shea
(FC Dallas). The team will face the reserve teams from Rayo Vallecano on Tuesday and Atletico Madrid on Wednesday.