Los Angeles Soccer:

Andre Hainault
May, 26, 2012
5/26/12
5:59
PM PT
By
Scott French
| ESPNLosAngeles.com
Everything is beating up on the Galaxy these days, and it was the heat's turn Saturday afternoon. L.A. wilted in the Houston humidity and watched another early lead disappear to fall to the Dynamo, 2-1, in an MLS Cup rematch.

Edson Buddle ended a 2½-month drought with a fine goal in the 10th minute, but the Galaxy -- missing Juninho in addition to Landon Donovan and Robbie Keane -- offered little else aside from David Beckham set pieces as their winless streak reached seven games, longest in more than three years.

A bit of misfortune cost L.A. the first goal and Houston's set-piece supremacy paid off with the winner six minutes into the second half, and the Dynamo (4-3-4, 16 points) remained unbeaten in front of another sellout crowd at new BBVA Compass Stadium.

The Galaxy (3-8-2, 11 points), who will sit in the Western Conference cellar at least until their next league match June 17, have lost five of their last six games and are off to their worst 13-game start since 2006 and third-worst in club history. They've dropped more MLS games this season than in any of the past three full campaigns.

The heat -- 91 degrees with the index well into triple figures -- played the biggest role on the match, sapping both teams' energy, but more so the Galaxy, which isn't used to the climate. The game was virtually finished when Andre Hainault headed home Brad Davis' corner kick for a Dynamo advantage, and L.A., even with substitutions, was pressed just to keep up throughout the second half.

"Whoever scheduled these game in Houston at 3 o'clock in the afternoon doesn't know anything about the game," Beckham told reporters afterward. "It's difficult both both teams, as much as they're used to playing in this heat, they're used to training in it. No one enjoys these games. ... It's not good for the fans, not good for the players."

Galaxy coach Bruce Arena agreed.

"We should never be playing under these conditions," he said. "The scheduling is poor. Teams playing on Wednesday [as the Galaxy did, losing to San Jose] shouldn't be traveling or playing teams that are rested on a Saturday in heat. We have to find a way to [deal with this] better. ...

"[When the league started] many years ago, we had these issues, playing early afternoon in the summer months, and it became obvious it was something we shouldn't be doing. ... We've tried to emphasize that. It's not understood yet, and, obviously, there are issues with television, but it's not fair to our teams under these circumstances. It's something that has to get corrected."

The Galaxy came out strong, got the goal they needed, then watched everything slow down, at times to a crawl, just as expected.


March, 11, 2012
3/11/12
9:06
PM PT
By
Scott French
| ESPNLosAngeles.com
CARSON -- There's plenty for Chivas USA to improve upon following its Major League Soccer opener Sunday afternoon, but the finish against the Houston Dynamo, who pulled out a 1-0 victory with nearly the last boot of the game, dampened the Goats' spirits only a smidge.
Chivas was organized, spirited and battled evenly, more or less, all afternoon with the club that played in last year's MLS Cup final, and if everything didn't quite click -- especially on attack -- there was more than enough reason for optimism.
"I'll be honest," said midfielder
Peter Vagenas
, who made his Chivas debut in central midfield. "Like a lot of people, I wasn't sure what we had. ... We have character, we have heart, we fight. The soccer wasn't ideal, but let's be realistic. This team hasn't played together very much. We're facing a team that's got, I mean, how many games have
Brad
[
Davis
] and
Brian
[
Ching
] played together at this point? Right?
"At some points it was disjointed, we didn't get the service in to
Juan
[
Pablo Angel
up top], and that was frustrating, but at the end of the day we were tough, we were organized, we fought, and I promise you it's only going to get better."
Chivas looked sharper and stronger than at any point during preseason, created four clear scoring opportunities -- with Angel volleying off a post with one and three headers, two by Angel, off-target -- and benefited from another big game by goalkeeper
Dan Kennedy
, who solved whatever problems surfaced until almost the end.
The Goats were seconds from a 0-0 draw and a share of the points, but defender
Andre Hainault
lifted Houston two minutes into stoppage after Davis' corner kick was cleared. It fell outside the box to
Adam Moffat
, who possesses a rocket shot, and his blast appeared to deflect to Hainault.
Chivas' backline was racing forward, as it should, so Hainault was left 1-on-1 with Kennedy. The finish was simple.
"It's a tough one," said right back
James Riley
, one of seven players making their club debuts for the Rojiblancos. "In practice this week, our whole focus was set pieces, because we know that's what Houston lives and dies on. I thought we defended it well, guys jumped out to the second ball and tried to block it and prevent it, and it was just one of those things that are unlucky.
"That happens. For it to happen in the 90th minute was absolutely gutting. It's a cruel game sometimes. Very cruel game."
March, 11, 2012
3/11/12
6:12
PM PT
By
Scott French
| ESPNLosAngeles.com
CARSON -- Three quick thoughts from Chivas USA's 1-0 loss to the Houston Dynamo in their Major League Soccer opener Sunday afternoon at Home Depot Center:
1. AN UNJUST RESULT
Chivas deserved more from this one, and it was seconds from a scoreless draw.
Andre Hainault
scored in the second minute of stoppage after a ball from
Adam Moffat
found him in space after a corner kick had been cleared.
It seemed at times that Chivas was playing for a 0-0 draw. Injuries deprived them of at least two starters -- winger
Michael Lahoud
(hamstring strain) and center back
John Alexander Valencia
(quadriceps strain) -- and perhaps a third, although
Miller Bolaños
' absence from the 18 wasn't explained.
Robin Fraser
's half-makeshift lineup was short on attackers, and the offense was stagnant all of the first half and until he switched from the 4-2-3-1 formation to a 4-4-2 after
Cesar Romero
came on for
Peter Vagenas
an hour in. There was little overlap on the flanks, and the decision to start
Ben Zemanski
on the right side -- rather than put
Laurent Courtois
on the right rather than the left and start
Ryan Smith
on the left -- was a little curious.
Both teams hit the goal frame --
Juan Pablo Angel
volleying a Courtois corner kick off the right, near, post in the 41st minute for Chivas;
Brian Ching
volleying a long
Brad Davis
cross off the left post in the 78th -- and Angel twice headed over the crossbar.
Chivas' most important performer was reigning team MVP
Dan Kennedy
, who was sharp in the nets, making 1-on-1 stops in the first half against Ching and
Will Bruin
, parrying bullets from Moffat and Bruin in the second half, scooping up dangerous balls under pressure on several occasions and denying
Macomba Kandji
at the right post in stoppage just before Hainault's winner.
2. A BETTER START
Three minutes in, and already Fraser's second season in charge had started better than his first. The Goats didn't fall behind in the second minute, weren't down by two at halftime, and didn't spend the second half battling back from deficit just to fall short.
November, 20, 2011
11/20/11
8:50
PM PT
By
Scott French
| ESPNLosAngeles.com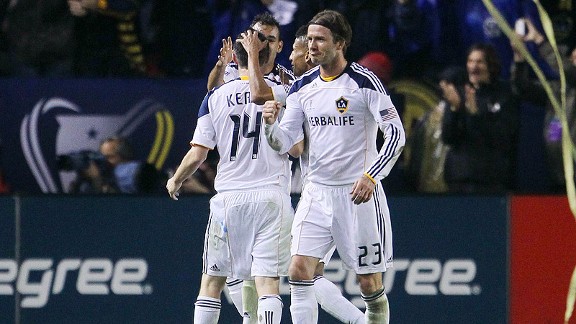 Jeff Gross/Getty ImagesDavid Beckham reacts while teammates celebrate Landon Donvan's second-half goal.

CARSON -- Landon Donovan finished a feed from Robbie Keane in the 71st minute, and the Galaxy completed arguably its best campaign, claiming its third MLS Cup championship with a 1-0 victory Sunday night over the Houston Dynamo.

Donovan, who had last scored in early September, slipped Keane's pass inside the far post as the Galaxy, dominant from the opening whistle, thrilled a crowd of 30,281, the largest to see a soccer game at Home Depot Center.




The Galaxy added the trophy, named after its owner, Philip Anschutz, to those won in 2002 and 2005 -- and to the Supporters' Shield they captured as Major League Soccer's regular-season champion.

Todd Dunivant's throw-in from the left wing led to the goal. David Beckham got his head to it, nodding it onto Keane's path heading toward Houston's goal. Keane stepped past Dynamo center back Bobby Boswell, then split Boswell and Geoff Cameron with a little ball for the streaking Donovan.

Donovan, who moved up front when Chris Birchall came on for Adam Cristman in the 57th minute, redirected the ball past goalkeeper Tally Hall and inside the the right post.

The goal was Donovan's record 20th in MLS postseason play and his fourth in an MLS Cup final -- to go with three scored in San Jose's 2001 and 2003 title-game wins.


November, 20, 2011
11/20/11
2:01
PM PT
By
Scott French
| ESPNLosAngeles.com
CARSON -- Expect a tight, physical, tactical battle in Sunday evening's MLS Cup final at Home Depot Center, with both teams looking to implement a direct attack -- and the Galaxy, in their home stadium, likely the aggressors, at least to start.
Whether it'll be an attack-filled classic or a defensive struggle is impossible to know. This is an intriguing matchup of size (advantage: Houston) and skill (L.A.), reliance on long balls or possession and the limits of defensive organization, which ultimately will determine who's parading the trophy at the end.
Here are two keys to victory in the final:
1. UP IN THE AIR


Geoff Cameron
is 6-foot-3, fellow center back
Bobby Boswell
is 6-2, and forward
Brian Ching
is a very aggressive 6-1, and the way they go after
Brad Davis
' set pieces is something to behold. The Dynamo are even more dominant at the other end, with Cameron, Boswell and 6-footer
Andre Hainault
repelling crosses into their area.
This team thrives on the aerial game, and in Davis possessed the perfect conduit, the closest thing to a
Bobby Boswell
among American players. Davis' injury complicates things.
Adam Moffat
, who has a rocket foot, will take the set pieces, but speedy
Corey Ashe
, who will take Davis' place on the left side of midfield, has a far different game. Figure Moffat to wander wide to provide service or go over the top for Ching or to take advantage of
Calen Carr
's pace.
Dynamo coach
Dominic Kinnear
can call on rookie
Will Bruin
and Honduran star
Carlo Costly
, both 6-2, if he needs more targets late.
"Adam places a good ball," Davis said. "And I've said all year we've got guys that have the desire and will to want to score goals and want to attack the ball."
The Galaxy have occasionally struggled with their marking on set pieces, so that's been a point of emphasis in preparations.
November, 15, 2011
11/15/11
9:41
PM PT
By
Scott French
| ESPNLosAngeles.com
Brad Davis returned to Houston Dynamo training Tuesday, but he was just watching. Major League Soccer's MVP favorite is out of Sunday's MLS Cup final against the Galaxy at Home Depot Center -- it's official now -- but says he's anxious for the battle to begin.
"It's going to be a tough match, but the way we're playing of late, I have full confidence that it's going to be a good game, and I know we can beat this team ...," Davis
told Major League Soccer's website
. "As hard as it is to know I'm not going to be able to play, I still have the anxiousness from when we've been there a couple of times.
"I'm excited, and I know these guys are looking forward to it. These are the last few days, and they seem to take forever."
Davis, a playmaking winger who won MLS Best XI acclaim and is expected to collect the league's MVP honor Friday, suffered a torn quadriceps muscle in the Dynamo's victory at Sporting Kansas City in the Nov. 6 Eastern Conference final.
"I don't need surgery," he said, "but it's going to take a little while longer than expected. It's a little bit of misfortune, but this is our last game, so I'll have plenty of time to recover."
POWER SURGE:
The last time the Galaxy and Houston met in a winner-take-all match, power outages in the area around Home Depot Center forced delays of nearly 20 minutes in each half and a would-be winner by Dynamo defender
Andre Hainault
was waved off.
L.A. pulled out a 2-0 overtime victory in the 2009 Western Conference final, and the Dynamo felt like they'd been robbed.
Some feelings linger.
"We had a good team," captain
Brian Ching
told The Houston Chronicle
. "We definitely felt like we could have won it all that year. We had the confidence. We kind of got a bad call there, and it kind of changed the game in a bad way for us. It is tough. To get so close, and then you've got a whole year to think about it."
November, 6, 2011
11/06/11
6:16
PM PT
By
Scott French
| ESPNLosAngeles.com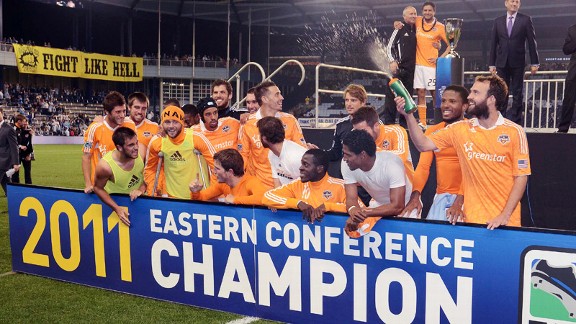 John Rieger/US PresswireThe Houston Dynamo celebrate their 2-0 victory over Kansas City in the Eastern Conference final.

CARSON -- Houston's return to the MLS Cup final couldn't have come more fittingly, the pivotal goal in its victory over Sporting Kansas City coming from, naturally, from a set piece.

Only thing was Brad Davis wasn't there to deliver it.

The Dynamo's 2-0 triumph over host Sporting Kansas City in the Eastern Conference final, sending them to the Nov. 20 MLS Cup title game at Home Depot Center against the winner of Sunday night's Galaxy-Real Salt Lake showdown, was marred by a thigh injury to Davis.

Davis, a left-sided midfielder who led Major League Soccer in assists this season and is among the primary contenders for the MVP award, limped off after tangling in midfield with K.C.'s Graham Zusi in the 35th minute. He fell to the turf clutching his right thigh and resisted letting his right leg touch the ground as he was escorted to the sideline.

After the game, he celebrated with teammates while on crutches, and as they jumped up and down with the Eastern Conference trophy, Davis again made certain to put no weight on the leg.

He told Fox Soccer Channel after the game that the injury was a "freak thing" and that his status for MLS Cup won't be clear until the injury is evaluated early this week.

"It's too early to tell right now," he said on the FSC telecast of the match. "I'm not sure, but we'll see in a few days."

The Dynamo return to MLS's title game for the first time since winning back-to-back championships in 2006 and 2007, the first two seasons in Houston after relocating from San Jose. The club had won titles as the Earthquakes in 2001 and 2003 and won the Supporters' Shield in 2005 while posting the best post-shootout era record in league history (64 points), a mark eclipsed this season by the Galaxy (67).


October, 30, 2011
10/30/11
9:34
PM PT
By
Scott French
| ESPNLosAngeles.com
Higher-seeded road teams won both Eastern Conference playoff openers Saturday, with conference champ Sporting Kansas City using two
Teal Bunbury
goals to knock off defending MLS Cup champion Colorado and Houston scoring twice in the first half en route to a victory at defensive-minded Philadelphia.

Bunbury scored four minutes into the second half and converted a penalty kick 10 minutes later to lead Sporting to a 2-0 triumph at Colorado, which missed injured captain
Pablo Mastroeni
and lost three more players -- forward
Caleb Folan
and defenders
Kosuke Kimura
and
Drew Moor
-- to injury.
Houston beat the Union, 2-1, with
Calen Carr
's 30th-minute strike making the difference after Dynamo defender
Andre Hainault
, from a
Brad Davis
set piece, and Philly's
Sebastien Le Toux
traded goals in the sixth and seventh minutes.
K.C. will be home for the second leg Wednesday, and Houston plays its home leg Thursday. The series winners meet in the Eastern final next Sunday.
Houston's win was its first in five meetings with Philadelphia, which debuted last year in MLS. Sporting's triumph hinged on Colorado defender
Tyrone Marshall
's nightmare of a night -- he was beaten by Bunbury on the first goal, then dragged down the speedy forward in the Rapids box for the PK, picking up a red card in the process.