Los Angeles Soccer:

Andres Guardado
August, 16, 2012
8/16/12
9:35
PM PT
By
Scott French
| ESPNLosAngeles.com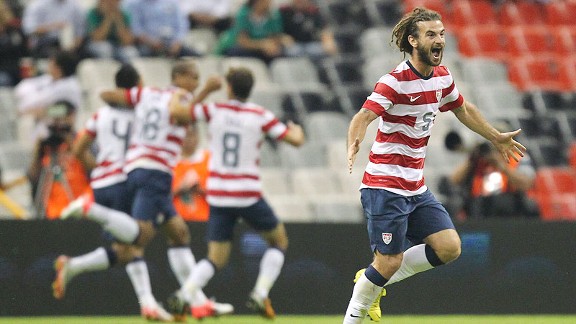 Marcos Delgado/Clasos.com/LatinContent/Getty ImagesKyle Beckerman of the U.S. team celebrates a goal during a friendly soccer match between Mexico and USA on Tuesday. The U.S. won 1-0.
MEXICO CITY -- The United States hopes its historic victory at Estadio Azteca is a precursor of sorts, but nobody is mistaking it as a shift in the balance within the region's primary rivalry. The gap separating the Americans from Mexico remains intact, and the only questions concern how great is the chasm and what must be done to bridge it.



Mexico's focus on youth development has created a golden generation of players and could signal El Tri's arrival among the truly elite in international soccer. Last weekend's gold-medal triumph at the London Olympics, with their under-23 team, follows successes by the U-17s (World Cup titles in 2005 and 2011) and the U-20s (third place at last year's World Cup), and the impact on the full national team -- the one that could, for real, be competing for the spoils in Brazil in two years -- has been profound.

Mexico's destruction of the U.S. at last year's CONCACAF Gold Cup final at the Rose Bowl, built on the sublime talent of Giovani Dos Santos, Javier "Chicharito" Hernandez and Andres Guardado, was product of Mexico's reaction to the Americans' dominance in the series for nearly a decade from 2000.

Now the U.S. must respond in kind.

"I think Mexico deserves a big compliment," coach Jurgen Klinsmann said in advance of the Yanks' 1-0 victory in Wednesday's friendly. "What they've done the last three or four years is tremendous. They've identified a way they want to play, and everybody dedicates themselves to that style of play. ...

"There is a gap. It would be foolish not to recognize that."

The U.S. went 10-2-2, with both losses at Azteca and one of the victories from the 2002 World Cup, over a span of about 8½ years. That dominance, star forward/midfielder Landon Donovan notes, was while "we had a group of us together for five, six, seven, eight years, and they were kind of in flux." The roles shifted: The U.S. team is now in transition under Klinsmann.

He took charge a year ago after that Gold Cup defeat and is working toward creating a system and a style that will emphasize attacking soccer, a necessity for success in a landscape that has been altered by Spain's success the past five years. He's also altering the makeup of an aging squad, especially at the back. The Americans' great youngsters aren't so young anymore; Donovan is 30.

Mexico's most important figures aren't yet in their primes. Chicharito is 24, Giovani 23. Defender Hector Moreno is 24. Guardado, a relative veteran, is 25. More than a dozen more first-team pool players are younger than 25.

The U.S. also has a promising young contingent -- Jozy Altidore and Brek Shea are 22, Terrence Boyd 21, Danny Williams 23 and Fabian Johnson 24 -- and several others under 25 who might or might not pan out as international players.

"It's hard to quantify a gap," Donovan said. "We're kind of a little more in flux now, but the hope is that in two years we've closed that gap and we're [like Mexico] a well-oiled machine."

The 2014 World Cup is the Americans' chief focus, but the real view is longer. Whatever success the U.S. has enjoyed has been about belief and power, not technical and tactical acumen, although there have been great improvement in both areas since the 1994 World Cup changed everything. Klinsmann, a legendary German striker who has called Orange County home for more than a decade, is looking to alter the foundation of how the U.S. plays, and that requires a philosophical shift.


August, 14, 2012
8/14/12
7:12
PM PT
By
Scott French
| ESPNLosAngeles.com
MEXICO CITY -- Landon Donovan is a veteran of the soccer clashes with Mexico, one of the chief figures behind the United States' dominance in the rivalry from 2000 through early 2009 -- and one of the most hated U.S. players, at least on this side of the border.

So he possesses a keen sense of what's what with the region's twin powers, and his take on El Tri's resurgence the past few years, behind a golden generation of young talent, is simple: Mexico is something else, indeed.

"Very good. They're very good," the Galaxy's captain said on the eve of Wednesday night's friendly at Estadio Azteca (ESPN2 and Univision, 5 p.m. PT; coverage beginning at 4:30 p.m.). "They're a well-oiled machine. They know exactly what they're doing, they have a style that they like to play, and when they play at home, they're relentless.

"So, in my opinion, especially when they play here, they're one of the best teams in the world, no question."

That makes this match, the first Azteca friendly between the sides since 1984, a tough proposition for a young U.S. team that is missing a number of key players, including three-quarters of its first-choice backline, midfield anchor Michael Bradley, attacking stars Clint Dempsey and Jozy Altidore, and much of its depth.

Mexico has gone from strength to strength with its national teams, including last year's emphatic triumph over the U.S. in the CONCACAF Gold Cup final -- a result that led to Jurgen Klinsmann's appointment as the Yanks' head coach -- and, just last weekend, a stunning victory over Brazil in the gold-medal match at the London Olympics.

None of the Olympians are on Mexico's roster for Wednesday, but several play key roles for El Tri's full national team, and their success marks another step forward. Donovan wasn't surprised.

"I thought they would win. I really did," he said. "We played that Brazil team [in May], almost the exact same team, and the scoreline was 4-1 [for Brazil], but I wasn't overly impressed with them. I thought Mexico would give them a really hard game."

The full national team is even better, of course -- the roster for this one includes Javier "Chicharito" Hernandez, Andres Guardado, Hector Moreno and Pablo Barrera -- and they've dominated the rivalry since a 5-0 romp over a third-tier U.S. side in the 2009 Gold Cup title game. The last meeting, in Klinsmann's debut a year ago in Philadelphia, was a 1-1 draw.

"The reason Mexico is so good," Donovan said, "is they can play in those games [against great teams], and they do a good enough job to really stifle teams. But what makes them successful is that when they get the ball, they can actually do something with the ball. A lot of times you play a team like Brazil, and you're defending for long stretches of the game. You get the ball and you're tired, you don't make the right pass, and you're under pressure again.


October, 11, 2011
10/11/11
11:08
PM PT
By
Scott French
| ESPNLosAngeles.com
Think of Tuesday's Mexico-Brazil friendly as a celebration of
Oswaldo Sanchez
's career, and as such it was a glowing success.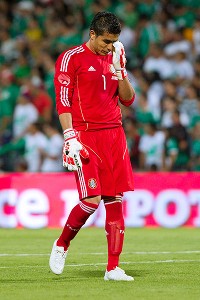 AP Photo/Christian PalmaMexico goalkeeper Oswaldo Sanchez had a rough ending to his farewell game for the national team.
The 38-year-old goalkeeper, making a farewell appearance before his home fans, made several superb saves as El Tri held on to an early advantage for nearly 70 minutes before stunning strikes by Ronaldinho and Marcelo gave Brazil a 2-1 win in Torreon.

Sanchez, Mexico's No. 1 netminder at the 2006 World Cup who hasn't figured much for the national team since Guillermo Ochoa's ascendancy a few years ago, was splendid in his 100th international appearance -- and basked in a glowing reception from fans of Santos Laguna, the club he captains, when subbed off in the final minutes.

The loss was the first with Mexico for technical director Jose Manuel "Chepo" de la Torre, not that that means a whole lot. The game was virtually meaningless, and its timing -- with nothing important nearby; World Cup qualifying doesn't begin until June -- and both clubs' reliance on Europe-based talent softened the intensity.

The highlights were three spectacular goals, including the own goal that gave Mexico a 10th-minute lead. Right-winger Pablo Barrera, one of Mexico's special players, wrapped an attack along the byline with a telling ball from a tight angle. David Luiz stuck out his foot, the ball glanced off it, spinning behind goalkeeper Jefferson and finding the far-post netting.

Ronaldinho's 79th-minute free kick, awarded after Neymar's "performance" convinced Salvadoran referee Marlon Mejia, was a bullet to the upper-right corner. Marcelo beat two defenders in the box before firing the winner into the goal's ceiling in the 84th.

Nothing Sanchez could do about either. His night will be remembered more for two saves on Ronaldinho, both on free kicks.

Three things we saw in Brazil's victory over Mexico:

1. IT'S NOT JUST THE STARS

No question who the big boys were. Nobody was more influential (primarily from set pieces) than Ronaldinho, the biggest name in this game. Univision's coverage featured individual cams on Neymar, the Brazilian teen the world is swooning over, and Javier "Chicharito" Hernandez.


September, 5, 2011
9/05/11
1:14
PM PT
By
Scott French
| ESPNLosAngeles.com
Jurgen Klinsmann's radar for Latino talent is sharper than his predecessors', as America's Edgar Castillo, San Luis' Michael Orozco Fiscal and Pachuca's Jose Francisco Torres can attest.
The best of the Americans in Mexico -- not counting Tigres'
Moises Orozco
, not yet a first-teamer -- might be Club Tijuana's flank attacker
Joe Corona
, and he, like so much of the U.S.'s top Latin talent, has a choice to make.
Corona is eligible to play for the U.S., Mexico or El Salvador, and he has options, so it seems, with all three. He's in camp with the Mexicans' under-22 team -- the foundation of the Federacion's Olympic aspirations -- after an invitation to join the U.S. national team was scuttled by Klinsmann's hiring.
That's what Corona
told his hometown newspaper
, the
San Diego Union-Tribune
: He was invited by
Bob Bradley
into the U.S. camp for the Aug. 10 U.S.-Mexico game in Philadelphia, and when Bradley was canned and Klinsmann hired, the invitation was rescinded.
Mexico followed with the U-22 invite, and Corona -- born in L.A., formative years in Tijuana, in National City since he was 10 -- has always figured first come, first served.
He's already turned down El Salvador, his mother's homeland, but says playing for El Tri is "my dream."
"We moved to Mexico right after I was born, and that's where soccer was introduced to me," Corona told the
Union-Tribune
. "In the South Bay [area of San Diego], it's a Mexican culture, too. I was always in that environment. All my friends, when we would watch the U.S.-Mexico games, we were hardcore fans of Mexico.
"It's not like I'm saying no to the U.S. But playing in an Olympics for Mexico, that would be an incredible experience."
June, 25, 2011
6/25/11
11:40
PM PT
By
Scott French
| ESPNLosAngeles.com
Kelvin Kuo/US PresswireThe loss of Steve Cherundolo (6) early seemed to eventually take the U.S. out of its game in a 4-2 loss to Mexico in the Gold Cup final at the Rose Bowl on Saturday.

PASADENA, Calif. -- The seeds for Mexico's stirring comeback and comprehensive victory in the CONCACAF Gold Cup final were planted at the start -- before Michael Bradley's header gave the U.S. an eighth-minute lead, before Landon Donovan doubled the advantage not long after, and well before Giovani dos Santos ran riot, again and again, through the American defense.

Right back Steve Cherundolo was "caught in a tackle" not four minutes into Saturday's showdown at the Rose Bowl, departed seven minutes later, and it was all downhill from there.

Even as the U.S. added to its lead.

Without the German-based defender, who has been to three World Cups and started every U.S. match in 2006 in Germany and last year in South Africa, the Yanks couldn't contend with El Tri's dynamism up front, and Dos Santos, Pablo Barrera, Javier "Chicharito" Hernandez and Andres Guardado repeatedly carved up their archrivals en route to a 4-2 triumph that thrilled the vast majority among the 93,420 on hand and gave Mexico its sixth regional title and a berth in the 2013 FIFA Confederations Cup.

Cherundolo, among the Americans' finest performers during the tournament, rolled his left ankle when he was caught between teammate Jermaine Jones and Dos Santos, and his departure in the 11th minute considerably weakened the U.S. backline and attack on the right flank.

Coach Bob Bradley sent on Jonathan Bornstein at left back, moved 22-year-old Eric Lichaj from left back to right back, and then watched Mexico dictate terms the rest of the way.

How big was the loss?

"Big," said Donovan. "His leadership, his instincts as a defender, his passing ability … it certainly didn't help."

"Losing Steve hurt," goalkeeper Tim Howard said, "because he's a player that's just going to bottle that player up on his side of the field. We didn't expect [him to get hurt]. You have to roll with the punches, but it hurts."

It stung badly. Bornstein, too often isolated on the left, was overrun by Dos Santos and Barrera, Lichaj had few answers for Guardado, and El Tri's ability to create at lightning pace dizzied the Yanks. "They had us twisting and turning," Howard said. "It was tough."

"They're as dynamic as any [Mexico] team I've ever played against," Donovan acknowledged. "They just have a few guys who can change the game in a heartbeat, between Guardado and Barrera and Giovani and Chicharito. They can make special plays. They're explosive, and if you give them a lot of space, they're going to make plays. And especially on a big field like this, it certainly played to their advantage."


June, 25, 2011
6/25/11
5:36
PM PT
By
Scott French
| ESPNLosAngeles.com
The biggest question U.S. fans have been asking in advance of Saturday's CONCACAF Gold Cup final has been answered: Yes, Landon Donovan is back in the starting lineup.

Where is he playing? Only a select few know, and they aren't saying.

"The team is not providing that information," national team spokesman Michael Kammarman said shortly after lineups were distributed in the Rose Bowl press box about an hour before the U.S.-Mexico game is set to kick off.

Head coach Bob Bradley, it appears, doesn't want anyone to know what his alignment will be nor who will fill which roles, at least in attack.

Forward Juan Agudelo is back on the bench, so Bradley's primary options up top, of the 11 players in the lineup, are Donovan and Clint Dempsey. The U.S. has used a 4-2-3-1 formation the last two games.

The big surprise in the starting XI is Freddy Adu, who made his first appearance in nearly two years in Wednesday's semifinal victory over Panama, starting the sequence that led to the game's lone goal, by Dempsey.

Donovan came off the bench in the last two games. He was kept out of the lineup for the quarterfinal last weekend in Washington against Jamaica after attending his sister's wedding in Southern California the day before, and the U.S. played so well in that match that Bradley made no changes for the Panama game.

Sacha Kljestan, who started the last two matches, is on the bench for the Mexico game.

Defender Carlos Salcido (heel) and winger Andres Guardado (ankle), who were questionable with injuries, are in Mexico's lineup.

The full lineups:

U.S.: Tim Howard; Steve Cherundolo, Clarence Goodson, Carlos Bocanegra, Eric Lichaj; Michael Bradley, Jermaine Jones; Alejandro Bedoya, Freddy Adu, Clint Dempsey; Landon Donovan.

Mexico: Alfredo Talavera; Efrain Juarez, Rafa Marquez, Hector Moreno, Carlos Salcido; Pablo Barrera, Israel Castro, Gerardo Torrado, Andres Guardado; Giovani Dos Santos, Javier Hernandez.
June, 21, 2011
6/21/11
10:55
PM PT
By
Scott French
| ESPNLosAngeles.com
It's been a feast of great goals in Major League Soccer the last couple of weeks, even with so many stars away at the CONCACAF Gold Cup and for other international duty, and here's a few from last week that have to be seen.
Galaxy midfielder
Juninho
celebrated his return from Brazil, where he was married the previous weekend, with a
rocket to the upper-left corner
from about 35 yards. That's three goals this season by the rising star, all from distance.
Some of MLS's biggest names might be elsewhere, but the biggest name in the league -- the biggest name ever to play in the league -- is New York Red Bulls captain
Thierry Henry
, who has a knack for making really classy, difficult goals look easy.
Like this one
in the 3-3 draw at Portland. The Frenchman was red-carded about 20 minutes later.
Nice strike
by Seattle's
Fredy Montero
, in the 90th minute, to beat Toronto FC.
MLS's Goal of the Week is still being determined in an
online ballot
, and we had to vote for
this masterpiece
by Vancouver's
Alain Rochat
, which beat Philadelphia to end the Whitecaps' league-record winless streak.
Best of the week might have come from the CONCACAF Gold Cup, with Mexico's
Andres Guardado
serving up a
really tasty dish
in a group-stage romp over Costa Rica.
Guardado's
second goal
against Costa Rica was pretty sweet, too.
This week's rankings:

1. GALAXY (9-2-7, 34 points), Last week: 1
Week 14:
Juninho scores on a long-range blast, starts sequence leading to
Chad Barrett'
s goal as Beckham-less L.A. topples Rapids, 3-1
Remark:
Denver media shames Galaxy for
David Beckham
's absence, but back spasms could keep him home again this weekend
Best to wear the shirt:
All respect to
Cobi Jones
,
Mauricio Cienfuegos
,
David Beckham
and
Robin Fraser
. But it's
Landon Donovan
Next:
Saturday at San Jose, 3:30 p.m. (Fox Soccer Channel); Tuesday in third round of the U.S. Open Cup vs. L.A. Blues at Cal State Fullerton's Titan Stadium, 7 p.m.
2. FC DALLAS (8-4-4, 28 points), Last week: 2
Week 14: Brek Shea
scores another beauty,
Jackson Goncalves
nets the late winner in 2-1 win at Chivas USA
Remark:
Hoops are third MLS team, after Galaxy and D.C. United, to reach 200 victories
Best to wear the shirt:
Hard to argue against
David Ferreira
. But Colombian midfielder
Leonel Alvarez
, from the early years, might trump MLS's reigning MVP
Next:
Saturday vs. Portland, 5:30 p.m. (MLS Direct Kick); Tuesday in third round of the U.S. Open Cup vs. Orlando City FC, 6 p.m.
3. NEW YORK RED BULLS (5-2-8, 23 points), Last week: 5
Week 14: Dwayne De Rosario
's 96th-minute penalty kick splits the points in a wild 3-3 draw at Portland
Remark:
Henry's red card deep into stoppage was "inexplicable," Sporting Director
Erik Soler
says in a statement, a product of a "completely unacceptable" level of refereeing. His expectation is that the red card "will be rescinded"
Best to wear the shirt:
Henry is the best,
Juan Pablo Angel
the most accomplished in an N.Y. jersey
Next:
Thursday at Seattle, 7 p.m. (ESPN2 and ESPN Deportes); Sunday at Chicago, 11 a.m. (ESPN); Tuesday in third round of the U.S. Open Cup vs. FC New York, 5 p.m.
June, 12, 2011
6/12/11
9:59
PM PT
By
Scott French
| ESPNLosAngeles.com
None of that U.S.-style underachieving for Mexico.
Sure, El Tri are missing six players -- five of them in doping intrigue -- and Sunday's foe was one of the best they'll come up against in the CONCACAF Gold Cup, but it mattered not at all in a one-sided Group A decider.
Andres Guardado
scored two spectacular goals and the Mexicans netted three by the 26th minute en route to a 4-1 romp over Costa Rica at Soldier Field in Chicago, which nonetheless qualified for the quarterfinals by finishing second in the group.
El Salvador also won big, demolishing Cuba, 6-1, with a series of superb goals to position itself for one of the at-large berths into the tournament's knockout stage.
A quick look at the eighth day of group play in the region's nations championship:
MASTERFUL MEXICO:
El Tri hasn't been slowed by its troubles, looking unbeatable while routing all three Group A foes. Sunday's victory was the most impressive, given the quality of the opposition and their overwhelming dominance in building a 4-0 first-half advantage.
All four goals were outstanding, with
Rafa Marquez
's powerful 17th-minute header from
Pablo Barrera
's corner kick and Barrera's fine finish from a nifty give-and-go with
Carlos Salcido
in the 38th sandwiching Guardado's wonder strikes.
March, 17, 2011
3/17/11
8:08
PM PT
By
Scott French
| ESPNLosAngeles.com
Mexico's roster for its end-of-March friendlies, including the March 29 date in San Diego, has been released, and sure enough, Carlos Vela and Efrain Juarez are on it.
No surprise: The pair did their penance following the fallout from their roles in an "unauthorized" party after a victory last September over Colombia in suburban Monterrey.
Vela, a forward who plays for West Bromwich Albion in England on loan from Arsenal, and Juarez, a defender on the books at Celtic FC in Scotland, were tagged with six-month suspensions, which kept them out of only one match,
Jose Manuel de la Torre
's debut as head coach last month in Atlanta.
Both return just as preparations begin in earnest for the June 5-25 CONCACAF Gold Cup, and that's no coincidence. The suspension, along with fines to other players, sparked a player protest that led to national teams director
Nestor de la Torre
's resignation; substantial punishment, deserved or not, was never an option.
They're among 23 players, nine based in Europe -- yes, Manchester United's
Javier "Chicharito" Hernandez
and Racing Santander's
Giovani Dos Santos
are included -- headed to California for friendlies March 26 against Paraguay in Oakland and March 29 against Venezuela at Qualcomm Stadium.
Also back is defender
Ricardo Osorio
, from Monterrey, who is aiming for his first appearance since last summer's World Cup. Osorio's gaffe in the round of 16, his last game for Mexico's national team, helped Argentina to a 3-1 victory.
Veteran goalkeeper
Guillermo Ochoa
(America), defenders
Rafa Marquez
(New York Red Bulls) and
Francisco Javier Rodriguez
(PSV Eindhoven), and winger
Andres Guardado
(Deportivo La Coruña) are in their first camp with de la Torre, a former national team midfielder who guided Guadalajara and Toluca to Mexican Primera Division titles.