Los Angeles Soccer:

Andrew Fontein
April, 9, 2012
4/09/12
1:14
AM PT
By
Scott French
| ESPNLosAngeles.com
Emilio Orozco joined Mexico UANL Tigres straight out of high school. Now he's back in the States, for at least the summer.
Miguel Ibarra
's goal was to make a Major League Soccer roster. He'll continue working toward that in American soccer's second division.
They're among 16 players with local ties in the North American Soccer League, an eight-team outfit that opened its season Saturday with clubs on the East Coast, in the Midwest and in Canada and the Caribbean. Eight of them, including Orozco and Ibarra, are from Southern California. Three more played college ball here, and five others have spent time with the Galaxy, Chivas USA or L.A. Blues.
Orozco, a wing-back from Oxnard (Oxnard HS) who starred for San Fernando Valley youth club Real So Cal, joined the Fort Lauderdale Strikers on loan from Tigres, where he has played in the youth ranks and for the club's under-20 team.
His cousin,
Moises Orozco
(Oxnard/Oxnard HS) -- a playmaker with U.S. national team aspirations who also is with Tigres -- was on trial with Toronto FC during MLS's preseason.
Ibarra (Lancaster/Lancaster HS) was drafted by the Portland Timbers during January's MLS supplemental draft, and he joined the Minnesota Stars after he was released from camp. The playmaker joins former UC Irvine teammate
Amani Walker
and three other local players on the Stars' roster.
Another UC Irvine-bred rookie, goalkeeper
Andrew Fontein
, is with the Tampa Bay Rowdies.
Two Chivas USA draft picks are in the league: Cal State Fullerton's
Kevin Venegas
(Lakewood/Los Alamitos HS), a midfielder with Minnesota, and German defender
Fabian Kling
, who is with expansion team San Antonio Scorpions.
January, 17, 2012
1/17/12
9:48
PM PT
By
Scott French
| ESPNLosAngeles.com
Andy Rose
figured to find a Major League Soccer club in last week's SuperDraft. He didn't. He made up for it Tuesday by joining two teams.
Rose was an early pick in the MLS Supplemental Draft, taken at No. 6 by Real Salt Lake, which promptly dealt UCLA's captain to the Seattle Sounders.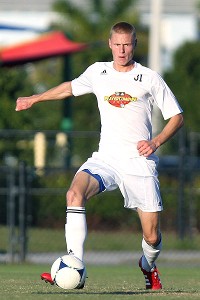 Courtesy of Major League Soccer Real Salt Lake took UCLA midfielder Andy Rose with the sixth pick of Tuesday's supplemental draft.
The Englishman, one of the most prominent players remaining on the board after 38 picks last week, was the first of four Bruins to go in quick succession in the supplemental, with left back Shawn Singh going to Sporting Kansas City with the 16th pick, winger Eder Arreola (Chino Hills/Chino Hills HS) to Houston at No. 18 and goalkeeper Brian Rowe to Chivas USA early in the second round.

That's six players drafted from UCLA's NCAA semifinal team -- New England's Kelyn Rowe and Philadelphia's Chandler Hoffman were first-round picks -- and there are several underclassmen likely to take the step in the next few years.

Rose was one of the real prizes available Tuesday.

"He's a player that we really like," Seattle technical director Chris Henderson, a former UCLA star, told his team's website. "He's a two-way midfielder. He can also sit in as a holding midfielder, so he's pretty versatile. He seems, at a young age, to be a student of the game."

He should be. He grew up in one of the most intense soccer cultures on the planet, and he can compare notes with former U.S. national team coach Bob Bradley, whose daughter dates Rose.

To get him, the Sounders gave up the rights to defender Leone Cruz, a former SMU standout drafted last year who failed to make the team.

Seattle draft selections included UC Santa Barbara defender Tim Pontius (Yorba Linda/Servite HS), the brother of D.C. United standout Chris Pontius, and Cal Poly defender Wes Feighner (Los Alamitos/Los Alamitos HS).


January, 11, 2012
1/11/12
7:33
PM PT
By
Scott French
| ESPNLosAngeles.com
Chandler Hoffman and Kelyn Rowe aren't going to last very long once the MLS SuperDraft begins Thursday morning, and Luis Silva, Sam Garza, Miguel Ibarra and Andy Rose figure to be nabbed soon after.

They're the big names, but hardly the only ones, among local players aiming for an opportunity with a Major League Soccer team. There are nearly two dozen players who grew up or went to school in Greater Los Angeles hoping to hear their names called in Kansas City.

Some of them, let's be honest, don't have a shot, not with just two rounds of picks -- 38 in all. Next week's supplemental draft will provide possibilities, and players will be looking to participate in team combines and in trials during preseason training.

Some might look abroad -- there are leagues everywhere on the planet -- and there are two professional minor leagues (NASL, USL Pro) and several pro clubs in the Premier Development League and its rival NPSL.

Here's a quick rundown of 22 players who might find a job in MLS, if the right situation develops:


November, 24, 2011
11/24/11
3:36
PM PT
By
Scott French
| ESPNLosAngeles.com
As he prepared his Long Beach State women's soccer team for something truly historic, Mauricio Ingrassia figured what better way to illustrate what the 49ers have accomplished -- and what remains in their reach -- than to show off a little living history.
So off they went, upon flying into North Carolina for Friday's NCAA Division I quarterfinal at thid-ranked Duke, to visit
Anson Dorrance
, architect of the most dominant dynasty in American sports history.
Dorrance, with a nearly never-ending stream of legends --
Mia Hamm
,
Kristine Lilly
,
April Heinrichs
,
Carla Overbeck
,
Tisha Venturini
,
Lorrie Fair
,
Lindsay Tarpley
,
Lori Chalupny
,
Heather O'Reilly
,
Tobin Heath
-- has guided North Carolina to 21 national championships and fueled the U.S. women's national team's dominance in the women's game.
"Four our girls, that's history," said Ingrassia, whose 49ers (18-5-1) have won eight in a row, seven by shutout, en route to the Big West Conference tournament title, a first-round NCAA "upset" of No. 7 Pepperdine, victories over Miami and San Diego and to a wholly unexpected spot in the elite eight. "If you ask [female] college players around the country if they ever thought about playing at North Carolina, you'd see a lot of hands, and our program isn't any different."
So Ingrassia's charges oohed and ahhed at all the silverware and championship banners and mementos of those icons, checked out the facilities and spend a little time with Dorrance, the winningest coach in the American game, any level, anywhere.
Now they head into a battle with a Duke team that's 20-3-1, has a vibrant attack led by freshman
Kelly Cobb
and sophomores
Kaitlyn Kerr
and
Mollie Pathman
and an outstanding backline anchored by sophomore
Natasha Anasi
. The smart money has the Blue Devils in the Dec. 4 final against No. 1 Stanford.
Nothing is expected of Long Beach State, which hadn't won in two previous NCAA appearances. Now they sit one very difficult win from a College Cup final appearance.
"The goal for the team was to get to the sweet 16 or better," said Ingrassia, whose team has advanced further than North Carolina, defending champion Notre Dame and perennial powers Santa Clara, Portland, UCLA and Florida. "Once we got to the sweet 16, we got the team together and said, 'Define what 'better' means to you. They came up with some pretty good and pretty powerful answers, so we redefined our goal."
October, 14, 2011
10/14/11
3:27
PM PT
By
Scott French
| ESPNLosAngeles.com
The hottest team in So Cal college soccer?

Lots of options, in D1 (UCLA's men, Pepperdine's women), D2 (Cal Poly Pomona and Cal State L.A., both genders), D3 (Redlands' men, Cal Lutheran's women), NAIA (Concordia's men) -- even schools not affiliated with anyone (Anaheim's Bethesda Christian, at 12-1-0).

Let's also consider Cal State Northridge. Both of the Matadors' sides found their best soccer as conference play began.

CSUN's men have been outstanding since a one-win-in-six-games stretch had them 2-4-1 following a 1-0 loss Sept. 23 against powerful SMU. They've won five of six since, all by shutout, and sit second in the Big West Conference with a 3-1-0 mark heading into Saturday night's home game against UC Davis.

CSUN's women won just once in their first seven games, but they've been solid since, going 3-2-1 since Sept. 23 -- and one of those losses was in overtime against Portland. The Matadors are second in the Big West at 2-1-1 and are home Friday night against conference leader Long Beach State.

PLAYER OF THE WEEK: Spaniard Victor Muņoz sure makes the most of his time. The sophomore midfielder scored a goal with two assists in just 39 minutes last weekend, leading UCLA to wins at Washington at Oregon State. He did his greatest damage in just 18 minutes against the Beavers, setting up Kelyn Rowe's first-half equalizer, then scoring the winner with 30 seconds to go in regulation.


October, 2, 2011
10/02/11
10:13
AM PT
By
Scott French
| ESPNLosAngeles.com
UC Irvine netted two second-half goals to win its men's soccer showdown Saturday night at UC Santa Barbara, sending the Gauchos -- a perennial national power -- to their second loss in the young Big West Conference season.
Miguel Ibarra
(Lancaster/Lancaster HS) broke a scoreless draw in the 67th minute and
Lester Hayes III
added a second in the 80th for the seventh-ranked Anteaters (9-2-0), who bounced back from a 1-0 loss to Cal Poly in the conference opener Wednesday.
UC Santa Barbara (6-3-1), which was upset by UC Riverside in its Big West opener, nearly scored twice in front of 5,417 fans at Harder Stadium, but Irvine goalkeeper
Andrew Fontein
tipped a
Sam Garza
blast over his crossbar in the first half, and
David Opoku
shot just wide in a 1-on-1 opportunity in the second half.
The loss ended UCSB's 16-game home unbeaten streak.
In other men's action:
Carlos Benavides (Woodland Hills/El Camino Real HS) assisted goals by Yarden Azulay, Christian Gonzalez Diaz (Mission Viejo/Mission Viejo HS) and Edwin Rivas (Los Angeles/Santee Educational Complex), and Cal State Northridge (5-4-1) vaulted atop the Big West standings with its second 3-0 triumph, an upset of visiting Cal State Fullerton (6-2-2). The Matadors had a 28-14 edge in shots, and Fullerton lost star midfielder Kevin Venegas (Lakewood/Los Alamitos HS) to an 82nd-minute red card.
Matt Weisenfarth's goal just 52 seconds into the game was enough for UC Davis in a Big West Conference victory over visiting UC Riverside (6-3-1).
Danny Day, Gabe Ramirez (Pasadena/Crescenta Valley HS) and Charles Izydorek (Redlands/Arrowhead Christian HS) scored goals and Redlands (8-3-0) improved to 5-0-0 in the Southern California Intercollegiate Athletic Conference with a 3-0 victory over defending champ Claremont-Mudd-Scripps (6-3-1). The Stags outshot Redlands, 27-14, and had a 10-3 advantage on corner kicks.
August, 31, 2011
8/31/11
11:04
PM PT
By
Scott French
| ESPNLosAngeles.com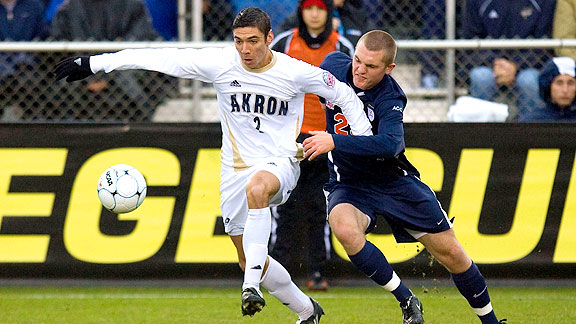 Brian A. Westerholt/Getty ImagesZarek Valentin, left, who now plays for Chivas USA, helped Akron become one of college soccer's elite programs over the last few seasons.

Chivas USA defender Zarek Valentin has made his calls, set up his meetings, even gone to the online maps to chart the best path to Cal State Northridge.

Mighty Akron is in town, and the former Zips star -- he won the NCAA Division I title with them last December in Goleta -- is, to say the least, pumped.

The defending champs take on Cal State Fullerton on Thursday afternoon at 4:30 and Cal State Northridge on Saturday night at 7 in the Matadors' annual tournament, and it's a treat for Southern California soccer fans.

Akron, 91-13-10 in five years (plus last week's season-opening win over Cleveland State) since Caleb Porter took charge, plays the game the right way: on the floor, with style, verve and attacking know-how. It should have brought the Zips successive NCAA crowns, but Virginia toppled them on penalties following a 0-0 draw in the 2009 final.

Valentin was one of seven Akron players taken in January's Major League Soccer draft, one of five selected among the first eight picks, one of three taken with the first four selections. He's hoping to offer his perspective this week to his former teammates and the program's large, talented freshman class.

"Hopefully, I can take some of the guys who are in my class out to maybe Santa Monica or something like that for a nice dinner," he said Wednesday. "Just kind of show them a little bit of, I guess, my lifestyle. Because I think we have a bunch of potential pros in the [Akron] team, because it's a good group. Hopefully, they start out following the right foot.

"Hopefully, I can talk to the team and just give them a little bit of insight, you know, my experience and how they need to live it up in college and enjoy it and play with a smile on your face."

Valentin, 20, left Akron after his sophomore year, and Chivas made him the fourth overall selection. He's started 21 games in an up-and-down rookie campaign, most at right back but several in the center earlier this year. Give him a couple of years -- his potential is immense.

His Chivas teammates Blair Gavin and Ben Zemanski, who left Akron a year before Valentin, also plan to stop by Matador Soccer Field. Valentin notes that they "want to get out and see who the Blair Gavin [and Ben Zemanski are] of this cycle."

Does he want to see this year's version of Zarek Valentin?