Los Angeles Soccer:

Andrew Wenger
January, 11, 2012
1/11/12
10:34
PM PT
By
Scott French
| ESPNLosAngeles.com
CARSON -- If there's a can't-miss prospect in Thursday morning's MLS SuperDraft, it's Duke University's Andrew Wenger, a versatile defender/midfielder/forward who last week won the Hermann Trophy as college soccer's top player.

He's almost universally pegged as the No. 2 selection, by the Vancouver Whitecaps, following speedy Jamaican forward Darren Mattocks of Akron, and at least one critic has proclaimed him the best candidate on the board in central defense, as a defensive midfielder -- maybe even as a winger and a forward.

"Everyone has their opinions," said Wenger, a two-time NSCAA first-team All-American who signed a Generation adidas contract with Major League Soccer following his junior season.

The buzz is deafening for the Lilitz, Pa., product, and he admits he has heard a lot of it.

"I think it's pretty hard not to," said Wenger, who is training until Jan. 25 at Home Depot Center with the U.S. under-23 national team -- although he jetted to Kansas City on Wednesday for the festivities. "I mean, I'll listen to it a little bit, and it's kind of interesting and funny from time to time, but at the end of the day, it's just what you can do on the field."

Wenger, 21, can do plenty. He anchored Duke's backline as a freshman and sophomore and was pushed up front last fall, scoring 17 goals with eight assists to lead the Blue Devils to an 11-8-3 record and into the second round of the NCAA tournament. But his best position, he says, might be in midfield.


January, 10, 2012
1/10/12
10:21
PM PT
By
Scott French
| ESPNLosAngeles.com
Final mock drafts should start showing up online any minute now, and nearly all of them will continue to have Jamaican speedster
Darren Mattocks
, a University of Akron sophomore, going to Montreal with the first pick in Thursday's MLS SuperDraft in Kansas City, and Vancouver following by taking defender/midfielder
Andrew Wenger
, a Duke junior considered the one sure thing on the board.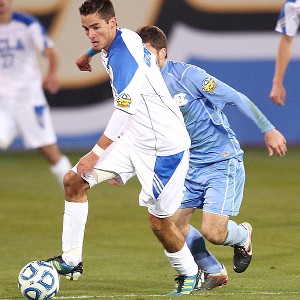 Marvin Gentry/US PresswireUCLA forward Chandler Hoffman could go as high as No. 3 in the MLS SuperDraft on Thursday.
Who goes third? Might be UCLA striker Chandler Hoffman, a Generation adidas player (like Mattocks and Wenger) whose rising stock grew with superb performances in his first two games at the MLS Player Combine, which wrapped up Tuesday in Fort Lauderdale, Fla.

Hoffman, who scored 18 goals to lead the Bruins to the NCAA semifinals, scored an 80th-minute winner to lift adiPower to a 3-2 victory in Friday's combine opener -- moments after forcing a huge save on a breakaway -- and added the first goal in a 2-1 win Sunday.

AdiPower won the tournament with a 3-0-0 record, scoring nine goals behind Hoffman, Maryland forward Casey Townsend, Dartmouth forward Lucky Mkosana and attacking midfielders Kelyn Rowe of UCLA and Luis Silva of UC Santa Barbara.

"It's always good when the roster came out to see I had Kelyn and Luis and then Casey up top with me ...," Hoffman said in a video posted on the Soccer By Ives blog. "It's made my job easy, just combining with them, playing simple and moving the ball."

Hoffman, of course, has played the past two seasons with Rowe, a sophomore also expected to go early in the first round. And Silva (Los Angeles/Salesian HS), another first-round certainty, was Hoffman's summer teammate with USL Premier Development League side Orange County Blue Star.

The Alabaman and Townsend, who is considered the best senior forward (and, with Silva, the best senior) available in the draft, could have been teammates at Maryland -- and their connection at the combines suggests the Terrapins might have won a couple more NCAA titles had he not chosen UCLA.

"Sasho [Cirovski, Maryland's coach], when he was recruiting me, always talked about me and Casey playing together one day," Hoffman told Major League Soccer's website. "Who knew it would be today?"


December, 29, 2011
12/29/11
2:34
PM PT
By
Scott French
| ESPNLosAngeles.com
UCLA has lost a second underclassmen to Major League Soccer, but it wasn't like it was unexpected. Kelyn Rowe, who looked seriously at turning pro following his freshman season a year ago, is the league's fifth Generation adidas signing.

Rowe, the Pacific 12 Conference's Player of the Year, joins All-American forward Chandler Hoffman in MLS's developmental program and could be a top-three selection in the Jan. 12 MLS SuperDraft.

Rowe, 20, an attacking midfielder from Federal Way, Wash., has extensive youth national team experience and is in the U.S. under-23 group preparing for Olympic qualifiers early next spring. He was a third-team All-American as a freshman and amassed 13 goals and 20 assists in two seasons in Westwood. He was the first attacker off the bench as the Bruins marched into the NCAA College Cup final four earlier this month.

"It's every kid's dream to be a professional soccer player, and I'm definitely in that boat," Rowe told MLS's website. "It's a dream come true, so it's a little surreal right now, hasn't quite hit me. I think it will once preseason starts."

He said the opportunity to play against the Galaxy and Chivas USA during his time at UCLA offered a glimpse of what could be.

"We got a little taste what it's like to play at the next level," Rowe said. "But it's going to be hard. It's never easy. The pace of the game is that much faster, the physicality is there, you're playing against guys who have been playing for years at that level."

Rowe and Hoffman had been expected to sign GA pacts, which include funds to complete their degrees and opportunities, because of the program's roster rules, that aren't available to college seniors. GA players do not count against their clubs' roster sizes nor salary caps.


December, 20, 2011
12/20/11
2:02
PM PT
By
Scott French
| ESPNLosAngeles.com
The Galaxy's roster for next season is slowly becoming clearer, it appears, and that's not necessarily a good thing.
David Beckham
might be off for Paris Saint-Germain -- nothing concrete on that yet -- but might L.A. also have to do without
Juninho
and
Omar Gonzalez
?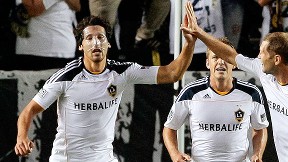 AP Photo/Bret HartmanOmar Gonzalez was MLS defender of the year.

Sambafoot, a website covering Brazilian soccer, reports that Juninho, Beckham's midfield partner for the Galaxy, has signed a three-year contract extension with Sao Paulo FC.

Juninho, 22, spent the past two seasons with the Galaxy on loan from Sao Paulo, and there's no indication that another loan deal can't be done. The Galaxy had been seeking to purchase his contract, and Juninho last month expressed a desire to return to L.A.

"I'm very happy here," he said a few days after the Galaxy's MLS Cup triumph over Houston. "This is a family right now, and after winning the cup, everybody is happy. I'm very secure here. I have my wife here and a lot of friends."

Sao Paulo has not announced a deal on its website, and Galaxy coach/general manager Bruce Arena was not available for comment Tuesday.

Gonzalez, 23, the MLS Defender of the Year, has attracted attention in Mexico and in Europe, and Britain's Sky Sports reports that there "is major interest from the [English] Premier League." Beckham, the report said, has helped, giving rave reviews of the defender in discussions with his contacts in the English game.