Los Angeles Soccer:

Angel Reyna
April, 4, 2012
4/04/12
9:37
PM PT
By
Scott French
| ESPNLosAngeles.com
Toronto FC gave Santos Laguna a battle until halftime. Then things quickly turned sour, and Major League Soccer's last hope for CONCACAF Champions League success was dead.

Santos scored four second-half goals en route to a 6-2 triumph Wednesday night over Toronto in the second leg of a semifinal, posting a 7-3 aggregate victory to forge the third all-Mexico final in four tournaments since the region's club championship switched to its current "league" format in 2008.

The Guerreros in the final will meet defending champion Monterrey, which completed a 4-1 aggregate victory in the other semi with a 1-1 draw against Pumas UNAM in Mexico City. The first leg, on April 17, 18 or 19, is in Monterrey, and the second leg, a week later, will be played in Torreon.

Former Galaxy forward Herculez Gomez scored two first-half goals for Santos, each answering a Joao Plata strike that gave Toronto the advantage. A 2-2 tie would have sent the Reds to the final, but Juan Pablo Rodriguez converted penalty kicks in the 56th and 64th minutes, Oribe Peralta added an insurance goal in the 66th, and Daniel Ludueña added another in stoppage.

Angel Reyna scored in the 35th minute Wednesday for Monterrey, and Antonio Garcia pulled Pumas even in the 71st.

Toronto eliminated the Galaxy in the quarterfinals, claiming a 4-3 aggregate win with a 2-1 triumph March 11 at Home Depot Center. Santos the same night eliminated the Seattle Sounders with a 6-1 victory in Torreon. The Galaxy, Seattle, Real Salt Lake and Houston will represent MLS in the next tournament, which begins in late summer. Toronto competes in the four-team Canadian Championship for another berth.


July, 22, 2011
7/22/11
5:02
PM PT
By
Scott French
| ESPNLosAngeles.com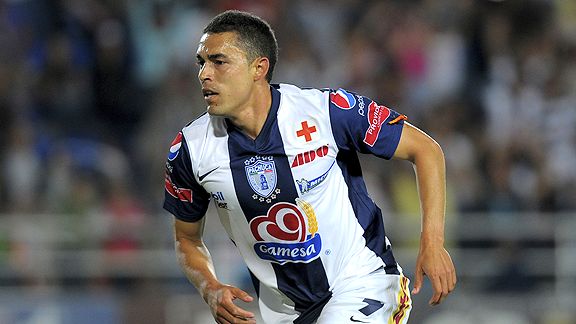 Jaime Lopez/Jam Media/LatinContent/Getty ImagesHerculez Gomez has moved from Pachuca to Estudiantes Tecos and is one of several Southern California's playing in Mexico's Primera Division.

Mexico's Primera Division kicks off the first of its twin 2011-12 seasons Friday night, and fans in this region have a new dog to cheer for. Literally.

The Xoloitzcuintles of Club Tijuana, who take their name and mascot from semi-mythical Aztec hounds that, more or less, have descended into Mexican short-hairs, bring the best league south of the border right to the border -- and soon, perhaps, into San Diego.

The Xolos were the best team in the second-tier Liga de Ascenso last season and won promotion to the Primera in May, and Mexico's third-largest city isn't the only winner. The opportunity for soccer fans in Southern California to see the region's best league -- and storied clubs such as America, Guadalajara and reigning champion Pumas UNAM, in real competition -- is unprecedented, although tickets will be scarce.

Tijuana's Apertura opener Saturday night against Morelia, another club with a large So Cal following, is sold out. There are plans, not the least formalized, to bring games against Guadalajara and America -- the two biggest clubs in Mexico -- to Qualcomm Stadium in San Diego, but that appears at least a year off, provided the Xolos survive their first year in the Primera. We've seen so many times the promoted club relegated after just one Apertura/Clausura cycle, including Necaxa last season.

There are several Southern Californians in the league, too, including Los Alamitos' Jonathan Bornstein (the former Chivas USA captain) at UANL Tigres, L.A.-born Herculez Gomez (the former Galaxy star) at Estudiantes Tecos, Orange's Michael Orozco Fiscal at San Luis, Calexico's Isaac Acuña at America and rising Tijuana winger Joe Corona, from National City.

A newcomer to the league is fading U.S. national-teamer DaMarcus Beasley, at Puebla.

The big change this year: No divisions. The two-season approach, with the fall Apertura and spring Clausura, remain, but now a single table will be used, with the top eight teams advancing to the postseason.

As always, every game, every team, will be televised in the L.A. area by Univision (KMEX/Channel 34), TeleFutura (KFTR/Channel 46), Telemundo (KVEA/Channel 52), Azteca America (KAZA/Channel 54), Galavision and, not quite as often, on ESPN Deportes and Fox Deportes. Select Liga de Ascenso games, usually involving Veracruz, also will be aired.

Here's a quick look at the Primera Division as the Apertura kicks off:
7 BETS TO WIN THE APERTURA
1. CRUZ AZUL (Mexico City):
The excruciating wait for a trophy weighs on the Cementeros, who have come so close so many times -- losing in three Primera finals and two CONCACAF Champions League title series since 2008 -- without winning anything of consequence. They've trimmed excess from the roster, sending out players on loan (two each to Pachuca, Puebla and Morelia), and added
Israel Castro
, who's becoming an institution in midfield for Mexico's national team. The key man, as always, is
Cristian Gimenez
, but there's enough talent everywhere to win the championship.
2. MONTERREY (Monterrey, Nuevo Leon):
The Rayados tumbled a bit last spring after capturing the Apertura title, and
Humberto Suazo
's shoulder injury had a lot to do with it. So did split focus -- Monterrey won the CONCACAF Champions League crown and will play in December's FIFA Club World Cup -- and often indifferent form. But only a couple of sides can match the depth or talent commanded by
Victor Manuel Vucetich
, the league's best coach.
3. AMERICA (Mexico City):
Mexico's biggest club hasn't been its best for some time, but manager
Carlos Reinoso
has inspired some stylish play, and Mexico City money has added to the talent.
Cristian Benitez
, from Santos Laguna, is the big acquisition, but the Aguilas' iffy defense will be aided by the additions of El Tri reserve
Paul Aguilar
at right back and holding midfielder
Jesus Molina
.
May, 13, 2011
5/13/11
8:04
PM PT
By
Scott French
| ESPNLosAngeles.com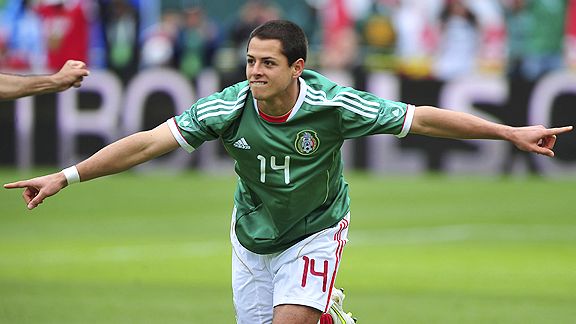 Steve Lopez/LatinContent/GettyImagesMexico Forward Javier Hernandez
Jose Manuel "Chepo" de la Torre has whittled his roster to 23 players for the CONCACAF Gold Cup, and England-based forward Carlos Vela and Pachuca defender/midfielder Paul Aguilar are not among them.
They're the biggest omissions for El Tri heading into the June 5-25 regional nations championship, which will wrap with a Rose Bowl final -- with U.S.-Mexico the anticipated matchup.
The big names are here -- from goalkeeper
Guillermo Ochoa
to backline leader
Rafa Marquez
to attacking stars
Javier "Chicharito" Hernandez
and
Giovani Dos Santos
-- as the Mexicans seek their second straight crown and sixth in 11 tournaments since the Gold Cup was established in 1991.
De la Torre had included Vela, who started two games at last year's World Cup in South Africa, and Aguilar, starter in one, on his 30-man preliminary roster. Also among the 30 but not on the final roster was Guadalajara defender
Jonny Magallon
, who was on the World Cup roster but did not play, and
Jonathan Dos Santos
, Giovani's younger brother, who famously declared he'd never play again for Mexico after he was among the last cuts from the World Cup list.
Vela, who plays for West Bromwich Albion on loan from Arsenal, has seen little playing time during the English Premier League season.
De la Torre has returned Brazilian-born playmaker
Zinha
and Monterrey midfielder
Luis Perez
, who were on the 2006 World Cup team, to the team and promoted several players, including goalkeeper
Alfredo Talavera
, defender
Edgar Dueñas
, midfielder
Jesus Zavala
, and forwards
Aldo de Nigris
,
Elias Hernandez
and
Angel Reyna
, all on whom are on the roster. Zinha, Talavera and Dueñas played for de la Torre at Toluca.
April, 5, 2011
4/05/11
11:40
PM PT
By
Scott French
| ESPNLosAngeles.com
The top three sides in the overall table plus the top two teams in Group B were beaten over the weekend, a flurry upsets tightening the standings and rewarding Guadalajara for its first back-to-back victories since the full season began last summer.
Five of the top eight clubs were beaten:
First-place Pumas UNAM (7-1-4) was stunned by three goals in the first 33 minutes, two by Antonio Salazar, in a 3-1 loss at last-place Jaguares.
No. 2 Morelia (6-3-3) lost for the second time in three games -- a 3-1 decision at home against Group 2 cellar-dweller Pachuca -- to dip to third, still four points off the lead.
No. 3 Cruz Azul (6-3-3) gave up a first-minute goal (to Carlos Quintero) and never recovered, falling, 3-0, at Santos Laguna, which had lost its previous five.
No. 6 Atlante (5-6-1), the Group 2 leader, gave up both goals in a 2-0 loss to UANL Tigres after Alex Diego's red card and dropped to eighth overall and three points behind America in the group standings.
No. 7 San Luis (3-3-7) let an early two-goal lead disappear in a 3-2 loss to Gallos Blancos, which is seeking to avoid relegation to the second-tier Liga de Ascenso. The Gladiadores fell out of the playoff zone, to 11th place.
Tigres (6-1-5), again without Los Alamitos' Jonathan Bornstein, vaulted to second overall, two points behind Pumas, and America strengthened its hold on a postseason spot with a wild 5-4 triumph over Puebla. Angel Reyna netted a hat trick -- he leads the Primera Division with nine Clausura goals -- and Vicente Sanchez added a pair for the Aguilas, who had a 4-0 lead by the 33rd minute.
Marco Fabian de la Mora
's 70th-minute free kick lifted Guadalajara (4-2-6) to a 2-1 triumph at Necaxa, pushing Chivas to seventh, just their second time in the top eight since summer.
MORE BIG GAMES:
How often is the Super Clasico not the game of the week? There's plenty at stake when America visits Guadalajara on Saturday -- both teams are fighting for playoff berths -- but there's a bigger game Sunday: No. 1 Pumas vs. No. 2 Tigres. It's the second 1-vs.-2 showdown for Pumas, which beat Morelia, 1-0, in that situation March 13.
February, 1, 2011
2/01/11
6:43
AM PT
By
Scott French
| ESPNLosAngeles.com
America fired its coach and won. Monterrey expressed confidence in its quality and lost. Guadalajara just drifts aimlessly along.
Three Mexican Primera Division clubs dealing with crisis in different ways, and two of them, at least, are expected to contend for the Clausura title, no matter their slow starts.
America, which dumped
Manuel Lapuente
after opening the "spring" season 0-2-1, won as
Carlos Reinoso
started his third stint as head coach with a 2-0 win over previously perfect Atlas as
Matias Vuoso
and
Angel Reyna
scored second-half goals.
It might have finished differently: Atlas could have pulled even moments after Vuoso's strike, but
Hebert Alferez
tripped over the ball facing a virtually open net from close-range. And Reyna's goal was the product of the worst possible clearance attempt, by
Darvin Chavez
.
"I think we're on the right track, and we deserved the win because we never gave up on it," Reinoso told media. "I'm going to be very demanding, and America must be a team that always goes out to dictate play on any field and against any rival."
Monterrey (1-3-0) is 17th overall -- only pointless Necaxa is worse -- after falling, 3-2, at Pumas UNAM, the Rayados' sixth loss in their past eight regular-season games. And that after dropping just one of the previous 31 en route to two league titles and a best regular-season record.
"We realize that victories are always urgent, especially with a team that is normally used to winning and to playing good football," Monterrey assistant coach
Carlos Barra
told reporters. "We need to reach the level of previous tournaments."
Both clubs have the talent to turn their seasons around. Guadalajara (0-1-3), which sank to 16th overall with a 1-0 defeat to crosstown rival Estudiantes Tecos, is one of two winless clubs (Necaxa's the other) and has shown no knack for winning games. They've finished ahead just twice in their past 16 matches, dating to early September.
December, 29, 2010
12/29/10
11:08
PM PT
By
Scott French
| ESPNLosAngeles.com
The good news for Guatemala: Its foes at next month's Copa Centroamericana aren't going to be as talented as the Club America side it battled Wednesday night in El Reto Aguila in front of 18,632 at the Home Depot Center.
The bad news: The Chapines are going to have to mature, and fast, to contend with those foes.
America romped to a 4-1 triumph in a game much closer than the score suggests -- one goal separated the sides until the 82th minute -- yet just as one-sided as a three-goal victory ought to be.
The Mexico City powerhouse played a first-choice lineup -- all but injured
Rosinei --
in its next-to-last prep before the Mexican Primera Division kicks off its Clausura season the second weekend of January, and it looks ready to make two title runs: in the domestic championship and Copa Libertadores.
The three-pronged attack --
Vicente Sanchez
,
Matias Vuoso
and
Daniel Montenegro
, with midfielders
Miguel Layun
and newcomer
Nicolas Olivera
plus right back
Oscar Rojas
in support -- deserved more than it produced, and veteran
Pavel Pardo
masterfully laid a foundation in midfield for the attackers. And goalkeeper
Memo Ochoa
, America's reigning superstar, handled almost everything the game Guatemalans threw at him.
America went ahead on Vuoso's 19th-minute penalty kick --
Jaime Vides
clipped Sanchez after a superb ball into space from Olivera -- and asserted command on a game-altering, end-to-end sequence about 10 minutes before the end of the first half.
The Chapines' inexperienced lineup had stayed with America the first 35 minutes.
Carlos Figueroa
, one of just five starters with more than 15 caps, was alternately awful and awesome, and he was both at a crucial juncture.
November, 25, 2010
11/25/10
10:48
PM PT
By
Scott French
| ESPNLosAngeles.com
Club America's title hopes might have disappeared on a piece of magic by Christian Benitez -- and black magic from referee Jaime Herrera.
The fourth-seeded Aguilas failed to get two penalty calls, then gave up a goal at the finish, absorbing a 2-1 defeat Thursday to visiting Santos Laguna in a semifinal first leg in Mexico's Primera Division playoffs.
Second-seeded Monterrey's defensive stance was rewarded with a 0-0 draw at Pumas UNAM in the other Mexico City encounter, and the Rayados will need no more than a tie in Sunday's home leg to advance to the championship series. Higher seeds move on if the aggregate score is even.
America will need a two-goal victory in Torreon after Benitez broke a tie in the 89th minute, beating three defenders and then firing home a cross-box shot, his league-best 15th goal of the campaign.
Carlos Quintero
gave No. 3 seed Santos a 10th-minute lead, and
Angel Reyna
pulled the Aguilas even in the 19th.
"The result serves us," Benitez told Televisa, the giant TV network that owns America. "Now we play at home. We have an advantage, and we must seize it."
That advantage was built largely on Herrera's inadequacies. He allowed play to continue after
Felipe Baloy
took down America forward
Matias Vuoso
in the Santos box, then allowed
Fernando Arce
to get away with hitting
Vicente Sanchez
in the face, also in the box.
Monterrey kept nine men (plus goalkeeper
Jonathan Orozco
) behind the ball for most of its match against No. 8 seed Pumas, which stunned top-seeded Cruz Azul in the quarterfinals.
Neri Cardozo
nearly gave the Rayados a lead in the 21st minute, but his shot struck the left post.
LIGA DE ASCENSO:
Club Tijuana and Irapuato moved closer to the title showdown in Mexico's second-tier division.
The Xoloitzcuintles notched their 11th shutout in 18 games in a scoreless draw at Albinegros de Orizaba, hardly a surprising result. Tijuana has surrendered just seven goals during the Apertura, and Albinegros has posted five successive clean sheets, extending its shutout streak to 535 minutes.
Tijuana, which needs only a draw in Sunday afternoon's second leg at Estadio Caliente, has a decided advantage at home. The Xolos are 7-0-2 in T.J., conceding just twice.
Irapuato dominated Veracruz in its home leg, using goals by
Ariel Gonzalez
in the sixth minute and
Jose Luis Lopez
in the 60th for a 2-0 victory.
Cuauhtemoc Blanco
nearly made it 3-0, but his 43rd-minute header from
Arturo Alvarado
's cross crashed off the crossbar.
SEMIFINALS, FIRST LEG
Thursday
America 1 (A. Reyna 19), Santos Laguna 2 (Quintero 10, C. Benitez 89)
Pumas UNAM 0, Monterrey 0
SEMIFINALS, SECOND LEG
Sunday
America at Santos Laguna, 4 p.m.
Pumas UNAM at Monterrey, 6 p.m.
SEMIFINALS, FIRST LEG
Thursday
Albinegros de Orizaba 0, Club Tijuana 0
Irapuato 2 (A. Gonzalez 6, J. Lopez 60), Veracruz 0
SEMIFINALS, SECOND LEG
Sunday
Albinegros de Orizaba at Club Tijuana, 1 p.m.
Irapuato at Veracruz, 5 p.m.