Los Angeles Soccer:

Anisa Guajardo
June, 12, 2012
6/12/12
8:48
PM PT
By
Scott French
| ESPNLosAngeles.com
IRVINE -- Daniel Steres was drafted by Chivas USA, spent a month in camp with the Seattle Sounders, and has been a force -- in the back or anchoring the midfield -- as the Ventura County Fusion have turned the Premier Development League's Southwest Division into their own playground.

Now he's back with the Sounders, taking the next step in his journey to being a full-fledged professional.

Steres (Calabasas/Calabasas HS), who starred at San Diego State, was taken by Seattle in last week's college-waiver draft and headed over the weekend to Washington.

"We're getting the contract [sorted out], and then working my way up to get a starting role, obviously," Steres told ESPN Los Angeles after the Fusion's 2-1 victory Friday evening over Orange County Blue Star. "Sounds like they're excited to have me come in. I'm excited to go in."

Steres, probably a center back or right back in MLS, lost out in numbers games during preseason at Chivas and, after his release by the Goats, in Seattle. He's been superb for the Fusion, bolstering the backline next to Mickey Daly (Cal State L.A.) or Tim Pontius (Yorba Linda/Servite HS and UC Santa Barbara) or teaming with former Chivas USA/Portland Timbers midfielder Rodrigo Lopez (Santa Barbara/Santa Barbara HS) in central midfield.

The Fusion (6-1-1) are atop the Southwest Division after rallying for a 2-1 win against Blue Star at Concordia University. Travis Bowen (Van Nuys/Chatsworth HS), the older brother of Chivas USA forward Tristan Bowen, scored both goals -- his fourth and division-best fifth of the season -- with the winner coming in the 76th minute.

Ventura is one point ahead of FC Tucson, which visits the Fusion next weekend.

Pontius, the younger brother of D.C. United midfielder Chris Pontius, also is getting some MLS attention. The big center back, a Sounders draft pick, has been in camp the past week with the Galaxy. He says playing with the Fusion has helped prepare him.

"College is one thing," he said. "College prepares you for the next step. This is kind of the in-between phase between college and pros. You've got a lot of players here who can make the next step."

He said his time with Sounders in preseason was "spectacular."

"Unfortunately, it didn't work out for me, but at the end, I gained a lot of experience out of that opportunity," Pontius said. "Spots were tight there, so there's only so much you can do. You play your game, if it doesn't work out, it doesn't work out. You try the next one."

Elsewhere in minor-league soccer:


January, 22, 2012
1/22/12
8:27
PM PT
By
Scott French
| ESPNLosAngeles.com
Sydney Leroux took the spotlight as the U.S. women's national team continued its massacre of CONCACAF minnows, scoring five goals in her second international appearance, a 13-0 rout of Guatemala in Olympic qualifying in Vancouver, British Columbia.

Leroux, a three-time UCLA All-American who was born in Vancouver and lived there until moving at 15 to Phoenix for soccer considerations, came on at halftime and matched Amy Rodriguez's five-goal performance in Friday's 14-0 victory over the Dominican Republic, the Yanks' Group A opener.

Hermosa Beach's Abby Wambach tallied twice in the first 15 minutes -- her 128th and 129th international goals, one shy of Kristine Lilly's No. 2 all-time total -- and Rodriguez (Lake Forest/Santa Margarita Catholic HS and USC) added to her total as the U.S. clinched a berth in Friday's all-important semifinals.

The U.S. and Mexico, which also has won big in its matches, will meet in a group finale Tuesday. The victor will win the group -- a draw favors the U.S. -- and likely avoid Canada, a dangerous foe. Costa Rica also has qualified for the semifinals and needs a win Monday over the Canadians to win Group A.

Only the semifinal winners advance to next summer's London Games.


November, 24, 2011
11/24/11
3:36
PM PT
By
Scott French
| ESPNLosAngeles.com
As he prepared his Long Beach State women's soccer team for something truly historic, Mauricio Ingrassia figured what better way to illustrate what the 49ers have accomplished -- and what remains in their reach -- than to show off a little living history.
So off they went, upon flying into North Carolina for Friday's NCAA Division I quarterfinal at thid-ranked Duke, to visit
Anson Dorrance
, architect of the most dominant dynasty in American sports history.
Dorrance, with a nearly never-ending stream of legends --
Mia Hamm
,
Kristine Lilly
,
April Heinrichs
,
Carla Overbeck
,
Tisha Venturini
,
Lorrie Fair
,
Lindsay Tarpley
,
Lori Chalupny
,
Heather O'Reilly
,
Tobin Heath
-- has guided North Carolina to 21 national championships and fueled the U.S. women's national team's dominance in the women's game.
"Four our girls, that's history," said Ingrassia, whose 49ers (18-5-1) have won eight in a row, seven by shutout, en route to the Big West Conference tournament title, a first-round NCAA "upset" of No. 7 Pepperdine, victories over Miami and San Diego and to a wholly unexpected spot in the elite eight. "If you ask [female] college players around the country if they ever thought about playing at North Carolina, you'd see a lot of hands, and our program isn't any different."
So Ingrassia's charges oohed and ahhed at all the silverware and championship banners and mementos of those icons, checked out the facilities and spend a little time with Dorrance, the winningest coach in the American game, any level, anywhere.
Now they head into a battle with a Duke team that's 20-3-1, has a vibrant attack led by freshman
Kelly Cobb
and sophomores
Kaitlyn Kerr
and
Mollie Pathman
and an outstanding backline anchored by sophomore
Natasha Anasi
. The smart money has the Blue Devils in the Dec. 4 final against No. 1 Stanford.
Nothing is expected of Long Beach State, which hadn't won in two previous NCAA appearances. Now they sit one very difficult win from a College Cup final appearance.
"The goal for the team was to get to the sweet 16 or better," said Ingrassia, whose team has advanced further than North Carolina, defending champion Notre Dame and perennial powers Santa Clara, Portland, UCLA and Florida. "Once we got to the sweet 16, we got the team together and said, 'Define what 'better' means to you. They came up with some pretty good and pretty powerful answers, so we redefined our goal."
October, 28, 2011
10/28/11
5:42
PM PT
By
Scott French
| ESPNLosAngeles.com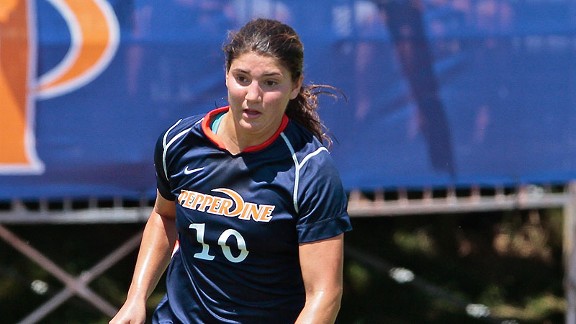 Scott French/ESPNLosAngeles.comAnisa Guajardo leads the Waves with nine goals.
Pepperdine heads into Friday night's showdown at Santa Clara likely for the West Coast Conference women's soccer championship with a 13-0-4 record, a school-record 18-game unbeaten streak and a No. 3 spot in the national rankings.
Head coach
Tim Ward
thinks it's the just the beginning.
Pepperdine has had some outstanding teams but never been considered a national power, but in a landscape that is embracing more and more contenders every year -- it's not just North Carolina, Notre Dame and Santa Clara anymore -- "I feel we're a team of destiny a little bit," Ward says.
"I feel a change in the air ...," he says. "I think it's our time. I think it's our time to rise up and become a power in women's soccer."
They've made their first move with a young but veteran side that has locked things down in the back, conceding just nine goals in 17 games, while feasting on a varied attack led by a local hero and two major signings from Fresno.
The three forwards -- cerebral
Laura Cole
(Whittier/La Habra HS), finisher
Anisa Guajardo
and freshman phenom
Lynn Williams
, the latter two from the Central Valley -- have gotten most of the attention, combining for 19 goals and 13 assists, but Ward is fond of the assessment a friend, a top high school coach, offered after watching the Waves: "Twenty-six women with one heart."
"I don't know if this is the most talented team we've ever had," he says. "It certainly rivals the 2002 team [that went 18-2-2, won the WCC and reached the NCAA Sweet 16], but it is a great team. The environment, the camaraderie and team spirit definitely is what gets us through the tight [moments].
"We still have a long way to go to get better. Here we are undefeated, but we can get so much better. ... We have no illusion we're all that or we're there yet. That's another nice thing about the team. There's a lot of humility. We're sticking together like good teams should, sacrificing for each other, and we're staying humble."
Credit goes to the senior leadership -- Cole, defensive midfielder
Karissa Garcia
and left back
Myriah Stockman
-- and the knowledge that with 10th-ranked Santa Clara and fellow national power Portland still on the schedule, the team hasn't won anything yet.
October, 17, 2011
10/17/11
12:47
PM PT
By
Scott French
| ESPNLosAngeles.com
Chandler Hoffman scored twice in the final 21 minutes and ninth-ranked UCLA toppled No. 24 San Diego State, 2-0, Sunday at Drake Stadium to claim its eighth straight victory against Pacific 12 Conference men's soccer competition.
Hoffman scored in the 70th and 83rd minutes, his 10th and team-best 11th goals of the season, as the Bruins (10-3-1) improved to 5-0 in Pac-12 play with a six-point lead on San Diego State (8-3-2) and Washington (8-3-2), which are 3-2 in conference.
Hoffman, who ended a four-game goal drought, tallied from
Kelyn Rowe
's long ball to break the scoreless draw, then added the second from a feed by
Victor Muñoz
, firing home after his first attempt was blocked. Hoffman has 17 goals in his last 20 games for UCLA.
In other men's action:
Sean Sears and Artur Jozkowicz (Santa Monica/Santa Monica HS) netted second-half goals, and Loyola Marymount (5-9-0) won its third in a row, a 2-1 decision over visiting San Francisco, the West Coast Conference leader heading into the weekend.
UC Santa Barbara transfer Taylor Rivas (Lancaster/Lancaster HS) tallied in the 87th minute and Cal State L.A. (8-1-5), No. 13 in the NCAA Division II rankings, escaped with a 1-1 draw in a California Collegiate Athletic Association clash at Cal State San Bernardino (5-8-1). UC Irvine transfer Brett Faggioni scored for the Coyotes in the 12th minute.
September, 26, 2011
9/26/11
2:45
PM PT
By
Scott French
| ESPNLosAngeles.com
UCLA opened Pacific 12 Conference play in women'ssoccer with a dominant but tight victory over Washington, but USC couldn't hold on to an early advantage in its opener against Washington State.

Vanderbilt transfer Chelsea Stewart scored UCLA's goal in the 79th minute Friday night in front of 2,350 at Drake Stadium, skipping a free kick through a crowded box and past Huskies goalkeeper Jorde LaFontaine-Kussman.

The Bruins (8-0-1) played superb defense, limiting Washington (3-4-2) to one shot.

USC (3-7-0) on Sunday scored the fastest goal in program history -- Samantha Johnson (Palmdale/Highland HS) on an assist from Haley Boysen (Moorpark/Harvard-Westlake School) just 14 seconds in -- then conceded twice in the last 25 minutes to fall to the Cougars (7-3-1) at McAllister Park.

Rachael Doyle's header off the crossbar evened things in the 67th minute, and Jocelyn Jeffers got the winner with 4½ minutes to play.

In other women's action:


September, 19, 2011
9/19/11
12:11
AM PT
By
Scott French
| ESPNLosAngeles.com
UC Irvine and its Orange County rival Cal State Fullerton are off to their best starts in men's soccer in years, but any hopes for unbeaten campaigns -- realistic or not -- are now dead.
The fifth-ranked Anteaters and the Titans suffered their first defeats Sunday, dropping tight encounters on the East Coast.
Irvine (7-1-0) fell, 2-0, in a showdown with 12th-ranked South Florida, which got goals from
Wesley Charpie
in the 13th minute and
Dom Dwyer
in the 82nd.
Fullerton (5-1-1), which is ranked 24th by
Soccer America
, was beaten, 2-1, at George Mason on
Taylor Morgan
's penalty kick with about 20 minutes to go.
Nick Posthuma
(Pasadena/St. Francis HS) scored for the Fullerton in the 52nd minute, answering
Julio Aronja
's strike in the final minute of the second half.
In other men's action:
Kelyn Rowe's spectacular shot from 30 yards -- off the left post, off the right post and in -- 88 seconds into overtime lifted UCLA (4-2-1) to a 1-0 victory at San Diego.
Ben Sperber (Palm Desert/Desert Christian HS) provided an early lead, but UC Riverside (3-2-1) settled for a 1-1 draw with visiting San Jose State when Nick Cashmere tallied with 92 seconds left in regulation.
Jason Swope scored twice in the final 10 minutes of regulation as Cal State L.A. (4-0-2), ranked 10th in NCAA Division II, rallied for a 2-2 California Collegiate Athletic Association draw with visiting Chico State.
Cal State Dominguez Hills (3-2-1) closed a tough CCAA weekend as Cal State Stanislaus used a physical game plan -- committing 25 fouls to 11 for the Toros -- en route to a 1-0 victory. CSUDH was ranked 23rd in the NCAA Division II poll but lost, 5-0, Friday to Chico State.
Cal Poly Pomona (4-2-0) topped visiting UC San Diego, 3-0, in a CCAA clash on goals by Boris Beta, Ian Trantow (Riverside/Arlington HS) and Jonathan Enns.
WOMEN: Hubbard's hat trick lifts Long Beach
Nicole Hubbard
scored a hat trick as Long Beach State broke out a deadly attack Sunday afternoon, routing St. Mary's, 6-0, at George Allen Field.
Hubbard (Lakewood/Mayfair HS) tallied in the 17th, 29th and 64th minutes for the 49ers (6-3-0), who also received big games from
Shawna Gordon
and
Nadia Link
.
September, 10, 2011
9/10/11
6:29
PM PT
By
Scott French
| ESPNLosAngeles.com
UCLA finally has a victory. Another might boost the Bruins back into the top 25.
Chandler Hoffman
scored his third goal of the season and All-American
Kelyn Rowe
added another to lift UCLA (1-2-1), one of the chief preseason NCAA title favorites, to a 2-1 triumph Friday night over St. Mary's at Drake Stadium.
The Bruins, ranked sixth in the National Soccer Coaches Association of America preseason poll (and as high as No. 2 elsewhere), dropped out of the top 25 following losses to Louisville and UC Davis and a draw at Santa Clara.
Hoffman, who has eight goals in his last 10 games for the Bruins, finished a sequence from
Shawn Singh
and
Eder Arreola
(Chino Hills/Chino Hills HS) three minutes into the second half. Rowe's goal, a magnificent blast from just wide of the box to inside the far post, made it 2-0 in the 73rd minute.
UCLA takes on Loyola Marymount on Sunday at 5 p.m. on the Bruins' North Athletic Field.
In other men's action:
Everett Pitts (Chino Hills/Ayala HS) volleyed home a rebound 16 minutes into overtime to lift No. 9 UC Irvine (5-0-0) to a 3-2 triumph at Wisconsin. The Badgers (2-2-0) rallied after Enrique Cardenas (Coachella/Coachella Valley HS) provided the Anteaters a 2-0 lead with a pair of yeoman's goals in the first six minutes of the second half.
Kevin Venegas (Lakewood/Los Alamitos HS) sent Cal State Fullerton (3-0-1) to a 2-1 win over UW Green Bay at UNLV's tournament, converting a 73rd-minute penalty kick for the winner.
Chris Smith (Palmdale/Quartz Hill HS) fed goals by Taylor Bowlin and Yarden Azulay as Cal State Northridge (2-2-0) romped, 3-0, over Missouri State at New Mexico's tournament.
September, 5, 2011
9/05/11
10:14
AM PT
By
Scott French
| ESPNLosAngeles.com
UCLA doesn't look much like the title contender it might be destined to become -- not yet. The Bruins, ranked as high as fourth nationally, lost again Sunday, leaving them winless in three games.

Alex Henry's goal nearly 10 minutes into overtime carried UC Davis to a 2-1 home triumph, the Aggies' first victory over UCLA in program history.

"Our team executed our tactics perfectly today, and I knew that eventually we were going to get one on them," UC Davis coach Dwayne Shaffer told his school's athletics website. "It's a huge win for our program, and it means a lot not only to our players, but to our entire athletics department."

Chandler Hoffman scored from Kelyn Rowe's through ball in the 87th minute to give life to the Bruins, who were down to 10 men after Ryan Lee's red card four minutes earlier.

Goalkeeper Omar Zeenni (Arcadia/Crespi Carmelite HS) made eight saves for UC Davis (1-1-1).

UCLA (0-2-1) lost its opener at No. 1 Louisville and tied Santa Clara on Friday. The first home game is Friday night at Drake Stadium against St. Mary's.

In other men's action:
Christian Hernandez (Palmdale/Palmdale HS) scored his third and fourth goals as No. 14 UC Irvine (4-0-0) topped visiting Drake, 2-1.
David Opoku's 16th-minute goal gave No. 9 UC Santa Barbara (3-0-0) a Carolina sweep with a 1-0 victory at North Carolina State.
Jake Dobkins and Omar Mata scored goals seven minutes apart to give Tulsa a 2-1 win over No. 25 Loyola Marymount (1-2-0).
Nick Echeverry (Anaheim/Servite HS) scored just 19 seconds after kickoff, enough for Chapman (2-0-0) in a 1-0 win over Puget Sound.
Cal Lutheran got its season off to a dream start -- Raul Yepez (Oxnard/Pacifica HS) scores twice in the first 29 minutes -- but Fontbonne, from St. Louis, rallied for a 3-2 victory.
Matt Sykes' penalty kick in overtime carried Grand Canyon to a 2-1 win over Cal Poly Pomona (1-1-0).
THREE IN A ROW FOR USC: Courtney Garcia (Yorba Linda/Esperanza HS), just moments after coming off the bench, knocked home an overtime rebound, and USC (3-3-0) rallied for its third successive win, a 2-1 decision at Purdue.

Elizabeth Eddy (Newport Beach/Newport Harbor HS) scored an equalizer in the 63rd minute for USC, which beat No. 17 Illinois in Friday's opener at the Illini/Boilermaker Cup.


August, 20, 2011
8/20/11
6:55
PM PT
By
Scott French
| ESPNLosAngeles.com
The college women's season kicked off for real Friday with Long Beach State riding its biggest star to pull out a tight victory over No. 25 USC at McAllister Park.
Two-time first-team All-Big West midfielder
Shawna Gordon
(Rancho Cucamonga/Los Osos HS) beat USC goalkeeper
Shelby Church
with an 86th-minute header to lift the 49ers to a 2-1 triumph.
Defender
Alex Balcer
also scored, on a 45-yard free kick off Church's hands, for Long Beach State, which rallied after
Haley Boysen
(Moorpark/Harvard-Westlake School) gave the Women of Troy a 17th-minute advantage with a looping header off
Brittany Kerridge
's free kick.
The 49ers are expected to battle UC Irvine, which won its opener (see below), for the Big West Conference title this season, and USC provides a decent barometer, even if the meeting came a little early for
Mauricio Ingrassia
.
"I think for both teams, first game out, not a lot of rhythm that can be developed," the eighth-year Long Beach State coach told ESPN Los Angeles. "It would have been nice to play each other maybe five games in, when we've had a little time to settle our lineups."
Gordon scored after a long throw-in at 6-foot-1
Jazz Strozier
(Ventura/Buena HS and Ventura College) flicked into the goalmouth. The ball was knocked about and into the air, and the midfielder -- "Our leader," Ingrassia called her -- leapt above three others to nod the ball into the net.
June, 7, 2011
6/07/11
7:51
PM PT
By
Scott French
| ESPNLosAngeles.com
There's a new boss in the W-League's Western Conference, and it's not any of the expected contenders.
Second-year Santa Clarita Blue Heat leapt atop the standings with two impressive wins last week, surging ahead with a 5-2 romp over a stacked Vancouver Whitecaps team.
Portuguese star
Edite Fernandes
' quality has helped transform Blue Heat (4-0-1), an also-ran in year one, into an attacking giant, with 15 goals in the past three games. The Whitecaps (4-1-1), who arrived for a three-game L.A. trip looking a good bet to repeat as conference champ, had conceded just three goals in their first five games.
Englishwoman
Stacey Rodwell
, who played at Cal State L.A., had three assists Sunday against Vancouver -- two on Fernandes goals -- after setting up Fernandes in a 3-0 win Friday over the Seattle Sounders.
Colorado Rush (4-1-0) is one point behind Blue Heat and Vancouver.
Two-time W-League champ Pali Blues (3-0-2), which drew with Vancouver and beat Seattle, is the only other unbeaten side in the West. They played a scoreless draw with Santa Clarita on May 26 and meet again in a regular-season finale July 17 at Canyon High School in Canyon Country.
More on local clubs and players:
June, 3, 2011
6/03/11
5:54
PM PT
By
Scott French
| ESPNLosAngeles.com
Two local clubs -- the Southern California Seahorses and Santa Clarita Blue Heat -- are enjoying unexpected early success in United Soccer Leagues competitions and will have a better idea of how good they really are following showdowns this weekend.

The Seahorses (3-2-0) are coming off back-to-back Premier Development League wins over longtime power Orange County Blues Star, winning 2-0 last week in Irvine and 2-1 on Wednesday night in La Mirada. Ryan Shaw (La Cañada Flintridge/St. Francis HS) scored three goals -- giving him five in five games -- in the victories.

Now the club, part of a Christian organization that includes the USL Pro league's Charlotte Eagles, looks to bounce back from the 4-0 home loss last weekend to Southwest Division leader Ventura County Fusion (5-0-2). They meet Sunday evening at Ventura College.

The Blue Heat (2-0-1) last week played two-time W-League champ Pali Blues to a scoreless draw, then destroyed archrival L.A. Strikers, 7-2, after scoring three goals -- by Hannah Beard, Portuguese star Edite Fernandes and Cal State Fullerton's Ann Marie Tangorra (Arcadia/Arcadia HS and Cal State L.A.) -- in the first 25 minutes.

Santa Clarita returns home, The Master's College on this occasion, to take on reigning Western Conference champ Vancouver Whitecaps (3-0-1), who have conceded just one goal this season.

More on local clubs and players: