Los Angeles Soccer:

Antonio Mohamed
December, 24, 2011
12/24/11
8:21
PM PT
By
Scott French
| ESPNLosAngeles.com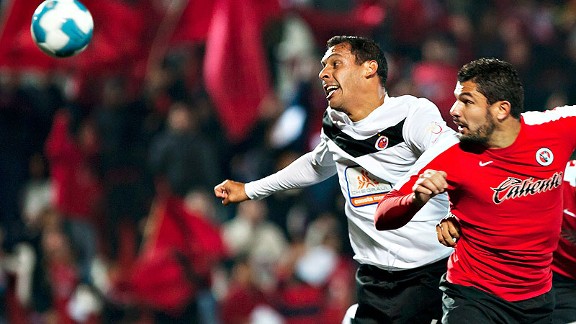 Club Tijuana Xoloitzcuintles de Caliente Captain Javier Gandolfi, right, anchors the Xolos' backline.
Counting down the 11 biggest 2011 stories in Southern California soccer ...

Fans of the Mexican Primera Division have always been in fairly decent shape around these parts. We get every single game on television, which ought to sate the throngs of Chivas, America, Pumas, Morelia, Santos and Cruz Azul fans roaming in and around L.A.

Want to see a genuine top-tier Mexican game in person? You were out of luck without a flight or long, long, long drive south, at least until this past summer, when Club Tijuana made its Primera Division debut.

The Xoloitzcuintles (a Mexican hairless dog), owned by Baja political/business maestro Jorge Hank's family, have in five years evolved from the ruins of so many failed lower-division Tijuana clubs into a cause célèbre in Mexico's third-largest city, a point of civic pride and a conduit that connects this metropolis of 1.5 million with the rest of its country -- and increasingly with legions of soccer fans north of the border.

Tijuana followed last December's triumph in the second-tier Liga de Ascenso's Apertura (or autumn) championship with a run to the Clausura (spring) final. After losing in that series to Irapuato, the Xolos won another, triumphing in the playoff between the two champs to grab one of the 18 slots in the top division -- the premier league, no question, in CONCACAF.

Already, they've welcomed Guadalajara, Morelia, Pachuca and Tigres to Estadio Caliente. The Clausura kicks off Jan. 6, and Monterrey and Santos visit next month, Cruz Azul in February, and America in March.

They take them on with a fine side led by Brazilian-born midfielder Leandro Augusto, former Mexican national-teamer Fernando Arce, Argentine captain Javier Gandolfi, and Colombian forwards Dayro Moreno and Duvier Riascos. Three Americans, all with Mexican ancestry, also are in the first team: San Diego's Joe Corona and newcomers Edgar Benitez, from New Mexico, and Texan Greg Garza.

The primary goal is survival. One team is relegated to the Liga de Ascenso at the end of each Clausura, and it's all based on points per games over three years (six Apertura and Clausura campaigns). Tijuana went 3-5-9 and finished 15th in its first Primera League season, a roller-coaster affair in which it needed seven home games to win in front of its frenzied fans but went unbeaten in the final eight games after Antonio Mohamed's midseason appointment as head coach.

Only three teams lost fewer games -- first-place Guadalajara, regular-season runner-up Cruz Azul, and third-place UANL Tigres, who went on to win the championship -- but only last-place Atlas won less, and the Xolos sit 16th on the "percentage" table, tied with Atlas and just a fraction ahead of Estudiantes Tecos. They need to stockpile points to remain in the top tier.

That's essential. The club has big plans. It has been slowly expanding and upgrading Estadio Caliente, which is adjacent to Hank's massive Caliente casino in Tijuana, with plans to boost capacity from about 20,000 -- with every seat typically filled -- to at least 33,000.

The club is building an academy program, and it is extending its reach beyond Baja, beyond San Diego and into Orange County and Los Angeles. The Xolos are looking to compete with the Galaxy and Chivas USA for the best talent in the region -- and for fans. The push could immeasurably alter the soccer landscape around here.
December, 15, 2011
12/15/11
12:57
PM PT
By
Scott French
| ESPNLosAngeles.com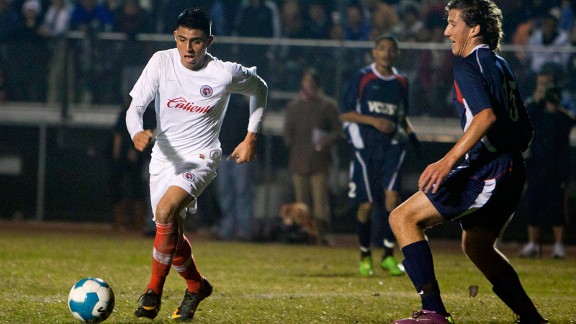 German Alegria/Club TijuanaClub Tijuana's Joe Corona has Olympic aspirations.

OXNARD -- Joe Corona celebrated the end of his participation in Club Tijuana's Ventura County training camp with a goal. Edgar Castillo gave his new team a solid 90 minutes.

And a nearly full stadium at Channel Islands High School got a nice glimpse of the Xolos, who have one major assignment -- stay in the top division -- when the Mexican Primera Division's Clausura campaign begins next month.

Tijuana routed a select side from the Ventura County United Soccer Leagues, 5-0, in a friendly Wednesday night, the Xolos' second game of the day as their weeklong camp in Oxnard neared its finish. That's it for Corona, who was set to fly early Thursday morning to Florida for the U.S. under-23 national team's camp.

"It's a good opportunity. It's something I'm really looking forward to," said Corona, 21, who was born in Los Angeles, grew up in San Diego and left San Diego State following his freshman year to sign with Tijuana. "The Olympics, not a lot of people are fortunate to go. Hopefully, I can be part of that."

This is the second camp for Corona with the U23s, who are preparing for CONCACAF's qualifiers, in March, for next year's London Olympics, and it follows a camp with Mexico's U22s, the foundation of El Tri's Olympic side. He's eligible for both countries -- and El Salvador -- and it looked like he would be playing for Mexico after U.S. national team coach Jurgen Klinsmann, right after his hiring at the end of July, rescinded an invitation from former coach Bob Bradley.

Klinsmann prefers to bring young talent along through the youth national teams, such as the U23s, and Corona's experience with the Mexican squad boosted his U.S. desires. He was part of the first U23 camp during Klinsmann's regime, last month in Germany, and is among 30 players U.S. U23 coach Caleb Porter has summoned to Lakewood Ranch, Fla.

"I first had a call-up for Mexico. Unfortunately, I didn't have as much playing time," Corona said. "I didn't feel that they took me seriously. That's why I chose to take a shot at the U.S. national team, see how it goes.

"My last call-up, in Germany, went well, and I played in both games. I thought it was a great experience. Hopefully, it keeps going."

Corona has great promise. He's played up front and on the flanks for Tijuana, but Antonio Mohamed, who took charge in September, midway through the fall Apertura championship, has used him as an attacking midfielder, his natural post.


October, 18, 2011
10/18/11
10:40
PM PT
By
Scott French
| ESPNLosAngeles.com
It's big-game week in Mexico's Primera Division, which means it's Super Clasico time, and both of the really big boys -- Guadalajara and America -- come into the clash off impressive victories that followed challenging runs.
Marco Fabian de la Mora
's hat trick and another pair from
Erick Torres
-- his first two of the Apertura -- sparked Chivas' 5-2 rout of Zapopan rival Estudiantes Tecos, the Goats' first win in six games and their first under new coach
Fernando Quirarte
's guidance.
America ended a seven-game winless streak with a 3-0 romp at Monterrey, the Aguilas' first win since
Fernando Tena
took charge last month.
Guadalajara, which had scored five goals in its previous 7½ games, vaulted to third in the standings, just one point off the lead. America is still 16th but sits just three points from the playoff zone.
The Clasico, contested since 1943, is set for Sunday afternoon at Estadio Azteca in Mexico City. America leads the all-time series, 73-69-63, but Chivas has won five of the last seven and has the better record in Mexican league play: 51-48-43.
Northern Mexico's biggest rivalry -- the Clasico Regiomontano, between crosstown rivals Monterrey and UANL Tigres -- also is this week, on Saturday at Tigres' Estadio Universitario.
1. HERCULEZ STRIKES AGAIN
Former Galaxy standout
Herculez Gomez
has scored in four straight appearances and has six goals in just 577 minutes of action this season for Estudiantes Tecos.
He netted another in the Owls' 5-2 loss Saturday to Guadalajara and would have a dozen, scoring at this rate, if he were a full-time player.
October, 11, 2011
10/11/11
5:55
PM PT
By
Scott French
| ESPNLosAngeles.com
The best team in Mexican soccer this year, even without a trophy to show for it, has been UANL Tigres, which under Brazilian coach
Ricardo "Tuca" Ferretti
has conceded just 18 goals while posting a 16-3-11 mark in regular-season action since the Primera Division's Clausura kickoff last January.
The club from suburban Monterrey is back atop the Apertura after crushing previous leader Pumas UNAM on the weekend, scoring four first-half goals en route to a 4-1 decision.
Tigres (5-1-6) is even on points with Cruz Azul (6-3-3), which was denied two should-be penalty kicks before
Javier Orozco
netted two second-half goals in a 2-0 win over Puebla.
Jaguares (5-3-4), which was ahead two weeks ago, fell from second to sixth with a 1-0 loss at Pachuca (6-4-2), which climbed to fourth, just one point off the lead, after its third win (with a tie) in four games since the 5-0 disaster Sept. 10 at Tigres.
Santos (6-3-2), still with a game in hand over everybody except Morelia, and Pumas (6-4-2) also are two points back.
The biggest surge forward this week was made by Monterrey (5-5-2), which won in league for the first time since August -- early goals from
Neri Cardozo
and
Dario Carreño
starting the Rayados toward a 3-2 victory at Estudiantes Tecos -- to jump from 13th to eighth, into the playoff zone.
1. WHITHER JOHNNY B.?
Local hero
Jonathan Bornstein
's time in his mother's native land isn't going as planned. He's an afterthought at Tigres -- and given the club's success, who can say Ferretti is wrong -- with not one minute of league time since the Apertura began in July.
Bornstein (Los Alamitos/Los Alamitos HS and UCLA), the former Chivas USA captain, has made Tigres' 18-player game roster just once, at the end of August, and has seen action only in three games with the club's under-20 side.
"It's definitely frustrating," he told Major League Soccer's website. "I keep plugging away in training and doing the work, and, hopefully, when the times comes, I'll get the opportunity."
September, 20, 2011
9/20/11
6:36
AM PT
By
Scott French
| ESPNLosAngeles.com
That's not a misprint atop Mexico's Primera Division standings. Unfancied Jaguares, the Chiapas club that dropped 12 of 17 games and finished last during the spring Clausura, is, indeed, No. 1.

A 5-3 triumph Saturday over visiting America, with Edgar Andrade scoring two goals and setting up another, vaulted Jaguares (5-2-2) to the top spot, ahead of giants Cruz Azul and Guadalajara on goal difference, following a third successive victory.

Since dropping its first two Apertura matches, to Monterrey and Guadalajara, Jaguares has been Mexico's finest club, going 5-0-2 to climb from 18th -- last -- to 16th to 12th to sixth to fourth to first.

Previous leader Guadalajara (5-2-2) did its part, losing to Puebla, and No. 2 Tigres (4-1-4) suffered its first loss, a 1-0 decision at Atlante.

Jaguares also leapt past Cruz Azul (5-2-2), which toppled Monterrey, 2-1, in the week's featured match.



1. ANOTHER CHANGE AT AMERICA

America's disastrous campaign finally hit bottom -- or close enough.

The Aguilas' loss at Jaguares cost technical director Carlos Reinoso his job, no surprise, and club legend Alfredo Tena has been brought in and asked to make things right.

There's plenty wrong at the Mexico City giant, which has won just one of its last eight league games -- and that over last-place Atlas -- and sits 16th of 18 clubs with the worst defensive record in the Apertura.

Reinoso, who took over for Manuel Lapuente last January after America opened last spring's Clausura with a 0-2-1 mark, was facing the ax when he submitted his resignation following the defeat in Tuxtla Gutierrez.