Los Angeles Soccer:

Armando Flores
May, 13, 2012
5/13/12
8:39
PM PT
By
Scott French
| ESPNLosAngeles.com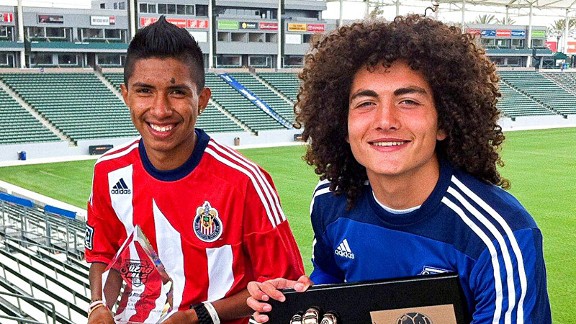 German Alegria/MLS Santa Ana's Armando Flores (left) won the Sueño MLS award Sunday, and Riverside's Jimmy Camacho claimed the top-goalkeeper honor.
CARSON -- Armando Flores' ability to read the game, to have a plan before the ball gets to him, impressed the big names watching over the "Sueño MLS" finals this week at Home Depot Center.

Jimmy Camacho's personality, and how he uses it to guide his defenders, also stood out.

They were the last standing Sunday morning at Home Depot Center, both earning a one-year stint in Chivas USA's academy program after winning Major League Soccer's televised talent search.

Flores, a 17-year-old forward from Santa Ana, was chosen as the "Sueño" winner over 14 other field players selected through tryouts run by the Goats, FC Dallas and the Seattle Sounders. Camacho, 16, from Riverside, finished ahead of two competitors for the accompanying goalkeeper honor.

Flores is the third Chivas USA entrant to win the seventh-year "reality show," which progresses in segments on Univision's "Republica Deportivo," which broadcast the announcement from the entrance plaza at HDC, following in the footsteps of midfielder/defender Jorge Villafaña (2007), who is with the Goats' first team, and midfielder Briant Reyes (2008).

Flores, a two-time All-CIF Southern Section selection at Santa Ana Valley High School who plays for Mission Viejo Soccer Club, celebrated with his family afterward and dedicated the honor to his mother, Francisca.

"She's always been here for me when I needed her," he said. "Everytime I came home, she wouldn't always see me because she'd be working. It was hard watching here work two jobs and only seeing her 30 minutes because she had to go to another work, but she was always there for me, and really thank her, becaiuse she took care of me good, and I love her, you know?"

Mom was ecstatic, too: "I'm so happy my son accomplished something he has always dreamed about. ... This is the best gift I've received in all my years."

Flores steps into the Chivas Academy on Monday, the start of what he hopes will be a trek toward soccer stardom. So does Camacho, whose magnetic personality stood out at the Goats' tryouts two weeks ago in Bell Gardens and again the past week.

"This is just the first step," said Camacho, who has starred at Citrus Hill High School and for Arsenal FC in Alta Loma and Laguna Hills Soccer Club. "There's keepers at the Chivas Academy, there's keepers everywhere, and they're going to try just as hard as me. I've just got to work hard, stay humble and keep going. This is just the first step."


April, 30, 2012
4/30/12
6:34
PM PT
By
Scott French
| ESPNLosAngeles.com
BELL GARDENS -- Alejandro Nuñez didn't know he was trying out until the day before -- it was a present from his parents. Armando Flores was stuck on the waiting list, praying he'd hear his name.

Both were among a half-dozen young hopefuls rewarded for their performance over the weekend during Chivas USA's trials for Major League Soccer's "Sueño MLS" talent search.

Nuñez, Suarez, three other players from Southern California and another from Nevada will join a dozen more players from FC Dallas' and the Seattle Sounders' tryouts at the national finals, which begin next week at Home Depot Center leading to the May 13 finale on Univision's "Deportivo Republica." The six chosen by Chivas USA Academy coaches:


Jimmy Camacho (Riverside), 16, a wild-haired goalkeeper from Riverside who plays at Laguna Niguel Soccer Club -- he was on his way to a game right after -- and starred as Citrus Hill High School won a CIF Southern Section title in two finals appearances.
Flores (Santa Ana), 17, a forward for Mission Viejo Soccer Club who has been an All-CIF Southern Section selection the past two seasons at Santa Ana Valley High School.
Mauricio Gutierrez (Los Angeles), 16, a defender from Locke High School who plays for Willowbrook-based club Cosmos.
Nuñez (Sylmar), 17, a defender from Granada Hills Charter High School who plays for International FC.
Oscar Velazquez (Las Vegas, Nev.), 16, a defender from Vegas United Soccer Club.
George Zuniga (Carson), 16, a defender who played for a club his father started and at Firebaugh High School in Lynwood after starting at Warren High in Downey.

The dream is an opportunity for a professional career -- just like Chivas USA's Jorge Villafaña, who was discovered at the first "Sueño MLS" six years ago -- but the top prize, a spot within his club's academy, isn't quite so exclusive.

All six Chivas finalists, regardless of how they fare in the final event, figure to train with the Goats' academy. So, too, several among the 30 players who advanced to Sunday's second day at the Bell Gardens Sports Complex out of about 500 players who got a look Saturday.

"Most of the guys are going to come back and train with our U-16s or U-18s. We already promised them," said Chivas Academy assistant coach Jose Esparza, who ran the tryout. His message for the players:. "The dream never ends. ... This is saying, 'You know what? I'm actually pretty good.' Continue working, you have a taste of what it takes to be at the professional level -- or one step from being at the professional level -- so just continue working. This should be a step forward."