Los Angeles Soccer:

Aron Winter
June, 13, 2012
6/13/12
8:59
PM PT
By
Scott French
| ESPNLosAngeles.com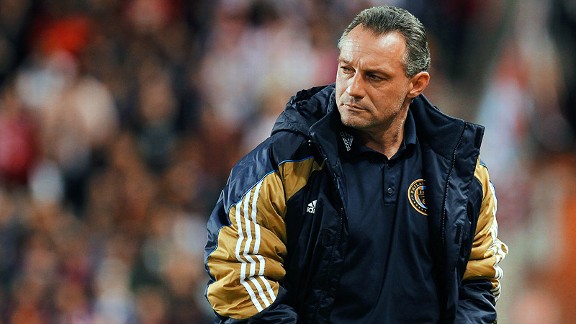 Mike Stobe/Getty Images/New York Red BullsPeter Nowak, who won an MLS Cup as a player in 1998, was fired as Philadelphia coach on Wednesday.

The first coaching changes of the Major League Soccer have come down, neither all that surprising, although one of them is disappointing.

Philadelphia on Wednesday cut ties with Peter Nowak, who took the Union to the playoffs in year two, then dismantled the team piece by piece, infuriating the club's supporters and puzzling the youngsters on the roster.

Nowak, a Polish star who captained Chicago to the 1998 MLS Cup title, coached D.C. to the 2004 crown, served as Bob Bradley's chief assistant with the U.S. national team and guided the U.S. men at the Beijing Olympics four years ago, had dumped fan favorites Sebastien Le Toux and Danny Califf, then last week traded Danny Mwanga -- which the club took with the first pick in its first collegiate draft -- to Portland for Jorge Perlaza, a deal that made a lot of sense tactically.

The other moves, not so much, but the furor had become deafening. Assistant coach John Hackworth steps in as interim coach.

Toronto FC last week made the first change of the year, dismissing former Dutch superstar Aron Winter and giving the reins to director of player development Paul Mariner, the former English star and New England assistant coach. Mariner's first move was to simplify things, dumping Winter's 4-3-3 formation for a traditional 4-4-2.

Winter was ousted after the Reds lost their first nine league games, a mystifying run given the quality in the team. TFC has never been close to a success, but Winter in the past year had brought it to respectability, and many observers -- here, too -- predicted playoffs, especially after the CONCACAF Champions League triumph over the Galaxy. He delivered in the Canadian Championship, guiding the Reds to their fourth straight title and another Champions League berth.

Winter was the victim of circumstances and a management group that has repeatedly made poor decisions, at least until hiring Winter. We would have given him the rest of the season. Nowak? The right move.

Who's next to go? Chivas USA fans were out for Robin Fraser's head earlier this season, but he's going nowhere -- and Goats supporters should be very happy about that. Chivas is going to be very, very good soon.

Toronto had the worst record (1-9-0) in MLS, and Philly's (2-7-2) was No. 2. After that, it's the Galaxy (3-8-2). Should Bruce Arena be worried? We don't believe so, but L.A. has made five of its six head-coaching dismissals (or, in the parlance, agreed mutually to part ways) in midseason. Only two off those fired (Lothar Osiander in 1997 and Steve Sampson in 2006) had worse records than the Galaxy's current mark.

Here are this week's power rankings:

1. REAL SALT LAKE (9-3-2, 29 points), Last Week: 1
Week 14: Idle.
Latest: Alvaro Saborio's hat trick for Costa Rica has him brimming with confidence for Chivas USA clash.
On the All-Star ballot: G Nick Rimando, D Nat Borchers, D Jamison Olave, M Kyle Beckerman, F Alvaro Saborio, F Fabian Espindola.
Next: Saturday vs. Chivas USA at Home Depot Center (Carson), 7:30 p.m. (Prime Ticket and KWHY/Channel 22); Wednesday, June 20, vs. Galaxy, 6 p.m. (KDOC/Channel 56 and KWHY/Channel 22).

2. NEW YORK RED BULLS (8-3-2, 26 points), LW: 2
Week 14: Idle.
Latest: Thierry Henry back on the mend, missing training with a calf injury. Joel Lindpere and Rafa Marquez return from international duty with knocks.
On the All-Star ballot: G Ryan Meara, D Heath Pearce, M Joel Lindpere, M Dane Richards, F Thierry Henry, F Kenny Cooper.
Next: Sunday at Chicago, 2 p.m. (NBC Sports Network); Wednesday, June 20, at Vancouver, 8 p.m. (MLS Direct Kick).

3. SPORTING KANSAS CITY (8-3-1, 25 points), LW: 3
Week 14: Idle.
Latest: Emergency appendectomy sidelines defender Matt Besler.
On the All-Star ballot: G Jimmy Nielsen, D Aurelien Collin, M Roger Espinoza, M Graham Zusi, F Kei Kamara, F C.J. Sapong.
Next: Saturday vs. Toronto FC, 5:30 p.m. (MLS Direct Kick); Wednesday, June 20, at Seattle, 7 p.m. (MLS Direct Kick).


March, 14, 2012
3/14/12
4:57
PM PT
By
Scott French
| ESPNLosAngeles.com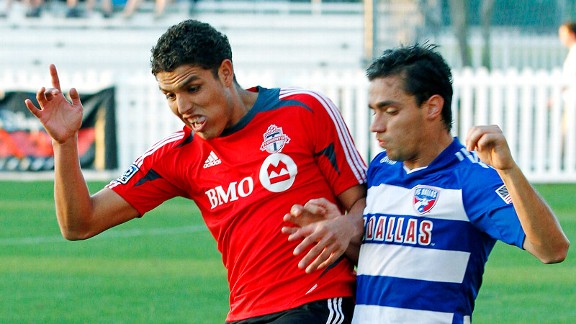 AP Photo/Reinhold MatayLuis Silva, left, will be making his return to his native Los Angeles as a member of Toronto FC.

CARSON -- Luis Silva has spent a few evenings inside Home Depot Center -- cheering on the Galaxy, naturally. On Wednesday night the Angeleno will be surrounded by family and friends as he tries to end the Galaxy's dream.

Silva, who scored in his debut for Toronto FC in last week's CONCACAF Champions League first-leg showdown in Canada, hopes to help the Reds to victory in the decisive leg and into a semifinal against the Seattle Sounders or Mexican Primera Division leader Santos Laguna.

"I've been here a few times. As a fan, but here on the pitch, it's my first time," Silva, a lifelong Galaxy fan, said on the eve of the 7 p.m. clash. "It's a different side now, you can see. Actually training on the field -- I never thought I would be, you know? Maybe in my wildest dreams."

The rookie midfielder from UC Santa Barbara, the No. 4 overall selection in January's MLS SuperDraft, played a big role in last week's 2-2 tie, nodding home Torsten Frings' long, floating cross to provide a two-goal lead after just 17 minutes.

"Definitely, it was an emotional moment," Silva said afterward. "It was definitely something that I had been dreaming of, and here it was."

Silva, 23, has been dreaming of such things for some time. He grew up within south Orange County club giant Pateadores, helped Salesian High School win a CIF Southern California Regional title his senior year, then evolved into a first-team All-American for NCAA powerhouse UCSB. He's one of few rookies stepping right into a starting lineup and figures, at least at this point, to contend with New England's UCLA-bred midfielder Kelyn Rowe and Portland defender Andrew Jean-Baptiste for MLS Rookie of the Year honors.

"It all helps. You have to take your steps," Silva said. "I first started with my high school, Salesian, and, obviously, we're a good program. We did well to win a few championships, the coaching staff did a good job. Obviously, the club team helps, as well as Santa Barbara. [In college came] the moment I matured and got my head together for what I wanted to do."


January, 12, 2012
1/12/12
10:46
PM PT
By
Scott French
| ESPNLosAngeles.com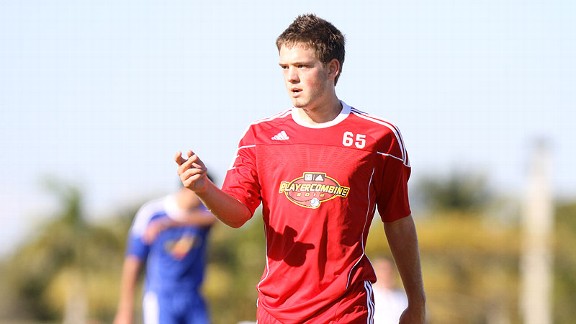 Major League SoccerUCLA's Kelyn Rowe, who was drafted No. 3 by New England, says he's honored to going to that organization.

CARSON -- Chandler Hoffman had heard the buzz, how his superb performance at Major League Soccer's pre-draft combine in Florida -- on top of his 18-goal, All-America showing for NCAA semifinalist UCLA -- had vaulted him into the top five, maybe the top three in the MLS SuperDraft.

So when Commissioner Don Garber began announcing the New England Revolution's selection with the third pick Thursday morning at the Kansas City Convention Center -- first noting the player was a Generation adidas signing from UCLA -- Hoffman got excited.

For a second or two.

It was Bruins teammate Kelyn Rowe the Revolution grabbed at No. 3, and Chandler sat down to wait. And wait. And wait.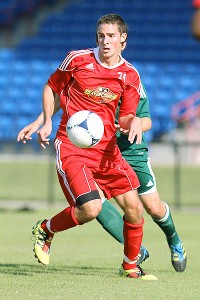 Major League SoccerIt was a longer wait than expected for UCLA's Chandler Hoffman, who was picked No. 13 overall by the Philadelphia Union.
By the time the striker from Birmingham, Ala., finally heard his name, he first round was two-thirds through and the Philadelphia Union, choosing 13th, was giddy.

"Pretty surprising. But good for us, right?" Union assistant coach John Hackworth told the league's website. "We get one of the best young attacking players in he country, someone that's proven to put the ball into the back of the net. There's nothing more valuable in all of soccer."

Hoffman's slide down he draft table was one of the big stories out of the headlining festivities at the National Soccer Coaches Association of America's annual convention, but not the only one involving local players.

There was Rowe, an attacking midfielder from Federal Way, Wash., whom New England coach Jay Heaps described during ESPN2's draft coverage as "a really critical player to our team."

And there were UC Santa Barbara standouts Luis Silva (Los Angeles/Salesian HS), who went to Toronto FC with the fourth overall selection, and Texan Sam Garza, taken by San Jose at No. 6.

Plus UC Irvine's Miguel Ibarra, a quartet of UCLA players, English midfielder Andy Rose most prominent among them, and several other hopefuls from local schools who now turn their attention to Tuesday's four-round supplemental draft.


November, 8, 2011
11/08/11
12:45
PM PT
By
Scott French
| ESPNLosAngeles.com
The Galaxy received what appears to be a very favorable draw for the CONCACAF Champions League quarterfinals. They were paired Tuesday with Toronto FC, a surprise final-eight side that has never qualified for Major League Soccer's postseason.

A victory would set up a semifinal home-and-home with Mexico's Santos Laguna or the Seattle Sounders, with the Galaxy home for the first leg.

L.A. will open the quarterfinals March 6-8 at BMO Field in Toronto and play the second leg March 13-15 at Home Depot Center. Semifinals dates are March 27-29 and April 3-5, and the final is April 17-19 and 24-26.

Toronto FC went 3-2-1 in Group C, finishing just a point behind reigning Mexican champion Pumas UNAM after beating FC Dallas in a winner-moves-on group finale.

The Reds have found little success in their brief history aside from the Canadian Championship, which determined Canada's entrant to the Champions League, but Dutch manager Aron Winter seems to have built a foundation this year that could profit next spring.

The addition of European stars Danny Koevermans and Torsten Frings and a weeding-out process that saw Winter churn through his roster all season -- he used 41 players in league matches -- led to a decent finish, with just two losses (and only two wins) in the final 11 games.

The Galaxy, of course, are playing in the MLS Cup title game, facing Houston on Nov. 20 at Home Depot Center.

The other side of the bracket has three Mexican clubs, with Morelia -- runner-up to the Galaxy in Group A -- facing defending champions Monterrey and Pumas against El Salvador's Isidro Metapan.


September, 24, 2011
9/24/11
10:12
AM PT
By
Scott French
| ESPNLosAngeles.com
Chivas USA can remain alive in the postseason hunt with a victory Saturday night over Toronto FC, a harder proposition than perhaps it ought to be.

The Goats have never lost to the Canadians at Home Depot Center, but they're long, hard fade down the stretch offers only so much hope. They haven't won in seven games, falling from playoff contender to pretender, and no victories in their final four games would leave them one win short of last year's total.

Last year, you might remember, was disastrous, and Chivas cleaned house afterward, in the front office, on the coaching staff and on the field.

There can be few qualms with the work head coach Robin Fraser and Greg Vanney have done in building a new culture for the club -- the Goats (7-12-11) are on the right path, but patience is required -- but questions about the viability of the front office are growing.

Toronto FC (6-12-12) seems a mirror organization, except the Reds have never gotten things right -- and Chivas was a force in MLS during Bob Bradley's and Preki's tenures as head coach.

That seems to be slowly changing. The Reds have lost just once in their last seven games, and the imprint of Designated Players Danny Koevermans and Torsten Frings, both acquired at the end of June, has been massive.

If Maple Leaf Sports & Entertainment, the club's owner, shows more patience with Dutch coach Aron Winter than it did with his predecessors -- and provides the resources necessary, which it seems to be doing -- Toronto could be competing for the postseason next season.

Right now, both clubs are in the race, but only barely. Either side could be eliminated with a defeat and results elsewhere, and it's really just a matter of time. Miracles can happen, and that's what the Goats and Reds need.

June, 10, 2011
6/10/11
11:18
PM PT
By
Scott French
| ESPNLosAngeles.com
The Galaxy's motto all year has been about depth, that they can succeed no matter who's on the field, and their results provide plenty of evidence. Despite missing all three of their Designated Players on occasion, as well as several key figures not making anywhere near seven figures, L.A. is 8-2-5 and targeting successive Supporters' Shields as Major League Soccer's regular-season champion.
The Galaxy weren't so good last week yet claimed a point in a 0-0 draw with D.C. United, which provided a blueprint for the rest of the league with its approach to defending L.A. when
Landon Donovan
is away, as he is now for the CONCACAF Gold Cup.

It's a lesson struggling Toronto FC might want to take to heart Saturday night at Home Depot Center. The Galaxy certainly will -- they'll need better movement, both off the ball and of the ball, to counter the attention
David Beckham
can expect to receive, especially with fellow central midfielder
Juninho
missing.
D.C. United deserved all three points after shutting down the Galaxy's fatigued attack, accomplished by putting two defenders on Beckham, denying him space and time to connect with teammates, who mostly were just standing around.
"You know, the biggest thing was the [lack of] movement," Beckham said. "If you have movement in the game, then it creates space, it creates chances. ... It wasn't so much fitness, it was the [heavy] travel, the [loaded schedule] that we'd played, and maybe we had some tired legs out there. That then goes into your performance.
"There's no movement, there's no stepping into spaces where it makes the game easier to play."
Beckham was forced to drop deep in search of space -- too deep, really -- and without his service, the Galaxy had nothing. They thrive on Beckham's and Donovan's (and Juninho's) abilities to link teammates, dominate mismatches and keep up the pressure on opposing defenses, and if Toronto can quiet the English superstar as D.C. did, half the battle is won.
"I think it was just a consequence of [D.C.] marking me the way they did," Beckham said. "They kept the ball away from me, which was obviously their plan. On other occasions, you can get out of those positions, but as a team, we didn't play well, so we didn't combat that."
April, 13, 2011
4/13/11
3:36
PM PT
By
Scott French
| ESPNLosAngeles.com
The Galaxy head to Toronto still hot about the errant penalty-kick call that cost them a win at D.C. United last weekend and needing three points to keep pace with Real Salt Lake or Colorado -- or leapfrog both to the top of the Western Conference.


It's a homecoming of sorts for forward
Chad Barrett
, whose reputation for not scoring goals has reared itself again with L.A. and, for the time being, at least, cost him a starting job with his new team. Barrett missed as many as he scored in Toronto, which he described, when he joined the Galaxy in January, as a place "where everybody sits in traffic, it's cold, bitter, it's understandable why people are so pissed."
But Toronto, and its Reds (1-1-2), won't be on his mind in Wednesday's clash at BMO Field. Barrett needs to take care of things at home first.
"I'm more to the point where I have to prove myself more in [Galaxy coach]
Bruce Arena
's eyes and in my teammates' eyes than to come back and have some personal vendetta ...," he told Major League Soccer's website this week. "I wish I could have taken TFC to the playoffs when I was here, but for some reason or another it didn't happen. I feel like the stability of the team from the top down was always a problem, but we definitely had the players here throughout that should have been able to get the job done and take TFC to their first postseason.
"They are a good club, they have great support, fans who will show up 20,000 strong every game and deserve to see their team in the playoffs."
The Galaxy (2-1-2) are thinking well beyond the playoffs. They'd like another Supporters' Shield and are trying to keep up with Western leader Real Salt Lake (3-0-0) and defending MLS Cup champion Colorado (3-1-0), which have a one-point lead over L.A. RSL and Colorado also tangle Wednesday in a Rocky Mountain Cup encounter, and if they draw, the Galaxy would climb past them with a victory.
They'll have to try to do so without
Landon Donovan
.
February, 7, 2011
2/07/11
11:54
PM PT
By
Scott French
| ESPNLosAngeles.com
Charlie Davies, the U.S. national team forward whose World Cup hopes ended in a deadly car accident 16 months ago, has joined D.C. United to recharge his career.
He joined D.C.'s camp in Fort Lauderdale, Fla., on Wednesday for a one-week trial. If D.C. officials are happy, a one-year loan agreement has been reached with Sochaux, Davies' French club.
"We're all rooting for Charlie. He's come a long way, and we're all hoping for the best," D.C. head coach
Ben Olsen
told media last week. "But we have to be realistic in our job and figure out if he's right for this club at this time.
"There's no question Charlie will be back. Whether or not it's now, three months from now, six months from now, that's what we're here to find out."
Davies, 24, has not played in a competitive match since he was critically injured in an October 2009 accident that left one person dead. He suffered a lacerated bladder, fractured right tibia and femur, fractured elbow, facial injuries, and bleeding on the brain, requiring months of surgeries and rehab, followed by a failed, fervid attempt to return to form in time for last summer's World Cup.
The speedy Davies, who emerged as a first-choice forward for U.S. coach
Bob Bradley
during World Cup qualifying, called the possible move to D.C. "a wonderful opportunity for me" and told media he knows what he needs to do to return to his best form.