Los Angeles Soccer:

Artur Aghasyan
June, 5, 2012
6/05/12
1:24
PM PT
By
Scott French
| ESPNLosAngeles.com
Since last week's stunning overtime upset of the Portland Timbers, Thousand Oaks' Cal FC has become a cause célèbre, drawing worldwide attention and comparisons to "Hoosiers" and "Rocky" while opening doors to professional careers for its best players, the whole point all along.
That was this ragtag band of amateurs' third successive U.S. Open Cup victory over professional opposition, and Tuesday night they'll look for No. 4 against a true powerhouse: three-time defending tournament champion Seattle Sounders.
Eric Wynalda
, the Hall of Fame striker who put the side together, can't wait. And he won't be surprised if his team again does the unthinkable.
"We match up much better against Seattle than Portland," Wynalda told ESPN Los Angeles. "A lot of people are saying we have no chance in hell, but from a practical standpoint -- from a game, a matchup -- I'd play Seattle 10 times before I'd play Portland again."
That's about approach. The Timbers are a direct, battling team. The Sounders prefer a flowing brand of soccer, with possession and passing -- the pretty stuff, which is Cal FC's aim, too.
"The game will have an ebb and flow to it," Wynalda said. "Two very technically sound teams. It's not going to be a case of just sitting back and trying to hold them off."
That's what was required in last week's third-round clash. Portland took 43 shots and created more than a dozen good scoring opportunities, but
Artur Aghasyan
's counterattack goal five minutes into the extra period made Cal FC the biggest upset victor in the 99-year-old competition since MLS clubs arrived on the scene in the mid-'90s.
Cal FC has the talent -- more than a half-dozen players have been in camp with MLS teams, several others have pro experience in lower divisions or foreign leagues -- but nearly everyone on the roster has fallen through cracks while pursuing their dreams. Wynalda, who has extensive coaching experience and covets a chance to run an MLS team, created the team merely to provide them opportunity.
"If these guys aren't with professional teams in August, then I didn't do my job," he said in a conference call Monday. "The idea was to showcase them. First to find them, then give them a chance and let them play and let them show what we can do."
May, 31, 2012
5/31/12
9:36
PM PT
By
Scott French
| ESPNLosAngeles.com
The stunning U.S. Open Cup run by Thousand Oaks' Cal FC has caught attention around the globe, and when Eric Wynalda's sort-of amateurs take on their second Major League Soccer foe next week, the cameras will be there.

Fox Soccer announced on its Twitter account Thursday that Tuesday's fourth-round game, with Cal FC taking on three-time defending Open Cup champion Seattle Sounders in Tukwila, Wash., will be televised live on Fox Soccer Channel. The game is not yet listed on the programming schedule.

Kickoff is 7 p.m.

Wynalda, the Hall of Fame forward who put together a team of mostly unaffiliated pros for this Open Cup run, is an analyst on Fox Soccer's broadcasts. So is Nick Webster, who works with the team and has served as head coach when Wynalda has been on assignment.

Cal FC stunned the Portland Timbers, 1-0, on Artur Aghasyan's overtime goal Tuesday night in a third-round game, the first time a U.S. Adult Soccer Association side has beaten an MLS team in the 17 years the first-division league has existed. The Open Cup is America's oldest and most prestigious tournament, dating to 1913.

The Ventura County club, which features nine players with professional experience and five with some sort of MLS connection, opened the tournament two weeks ago with a 3-1 victory at Premier Development League champion Kitsap Pumas in Bremerton, Wash. They routed third-division pros Wilmington (N.C.) Hammerheads, 4-0, in the second round last week. Tuesday's winners advance to the June 26 quarterfinals.

Chivas USA also remains alive in the Open Cup and will play the Carolina RailHawks in Cary, N.C., on Tuesday. The match, which begins at 4:07 p.m. PT, will be streamed on the RailHawks' website.
May, 30, 2012
5/30/12
11:36
PM PT
By
Scott French
| ESPNLosAngeles.com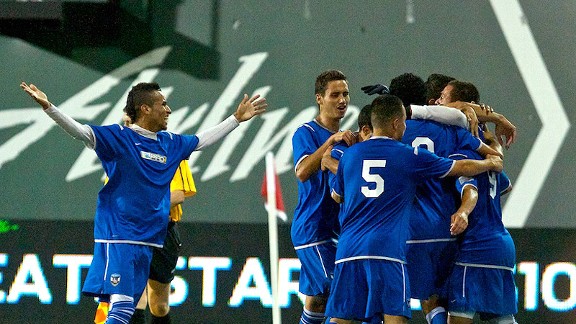 Leah Parr/Portland Timbers Cal FC players celebrate with Artur Aghasyan after his overtime goal against the Portland Timbers.

Cal FC's stirring run through the U.S. Open Cup hadn't been all that unexpected -- this is a team filled with pros, remember, even if they're amateurs here, or at least close to it.

But what the Thousand Oaks club pulled off Wednesday night defied belief.

Artur Aghasyan finished a breakaway five minutes into overtime, and Cal FC fended off wave after wave of attacks by the Portland Timbers to stun the Major League Soccer side, 1-0, in a third-round clash at Jeld-Wen Field, a result that shook the foundations of American soccer.

Eric Wynalda's side was outshot, 43-11, conceded 11 corner kicks and dodged more than a dozen bullets to pull off what might be the greatest upset in this country's premier knockout tournament since MLS's formation 16 years ago.

The reward: a showdown next week in Tukwila, Wash., with three-time defending champion Seattle Sounders, which routed the second-tier Atlanta Silverbacks, 5-1, on Wednesday to advance to the round of 16.

"I think we are the ultimate Cinderella story -- that's for sure," Wynalda told reporters in Portland. "A bunch of misfit kids who did something unbelievable. This is what this Cup is about."

Cal FC is the first U.S. Adult Soccer Association team to defeat an MLS club in the Open Cup, although Texas' Roma FC toppled Chivas USA on penalties following a 0-0 third-round draw in 2006. The Galaxy took care of the amateurs in the following round.

Timbers Army, Portland's fanatical supporters group, serenaded Cal FC when it was over with chants of "You deserve it!" and "Beat Seattle!" The game drew 5,489 fans to the stadium a few blocks west of downtown Portland.

Wynalda, a veteran of three World Cups and a star striker in Germany and in MLS, had on his mind the UEFA Champions League final a week and a half ago in Munich, which he covered as a studio analyst for Fox Sports. Chelsea upset Bayern Munich on penalties in that one after being outshot, 43-9, and outcorner-kicked, 20-1.


May, 29, 2012
5/29/12
2:43
PM PT
By
Scott French
| ESPNLosAngeles.com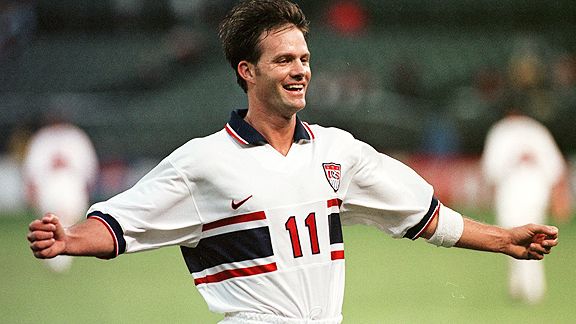 Monica M. Davey/AFP/Getty ImagesEric Wynalda back when he was scoring goals for the U.S. National Team.
Eric Wynalda, one of the finest strikers America ever produced, has built a team somewhat in his own image, and it's taking on America's soccer establishment with impressive results.

Thousand Oaks' Cal FC, a collection of misfit players with undeniable talent, have already conquered two better-fancied clubs in the 99th edition of the U.S. Open Cup, and Major League Soccer's Portland Timbers, on Wednesday night, could be next.

Wynalda, a first-ballot National Soccer Hall of Fame inductee who played in three World Cups, starred in Germany and scored the first goal in MLS history, knows that it's possible.

"We didn't enter this competition because we thought this would be fun," the former goal-getter from Westlake Village, known to a new generation of fans as an at-times acerbic commentator on Fox's soccer coverage, told ESPN Los Angeles. "We really have high hopes. We set goals, we achieve them and we re-set."

Wynalda's got, as he puts it, "a bunch of guys that everybody knows who they are." There's former UC Santa Barbara star Danny Barrera (Thousand Oaks/Westlake HS), who trialed with the Chicago Fire during MLS's preseason after a stint in Serbia. And there's Artur Aghasyan, who has played with Real Salt Lake and been on trial a couple of times with Chivas USA. And Richard Menjivar (Panorama City/Monroe HS), a Cal State Bakersfield standout who impressed with El Salvador's U-23s during CONCACAF's Olympic qualifiers.

UCLA alum Eder Arreola (Chino Hills/Chino Hills HS), who was drafted in January by the Houston Dynamo and trained with Chivas USA, is with the club. So is former Galaxy/L.A. Blues defender Mike Randolph (Chino Hills/Ayala HS) and Cesar Rivera (Pomona/Garey HS and Mt. San Antonio College), who led the Blues in scoring last year. And goalkeeper Derby Carrillo (La Mirada/St. John Bosco HS and Cal State Dominguez Hills), whom El Salvador's national team has targeted.

And hopefuls such as Danny's brother, Diego (Thousand Oaks HS/Loyola Marymount), former U.S. youth national-teamer Pablo Cruz (Azusa), defenders Hector Espinoza (Garden Grove/Santiago HS and Santa Ana College) and Beto Navarro, and others.

They're all good players who have been overlooked or dismissed or something, and Wynalda's goal is to showcase their talents and help them find paths to the professional careers he thinks they deserve.

That's the whole point of Cal FC, which grew out of Wynalda's experiences the past couple of years working with Mexican third-tier club Murcielagos, which employed for a time current Chivas USA forward Cesar Romero.

"I think the one thing I could say," Wynalda said, "is I have a very high opinion of some of these guys, but I'm the minority when it comes to that. People just aren't seeing what I see."


May, 22, 2012
5/22/12
10:39
PM PT
By
Scott French
| ESPNLosAngeles.com
Eric Wynalda put together a team with a simple, perhaps unachievable goal: win the U.S. Open Cup.
Thousand Oaks' Cal FC took another step toward that Tuesday night, routing USL Pro side Wilmington Hammerheads, 4-0, in North Carolina to advance to the third round of the nation's oldest soccer competition, in which it will face Major League opposition.
Danny Barrera
scored twice from assists by his brother,
Diego
, and the U.S. Adult Soccer Association side earned a date next week with the Portland Timbers.
Wynalda, an American soccer legend and first-ballot National Soccer Hall of Famer from Westlake Village, was on hand to guide Cal FC after missing last week's first-round win over Premier Development League champion Kitsap Pumas while he was in Munich preparing for Fox's coverage of the UEFA Champions League final. Wynalda is a studio analyst on Fox soccer broadcasts.
"Tonight was a good demonstration of what the guys are capable of, at times good and bad," Wynalda told the Wilmington (N.C.) StarNews. "All in all, I'm very happy with them. I think they've come together remarkably, in a very short span of time."
The Barrera brothers hooked up in the 25th and 57th minutes, the first on a corner kick. Former Real Salt Lake forward
Artur Aghasyan
made it 2-0 in the 35th and
Pedro Ferreira-Mendes
added another on a 79th-minute free kick.
The game in Portland will be played next Wednesday.
In the other East Coast game involving a local team:
Carolina RailHawks 6, PSA Elite (Irvine) 0:
The Galaxy is headed to North Carolina after the RailHawks, from the second-tier North American Soccer League, crushed the USASA Region IV champs in Cary, N.C. Carolina will be home for next Tuesday's third-round clash against the reigning MLS champion.
Brian Shriver
scored a club-record six goals, with a first-half hat trick, to lead the Railhawks.
Zack Schilawski
and
Amir Lowery
also tallied for Carolina.
May, 15, 2012
5/15/12
11:51
PM PT
By
Scott French
| ESPNLosAngeles.com
SANTA ANA --It looked as if it might be easy going for the Ventura County Fusion in their U.S. Open Cup opener Tuesday night after Michael Roman and Francisco Lopez provided a two-goal lead after just 22 minutes.

It was, at the finish, but getting there was anything but simple.

The Fusion scored four goals in overtime to dismiss the Fullerton Rangers, 6-2, at Santa Ana Stadium and advance to a second-round rematch with the L.A. Blues next week in Norco. The Galaxy and Chivas USA will enter the competition, in its 99th year, in the third round the following week.

It was tougher than it should have been, especially after Roman (Oxnard/Rio Mesa HS and UCLA), who stepped on the field without a practice after arriving from spring training at the University of Louisville, finished a feed from Biola University alum Kennedy Chongo in the 17th minute, and Lopez scored from Chris Tsonis' cutback five minutes later.

Fullerton, from the National Premier Soccer League, rallied to tie the score in the first 23 minutes of the second half -- netting the equalizer while down to 10 men -- but couldn't stay with the 2009 Premier Development League champion for the extra 30 minutes.

"Unfortunately, we make things harder on ourselves than they need to be," Fusion coach Ole Mikkelsen said. "We had a comfortable 2-nil lead at halftime. If we get the next goal, for all intents and purposes, we can play the game out. But we made two silly mistakes, let them back in the game. ... Clearly, you could see in the overtime period we had the gas and they didn't have the gas."

Fullerton dominated the start of the second half, even after Sean Toth (Fullerton College/Hope International) was dismissed with his second yellow card in the 63rd minute. By then it was 2-1 -- former Chivas USA/New York Red Bulls forward David Arvizu (Santa Ana/Foothill HS) scored in the 55th minute -- and Cuban striker Eder Roldan netted the equalizer five minutes later with a gorgeous chip into the far-post netting.

It was all Fusion the rest of the way, but they didn't get the winner until the third minute of overtime, a Lopez penalty kick after Leobardo Alvarez, who trialed with New York during MLS's preseason, fouled Chongo, who trialed with Chivas USA.


May, 6, 2012
5/06/12
5:01
PM PT
By
Scott French
| ESPNLosAngeles.com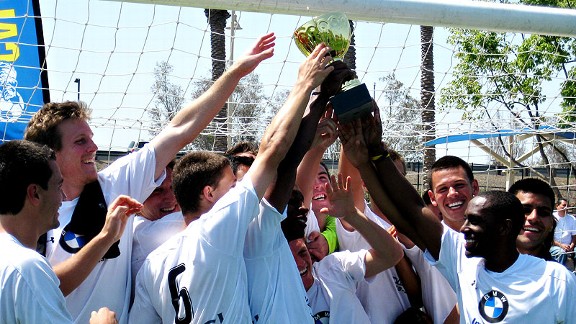 Scott French/ESPNLosAngeles.com PSA Elite celebrates with the cup.
ONTARIO -- There were lot of familiar names on the turf at Ontario Soccer Park for Sunday morning's USASA regional title game, but the biggest name of all actually wasn't anywhere nearby.

Eric Wynalda, the former U.S. national team star and a first-ballot National Soccer Hall of Fame inductee, had to follow his Cal FC team's clash with PSA Elite via constant text messaging while on the air in his main gig in West L.A., as studio analyst at Fox Soccer Channel.

The news he received wasn't good.

A missed penalty kick and a red card proved costly for Thousand Oaks-based Cal FC, which dropped a 2-0 decision to their Orange County-based foe in the U.S. Adult Soccer Association's Region IV championship.

PSA Elite, bolstered by players from Premier Development League power Orange County Blue Star, scored twice in the second half to qualify for the USASA National Cup final four July 20-22 at the Chicago Fire's Toyota Park.

The club from Irvine also got to choose its first-round opponent in the U.S. Open Cup -- well, perhaps -- and decided to play against PDL power Portland Timbers U-23 at Jeld-Wen Stadium, the Timbers' Major League Soccer team's home, in the May 15 opener. That sends Cal FC, which also qualified for the Open Cup, to play reigning PDL champion Kitsap Pumas in Bremerton, Wash.

U.S. Soccer, which runs the nearly 99-year-old tournament, has in the meantime scheduled a coin flip Monday to determine which team plays where.

Andrew Riemer scored in the 63rd minute and set up an 83rd-minute rocket by fellow Blue Star forward Christian Ramirez (Garden Grove/La Quinta HS and UC Santa Barbara/Concordia University).

"Oh, well," Wynalda, Cal FC's head coach, messaged after he was informed of Ramirez's goal. "I have qualified [for the Open Cup]. Time to strengthen the squad."

Both sides came in plenty capable.


August, 5, 2011
8/05/11
7:21
PM PT
By
Scott French
| ESPNLosAngeles.com
The L.A. Blues' penchant for falling behind, and for coming from behind, were on full display Friday night in Wilmington, N.C., as the West Coast's only USL Pro side began its final road trip of the regular season.

That they couldn't hold onto the point was just one more disappointment in a season that's wobbled between good and bad -- and already has been rewarded with a playoff berth.

Andriy Budnyy's was-it-cheeky-or-unintentional clip over goalkeeper Amir Abedzadeh in the 78th minute lifted the Hammerheads to a playoff-clinching 2-1 victory over the Blues before a club-record crowd of 5,783. Manny Guzman, left alone on a corner kick, provided Wilmington (13-6-3) a 31st-minute lead, and Peter Byers scored a fine goal from Josh Tudela's long ball to bring L.A. (8-6-7) even in the 62nd.

The Blues, who are chasing Rochester (11-7-4) and Harrisburg (9-6-7) in the National Division, play Sunday at Antigua Barracuda (8-13-2), then finish up next weekend with games against Richmond at Cal State Fullerton and Norco College.

L.A., playing a brutal 11-games-in-one-month schedule to close the regular season, have won just once in five games, and chemistry rather than weariness might be the prime culprit. There have been many roster changes, especially up top, with Antiguan star Byers, Mexican youngster Jonathan de Leon and now Armenian attacker Artur Aghasyan added to a multinational corps during the summer transfer window.


May, 27, 2011
5/27/11
11:25
PM PT
By
Scott French
| ESPNLosAngeles.com
If last week's SuperClasico loss to the Galaxy let Chivas USA know how far it has to go to match Major League Socder's elite, it also showed the Goats how close they are.
Their performance in the second half of a one-goal defeat, marked by superior possession if not enough scoring chances to satisfy, offers plenty to build on Saturday at Columbus, where Chivas (3-4-3) looks to hand the Crew (3-3-4) their first home defeat of the season.

It's also the first encounter in the Goats' initial three-game weekend-to-weekend stretch of the campaign and the start of a roster rotation based on international duty rather than injury, which has limited
Robin Fraser
's options all season. The first-year head coach has masterfully utilized his depth, in some circumstances finding new positions for players, in the season's first two months, but call-ups are about to deprive him of three starters.
Venezuelan forward
Alejandro Moreno
, who has worn the captain's armband most of the season, and New Zealand midfielder
Simon Elliott
and defender
Andy Boyens
are off after Saturday's match for national team friendlies and will miss next week's games at Home Depot Center on Wednesday against Vancouver and Saturday against Portland.
The returns from injury of, especially, forward
Tristan Bowen
and midfielders
Blair Gavin
and
Paulo Nagamura
-- all expected back as soon as next week -- will help immensely, but Fraser isn't looking to get players rest, unlike his Galaxy counterpart,
Bruce Arena
, whose team's schedule is far more complicated.
"We'll play it game by game," Fraser said Friday. "It's early enough in the season that we don't have to make changes. ... Right now we can play a group that will give you the best chance to win, and that's the case every single week.
The Goats have looked good enough win in nearly every game the past month. The exception was last week's 1-0 loss to L.A., and Chivas left the field thinking they'd learned a valuable lesson.
May, 3, 2011
5/03/11
5:20
PM PT
By
Scott French
| ESPNLosAngeles.com
Adam Cristman and Gregg Berhalter returned to action in Tuesday's SuperClasico in miniature, a huge step forward as the Galaxy gets healthier with the thickest part of their schedule just ahead.
Cristman, coming off start-of-the-season knee surgery, played the first half and set up L.A.'s goal in a 3-1 MLS Reserve League defeat to Chivas USA. Berhalter, sidelined two and a half months by a sprained knee, stepped onto the Galaxy backline for the final half-hour.
It was L.A.'s best news out of the midday clash at Home Depot Center's Track and Field Stadium, a fairly even affair swayed by Chivas' superior inventiveness (especially
Gerson Mayen
) and finishing touch (especially
Victor Estupiñan
) in front of goal.
Estupiñan scored twice and Mayen set up the Ecuadoran forward's first goal and trialist
Chris Cortez
's second-half as Chivas improved to 1-1-1 in the reserve league's Western Division. The Galaxy is 0-2-0.
"It certainly was good to get [Adam and Gregg] out," said Galaxy assistant coach
Curt Onalfo
, who is in charge of L.A.'s reserve side. "Obviously, that's part of what these games are for."
The idea is to get both back with the first team as soon as possible, with a six-games-in-22-days span starting with Saturday's showdown at HDC against the New York Red Bulls.
February, 25, 2011
2/25/11
9:37
PM PT
By
Scott French
| ESPNLosAngeles.com
The guy hammering balls to the upper-V in Chivas USA's postgame training session Friday afternoon looked vaguely familiar, but putting a name with a face wasn't so simple. Good thing Goats coach
Robin Fraser
was around.
"You joking?" Fraser said when asked the identity of the club's newest trialist. "None of you [media] guys know? ... Uh, helluva goal scorer in this league 12 years ago."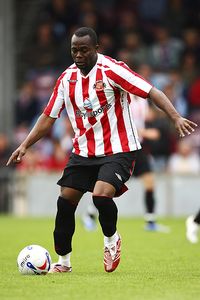 Michael Steele/Getty ImagesStern John is back in MLS trying to earn a spot with Chivas USA.
Ah. Trinidadian striker Stern John, probably the finest forward to play in Major League Soccer's first half-decade, when he netted 44 goals over the 1998 and 1999 seasons for the Columbus Crew. John, now 34, took off for England after the '99 campaign and has suited up for nine clubs there, mostly below the Premier League, and scoring at a decent rate in stints with Nottingham Forest, Birmingham City, Coventry City and Southampton.

John, who played last season for Crystal Palace and on loan for Ipswich Town, is coming off a knee injury and not yet ready for game action, but there was no questioning the power and accuracy of his shot.

"He was really looking for an opportunity to get in with a club," Fraser said. "As you can tell, he doesn't look like he's necessarily quite ready, but when a guy who's scored goals in places he has [comes along], you take a look at him."

John, who as a young MLS player impressed with his quickness, power and knack in front of the net, was just fantastic in 1998, scoring an MLS-best 26 goals. He then tied for the league lead with 18 in 1999.

"One of [MLS's best]. Absolutely one of them," said Fraser, who was a center back for the Galaxy when John was in the league. "I know I had my battles with him, and it was funny: Carlos [Llamosa, a Chivas USA assistant coach and former MLS defender] said the same thing, and then Jimmy [Conrad] afterwards said the same thing. We've all had to deal with him for sure."

Also new in camp is Argentine midfielder Marcos Mondaini, 26, who came out of Boca Juniors' academy and has played, on loan from the Buenos Aires giant, for Ecuadoran clubs Emelec and Barcelona, for Nacional in Uruguay and most recently for Colombia's Atletico Nacional. He played the final 29 minutes on the right flank in Friday's 0-0 draw with D.C. United at Home Depot Center.

"He's just a player I've kind of watched for a while," Fraser said. "Quick, crafty ... definitely an interesting player who's done pretty well in a couple different countries. We're just going to see where it goes and see how it is and see how he fits into the group and how he does."

A club official said Friday night that Mondaini likely will be signed in the next few days.


February, 22, 2011
2/22/11
8:28
PM PT
By
Scott French
| ESPNLosAngeles.com
By March 19, when it kicks off its Major League Soccer campaign, Chivas USA might have the deepest backline in the league. Another defender is on his way.
The Goats are finalizing a loan agreement to bring in rising Ghanaian left back
Seth Owusu
, and head coach
Robin Fraser
expects him in camp sometime this week.
Owusu, who will be 22 next week, has been playing for Kessben FC in Ghana's Glo Premier League. The club's license was purchased in December by Medeama SC, and the defender has since been on trials in France and Poland without attracting a contract offer.

"He's a player we have great interest in," Fraser said after training Tuesday morning, the Goats' first session since returning from a weeklong camp in Arizona. "He's probably one of the two best outside defenders I've seen while scouting professionally in the last, what, four years?
"He's also a very capable central defender, so I think he adds some athleticism and experience. … I feel like physically he's going to be another strong defender for us."
Owusu appears on the fringe of Ghana's national team. He was called into the Black Stars' camp before an African Cup of Nations qualifier against Sudan in October but did not play in the match.
The deal would expire in December; no word whether there will be options to extend to loan or purchase the contract. It sounds like Medeama will be holding out for bigger bucks than MLS will spend.
"We are confident this will help the young chap gain experience for a bigger move to Europe," Medeama president
Moses Armah
said on his club's Web site. "This is only the beginning, and we will to wish him well at his new club. He has the experience and knows what is ahead of him, so he can't disappoint. We expect him to come back better than he's leaving us."
Chivas just acquired
Heath Pearce
, a left-footed outside back (who can play on the right or in midfield, too), a week ago, and it signed center back
Andrew Boyens
about a week before that. Center back
Jimmy Conrad
, of course, arrived in December's re-entry draft, and
Zarek Valentin
, who can play inside or on the right, was the Goats' top pick in last month's draft. Colombian right back
Jimmy Asprilla
is in camp, and there's a good chance he'll be signed, too. Three backline starters return, although
Mariano Trujillo
likely will play, when he plays, in midfield.
"At the end of the day, we're trying to bring in as many good players as we can," Fraser said. "And we're not Chelsea or Real Madrid, where we have the luxury of plucking every single player we want. So when we get good players, we have to bring them in."
ACROSS THE BACK?:
What might Chivas' starting backline look like? Maybe … Asprilla on the right, Conrad and Owusu in the middle, Pearce on the left. Or Owusu on the left with Valentin in the middle with Conrad, and Pearce in midfield. Or Valentin on the right, with Conrad and
Michael Umaña
in the middle. Or Conrad and Owusu in the middle and
Ante Jazic
on the left flank.