Los Angeles Soccer:

Arturo Alvarez
January, 29, 2012
1/29/12
10:09
PM PT
By
Scott French
| ESPNLosAngeles.com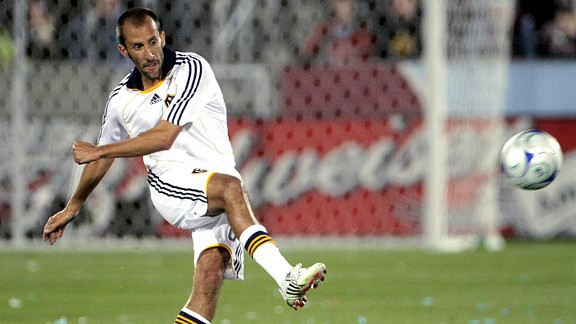 Doug Pensinger/Getty ImagesPeter Vagenas, a long-time Galaxy player, now must convince Chivas USA fans to embrace him.

OXNARD -- There exist Chivas USA supporters not so pleased about the club's latest, as-yet unannounced acquisition. Peter Vagenas, that acquisition, loves it.

The veteran midfielder is a bit of a Galaxy icon -- he was with the club from 2000 to 2009, winning two MLS Cups and captaining the 2005 MLS Cup/U.S. Open Cup "double" winners -- and, as everyone familiar with the Super Clasico rivalry can attest, that doesn't go over so well with those who cheer on the Rojiblancos.

Vagenas, 33, understands where they're coming from, sees it as a good thing -- a product of the growing passion Major League Soccer fans feel for their teams (and the hatred they hold for their archrivals), says "that's how it should be." He wrestled with all of it while considering Chivas coach Robin Fraser's invitation.

"It wasn't an easy decision," said Vagenas, who has been in camp for about a week and a half and last week finalized his contract. "At the end of the day, for me personally, the chance to be part of what Robin is trying to build here is an absolutely fantastic opportunity. The ideas Robin has, where he sees this club going, the vision that he's trying to put on the field is something I believe in wholeheartedly.

"Obviously, Los Angeles is my home. I was born and raised here. This gives me the opportunity to come home and play in front of my family and friends at Home Depot Center. You put those two things together, this is truly, truly a blessing for me."

Vagenas was born and grew up in Pasadena, attended St. Francis High School and starred at UCLA before joining the Galaxy, and he's not about to renounce his past. He was a pivotal figure on the fine Galaxy teams early last decade, a skilled organizer whose work ethic, ability with the ball and leadership skills contributed mightily to the club's identity.

He played in 202 league games in nine Galaxy seasons. His 183 regular-season appearances leaves him fifth on L.A.'s all-time list, one spot below Chivas assistant coach Greg Vanney and two in front of Fraser, both former teammates.


January, 15, 2012
1/15/12
10:12
PM PT
By
Scott French
| ESPNLosAngeles.com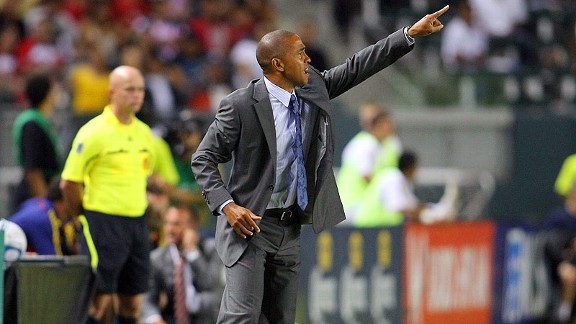 Victor Decolongon/Getty ImagesRobin Fraser is rebuilding his roster again this winter.
CARSON -- Chivas USA's preparations for the 2012 season began with medical exams Sunday and moves onto good, old Field 6 at Home Depot Center on Monday morning, with head coach Robin Fraser welcoming a lot of new faces -- and not all of them, by any means, under contract.

The Goats have unloaded nearly half their 2011 roster and added a half-dozen or so new names, and if Fraser's second preseason in charge is anything like the first, plenty of trialists will get a look.

Chivas brass last year looked at more than 80 players, including academy kids, as Fraser and general manager Jose Domene presided over a rebuild that the coach said was more building "from scratch."

Fraser's idea this year is to have a team in place as the preseason starts, but he's got roster spots to fill and areas of great need and not all negotiations are finished. Five players will be added in Tuesday's supplemental draft, and another overseas signing is possible.

Here's a quick look at the Goats as their campaign begins:
Chivas endured the kind of up-and-down season common to rebuilding years in 2011, playing some exceptional possession soccer but suffering from inconsistency at both ends. The Goats won back-to-back games just once, in April, and watched .500 slip away over the last two-thirds of the season. Playoff hopes died with a seven-game winless streak in August and September.
Nonetheless, Fraser and his staff built a strong foundation, several players -- especially goalkeeper
Dan Kennedy
, midfielder
Nick LaBrocca
and defender
Heath Pearce
-- enjoyed remarkable seasons and the addition of
Juan Pablo Angel
, in an August trade from the Galaxy, gave the Goats their first top-class MLS striker since
Ante Razov
.
January, 1, 2012
1/01/12
2:47
PM PT
By
Scott French
| ESPNLosAngeles.com
It looks as if Chivas USA's investment in Ecuadoran midfielders isn't finished.

Reports in South America have Miller Bolaņos, a 21-year-old central midfielder at powerhouse LDU Quito, set for a one-year loan to the Goats. Chivas signed Oswaldo Minda from Deportivo Quito nearly two weeks ago.

Bolaņos, who can create and score goals, was part of LDU's runs to the Copa Sudamericana title in 2009 and to the tournament final in 2011. He played previously for Barcelona SC in Guauaquil.

Neither Chivas nor Major League Soccer have acknowledged the move, but LDU confirmed on its website that Bolaņos was going to MLS, although the Goats were not mentioned in its report. Futbol Ecuador, a website, reported last week that the signing with Chivas was imminent.

Bolaņos' arrival would give the Goats nine potential midfield starters, decent trade bait heading into the Jan. 12 MLS SuperDraft and the opening of camp three days later. Chivas opens its season March 11 against Houston at HDC.

ON THE WAY OUT?: Ecuadoran forward Victor Estupiņan says he's surveying his options and might be heading home.

The 23-year-old striker, acquired on loan from LDU Quito in last year's draft, told Quito radio station Nueva Emisora Central that he "learned a lot there in MLS" and that his employer -- LDU -- was "talking to several teams" about his next stop.


December, 22, 2011
12/22/11
8:47
PM PT
By
Scott French
| ESPNLosAngeles.com
Chivas USA has made its first signing from abroad for the new year, and more are likely, although not necessarily one that has been anticipated.
The Goats this week announced they had signed Ecuadoran midfielder
Oswaldo Minda
, who hadn't exactly been keeping the transaction secret, blabbing weeks ago to the local media that he'd been offered a three-year contract and bidding an emotional farewell to his Deportivo Quito teammates after they won the domestic championship last weekend.
He's a holding midfielder who can do a lot more, says Chivas coach
Robin Fraser
.

"It's a great signing for our team," Fraser said Thursday. "He's a player who has been exceptional for his club over the last several years and had some success. He's a player who's a ballwinner, he's an organizer, he's intense. He's a good two-way performer, good going forward as well."
Minda, 28, who has spent the past four years at Deportivo, adds more depth to a deepening midfield that already had, at least in name, eight potential starters:
Nick LaBrocca
,
Marcos Mondaini
,
Laurent Courtois
,
Blair Gavin
,
Michael Lahoud
,
Jorge Villafaņa
and
Ben Zemanski
. Oh, and perhaps
Ryan Smith
, whose rights were acquired from Sporting Kansas City last month.
Another potential midfielder, 32-year-old Frenchman
Nicolas Dieuze
, isn't so certain. His agent this week told French website MLS-News that a deal would be completed soon. Not so, Fraser says.
"We're still considering him," said the coach, who saw Dieuze on trial in October. "We're not really any further than that at the moment, as we look at several other players. He's one of them being considered."
It's uncertain if
Arturo Alvarez
, selected from Real Salt Lake in last week's second-stage re-entry draft, will join the Goats -- he's pursuing options in Europe -- but Fraser believes
Juan Pablo Angel
will be back in 2012.
"I haven't had a detailed conversation with him in a couple of weeks," the coach said, "but last I spoke to him, I think he wants to come back, and we want to have him back."
Angel scored seven goals in nine games with the Goats after arriving in August from the Galaxy.
December, 5, 2011
12/05/11
4:48
PM PT
By
Scott French
| ESPNLosAngeles.com
Chivas USA has decided to invest in veteran winger/forward
Arturo Alvarez
, claiming him in Monday's first-stage draft in Major League Soccer's re-entry process, even with his salary close to $200,000.
Alvarez, 26, a Texan who plays for El Salvador's national team after representing the U.S. at the youth levels, has scored 24 goals and 20 assists in 187 MLS games over nine seasons, but he's coming off an unhappy experience at Real Salt Lake, where he played in just 16 games, starting eight, in 2011.
He has started 20 games in a season just three, in 2007 at FC Dallas, in 2008 between Dallas and San Jose, and in 2009 in San Jose. He scored a career-best six goals in 2008 and five the following season.

"Arturo is a player who I've always thought had a very interesting skill set," Chivas coach
Robin Fraser
told ESPN Los Angeles. "He's very, very comfortable on the ball, good taking players on. The type of player who I think it is very difficult for defenders to deal with."
Alvarez is out-of-contract, and Chivas is forced to make a "Bona Fide Offer" that is at least equal to Alvarez's 2011 salary, which was $192,585 ($201,933.50 average guaranteed compensation). The forward also is believed to be considering options in Mexico.
"I think there is a possibility that Arturo has had an eye for leaving the league for a long time ...," Fraser said. "The word on him is thatt he's always wanting to go overseas. Hopefully, he's interested in staying. Perhaps he goes overseas and doesn't like to options available to him, in which case we have the opportunity to keep him."
Fraser said Alvarez's price tag was not a deterrent.
"There's a negotiation to be had, no matter what," Fraser said. "I think he's a player who can be extremely, extremely dangerous in this league and has shown he's a player who can be very dangerous creating opportunities both for himself and other people. We don't necessarily look at that number and say no way, because we do think he can be very productive."
June, 12, 2011
6/12/11
9:59
PM PT
By
Scott French
| ESPNLosAngeles.com
None of that U.S.-style underachieving for Mexico.
Sure, El Tri are missing six players -- five of them in doping intrigue -- and Sunday's foe was one of the best they'll come up against in the CONCACAF Gold Cup, but it mattered not at all in a one-sided Group A decider.
Andres Guardado
scored two spectacular goals and the Mexicans netted three by the 26th minute en route to a 4-1 romp over Costa Rica at Soldier Field in Chicago, which nonetheless qualified for the quarterfinals by finishing second in the group.
El Salvador also won big, demolishing Cuba, 6-1, with a series of superb goals to position itself for one of the at-large berths into the tournament's knockout stage.
A quick look at the eighth day of group play in the region's nations championship:
MASTERFUL MEXICO:
El Tri hasn't been slowed by its troubles, looking unbeatable while routing all three Group A foes. Sunday's victory was the most impressive, given the quality of the opposition and their overwhelming dominance in building a 4-0 first-half advantage.
All four goals were outstanding, with
Rafa Marquez
's powerful 17th-minute header from
Pablo Barrera
's corner kick and Barrera's fine finish from a nifty give-and-go with
Carlos Salcido
in the 38th sandwiching Guardado's wonder strikes.
May, 7, 2011
5/07/11
6:15
PM PT
By
Scott French
| ESPNLosAngeles.com
George Frey/Getty ImagesJavier Morales screams in pain after breaking his ankle following a tackle during Saturday's game.

Chivas USA failed at the finish Saturday, and no shame in that. They had held mighty Real Salt Lake scoreless on the road into the 87th minute despite playing most of the game with only nine men.

Red cards, both deserved, defined Robin Fraser's Salt Lake City homecoming, with Chivas' impressive defensive display shuttled on Will Johnson's finish with five minutes to go, stoppage included.

The Goats (2-3-2) looked good before losing center back Andy Boyens to a second yellow card after just 25 minutes and Marcos Mondaini to a straight red in the 38th for a gruesome foul that cost Major League Soccer its third major star in little more than two weeks.

Real Salt Lake playmaker Javier Morales suffered what the club's doctor called a "fracture dislocation of his left ankle and accompanying ligament tears," will require surgery and be out an expected four months. He follows to the sidelines Seattle's Steve Zakuani, out for the year because of a broken leg, and FC Dallas' David Ferreira, done for three months because of a fractured ankle.

This one wasn't nearly as ugly as Colorado midfielder Brian Mullan's attack on Zakuani, which drew a 10-game ban, but it was as difficult to watch -- and, like Zakuani's injury, was televised on a national network. (Spanish-language TeleFutura, which regaled/sickened viewers with repeated replays.)

Morales, MLS's premier attacking midfielder, was dribbling right to left above the Chivas USA box with his Argentine countryman Mondaini in pursuit but getting nowhere near position to knock the ball away. Finally, Mondaini swept Morales from behind, folding the RSL star's left leg underneath as they fell forward. Morales' foot bent sideways as he wailed in torment.

Referee Paul Ward initially gave Mondaini a yellow card -- ridiculous; the challenge was from behind, and that's a red card -- switching colors only after seeing the extent of Morales' injury. The expulsion is accompanied by a one-game suspension, but MLS's disciplinary committee can, and likely will, add a few games to the total. The league wants to appear strong on these kinds of tackles, and it has set a standard with Mullan's penalty.

Not even RSL thinks the fouls compare.

"To be honest, I didn't think it was the most flagrant of fouls," coach Jason Kreis told media afterward. "It was from behind, which we're trying to get out of the game. It's in the attacking third, and Javi was clearly getting ready to shoot. I understand the urgency of the situation from the defender trying to make the play, and I really don't think it was that egregious."


November, 4, 2010
11/04/10
10:15
PM PT
By
Scott French
| ESPNLosAngeles.com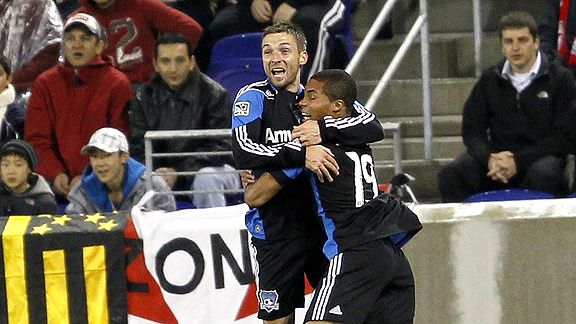 Chris Trotman/Getty Image
Bobby Convey's two goals helped lead San Jose to an upset of New York.
A look at Thursday's MLS postseason action:
IN BRIEF: Bobby Convey
scores twice and sets up MVP finalist
Chris Wondolowski
's decisive header, and San Jose -- the lowest seeded team in the tournament -- pulls out a 3-2 aggregate stunner over Eastern Conference regular-season champion New York to reach the Eastern title game. The Earthquakes, just one win from their first MLS Cup final appearance since their 2008 restoration, score goals five minutes apart for the 3-1 second-leg victory, with Convey providing a would-be winner in the 76th minute and Wondolowski the actual winner in the 81st.
BEST PLAYER:
Convey, a one-time teen phenom who was part of the 2006 U.S. World Cup team, was sensational on the left flank, in midfield for the first half and as left back after
Ramiro Corrales
departed just before halftime with a hamstring injury. Convey, allowed alone into the Red Bulls box by New York midfielder
Rafa Marquez
, side-footed San Jose to a sixth-minute lead after
Ryan Johnson
's cross wasn't adequately dealt with, turned
Tim Ream
at the top of the box to blast home
Arturo Alvarez
's feed for a 2-0 (and 2-1 aggregate) lead, then played a pefect cross for Wondolowski to nod home. His forays forward terrorized New York all night and enabled the Quakes, although outplayed much of the game, to maintain control from start to finish.