Los Angeles Soccer:

Atiba Harris
November, 24, 2010
11/24/10
1:19
PM PT
By
Scott French
| ESPNLosAngeles.com
Chivas USA captain Jonathan Bornstein, who is headed in January to his mother's native Mexico to join UANL Tigres, can no longer call himself a Goat.

The U.S. national team defender was a surprise selection by the Portland Timbers in Wednesday's Major League Soccer expansion draft, although he has no plans to head north.

Bornstein (Los Alamitos/Los Alamitos HS and UCLA) was the 15th selection in the draft, through which the Timbers and Vancouver Whitecaps, making the leap from the second-tier USSF D2 Pro League to MLS, are building their rosters for next season. Each took 10 players from the existing 16 clubs' unprotected lists.

Chivas USA forward Alan Gordon, who played all or part of seven seasons for the Galaxy before an Aug. 5 trade, was taken by Vancouver with the 10th pick. Chivas USA, allowed to add a 12th player to its protected list following Gordon's selection, took defender Mariano Trujillo off the table.

No Galaxy player was taken in the draft.

Chicago Fire midfielder John Thorrington (Palos Verdes Estates/Chadwick School) was the final selection, taken by Vancouver.

Defender Patrick Ianni (UCLA) was added to Seattle's protected list when Vancouver made Sanna Nyassi its first pick. Goalkeeper Chris Seitz (San Luis Obispo/Thousand Oaks HS) was added to Philadelphia's protected list when Vancouver selected Shea Salinas with the eighth pick.

Bornstein, who played for the U.S. at the World Cup in South Africa, has a four-year contract with Tigres, but Portland would hold his MLS rights indefinitely. If the veteran left back/midfielder were to return to MLS, he would return as a Timber.

Bornstein was a Chivas regular from the moment he arrived in the 2006 draft. Then-Goats coach Bob Bradley converted him from a forward/midfielder to left back, and he rewarded the club with an MLS Rookie of the Year performance. He played a club-record 131 MLS games for Chivas, scoring nine goals with 10 assists.

Gordon, 29, scored once with three assists in nine appearances from the Goats after arriving from the Galaxy. He scored 16 goals with 12 assists in 106 MLS games for L.A.

Portland's selections:

1. Dax McCarty (FC Dallas), midfielder
2. Eric Brunner (Columbus), defender
3. Adam Moffat (Columbus), midfielder
4. Anthony Wallace (Colorado), defender
5. David Horst (Real Salt Lake), defender
6. Robbie Findley (Real Salt Lake), forward
7. Peter Lowry (Chicago), midfielder
8. Jonathan Bornstein (Chivas USA), defender/midfielder
9. Jordan Graye (D.C. United), defender
10. Arturo Alvarez (San Jose), forward

Findley, a former Galaxy forward who played for the U.S. in South Africa, has said his intention is to play in Europe. McCarty, taken with the No. 1 overall selection, was a key figure in FC Dallas' run to the MLS Cup final.

Vancouver's selections:

1. Sanna Nyassi (Seattle), midfielder
2. Atiba Harris (FC Dallas), midfielder/forward
3. Nathan Sturgis (Real Salt Lake), midfielder
4. Shea Salinas (Philadelphia), midfielder
5. Alan Gordon (Chivas USA), forward
6. O'Brian White (Toronto FC), forward
7. Alejandro Moreno (Philadelphia), forward
8. Joe Cannon (San Jose), goalkeeper
9. Jonathan Leathers (Kansas City), defender
10. John Thorrington (Chicago), midfielder

Harris is a former Chivas USA player. Sturgis, Moreno and Cannon previously played for the Galaxy.


November, 21, 2010
11/21/10
11:42
AM PT
By
Scott French
| ESPNLosAngeles.com
TORONTO -- FC Dallas and the Colorado Rapids might not be marquee franchises that command the kind of buzz Major League Soccer would like for its showcase event, but here's a tip: You don't want to miss this one.

Sunday's 15th MLS Cup, which kicks off at BMO Field a little after 5:30 p.m. (ESPN and Galavision), could be a classic. Dallas and Colorado are fast, athletic, attacking sides capable of producing scintillating stuff.

There will be abundant goal opportunities, but with Palos Verdes' Kevin Hartman (Peninsula HS/UCLA) in the FC Dallas nets, there's no certainty of scoring. At least at one end.

Both teams attack so well, especially off the counter, that defensive approaches ought to be decisive. The team that does the best job closing space and preventing its opponent's attacking speed from making a difference is likely going to prevail.

Three keys to victory:


November, 21, 2010
11/21/10
11:28
AM PT
By
Scott French
| ESPNLosAngeles.com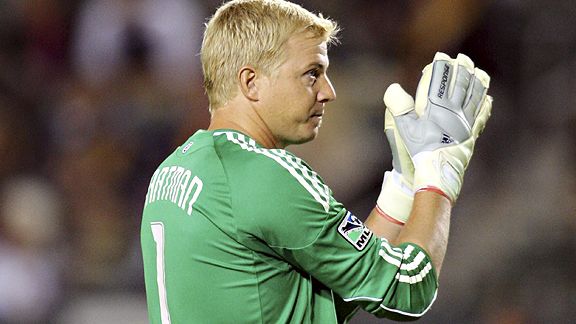 Victor Decolongon/Getty Images
Goalkeeper Kevin Hartman of FC Dallas applauds the fans after the Western Conference Finals of the MLS playoffs against the Galaxy at Home Depot Center.
TORONTO -- Kevin Hartman thought it might be time to go on to something else when the Kansas City Wizards told him as kickoff neared for the new season late last winter that his services no longer were required.
The veteran goalkeeper had few options: The other Major League Soccer clubs' goalkeeping hierarchies were in place, and most weren't looking to make a chance, no matter the former UCLA star's pedigree.
Schellas Hyndman
, who had what he believed a title contender after a 21-month rebuild of FC Dallas' roster, was intrigued. And Hartman thought he had more to give.
Theirs turned out to be the perfect partnership, and it's led to Sunday night's MLS Cup in Toronto (ESPN and Galavision, 5:30 p.m. PT), where the Hoops or Colorado Rapids will claim their first league title in what could be the most dynamic of the league's 15 championship games.
Hartman could be -- should be -- the difference.
The Palos Verdes product, who played at Palos Verdes and Peninsula high schools and started his college career at Cal State Dominguez Hills, was the final, and perhaps most important, piece of Hyndman's remake. He rewarded the coach with often spectacular play that sparked a league single-season record 19-game unbeaten streak, saw FC Dallas lose just four times -- tying an MLS mark -- and took the club into its first MLS Cup final, the last of the surviving remaining original clubs to do so.
November, 14, 2010
11/14/10
5:47
PM PT
By
Scott French
| ESPNLosAngeles.com
No change in the Galaxy's lineup for Sunday evening's Western Conference final at the Home Depot Center -- coach Bruce Arena trots out the same starting XI he used in both games against Seattle -- but FC Dallas has a different look.
The Hoops brought back former Chivas USA attacker
Atiba Harris
, as expected, but the surprise is he's replacing speedy forward
Jeff Cunningham
up front rather than diminutive winger
Marvin Chavez
. Harris was red-carded in the first leg of FC Dallas' first-round playoff victory over Real Salt Lake and was suspended for last week's second leg.
The lineups:
Galaxy:
G Donovan Ricketts; D Sean Franklin, Omar Gonzalez, A.J. DeLaGarza and Eddie Lewis; M David Beckham, Juninho, Dema Kovalenko and Landon Donovan; F Edson Buddle and Mike Magee.
FC Dallas:
G Kevin Hartman; D Jackson Goncalves, George John, Ugo Ihemelu and Jair Benitez; M Marvin Chavez, Dax McCarthy, Daniel Hernandez, Brek Shea and David Ferreira; and F Atiba Harris.
November, 12, 2010
11/12/10
11:07
PM PT
By
Scott French
| ESPNLosAngeles.com
The Galaxy is seeking their record seventh MLS Cup title-game appearance, and FC Dallas is aiming to reach the final for the first time. Who has the advantage in Sunday night's Western Conference final at Home Depot Center (ESPN2 and ESPN Deportes, 6 p.m.)?
Let's take it piece by piece.
GOALKEEPER
GALAXY:
Donovan Ricketts
FC DALLAS:
Kevin Hartman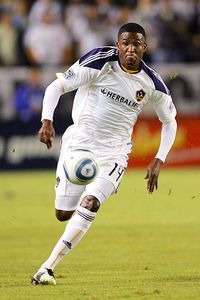 Victor Decolongon/Getty ImagesEdson Buddle of the Los Angeles Galaxy passes the ball on the counterattack against D.C. United during the MLS match at The Home Depot Center on Sept. 18. The Galaxy defeated United 2-1.


Ricketts was MLS's Goalkeeper of the Year. Hartman probably deserved the honor, and had he not missed the final six weeks of the regular season with a sprained right medial collateral ligament -- product of that dumb Thierry Henry celebration -- he surely would have won. Ricketts is the more athletic, and he was sensational against Seattle, the most important figure in the victory up north.

Hartman (Palos Verdes/Peninsula HS and UCLA), still revered in L.A. for his decade of service to the Galaxy, has had a career resurrection in North Texas, and he bears most of the credit for the Hoops' magical campaign. There are few better shot-stoppers in American soccer, and nobody commands his box better than Hartman.

Both prefer to parry than catch in tight situations, and both make the mind-boggling saves that make a difference. Hartman might be a better decision-maker, but there's no denying Ricketts' form.

Advantage: Push

BACKLINE


GALAXY: Sean Franklin, Omar Gonzalez, A.J. DeLaGarza/Gregg Berhalter and Eddie Lewis/Todd Dunivant
FC DALLAS: Jackson Goncalves/Zach Loyd, Ugo Ihemelu, George John and Jair Benitez
October, 31, 2010
10/31/10
8:32
AM PT
By
Scott French
| ESPNLosAngeles.com
A look at Saturday's MLS postseason action:
IN BRIEF:
Two harsh red cards -- one to Real Salt Lake playmaker extraordinaire
Javier Morales
-- mar FC Dallas' 2-1 comeback triumph captured on former UC Santa Barbara standout
Eric Avila
's late strike. … New York heads home with a 1-0 advantage after
Joel Lindpere
lifts the Red Bulls at San Jose.
BEST PLAYER:
Lindpere might not get the press that DPs
Thierry Henry
,
Rafa Marquez
and
Juan Pablo Angel
attract, but the Estonian midfielder clearly is the Red Bulls' MVP this year -- and he tormented the Earthquakes in New York's win. He had the lone goal, a superbly placed shot from a tight angle past a diving
Jon Busch
and inside the right post from a poorly headed clearance, and would've had another had
Jason Hernandez
not been stationed on the goal line.
BEST GOAL:
Two candidates from FC Dallas' victory. Hard to beat
Fabian Espindola
's blast, from
Andy Williams
' ball from the midfield stripe, into the upper-left corner to give RSL a fifth-minute lead. But beat it Avila's bender into the left-side netting did. The 88th-minute winner, less than a minute after he came on for
Jair Benitez
, was a splendid finish to an invigorating clash.
October, 24, 2010
10/24/10
11:44
PM PT
By
Scott French
| ESPNLosAngeles.com
Bruce Arena had already begun making plans for the Galaxy's playoff opener in Denver. Landon Donovan was thankful he'd get a day off.

Then Real Salt Lake completed the most audacious comeback of the Major League Soccer season, scoring twice in stoppage -- both by Alvaro Saborio, the first following a horrid error by Colorado Rapids goalkeeper Matt Pickens, the second on a last-ditch penalty kick -- for a 2-2 tie Saturday night, and suddenly the Galaxy's game Sunday against FC Dallas meant something.

L.A., needing at least a draw in the league finale to finally wrest the Western Conference and Supporters' Shield titles from RSL, responded with one of its grittiest performances this season, pulling out a 2-1 victory at Home Depot Center in a match that, as Donovan put it, "felt and looked like a real playoff game."

It might be exactly what the Galaxy (18-7-5) needed heading into a home-and-home series with the Seattle Sounders to start the MLS postseason. Their form has been hit and largely miss since a 10-0-2 start to the season, even while winning five of their final seven games, and Seattle has been close to spectacular in league play since July 4.