Los Angeles Soccer:

Atlas
September, 13, 2011
9/13/11
12:54
PM PT
By
Scott French
| ESPNLosAngeles.com
The most important moments were at the end for three Mexican Primera Division teams over the weekend. Stoppage-time strikes delivered a huge win for Morelia and gave Club Tijuana and Monterrey a share of the points in their matches.
Morelia (3-3-1), which still has a game in hand over most of the field stemming from the gunshots-halted clash last month at Santos Laguna, vaulted from 15th to 10th with a stunning 1-0 decision at Cruz Azul.
Joao Rojas
scored the 92nd-minute decider from Aldo Ramirez's penetrating feed.
Tijuana (1-4-3), which has been hamstrung by bad luck more so than bad form, was set to go down at Toluca after conceding another questionable penalty kick, but
Jose Sand
headed home
Richard Ruiz
's cross in the 92nd to provide a 1-1 draw.
Monterrey's push for a point was more dramatic. The Rayados (4-3-1), down to 10 men after
Jesus Zavala
's 21st-minute red card surrendered a two-goal advantage against Puebla as former Chivas USA forward
Isaac Romo
tallied twice in the second half. They were redeemed by a controversial penalty-kick call, and
Luis Perez
slotted home from the spot in the 94th for a 3-3 tie.
1. TALE OF TWO ROUTS
UANL Tigres was the top team in the spring Clausura, winning the regular-season title before an upset loss in the first round of the playoffs. Pumas UNAM was crowned champion. They were on different sides of blowouts that appear to confirm their destinies this fall.
July, 13, 2011
7/13/11
11:19
PM PT
By
Scott French
| ESPNLosAngeles.com
CARSON -- Edgar Castillo was on the field for Club America on Wednesday night at Home Depot Center, his second start in as many preseason games for the Mexico City giant -- another chance to prove he belongs.
The New Mexico native, who first signed with the Aguilas 2½ years ago but has mostly been on loan since, to UANL Tigres, San Luis and Puebla, appears to be in the Aguilas' plans, perhaps at left back, his natural position.
He spent some time there and a little in midfield as America rallied for a 2-1 win over Primera Division rival Atlas, with another American -- Calexico's
Isaac Acuña
-- scoring the 63rd-minute equalizer.
Vicente Sanchez
netted the winner in the 88th.
"My hopes are high ...," Castillo, 24, said afterward. "I've been all over. Now I get to come back to America, and I'm telling you, I'm very happy to be back. They've given me a second chance to come back, and I've got to do things right to be a starter."
He looked solid as the Aguilas dictated play much of the night in a spirited encounter that drew 16,241 to HDC, just as he looked good in last week's 1-0 victory over the Portland Timbers up north.
Honduran forward
George Welcome
came off the bench to give Atlas a 50th-minute lead, scoring on a twisting header from
Francisco Torres
' free kick. Acuña headed home a cross from Oscar Rojas to pull America even, and Sanchez fired across the goal and inside the right post from
Rosinei
's feed for the winner.
July, 13, 2011
7/13/11
6:51
AM PT
By
Scott French
| ESPNLosAngeles.com
The Mexican Primera Division's Apertura campaign is right on top of us, just a week and a half away, and friendlies will bring both of the country's giants to Southern California for preparatory friendlies.
Guadalajara's showdown next weekend in San Diego against Real Madrid has the higher profile, but America's match Wednesday night at Home Depot Center against league rival Atlas might be the more telling.
El Reto Aguila II, the second in what's expected to be annual or semiannual appearances by America in Carson, kicks off at 7:30 p.m., and the Mexico City giant already is facing heavy pressure. The Aguilas (Eagles) haven't won the league title since the 2005 Clausura and have claimed just two league championships since 1989, and they're coming off disappointing showings in last year's tournaments.
They've added for this season Ecuadoran forward
Christian Benitez
, who scored 21 goals last season for Santos Laguna, and Mexican national-teamer
Paul Aguilar
, who transferred from Pachuca. Both are away at Copa America, South America's club championship.
June, 6, 2011
6/06/11
10:36
PM PT
By
Scott French
| ESPNLosAngeles.com
Mexico City powerhouse America is returning to Home Depot Center next month to take on Primera Division rival Atlas in a preseason friendly.
The Aguilas, who have a massive following across Mexico and throughout the American Southwest, will take on Guadalajara-based Atlas on July 13 at 7 p.m. in "Reto Aguila II."
It will be America's third visit to L.A. in a little more than a year. The Aguilas beat Cruz Azul, 2-1, last July in front of 22,000-plus at the Rose Bowl and routed Guatemala, 4-1, in the first "Reta Aguila" last December, drawing 18,000-plus to HDC.
April, 22, 2011
4/22/11
3:02
PM PT
By
Scott French
| ESPNLosAngeles.com
Three of the eight playoff berths have been taken, and the fight for the final five is heating up as the Mexican Primera Division heads into its penultimate weekend of the regular season, with a dozen teams still in contention, but only eight of them really in the race.
Quickly:
In: Pumas UNAM (9-1-5), UANL Tigres (8-2-5) and Morelia (8-3-4)
On the verge: Guadalajara (6-3-6), Cruz Azul (7-5-3) and Atlante (7-6-2)
Above the wire: Monterrey (6-5-4) and America (7-7-1)
Just outside looking in: Toluca (5-5-5), Atlas (5-5-5) and Santos Laguna (6-7-2), all two points out of the final spot
Alive, but not for long: Puebla (5-8-2), Pachuca (4-7-4) and Estudiantes Tecos (4-7-4)
Out: Gallos Blancos (4-8-3), Necaxa (3-7-5) and Jaguares (3-10-2)
Pumas, Tigres and Morelia claimed their spots during last week's "doble jornada." Pumas, on top of the overall table most of the Clausura campaign, can clinch the No. 1 seed -- rarely a winner in Mexico's playoffs -- with a win Friday night at Necaxa and Tigres' failure to win Sunday at Morelia in one of the two major showdowns this weekend.
The other big matchup pits Guadalajara, looking like a real contender the past month, against Cruz Azul in Mexico City. Chivas is fourth and Cruz Azul fifth, both with 24 points, and neither is likely to miss the postseason.
But the Cementeros are skidding. They've lost three of four, with losses to Santos, Morelia and Puebla, after challenging for the top spot most of the season. The 3-0 rout of Monterrey, which is falling at a quicker pace, might prove to be Cruz Azul's savior.
Monterrey is winless in its last four league games, its focus blurred by its CONCACAF Champions League title-series run and its game slowed by injuries to key players. A longtime shoulder ailment has prevented star Chilean forward
Humberto Suazo
from contributing the way he needs to, and forward
Aldo de Nigris
and midfielder Luis Perez, both Mexican national-teamers, will be out for three to four weeks with thigh injuries.
February, 22, 2011
2/22/11
4:51
PM PT
By
Scott French
| ESPNLosAngeles.com
Calexico's
Isaac Acuña
is starting to flower, following his first Primera Division appearance in nearly a year with a game to remember.
Acuña, 21, scored in his first start in Mexico's top league to lead Gallos Blancos de Queretaro (2-4-1), who started the week at the bottom of the Clausura standings, to a stunning 2-0 triumph at Santos Laguna (3-3-1).
Acuña scored in the third minute -- he took a pass from
Eder Borelli
as he slipped past the backline, dribbled past goalkeeper
Oswaldo Sanchez
and knocked the ball into the open net -- and fed
Carlos Bueno
for the second goal just before halftime.
Santos' fans answered with jeers after a second successive 2-0 home loss, and coach
Ruben Omar Romano
, who guided the Torreon-based club into the Apertura final, was dismissed after cameras caught him making an offensive gesture to fans, after which he criticized the supporters.
"His behavior went against the values that the club stands for and promotes, which is why the decision was taken to end our working relationship with immediate effect," the club said in an announcement on its Web site. Said club president
Alejandro Irarragorri
: "This is a deeply hurtful decision, but we must be consistent with our values and responsibility as a model team. Ruben reacted negatively to pressure from the fans, and that's something we can't cover up."
Fellow Argentine
Diego Cocca
, 38, was hired to replace Romano. Cocca, a former right back who counts Atlas, Veracruz and Gallos Blancos among the nearly dozen clubs for which he toiled, previously has managed three Argentine clubs, most recently La Plata's Gimnasia y Esgrima.
Acuña, who is with Queretaro on loan from America, played 35 minutes in a 5-0 loss Feb. 12 to Toluca. He made his debut last April 10, playing five minutes for America in a victory over Jaguares.
SINCE 5-0:
The most alarming result of the Clausura occurred in week one, when Atlas, the worst team in the fall Apertura, throttled a decent (or so we thought) Morelia side, 5-0. After three games, Atlas had matched its fall win total and sat atop the overall table.
January, 17, 2011
1/17/11
10:24
PM PT
By
Scott French
| ESPNLosAngeles.com
It's taken just two weeks to turn things upside down in Mexico's Primera Division.
Atop the Clausura standings following wins lopsided (5-0 over Morelia) and tight (2-1 over Gallos Blancos) is Atlas, which won only three games en route to an 18th-place finish (among 18 clubs) in the fall Apertura.
At the bottom, in 18th: Apertura champion Monterrey.
Atlas is 2-0-0 after
Alfredo Moreno
, at the top of the box, redirected
Edgar Pacheco
's 82nd-minute blast Saturday to beat Gallos Blancos, 2-1.
"I think keeping our feet on the ground is something that has to work every day ...," Galindo told Mexican sports daily
Esto
. "These two games have been satisfying, but we must continue. There are many details to improve, and we can't rest."
Also 2-0-0 is San Luis, which routed Puebla, 3-0, behind two
Wilmer Aguirre
goals. Atlas plays at Necaxa on Friday, and San Luis is home Saturday against Guadalajara.
Monterrey, outclassed by San Luis in its opener (and missing manager
Victor Manuel Vucetich
, suspended three games after his ejection in that opener), was overrun by Estudiantes Tecos.
Mauro Cejas
scored twice and
Ramon Morales
set up two in Tecos' 3-2 victory.
Sergio Santana
scored both Monterrey goals, his first since Aug. 14.
January, 11, 2011
1/11/11
11:59
AM PT
By
Scott French
| ESPNLosAngeles.com
Atlas, the worst team in the fall, opened the second half of the Mexican Primera Division season with a stunning romp that underscores coach Benjamin Galindo's savvy eye for talent.
The Guadalajara-based club, which made several major additions to its roster during the winter break, opened the spring Clausura on Saturday with a 5-0 domination of visiting Morelia.
Gerardo Espinoza
matched his Apertura goals total, scoring twice, to lead the Zorros. Former Chicago Fire defender
Wilman Conde
scored in his Mexican League debut, and 19-year-old
Christian Diaz
(in his first top-tier game in more than a year) and
Daniel Osorno
(with his first of the season) also tallied.
"I congratulated the guys in the locker room because [there was] not a single player who did not have a good performance. It speaks well of the commitment that exists with the team," Galindo told reporters afterward.
"It's a good win which gives us confidence, but that's all. What we have to do is keep working with the same commitment that we had during the preseason."
Atlas went through three coaches in a 3-10-4 fall campaign, but Galindo, a former Mexican national-teamer, went shopping in four countries to strengthen the club. Conde, Brazilian midfielder
Lucio Flavio
(from Botafogo) and midfielder
Lucas Ayala
(from UANL Tigres) contributed to the win Saturday.
BIG BOYS BEATEN:
America got robbed. Monterrey got jobbed.
America, a sure title contender, saw two perfectly good goals erased on mistaken offside calls in a 2-0 home loss to Pachuca, which got goals midway through each half by
Yulian Anchico
and then
Edgar Benitez
.
Monterrey, which last month won the Apertura title, was outclassed at home by San Luis, also 2-0 -- with the Gladiadores' first goal, by
Osmar Mares
in the 71st minute, clearly offside.
Juan Carlos Medina
's sweet chip in stoppage, with the Rayados down a man, doubled the advantage.
November, 9, 2010
11/09/10
12:07
PM PT
By
Scott French
| ESPNLosAngeles.com
America is peaking at the best possible time. Toluca is crumbling when it counts. The impact on the Mexican Primera Division's Apertura campaign is massive.
The Aguilas clinched a berth in the eight-team playoff
Liguilla
with a 1-0 victory at Atlante, courtesy of
Matias Vuoso
's eighth goal of the season, and head into their final regular-season outing -- against Mexico City rival Pumas UNAM -- with three-game winning and six-game unbeaten streaks.
They've pulled through last month's attacking drought, in which they were shut out by first-place Cruz Azul, second-place Monterrey and archrival Guadalajara, scoring seven times in their past three games -- and that should be eight.
Pavel Pardo
converted a stoppage-time penalty kick against Atlante, but referee
Paul Delgadillo
ordered a retake for encroachment, and Potros goalkeeper
Moises Muñoz
saved Pardo's second attempt.
America, which is atop Group 2 and fourth overall, behind Santos Laguna on goal difference (plus-8 to plus-7), appears to have shored up its defensive problems, and the relationship among Vuoso, playmaker
Daniel Montenegro
and former Toluca star
Vicente Sanchez
has solidified just when it most matters.
"We're there, and we were able to get there," America coach
Manuel Lapuente
said after Saturday night's victory, according to
Reforma
. "We're playing well … we've finished the league well, although we have a game against Pumas to play, and we cannot lose at home. We're going to put a lot of effort into that game. This isn't over until it's over, and we're going to fight to climb one spot higher."
October, 26, 2010
10/26/10
5:03
PM PT
By
Scott French
| ESPNLosAngeles.com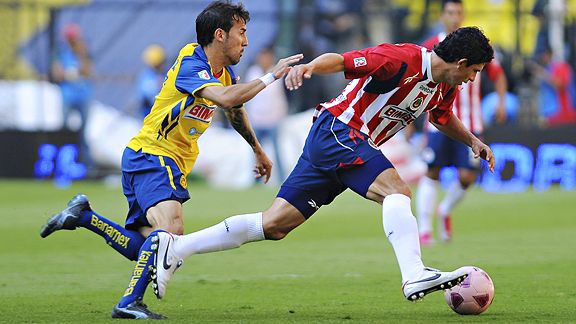 Jaime Lopez/Getty Images
Vicente Sanchez, left, of America vies for the ball with Jonny Magallon of Chivas during Sunday's game.
The rule of thumb is you play to win at home and to tie on the road, but Sunday's 0-0 draw at America in the 206th edition of Mexico's "Super Clasico" wasn't enough for Guadalajara, which faces a difficult path to get into the Primera Division's Apertura playoffs.
Chivas (3-3-7) are fourth in Group 1 and 11th overall, and they're only two points behind eighth-place America (4-3-6), which held onto its spot in the playoff zone despite its third successive draw. But the Goats finish with a brutal schedule, with games in this week's "doble jornada" against fifth-place (and reigning champion) Toluca and at third-place Santos Laguna, followed by showdowns with No. 1 Cruz Azul on Nov. 6 and at No. 2 Monterrey on Nov. 13.
Six clubs -- Pumas UNAM, Morelia, Pachuca, Puebla, Gallos Blancos in addition to Guadalajara -- are within three points of a top-eight slot, and only Cruz Azul and Monterrey are assured of playoff berths, realistically if not mathematically.
"Now we depend on what other teams do, and that is a very complicated position,"
Jose Luis Real
, Guadalajara's head coach, told the media following Sunday's draw. "But we can't surrender -- we are going to try to qualify. As long as we are alive, we will fight for the postseason."
Chivas have won just once in its last eight games and have picked up only seven of 12 points against the division's three worst clubs: They lost at Atlante in August, beat crosstown rival Estudiantes Tecos in early September, managed only a 2-2 draw with Atlas, their other Guadalajara rival, the first weekend in October, and beat Necaxa last week.
In games against eight of the nine clubs battling for the final four postseason berths -- Toluca is the ninth -- the Goats are 0-2-6, 0-2-2 at home.