Los Angeles Soccer:

Barack Obama
May, 15, 2012
5/15/12
6:25
PM PT
By
Scott French
| ESPNLosAngeles.com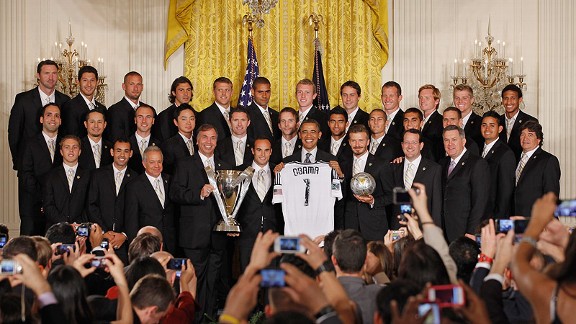 Chip Somodevilla/Getty ImagesPresident Obama honored the MLS champion Galaxy on Tuesday, but not everyone who had a hand in the title was there.
President Obama teased David Beckham and Robbie Keane, recognized Landon Donovan as someone "who has done more for American soccer than just about anybody" and praised the Galaxy for having "lived up to hype" as he honored the MLS Cup champions Tuesday at the White House.

The president's rollicking address, which betrayed more than a passing knowledge of the game and the team, offered a nice respite for the struggling champions, who are 3-5-2 and haven't won in their last four games.

Instead, the focus was on last year, when the Galaxy romped to Major League Soccer's Supporters' Shield, setting a post-shootout era points record in the process, and swept through the playoffs to win their third MLS Cup title, to go with their 2002 and 2005 triumphs.

"It's an amazing tradition to have, for teams to be able to come here," Beckham told media covering the event. "Because you come out meeting the president, and it's motivation -- it motivates you to want to come back next year. I hope we do, because it's a great day, a proud day for all of us."

Obama regaled a gathering in the East Room -- moved from the South Lawn because of a thundershower threat -- with jokes at the expense of L.A.'s two biggest foreign stars, recounted their title triumph last Nov. 20 over the Houston Dynamo, and applauded head coach Bruce Arena for taking the Galaxy "from worst to first in just four years."

"The truth is, in America, most professional soccer players have the luxury of being able to walk around without being recognized," the president noted. "But not these guys. This is the Miami Heat of soccer. And together, they represent one of the most talented lineups that MLS has ever seen."

"It makes you realize that people care, people take notice," Donovan said afterward. "At the end of the day, we're just playing a soccer game, so I get it, there are a lot more important things going on in the world. But it's still cool to know that you inspire people and people care about what you're doing."

The Galaxy ate it up on an emotional afternoon that featured a brief reunion with goalkeeper Josh Saunders, who is in MLS's substance-abuse treatment program and had been away from the team since April 27.

"It was very nice to see Josh," Donovan said. "We're all very much encouraged to see him and see how he's doing. I know it was a big deal for him, and I think we're all really excited that he could be a part of it."

Several figures on last year's championship team weren't invited to be part of the ceremony. Only current Galaxy players and coaches who were with the club in 2011 were honored -- newcomers sat with the audience -- and not everybody was pleased about that.

Midfielder Chris Birchall, so key in the second-leg victory over New York in the first round of the playoffs but now with the Columbus Crew, took to his Twitter account to express his unhappiness Thursday night, also mentioning retired defender Frankie Hejduk, who is now with Columbus' front office.


Here is a transcript of President Obama's remarks Tuesday at the White House honoring the Galaxy's MLS Cup championship:
"Thank you. (Applause.) Everybody, please have a seat. Have a seat. Well, welcome to the White House, everybody. And congratulations to the L.A. Galaxy on your third MLS Cup. (Applause.) Number three.
"Before we start, I want to acknowledge an L.A. native and my outstanding secretary of Labor -- I don't know how her game is, but she's a fan.
Hilda Solis
is here. (Applause.) We've got some proud members of the California delegation, the House of Representatives who are here. We're thrilled to have them.
"I'm not going to flatter myself by assuming these cameras are for me. (Laughter.) I want to thank the Galaxy for letting me share in the spotlight. (Laughter.) The truth is, in America, most professional soccer players have the luxury of being able to walk around without being recognized. But not these guys. This is the Miami Heat of soccer. (Laughter.) And together, they represent one of the most talented lineups that MLS has ever seen.
"You've got
Robbie Keane
, all-time leading scorer of the Irish national team. (Applause.) Cousin of mine. (Laughter.) Robbie arrived halfway through last season, scored his first goal in the first 21 minutes of his first game. His teammates were so happy to have him that they filled his locker with what they called the "pleasures of Ireland" -- Guinness, Bailey's, and Irish Spring. (Laughter.) Hopefully, Robbie has broadened their horizons a little bit since then.
"We also have a young up-and-comer on the team, a guy named
David Beckham
. (Laughter.) I have to say I gave David a hard time -- I said half his teammates could be his kids. (Laughter.) We're getting old, David. Although you're holding up better than me. (Laughter.)
"Last year, at the age of 36, David had his best year in MLS, leading the team with 15 assists. He did it despite fracturing his spine halfway through the season, injuring his hamstring the week before the championship game. He is tough. In fact, it is a rare man who can be that tough on the field and also have his own line of underwear. (Laughter.) David Beckham is that man. (Laughter.)
"And then there's the captain,
Landon Donovan
(applause) who has done more for American soccer than just about anybody. Landon's eye for the net, his will to win are legendary, and once again, he stepped up when his teammates needed him most.
"After going undefeated at home last season, the Galaxy was struggling in the cold and rainy championship match. But then, in the 72nd minute, David headed the ball to Robbie, who made a perfect pass to Landon, who chipped in the game-winner. And that set off an all-night celebration in L.A. -- although my understanding is that David had to get up for carpool duty at 8 a.m. (laughter), so his day was ending a little early.
June, 2, 2011
6/02/11
2:09
PM PT
By
Scott French
| ESPNLosAngeles.com
David Beckham might be the biggest star in the world, but even he gets star-struck.
For instance, last week, when he capped his short trek to England with dinner. With
Queen Elizabeth
and
President Obama
.
Beckham, who was home to participate in
Gary Neville
's Manchester United testimonial, was a guest at the Buckingham Palace dinner eight nights ago honoring Obama and his wife,
Michelle
.
"When you get an invite like that, it's impossible to turn down," Beckham said following the Galaxy's training session Thursday. "Obviously, I've met the queen before, and I can never get bored of meeting the queen, you know. We love her in our country, and she's loved all over the world, so to be at dinner with her [is amazing].
"I've met the first lady before but never met the president. So it was an honor to meet him, an amazing man. ... It was a great dinner. The food was great as well."
Beckham, who also was a guest at
Prince William
's wedding at the end of April, says he often gets invitations to events in England, "and usually I can't go to those kind of things, obviously living here, and usually I'm working all the time. So to be able to go there, it was a real honor to meet the people that I met.
"
Tom Hanks
was on my table as well, so I was a little bit starstruck."
'I CAN PLAY IN ENGLAND':
He called the match honoring Neville a "special night" and enjoyed being with the fans, who chanted for Man United boss
Alex Ferguson
to bring Beckham back to the club.
"I know I can play in England again," Beckham said. "I'm fit enough, and when you've played there, you know how special it is to play there. It's nice to hear people saying [I should return to England to play], because they're still noticing you can still play and are still fit. At 36 years old, I'm still running around like I was when I was 21. A little bit slower, but I can still play."
Beckham enjoyed putting on a Manchester United uniform for the first time since he left the club in 2003, and joked that it was difficult to take it off after the game. "I've got it at home now. I wear it to bed," he quipped.