Los Angeles Soccer:

Barcelona
May, 27, 2011
5/27/11
12:17
PM PT
By
Scott French
| ESPNLosAngeles.com
The climax of the European soccer season comes Saturday when Manchester United and Barcelona, two of the game's real giants, face off for the second time in three seasons in the UEFA Champions League final at Wembley.
It's a classic matchup, pitting Barcelona's gorgeous possession-heavy attack -- fueled by
Lionel Messi
,
Xavi
and
Andres Iniesta
, three of the game's most fertile stars -- against Manchester United's rugged explosiveness that features
Wayne Rooney
and Mexican star
Javier "Chicharito" Hernandez
.
No matter the result, Barca will continue to be thought of as the finest side on the planet -- nobody's really all that close -- and Man United will be considered overachievers if they can accomplish what they couldn't two years ago in Rome.
In that one,
Samuel Eto'o
and Messi scored in a 2-0 victory for the Catalans, who claimed their third title, equal to Manchester United.
Nobody on this continent will be watching as closely as Galaxy midfielder
David Beckham
, who grew up in Man United's youth system, played a decade with its first team and pulled on a Red Devils jersey earlier this week for
Gary Neville
's testimonial at Old Trafford.
Beckham, as they say, is a Red through and through.
"Barcelona are such a great team," he said. "They're the best team of this generation, such great player, great experience. … But if anyone can beat Barcelona, Sir
Alex Ferguson
knows how to do it."
April, 22, 2011
4/22/11
12:35
AM PT
By
Scott French
| ESPNLosAngeles.com
David Beckham again tops Forbes magazine's list of soccer's top earners, hauling down $40 million in salary, bonuses and endorsements. The Galaxy midfielder also was No. 1 on last year's list, also at $40 million.

He's one of three Englishmen in the top 10, joined by Manchester United striker Wayne Rooney (seventh, $20 million) and Chelsea midfielder Frank Lampard (tied for eighth, $17 million).

One other Major League Soccer star made the top 10: New York Red Bulls forward Thierry Henry, a Frenchman, is No. 6 with $21 million.

Real Madrid's Cristiano Ronaldo, from Portugal, is No. 2 at $38 million and reigning FIFA World Player of the Year Lionel Messi, an Argentine midfielder who stars for Barcelona, is third at $32 million.

Clubs Beckham has played for are the Nos. 1, 2 and 6 highest-valued clubs in Forbes' annual survey.

Manchester United, owned by Tampa Bay Buccaneers owner Malcolm Glazer, is atop the list, worth $1.864 billion, followed by Real Madrid ($1.451 billion), Arsenal ($1.192 million), Bayern Munich ($1.048 billion), Barcelona ($975 million) and AC Milan ($838 million). Arsenal's primary shareholder is Colorado Rapids owner Stan Kroenke.

Every club in the top 20 is European.
April, 14, 2011
4/14/11
11:30
PM PT
By
Scott French
| ESPNLosAngeles.com
We expect Real Madrid to return to L.A. next summer, as long as Jose Mourinho is in charge -- he's a real Angelenophile -- and the first signs of confirmation have arrived in Mexico's media.

The trip apparently will include big-stadium matches against the Galaxy and Club Deportivo Guadalajara.

Guadalajara-based El Informador is reporting that Real Madrid will face Guadalajara on July 3 at Qualcomm Stadium in San Diego. That would make for an earlier camp than usual -- the Merengues made their preseason trek last year to L.A. in late July -- and no confirmation yet from Soccer United Marketing, Major League Soccer's marketing arm, which owns the rights to Guadalajara's games in the U.S.

We're hearing a different date in San Diego -- July 20, which makes more sense -- and whispers that the Spaniards will meet the Galaxy on July 16 at the Coliseum. A Galaxy official Thursday night said "nothing has been finalized from our side, and these reports are simply rumors at this time."

We expect Real will set up camp at UCLA, Mourinho's favorite preseason facility.

By the way, the newspaper says Guadalajara also will play Barcelona, on Aug. 3 in Miami.
December, 23, 2010
12/23/10
9:00
PM PT
By
Scott French
| ESPNLosAngeles.com
Our countdown of 2010's top 10 soccer stories and newsmakers -- from a Southern California slant -- continues.
Stories/No. 9: Real Madrid's visit
The gap between Major League Soccer's best and the world's finest clubs has rarely been more aptly illustrated than at the Rose Bowl last Aug. 7.
The Galaxy, en route to the Supporters' Shield (as MLS's regular-season champion), stood toe to toe with mighty Real Madrid through 45 minutes, taking a two-goal lead to the locker room at halftime.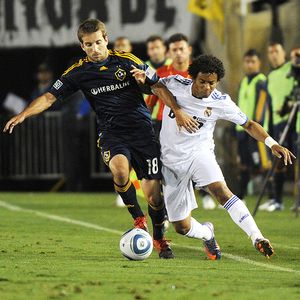 Mark Ralston/AFP/Getty Images
Real Madrid defender Marcelo, right, clashes with Galaxy forward Mike Magee during their friendly at the Rose Bowl on Aug. 7.
Then
Jose Mourinho
, the "Special One," unleashed his A side, bringing on World Cup stars
Cristiano Ronaldo
,
Gonzalo Higuain
,
Xabi Alonso
and
Iker Casillas
. Real Madrid, demonstrating a substantial superiority in skill, quickness of thought and ball movement, destroyed L.A. over the final 45 minutes, rallying for a 3-2 victory -- with Argentine forward Higuain scoring two of the goals.
The encounter delighted a crowd of 89,134 -- the second-largest crowd to watch a soccer game in Southern California this year, just off the 90,526 count for Mexico's Rose Bowl game against New Zealand on March 3. And it delighted the Galaxy, who considered it an honor to be on the same field with one of the globe's greatest clubs.
December, 23, 2010
12/23/10
7:39
PM PT
By
Scott French
| ESPNLosAngeles.com
Mexico will begin preparations in February for next summer's CONCACAF Gold Cup with a game in Atlanta.
The Mexican federation and Soccer United Marketing, Major League Soccer's marketing arm, announced Thursday that El Tri will face Bosnia and Herzegovina on Feb. 9 at the Georgia Dome.
The partnership between Federacion Mexicana de Futbol and SUM is in its ninth year.
In addition, Barcelona has announced its preseason plans for next summer, which will include games in Washington (July 30 vs. Manchester United), Miami (Aug. 3 vs. AC Milan) and Arlington, Texas (Aug. 6 vs. Club America).