Los Angeles Soccer:

Bayern Munich
August, 29, 2011
8/29/11
10:10
PM PT
By
Scott French
| ESPNLosAngeles.com
MANHATTAN BEACH -- Jurgen Klinsmann has heard the criticism thrown his way by Philipp Lahm, and the new U.S. coach says he understands the German defender's sensibilities, even if what has been said misses the point.

Lahm, a star outside back for Bayern Munich and Germany's national team, lashed at Klinsmann and two more of his former coaches, former Germany coach (and forward, before that) Rudi Völler and ex-Bayern boss Felix Magath, in his autobiography The Subtle Difference, which was released Monday in Germany. The German tabloid Bild has been printing excerpts, and they've caused an uproar.

Lahm calls Klinsmann tactically inept and writes that "the experiment with Klinsmann [at Bayern] was a failure. We were only working on our fitness in training. He didn't care much for tactical stuff. It was up to the players to come together before a match and discuss how we were going to play.

"'All the players knew after about eight weeks that it was not going to work out with Klinsmann. The remainder of that campaign was nothing but limiting the damage."

Lahm, who captains Germany and Bayern, has been called in for discussions with the Deutscher Fussball-Bund, Germany's soccer federation, and apologized last week on the DFB's website: "I certainly did not want to personally insult or slander in any way Rudi Völler, Juergen Klinsmann and other people. I apologize. For misunderstandings that have arisen in this way, I hereby apologize to all those involved."

Klinsmann, a legendary forward who played in three World Cups (winning with West Germany in 1990), told a group from L.A.'s soccer media Monday that Lahm's comments were uneducated but understandable.

"It's basically a player's perspective that never has the coaching perspective," said Klinsmann, who has called Orange County home since 1998. "He doesn't see the big picture, what actually the work of a coach means. In many different elements. ... As a player, there's no perfect coach to you. And as a coach, there's never a perfect, perfect player. And it's just normal.

"I had wonderful coaches throughout my career, from an [Arsene] Wenger [at AS Monaco] to a [Cesar Luis] Menotti [at Sampdoria] to a [Franz] Beckenbauer [with West Germany's champs and at Bayern] to a [Berti] Vogts [with Germany's national team] to [Ossie] Ardilles [at Tottenham and Giovanni] Trapattoni [with Bayern] -- they've won everything. I am so thankful I had that opportunity. Was there a perfect, perfect one? For sure not. Because when you work with each other, you [work through] ups and downs. It's just normal."

Klinsmann was asked if he considers himself a tactician.


April, 22, 2011
4/22/11
12:35
AM PT
By
Scott French
| ESPNLosAngeles.com
David Beckham again tops Forbes magazine's list of soccer's top earners, hauling down $40 million in salary, bonuses and endorsements. The Galaxy midfielder also was No. 1 on last year's list, also at $40 million.

He's one of three Englishmen in the top 10, joined by Manchester United striker Wayne Rooney (seventh, $20 million) and Chelsea midfielder Frank Lampard (tied for eighth, $17 million).

One other Major League Soccer star made the top 10: New York Red Bulls forward Thierry Henry, a Frenchman, is No. 6 with $21 million.

Real Madrid's Cristiano Ronaldo, from Portugal, is No. 2 at $38 million and reigning FIFA World Player of the Year Lionel Messi, an Argentine midfielder who stars for Barcelona, is third at $32 million.

Clubs Beckham has played for are the Nos. 1, 2 and 6 highest-valued clubs in Forbes' annual survey.

Manchester United, owned by Tampa Bay Buccaneers owner Malcolm Glazer, is atop the list, worth $1.864 billion, followed by Real Madrid ($1.451 billion), Arsenal ($1.192 million), Bayern Munich ($1.048 billion), Barcelona ($975 million) and AC Milan ($838 million). Arsenal's primary shareholder is Colorado Rapids owner Stan Kroenke.

Every club in the top 20 is European.
December, 21, 2010
12/21/10
11:06
PM PT
By
Scott French
| ESPNLosAngeles.com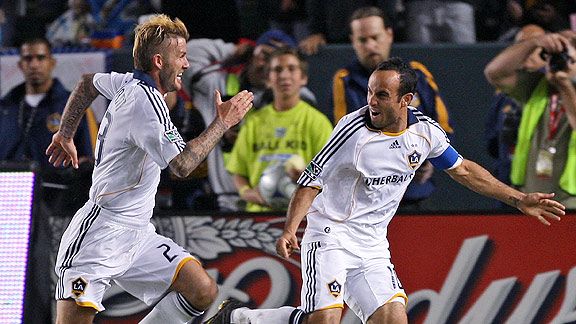 Juan Miranda/MLS/Getty Images
David Beckham, left, wants to pursue an offseason short-term loan deal, but Landon Donovan figures to be resting before the Galaxy opens training camp.
With so much ado about
Landon Donovan
and
David Beckham
and whether they'll be en route to European clubs after New Year's on new loan deals, the Galaxy finally put its foot down Tuesday. Or at least one foot.
The club declared that Donovan, its captain,
would not be returning to England next month
. As for Beckham, we'll see.
Donovan, apparently, is fine with staying home for the start of preseason training next month. Everton, with which he spent 10 glorious weeks last winter, wanted him back, and Fulham and Newcastle United also expressed interest in picking up the star forward/midfielder, who in a statement released by the Galaxy said it was "important" to regenerate before the 2011 campaign begins March 15.
Donovan said in early November that he wasn't sure whether he'd look for another short stint overseas -- he had a trying spell at Bayern Munich two years ago, followed by last season's Everton triumph -- but figured his interest would rise as January neared. He said he was congnizant that he only had so much time left to play top-level soccer (he'll be 29 in March) and wanted to take advantage of every opportunity that came his way.
His statement Tuesday: "While I enjoyed my time at Everton last season and still appreciate all the support their fans have given me, I feel that it is important to continue to rest and recover this offseason as opposed to going on loan. I never considered being loaned to a club other than Everton, but I have been playing nearly nonstop for the past two years, and I believe that this decision will allow me to perform at my best for the Galaxy and the national team throughout the upcoming year."