Los Angeles Soccer:

Ben Olsen
July, 8, 2012
7/08/12
1:57
PM PT
By
Scott French
| ESPNLosAngeles.com
David Beckham and Landon Donovan won the fans' vote for Major League Soccer's All-Star First XI, the first step in selecting the team that will take on European champion Chelsea later this month in Chester, Pa.

MLS on Sunday announced the first 11 players, selected in a 4-4-2 formation, and the list includes New York Red Bulls star Thierry Henry, San Jose striker Chris Wondolowski and reigning league MVP Dwayne De Rosario from D.C. United.

Chivas USA goalkeeper Dan Kennedy lost out to Sporting Kansas City's Jimmy Nielsen for the First XI goalkeeper slot but was among seven players MLS cited as being "close to the leading vote-getters at their positions."

The First XI is not the starting lineup, merely the first 11 players chosen for the team. Commissioner Don Garber has two selections and D.C. United coach Ben Olsen, who will guide the MLS side in the July 25 match, will fill out the remainder of the 18-man game roster, with the announcement of their picks scheduled for next Sunday. Olsen will determine his starters from the 18.

Fourteen additional players will be announced July 25 as all-stars, per the MLS Players Union's Collective Bargaining Agreement with the league, but none will be eligible to play.

Donovan is a 12-time All-Star selection, and Beckham is making his third appearance on the list. Beckham's availability is uncertain; he might be in London for the Olympics, which begin July 25.

Sporting Kansas City placed three players on the First XI, with defender Aurelien Collin and midfielder Graham Zusi joining Nielsen. Former Chivas USA defender Heath Pearce is the second Red Bull on the list, and San Jose also has a second player, defender Steven Beitashour.

Here is the First XI:

GOALKEEPER
Jimmy Nielsen (Sporting Kansas City), Denmark, second All-Star appearance

DEFENDERS
Steven Beitashour (San Jose Earthquakes), U.S., first
Aurelien Collin (Sporting Kansas City), France, first
Jay DeMerit (Vancouver Whitecaps), U.S., first
Heath Pearce (New York Red Bulls), U.S., first

MIDFIELDERS
David Beckham (Galaxy), England, third
Dwayne De Rosario (D.C. United, Canada, seventh
Landon Donovan (Galaxy), U.S., 12th
Graham Zusi (Sporting Kansas City), U.S., first

FORWARDS
Thierry Henry (New York Red Bulls), France, second
Chris Wondolowski (San Jose Earthquakes), U.S., second


March, 18, 2012
3/18/12
9:43
PM PT
By
Scott French
| ESPNLosAngeles.com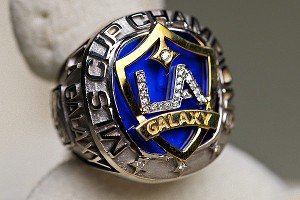 Robert Mora/L.A. Galaxy2011 MLS Cup championship ring given to the L.A. Galaxy.

CARSON -- Bruce Arena stuck with his first-choice lineup, or most of it, for a fourth game Sunday, and for awhile things looked a whole lot like they had for the first three: dominance, lots of chances, not nearly enough sharpness in front of the net.

A simple tap-in goal by Robbie Keane just before halftime made things right, and the Galaxy cruised to their first victory of the season, using two goals by their Irish striker in an impressive 3-1 romp over D.C. United on a cold, windy afternoon at Home Depot Center.

Keane added a spectacular strike in the 69th minute and Marcelo Sarvas scored his first Major League Soccer goal -- and first goal with his head in his career -- as L.A. (1-1-0) put last weekend's loss to Real Salt Lake and the CONCACAF Champions League disaster against Toronto FC behind them as they head into a 13-day break.

Keane, whose struggles in front of the net in Wednesday's defeat to TFC sparked Arena's comments that the star forward had lost confidence, needed several opportunities before he provided a 45th-minute advantage, then wasted a couple more before doubling the lead midway through the second half with a blast to the top-right corner.

"I don't mind missing chances," Keane said after his first two-goal game in MLS. "I mind when I'm not in position to score them, so as long as I keep getting into positions, I know eventually I'll score.

"You try and not let [a slump] wear on your mind too much. As you know, in football, sometimes it can take you over. I thought that was probably a little bit of the case. I knew I'd keep plugging away, and as long as I keep getting into the positions, I knew I would score."

Keane might have had four or five -- and the Galaxy at least a half-dozen -- but sharpness remains an issue. L.A. took 21 shots (to D.C.'s 13) and put eight on target, but until the first one hit the net, there wasn't a whole lot different from the games against RSL and TFC.

"For awhile, it looked like a mirror image of our previous games, where we control the game, had the run of play, create the chances and had nothing to show for it," Arena said. "Therefore, Robbie's goal right at the end of the half was important for our team and for Robbie. And you saw in the second half a player playing with a lot of confidence, and he played quite well.

"To me, the most important thing: The team performance was better, the effort, the coordination of the team. The desire to play for each other was much improved today, and that's certainly something to build on."


June, 4, 2011
6/04/11
12:20
AM PT
By
Scott French
| ESPNLosAngeles.com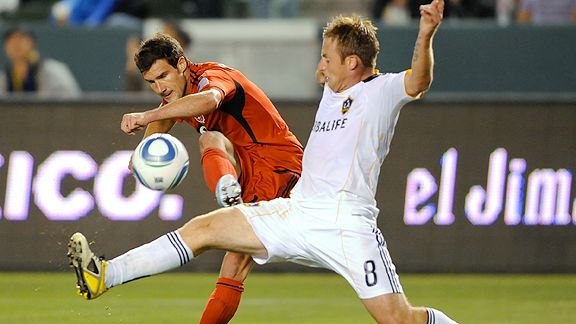 AP Photo/Gus RuelasChris Birchall, right, of the Galaxy challenges D.C. United's Chris Pontius during Friday's game.
Josh Saunders did well stepping into the nets for Donovan Ricketts, and the Galaxy extended its shutout streak to four games -- and 411 minutes -- and that covers all the positives, from L.A.'s standpoint, in Friday night's scoreless draw with D.C. United.

L.A. lacked clarity, focus and energy, never looked capable of scoring and was fortunate to keep their longtime rival out of the nets, especially at the end, when Charlie Davies, returning from injury, should have done better with an open net.

"We were poor tonight. No question about that …," Galaxy coach Bruce Arena said. "There was no quality to our game tonight. Passing was poor. Effort was just OK. Just didn't get it done. There were no excuses there. That was a poor performance."

The Galaxy clearly missed Landon Donovan, who like Ricketts is away for the CONCACAF Gold Cup, and if Arena didn't think so -- "Has nothing to do with it," he said -- others don't agree.

"He's an X factor, for sure, and we missed that spark tonight," left back Todd Dunivant said. "We were pretty flat, and we didn't have any real explosive plays out there, and that's what he's known for, so we definitely missed that."

Said D.C. United coach Ben Olsen, whose team missed Donovan in both meetings this year -- he was injured when the teams drew April 9 in Washington: "They're the best team in the league --with Landon, let's face it. Landon's having an unbelievable year, and he changes the way you can play this team."

Arena pegged L.A.'s lack of spunk to a three-day break earlier in the week, noting that his team "never got it going during the week." David Beckham predicted that "maybe Bruce won't be giving us three days off again."

The Galaxy were without forward Juan Pablo Angel, a game-time scratch after tweaking his right calf during training Wednesday, and Juninho departed at halftime after struggling with an ankle injury he sustained in last week's win over New England.

The draw ended L.A.'s four-game winning streak but kept it unbeaten over seven games with arguably MLS's worst team, Toronto FC, heading to HDC next weekend.

The Galaxy had two decent chances early, with a Mike Magee long ball setting up Chris Birchall's cross to the near post that Chad Barrett couldn't handle in the eighth minute, and D.C. United goalkeeper Bill Hamid diving to parry Birchall's knuckling, bouncing shot, possibly deflected, in the 13th.

That was more or less it for L.A., although Barrett and Magee should have done far more from Beckham crosses early in the second half. Barrett, especially: He got behind D.C.'s backline for a quick Beckham free kick but headed the ball well off target. Angel or Donovan, you'd believe, would have finished the chance.

A quick look at the Galaxy's victory:

BEST PLAYER: Saunders was the only L.A. player found worthy, making a big save on Andy Najar in the closing minutes. D.C. had several fine players, including the three rookies on its backline -- Akron products Perry Kitchen, 19, and Chris Korb, 23, and Ethan White, 20, from Maryland -- who were critical in D.C. denying L.A. space to operate.

Best of all was veteran forward Josh Wolff, who was crafty, setting up late chances by Najar and Davies, and just fired wide when a Kitchen throw-in bounced in the box and over Magee and Jovan Kirovski to him in the 64th.


June, 3, 2011
6/03/11
12:26
AM PT
By
Scott French
| ESPNLosAngeles.com
Bruce Arena might know Ben Olsen better than anybody aside from Olsen's wife and parents. The Galaxy's coach is family, after all, a pivotal figure in the life and career of the iconic midfielder who is working diligently toward returning D.C. United to glory following last year's worst-in-the-league fiasco.
They'll meet up again Friday night at Home Depot Center, with the Galaxy (8-2-5) seeking their fifth straight win -- and fourth in a row by shutout -- and D.C. (4-4-3) looking to build on an impressive victory last weekend in Portland.
It's the third meeting between mentor and pupil -- the Galaxy won last September, after Olsen stepped in as interim coach following current Galaxy assistant coach
Curt Onalfo
's dismissal, and the teams tied in April -- and Arena, hardly the most emotional of coaches, admits this one means a little more.
"When you've been around the game as long as I have, you know everybody ...," Arena said after the Galaxy's training session Thursday. "Obviously, with Ben, it's a little unique, in that he's a little bit like family for me. That makes it fun."
Arena recruited Olsen, now 34, to play at the University of Virginia before he took charge at D.C. for Major League Soccer's inaugural season, in 1996, and drafted the midfielder to play for United in 1998, his final season with the club before he became the U.S. national team coach. Olsen won 35 of his 37 caps and played at the 2006 World Cup under Arena.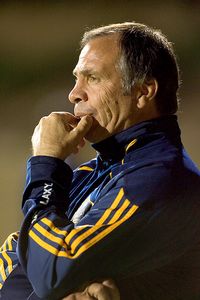 Kent Horner/Getty ImagesFriday's showdown against D.C. United means a little more to Galaxy coach Bruce Arena.
Olsen, a winger who reinvented himself as gritty central midfielder after ankle injuries sapped his speed, lived with Arena's family during his rookie year with United.

What was he like as a tenant?

"Rotten kid," Arena said, barely hiding a smile. "Used to drink beer in the basement with my son."

Gave him lots of chores, eh? Wash the dishes, mow the lawn?

"Nah, Ben wouldn't do anything like that. He's too elite."


April, 8, 2011
4/08/11
11:54
PM PT
By
Scott French
| ESPNLosAngeles.com
It's a significant trip -- three games in eight days -- and at a particularly challenging part of the Galaxy's season, with the team still figuring out connections and the best places to put people, its best lineup, and still addressing that massacre two weeks ago at Real Salt Lake.
But L.A. heads into the first encounter on the eastern trek, Saturday night at longtime rival D.C. United, feeling good about itself and where it's heading after last week's defensive effort in a shutout victory over the Philadelphia Union.


Games Wednesday at Toronto FC and the following weekend at Chicago will surely test the Galaxy's fortitude, and unquestionably their depth, and they're eager to see how they respond.
"It's going to be hard ...," coach
Bruce Arena
acknowledged this week. "It's never easy, but we've been through it before. We understand the challenge, and we'll get after it."
L.A. (2-1-1) certainly heads into the games with great confidence after holding the Union without a shot on goal, despite a man advantage after Galaxy midfielder
Chris Birchall
's 53rd-minute red card, and it will be looking for something similar against D.C. (1-2-0).
"Defense was obviously our priority going into [the Union] game, and it will be going forward, too," left back
Todd Dunivant
said. "That's kind of our bread and butter and what's made us successful the last couple years. We let ourselves down against Salt Lake -- I think we were a step slow to everything, really, all over the field, and that was something we really wanted to emphasize [last weekend], and we did a good job stepping [to] the ball, being aggressive. ...
"Every game is going to be different, and there are going to be hiccups here and there. It's how you respond to them, and we responded really well last week."
Arena and his staff have decisions to make in all three games.
Landon Donovan
skipped the training sessions at Home Depot Center this week to deal with fatigue, and he could start or come off the bench in Washington -- or take a break and return to action in Toronto. Does youngster
Miguel Lopez
again partner
Juan Pablo Angel
up front? Who plays on the right, with Birchall suspended and
David Beckham
in a new spot, at the base of midfield, where he can better influence the game with his creativity and passing ability?
February, 17, 2011
2/17/11
5:54
PM PT
By
Scott French
| ESPNLosAngeles.com
D.C. United flew in Wednesday for a 10-day camp at Oxnard College, and the club has scheduled friendlies against the Ventura County Fusion, UC Santa Barbara and Chivas USA.
D.C. takes on the Fusion on Saturday afternoon (3:30) at Oxnard College, meets UC Santa Barbara in the Gauchos' Harder Stadium on Thursday night (7), and scrimmages Chivas USA at an undetermined Home Depot Center field on Feb. 25.
Here's a quick look at D.C. United:

WHO ARE THEY?
MLS's most decorated club, with four MLS Cup titles (1996, 1997, 1999, 2004) and one of the league's two CONCACAF Champions' Cup titles (1998; the Galaxy captured the other, in 2000), provided the league its first dynasty, reaching the first four title games (the first three under
Bruce Arena
) with three championships in that span. The club's heroes: Bolivians
Jaime Moreno
and
Marco Etcheverry
,
Eddie Pope
and, of course,
Ben Olsen
, who followed a revered career in D.C. by taking charge of the club late in last year's horrendous campaign. United went 6-20-4, the league's worst mark, after winning only three of its first 20 games. Injuries were an issue, but so was a roster light on talent and depth, and Olsen stepped in after
Curt Onalfo
's ouster in August. (Onalfo has since joined Arena's Galaxy staff.)
THE MAN IN CHARGE
Olsen is one of the most respected and beloved figures in American soccer, bright and funny, a real leader, with World Cup (in 2006) ability. The midfielder, who spent nearly his entire post-collegiate career with D.C. (there was a brief loan to England's Nottingham Forest) won MLS's Rookie of the Year in 1998 as a speedy winger with a sure attacking sense, but ankle injuries slowed his pace, and he transitioned into a tough, savvy central midfielder and was an MLS Best XI selection in 2007. His ankle problems forced his retirement after the 2009 season.
The former University of Virginia star -- Arena recruited him to Charlottesville -- made a positive impact for D.C. after taking charge as interim coach on Aug. 4, and the club played its best soccer down the stretch. After club president/CEO
Kevin Payne
(brother of Galaxy president of business operations
Tom Payne
) declared late in the season that Olsen would not be considered for the full-time post, he accepted the job in late November.
"Benny's installed this no-nonsense mentality. Things are going to get done his way, and if anyone has a problem with that, they're not going to be around," forward
Chris Pontius
told MLS's website. "Everyone's bought into it."
THE STAR PLAYER
Charlie Davies changes things, but we still like
Andy Najar
, the reigning MLS Rookie of the Year and one of the most electric players in the league. The Honduran-born winger, who moved to Virginia and joined D.C. United's academy when he was 13, is still a teen -- he's 17 for another month -- and he's got two nation's soccer fans on edge as he mulls his international future.
February, 7, 2011
2/07/11
11:54
PM PT
By
Scott French
| ESPNLosAngeles.com
Charlie Davies, the U.S. national team forward whose World Cup hopes ended in a deadly car accident 16 months ago, has joined D.C. United to recharge his career.
He joined D.C.'s camp in Fort Lauderdale, Fla., on Wednesday for a one-week trial. If D.C. officials are happy, a one-year loan agreement has been reached with Sochaux, Davies' French club.
"We're all rooting for Charlie. He's come a long way, and we're all hoping for the best," D.C. head coach
Ben Olsen
told media last week. "But we have to be realistic in our job and figure out if he's right for this club at this time.
"There's no question Charlie will be back. Whether or not it's now, three months from now, six months from now, that's what we're here to find out."
Davies, 24, has not played in a competitive match since he was critically injured in an October 2009 accident that left one person dead. He suffered a lacerated bladder, fractured right tibia and femur, fractured elbow, facial injuries, and bleeding on the brain, requiring months of surgeries and rehab, followed by a failed, fervid attempt to return to form in time for last summer's World Cup.
The speedy Davies, who emerged as a first-choice forward for U.S. coach
Bob Bradley
during World Cup qualifying, called the possible move to D.C. "a wonderful opportunity for me" and told media he knows what he needs to do to return to his best form.
October, 26, 2010
10/26/10
7:41
AM PT
By
Scott French
| ESPNLosAngeles.com
Until it cleared up so nicely on Saturday, Major League Soccer's playoff scenarios were complicated, to be sure. The Galaxy might have ended up with a first-round series with Colorado or San Jose or FC Dallas; that they'll face Seattle is fine with them.
Not that it's perfect.

"Seattle's not going to be easy. It never is," Galaxy coach
Bruce Arena
said after Sunday's victory over FC Dallas set up encounters with the Sounders on Sunday in Seattle and Nov. 7 at Home Depot Center. "But I think the choices were … what were the choices? I think they were Dallas … none of the choices were real good, to be honest. I wouldn't want to be going into Dallas either.
"I do prefer going to Seattle than going into altitude. There was always a chance at some point we could go to Colorado or Salt Lake, and the altitude is an issue, and the one thing we've assured ourselves is that we're not going to be playing in altitude. Not that guarantees anything, but I think that's good. It's a lot easier for the players to adjust to the artificial field [in Seattle] than to altitude. So In think that's a positive out of this."
Perhaps so. If L.A. and Real Salt Lake win their first-round series, they'll meet in Carson. Toronto, where MLS Cup will be played Nov. 21, has a lower elevation than downtown L.A. But the Galaxy are hardly happy they'll start their home-and-home, total-goals series on the fake turf at Qwest Field.
"I don't like it," said
Edson Buddle
, who led the Galaxy with 17 goals. "I'm not a big fan. I never was. But I have to deal with that and get over it."
Said
David Beckham
: "At the end of the day, it is what it is. We have to go there, and we have to play. It's the same for both teams. Obviously, it's an advantage for them, because they play on it every other week, but it is what it is."