Los Angeles Soccer:

Bill Gaudette
June, 22, 2012
6/22/12
4:18
PM PT
By
Scott French
| ESPNLosAngeles.com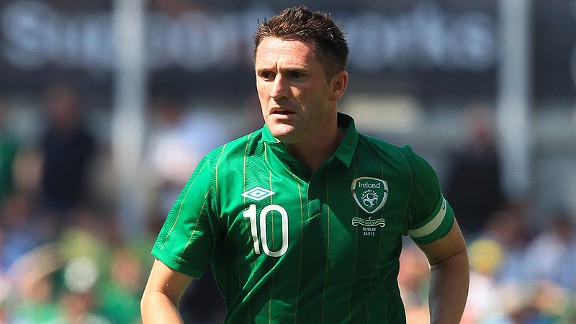 Peter Muhly/Getty ImagesRobbie Keane is back from Euro 2012 and ready to play for the Galaxy if called upon.

CARSON -- Robbie Keane returned to training Friday with the Galaxy, just four days after wrapping up his involvement at the European Championship, and although he wishes he were in Ukraine preparing for a quarterfinal Saturday or Sunday, he says he's happy to be back.

And ready to go, should he be called upon for Saturday night's Major League Soccer clash with Vancouver at Home Depot Center.

"It's nice to be back amongst the lads and look forward to being involved tomorrow," the Irish striker said following Friday's training session at HDC's Track and Field Stadium. "[I'm ready to] play as long as I can. I'd be happy to play 90 minutes."

He's hoping to "get minutes under my belt tomorrow to sort of get all the stiffness out" as he looks to move on from a very disappointing Euro 2012 campaign. Ireland lost all three of its Group C matches, to Croatia, Italy and Spain, and finished last in the 16-nation tournament.

Asked what he takes from the Euros, Keane replied: "Nothing, really. It was a good experience. It was obviously great to play in the European Championship, but if you don't win ... sometimes you just have to hold your hand up and say the team you played were superior than you were. Simple as that, really."

It was a frightful group for the Irish, who are capable battlers without the depth or talent of the continent's powers, a roster that includes the Spaniards -- defending European and World Cup champs -- and the Italians and, on occasion, the Croats, too.

The gap might be growing between decent teams, such as Ireland, and "people like Spain, who's probably on a different planet at the moment [from] anyone else I've ever played against," Keane said. "You're just basically chasing shadows for 90 minutes."

The only positive for Ireland was the Green Army supporters, a jovial lot who charmed everybody and won great plaudits for serenading their team with the Irish folk song "Fields of Athenry" as Spain rolled to a 4-0 victory Monday.

"That's normal for Irish fans," Keane said. "They've been fantastic over the years, and especially in Poland I think they've been a credit to the country in the way they behaved and the way they supported the team. That's how every team should be supported."


May, 29, 2012
5/29/12
9:25
PM PT
By
Scott French
| ESPNLosAngeles.com
Former D.C. United forward
Ty Shipalane
came off the bench to score the equalizer and set up
Brian Shriver
's 88th-minute winner and lift the Carolina RailHawks to a 2-1 victory Tuesday night over the Galaxy in the third round of the U.S. Open Cup.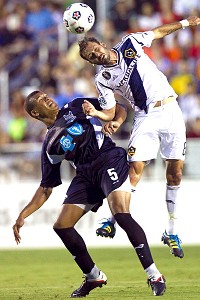 Robert Willett/Raleigh News & Observer/MCTThe Galaxy's Marcelo Sarvas rises over Railhawks' Amir Lowery for a header in the second half on Tuesday at WakeMed Soccer Park in Cary, North Carolina. The Railhawks won 2-1.
Shriver, who scored four goals in the North American Soccer League club's second-round win over Irvine's PSA Elite last week, headed Shipalane cross at Galaxy goalkeeper Bill Gaudette, who made the save as he fell backward. The ball bounced in front, then skidded slowly over the goal line and into the net.

The RailHawks, who are winless in the NASL, will be home for next Tuesday's fourth round against the winner of Tuesday night's Ventura County Fusion-Chivas USA clash.

The Galaxy exit America's oldest and most prestigious knockout competition in their opener for the fourth time and the first since 2009. L.A. has lost four in a row -- the last three after giving away the lead -- and have dropped six of their last seven matches. Their winless streak in all competitions has reached eight games.

Pat Noonan, who wore the captain's armband, gave L.A. a 38th-minute lead from Chad Barrett's feed after Hector Jimenez stole a pass from RailHawks defender Austen King.

Shipalane scored from a feed by former New England Revolution forward Zack Schilawski in the 75th minute as Carolina, playing before a record crowd of nearly 8,000 at WakeMed Soccer Park in Cary, N.C., took charge in the final 20 minutes.

The Galaxy, weary in their fourth game in 11 days, lost two players to injury. Jimenez departed just before halftime with a potentially serious knee injury, and left back Bryan Gaul leaving with about 20 minutes left after he was hit in the eye during an aerial battle in Carolina's box.

Noonan could have forced overtime deep into stoppage, but he fired over the crossbar after a Rafael Garcia feed left him one-on-one with former FC Dallas/Columbus Crew goalkeeper Ray Burse.


May, 28, 2012
5/28/12
9:42
PM PT
By
Scott French
| ESPNLosAngeles.com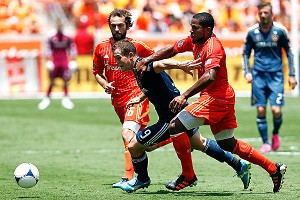 Bob Levey/Getty ImagesChad Barrett of the Galaxy attempts to break through the defense of Jermaine Taylor and Adam Moffat of the Houston Dynamo.
The Galaxy heads into Tuesday's U.S. Open Cup game in North Carolina without seven starters, and that includes David Beckham, all three established backliners and those two big names who are off playing for their national teams.
It's a reserve side they'll field for the third-round game against the Carolina RailHawks, but that no reflection on how much L.A. wants to win. Nor the clamor to watch them try to do so.
Winning a third title in America's biggest cup competition would be nice, sure, but the Galaxy could use any sort of victory about now. They're at the bottom of Major League Soccer's Western Conference (at 3-8-2) after failing to win in their last seven MLS games -- with four losses in their last five outings.
And stars or no stars, the fans around Raleigh and Durham snapped up the tickets as soon as they went on sale, all 8,000-plus, with the RailHawks adding a temporary stand to increase capacity at WakeMed Soccer Park in Cary.
"We know it's a tough environment to play against," Galaxy forward
Edson Buddle
told media in Cary on Monday. "I heard there's going to be a few more people at the game than normal. ... It seems every team we play against, they really look forward to this game, and they raise their game."
The RailHawks will need to. They're 0-4-5 in the second-tier North American Soccer League, and they've been struggling since former manager Martin Rennie, two-thirds through last season, was announced last August as the Vancouver Whitecaps' future coach, a deal took effect in November. Carolina was the NASL's best team at the time, and it is 4-10-6 since.
Colin Clarke
, who guided the Puerto Rico Islanders (with Galaxy goalkeeper
Bill Gaudette
) past L.A. in the CONCACAF Champions League preliminary round two years ago, is trying to restore some luster to the RailHawks. He's got an experienced roster, with nine former MLS players -- including veteran forward
Jason Garey
, who spent five years with Columbus and last season at Houston, plus former FC Dallas/Columbus goalkeeper
Ray Burse
and former New England forward
Zack Schilawski
-- and former U.S. youth national team star
Gale Agbossoumonde
, on loan from Portugal's Estoril Praia.
"We have a lot of talent, a lot of guys who played in MLS," former Colorado/San Jose/Kansas City midfielder
Amir Lowery
told local media. "We're not necessarily strangers to that level, so we're not afraid of anybody."
Galaxy coach
Bruce Arena
understands the lower division-versus-upper division dynamic that will be at work.
"It always does play a role [in these games]," he said. "Every time you play a lower-division team, they're certainly going to be ready to play, and the game means a lot to them."
May, 4, 2012
5/04/12
3:33
PM PT
By
Scott French
| ESPNLosAngeles.com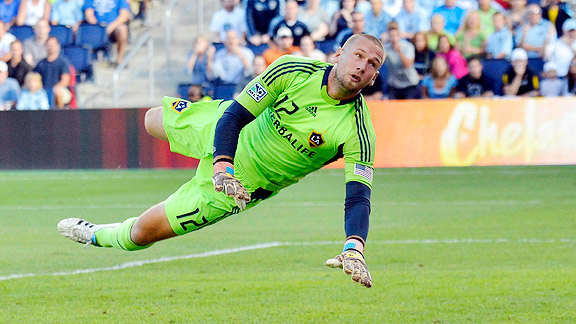 Denny Medley/US PresswireJosh Saunders still has the support of his Galaxy teammates as he deals with a personal issue.

CARSON -- The Galaxy say they are not letting Josh Saunders' absence to deal with a "personal matter" become a distraction, but everyone has the big goalkeeper on their minds.

Saunders, 31, has not been available for the Galaxy's last two matches and won't be available for Saturday's clash at Home Depot Center against the New York Red Bulls (ESPN and ESPN Deportes, 5 p.m.), with a report claiming he has entered Major League Soccer's substance abuse treatment program.

Neither the Galaxy nor MLS have confirmed the report, and head coach Bruce Arena on Friday said that "the comments we've had on Josh are our comments. We respect you leaving it at that."

His teammates are looking to find their stride without Saunders -- veteran Bill Gaudette gave fine performances in last Saturday's 1-1 draw with FC Dallas at HDC and Wednesday's 2-0 defeat at Seattle -- but are keeping him in their thoughts.

"As much as it hurts not having Josh in the goal, it's a guy we all love and know well," captain Landon Donovan said. "I've known Josh a long time. For me the soccer part is absolutely second. We just want to make sure that he's OK and that he's going to be able to get his life back, forget about the soccer part."

If Saunders is, indeed, in rehab, it's not because he tested positive for a banned substance. Although the league's drug-testers were at Home Depot Center last week to administer tests to Chivas USA players, Galaxy union representative Todd Dunivant said the Galaxy players were tested Friday, a week after the goalkeeper left the team.

A source within the league said that it was understood Saunders was not arrested, but the source would not confirm nor deny that Saunders was in a rehab facility. Saunders was arrested for a DUI in Oregon in 2004.

The league will not comment on reports and has instructed the Galaxy to do likewise, in great part so players seeking help with substance-abuse problems can do so without publicity. New England captain Shalrie Joseph was away for six weeks dealing with "personal matters" in 2010. Neither MLS nor the Revolution commented on his absence, but Joseph told the Boston Herald upon his return that he had "got caught and they sent me to drug rehab" for marijuana use.

A player found to have used a performance-enhancing substance would be identified, suspended and fined by the league.

Arena said the situation would not impact the Galaxy.

"Josh's matters are between Josh and his family," Arena said. "We've dealt with it already as a team, and we're just moving forward."


May, 2, 2012
5/02/12
11:12
PM PT
By
Scott French
| ESPNLosAngeles.com
No David Beckham. No Robbie Keane. No Todd Dunivant. No Josh Saunders. Two more starters on the bench. Only two first-team players in their favored spots.

Galaxy coach Bruce Arena sure did rotate his lineup for Wednesday night's Major League Soccer showdown in Seattle, and it showed. L.A. never really challenged the Sounders in a 2-0 defeat, struggling to get a grip on CenturyLink Field's artificial surface and paying a heavy price for some rather passive defending.

Eddie Johnson scored on a header just before halftime and Fredy Montero sent a 35-yard riser into the upper-left corner at the start of the second half as Seattle (5-1-1) beat the Galaxy for the first time at home in MLS play before a full house of 39,002, second-best in the league this year.

"Give Seattle credit. In a span of about eight minutes, we lost the game," Arena told media in Seattle after the game. "We would have liked to go into halftime even and put a little pressure on them after the half, but we weren't able to do it. ... We technically weren't good. Our guys struggled on the turf to get any kind of crosses in front of the goal. We weren't able to get any shots on the fame. It results in us not really being able to test their goalkeeper."

The Galaxy (3-4-1), who didn't drop their fourth game last year until October, were playing the second of a three-games-in-eight-days set, and Arena -- mindful of the hated turf -- left home over-30s Beckham, Keane and Dunivant in advance of Saturday's game at Home Depot Center against New York. Saunders is missing for "personal reasons," reportedly a stint in MLS's substance abuse treatment program.

Mike Magee and Edson Buddle started on the bench, Sean Franklin moved into midfield, Marcelo Sarvas took Beckham's spot, and Arena gave rookie Bryan Gaul his MLS debut at left back, with right back Bryan Jordan and striker Adam Cristman making their first starts of the year. Bill Gaudette was back in the nets with another superb showing.

"I think it's a difficult week with the travel and playing on this surface," Arena said. "We wanted to keep some players fresh for the game on Saturday. That's the decision I made. We didn't think we were going to be able to play eleven players in three games, and we had to rotate some players. It made sense to me to have those players available on Saturday."


May, 1, 2012
5/01/12
12:16
AM PT
By
Scott French
| ESPNLosAngeles.com
CARSON -- The Galaxy play the second of three games in eight days Wednesday night at Seattle -- a showdown of two of Major League Soccer's most competitive organizations (Real Salt Lake being the third) -- and head coach Bruce Arena, wary of overuse (and CenturyLink Field's artificial surface) is likely to rotate his lineup.
Among the missing could be
David Beckham
, who doesn't do well on the fake stuff and rarely plays all three matches in these type of spans, and
Robbie Keane
. Neither trained Monday, with Arena saying he was "just giving them an opportunity to rest a few nagging injuries."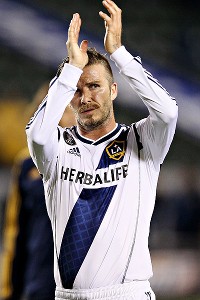 Stephen Dunn/Getty ImagesDavid Beckham
Captain Landon Donovan expects there to be some changes.

"Given Bruce's history, yeah," he said. "But you never know. Sometimes you just push through and play guys. It's early in the season, so there's still a lot of energy, but we'll see."

The Galaxy has plenty of experience playing three in eight or three or nine. They did so seven or eight or nine times last year, depending on how you keep count -- they had 10 games in 29 days during September into October -- and went 11-6-4 in these games, a few CONCACAF Champions League group contests included.

They opened this season with three in eight days, losing their Champions League quarterfinal series to Toronto FC and MLS opener to Real Salt Lake, and Arena afterward acknowledged it would have been smarter to rotate his lineup after using virtually the same group for all three.

Sigi Schmid is dealing with similar concerns for Seattle. The Sounders are playing their second of five games in 15 days.

The turf is a concern, although it's new turf, installed during the offseason to replace one of the league most-hated surfaces. "I haven't heard anything," said forward Pat Noonan, who spent the past two seasons with the Sounders, "but I know it can't be worse than last year. It was beaten pretty good last year. I'm sure it's an upgrade."

Artificial turf is artificial turf, Arena says.


April, 28, 2012
4/28/12
11:49
PM PT
By
Scott French
| ESPNLosAngeles.com
CARSON -- The Galaxy are living and dying from the penalty spot these days, and after the turn of events early in the second half Saturday night, it didn't look as if there was a whole lot of life in them.
Ah, appearances can be deceiving.
Pat Noonan
netted a huge first goal with L.A., finishing a stoppage-time scramble in FC Dallas' box to deliver a 1-1 draw in an often invigorating clash that was otherwise defined by
Bill Gaudette
's fine play in the nets and a pair of penalty kicks that looked certain to doom the Galaxy to another home defeat.
They instead pulled out a point with an ending that, if not enough to nail down a third successive victory, could be as galvanizing as
Josh Saunders
' penalty-kick stop to beat Colorado a week ago.

"We getting a goal in extra time, can't be complaining about the point," said head coach
Bruce Arena
, who might have had reason to complain anyway. "It's that simple. We missed a penalty. We had some good chances during the game. There weren't a whole lot of chances in the game for either team, but we had enough to get ourselves two or three goals and didn't. ... The team plays that hard and gets a point at the end like that, I think that's a positive."
Robbie Keane
missed the penalty kick, with a chance to take the lead in the 49th minute, and
Brek Shea
converted from the spot 12 minutes later to provide Dallas an advantage that lasted almost to the finish. But Arena made smart substitutions --
Adam Cristman
,
Chad Barrett
and Noonan, all of them second-half submissions, combined on the winning goal -- and L.A. (3-3-1) got more than they might have on a night in which they weren't quite crisp enough.
Gaudette, making his first-team debut for L.A., was outstanding in place of Saunders, who bowed out to deal with what the team called "personal matters." The veteran keeper has a history at HDC -- he made his first MLS appearance here in 2005 for Columbus and two years ago helped the Puerto Rico Islanders to a 4-1 win over the Galaxy in the CONCACAF Champions League preliminary round -- so when he saw his name on the board when he walked into the locker room Saturday afternoon, he was ready.
He made three huge saves -- diving to stop
George John
's quick deflection of a
Daniel Hernandez
free kick in the 18th minute, parrying Shea in the 21st and leaping to tip away a looping, off-balance
Blas Perez
header moments after Keane's miss -- but committed the foul that gave Shea the ball at the spot.
Most of the blame on that play goes to
David Junior Lopes
, making his third start since arriving in a trade from Chivas nearly three weeks ago. Lopes struggled with the ball at his feet the entire match and made several mistakes, none as debilitating as his poor attempt to chest the ball from a
Jair Benitez
cross back to Gaudette.
Perez raced past him to take possession, and Gaudette took him down. Shea's shot left Gaudette no chance.
February, 29, 2012
2/29/12
2:55
PM PT
By
Scott French
| ESPNLosAngeles.com
The Galaxy made their decision on a third goalkeeper, signing veteran Bill Gaudette and waiving Nick Noble in advance of Wednesday's Desert Diamond Cup match against New York in Tucson, Ariz.
Gaudette, 30, joined L.A. on trial at the start of preseason after playing last year with the Montreal Impact in the second-tier North American Soccer League. He was with the Columbus Crew from 2005 through 2007, then starred for the Puerto Rico Islanders, helping the Caribbean power upset the Galaxy in the CONCACAF Champions League's preliminary round in 2010.
He's seen action in three preseason games, surrendering two goals in 128 minutes.
Noble, 27, a former Chicago Fire goalkeeper, signed with the Galaxy in December after two years in Sweden with second-tier Ljungskile SK. He played in four preseason games, for 187 minutes, conceding six goals.
Josh Saunders
won the starting job last season from Jamaican star
Donovan Ricketts
, who was traded last November to Montreal. It is unclear whether Gaudette or returning No. 3 keeper
Brian Perk
, a UCLA alum from Rancho Santa Margarita who has been injured throughout preseason, will be Saunders' chief backup.
January, 20, 2012
1/20/12
4:04
PM PT
By
Scott French
| ESPNLosAngeles.com
The Galaxy will open its preseason camp with medical exams Saturday and hit the field for the first time Monday, and there will be two non-roster players in camp looking for jobs.
Goalkeeper
Bill Gaudette
, who played in 17 Major League Soccer games for Columbus half a decade ago, and second-year defender
J.T. Murray
have been invited to Home Depot Center for trials with the MLS Cup champions.

Sixteen returning players are slated to attend the opening sessions -- all but on-loan stars
Landon Donovan
and
Robbie Keane
, injured defenders
Omar Gonzalez
and
Sean Alvarado
and three players on international duty:
A.J. DeLaGarza
,
Michael Stephens
and
Brian Perk
-- along with newcomers
Marcelo Sarvas
,
Andrew Boyens
,
Pat Noonan
,
Nick Noble
,
Jose Villarreal
and seven draft picks.
David Beckham
, whose new two-year contract was announced Wednesday, will be involved from the start of camp for the first time since he joined the club in July 2007.
Gaudette, 30, has been one of the best lower-division goalkeepers in U.S.-based leagues since departing Columbus in 2007 following his third season with the club. He spent three years with the Puerto Rico Islanders -- playing to the second-tier team when it beat the Galaxy in the preliminary round of the 2010-11 CONCACAF Champions League -- and last season played for the Montreal Impact, which is making the jump this year from the second-division North American Soccer League to MLS.
Murray, 23, was a second-round SuperDraft selection last year by Sporting Kansas City, but he didn't make the roster and played with Sevilla FC Puerto Rico until the club was booted from the third-division USL Pro. He starred at the University of Louisville, helping the Cardinals reach the NCAA title game in 2010.
Eight of the Galaxy's nine preseason games will be against MLS clubs, including a Feb. 16 SuperClasico against Chivas USA. The Galaxy has the game location undetermined, but the Goats have the game at HDC on its schedule.