Los Angeles Soccer:

Bobby Burling
July, 6, 2012
7/06/12
3:13
PM PT
By
Scott French
| ESPNLosAngeles.com
CARSON -- Chivas USA made a move toward alleviating its depth problem in central defense Friday, acquiring the rights to Bobby Burling while waiving fellow defender Scott Gordon.

Burling, a 2007 Galaxy draft pick who spent all or part of three seasons with Chivas, has been on trial with the Goats for the past month. Chivas still must sign him after sending a 2013 international roster slot to the Montreal Impact for his rights.

The 6-foot-5 veteran played in two MLS Reserve League games last month for Chivas after featuring in a reserve game with the Colorado Rapids in May. No word on how soon the Goats will have him under contract or whether he will be signed and eligible for Saturday's game against Vancouver at Home Depot Center.

Burling, a former Loyola Marymount star, went from the San Jose Earthquakes to the Impact in last November's expansion draft, but he was unable to reach a deal and has been in limbo since. He was pursuing his MLS options after trials earlier this year with Sint-Truiden in Belgium and Kickers Offenbach in Germany.

"He's a big guy, a great physical presence in the back," assistant coach Greg Vanney, a former U.S. national team defender, said last month. "He's in every challenge and he's strong in the challenge and he wins his challenges, and that's a good thing."

Burling joined Chivas in April 2007, after failing to make the Galaxy roster, and played only in Reserve League games as a rookie. He made 18 MLS starts for the Goats in 2008 but was limited by injury to only three appearances in 2009 before heading to the Earthquakes in a September trade. He made 45 league starts in two years and two months in San Jose.

Gordon, a tall right back, made five first-team appearances with Chivas, going the full 90 in the first two U.S. Open Cup matches. He last played in the June 5 Open Cup victory at Carolina and was last on the bench for the June 20 match against Montreal.

He had signed March 16 following a nearly three-week trial with the club.
June, 18, 2012
6/18/12
6:18
PM PT
By
Scott French
| ESPNLosAngeles.com
CARSON -- Neither of Chivas USA's center backs Monday morning was under contract, and one of them hadn't played competitively in months -- focused more on his UCLA degree and keeping up with two young sons.
One winger played on the indoor Anaheim Splash's reserve team last winter, and his replacement's experience is primarily in the minor leagues of Germany and the Netherlands. Neither are under contract.
Add in a couple of Chivas Academy stars -- high-schoolers, really -- and the Goats produced a most experimental lineup for their MLS Reserve League clash with Portland. They came out of it with a point -- rookie
Casey Townsend
and German trialist
Sebastian Stachnik
scored goals in an entertaining 2-2 draw in Home Depot Center's Track and Field Stadium -- and, more important, without having to expend much first-team energy.
Chivas is through one of four games in a grueling 11-day stretch, facing a critical Major League Soccer showdown Wednesday against Montreal, and the last thing it needs is to find minutes for players. There are enough meaningful minutes to spread around.
"For sure, we have a game in two days and another three days after that. And the [U.S.] Open Cup game next week," head coach
Robin Fraser
said. "We have a busy schedule and are trying to manage the schedule for everyone involved."
Only six first-team players saw action, and among them, only wingers
Laurent Courtois
and
Ryan Smith
, who came on in the second half, can be considered major contributors.
All three trialists in camp -- Stachnik, center back
Bobby Burling
and Brazilian winger (and former Spash reserve)
Tiago Luzardi
-- were given roles, and Academy midfielder
Eric Gonzalez
(Corona/Santiago HS) and forward
Ben Spencer
made their Reserve League starts since last year.
Also on hand was MLS veteran
Nelson Akwari
, who has played for the MetroStars, Columbus, Real Salt Lake and Vancouver (when it was a second-division team) before returning to UCLA last year to complete his education. He doubled up in the L.A. Blues' backline last season, but this year has been about school (he's two years from an engineering degree) and family.
June, 14, 2012
6/14/12
10:36
PM PT
By
Scott French
| ESPNLosAngeles.com
Chivas USA won't play its U.S. Open Cup quarterfinal at Home Depot Center, opting to return to Cal State Fullerton, where the Goats last played a home game in the competition.

The club Thursday confirmed that Titan Stadium would be the site of the June 26 clash with the Charlotte Eagles, a third-division club that plays in the USL Pro. Chivas has won road games against the fourth-tier Ventura County Fusion and second-division Carolina RailHawks in its first two games in the competition.

U.S. Soccer, which must approve all venues, had announced the game would be held at HDC, but Chivas' website listed the site as undetermined until this week.

The Goats beat the second-tier Austin Aztex, 1-0, at Fullerton in a third-round game en route to the 2010 semifinals. Their only other home game in the 99-year-old competition was played in Goleta, at UC Santa Barbara's Harder Stadium. Dallas-based amateurs Roma FC advanced on penalties after a scoreless draw.

Chivas also played a 2008 SuperLiga game against the New England Revolution, a 1-1 draw, at Fullerton.

Titan Stadium, which seats 10,000, is a more intimate venue than HDC, and the rent is cheaper. It was universally considered Southern California's best smaller soccer venue (and, thus, best soccer venue) for more than a decade and has been No. 2 on the list since HDC opened in 2003.


June, 9, 2012
6/09/12
12:04
AM PT
By
Scott French
| ESPNLosAngeles.com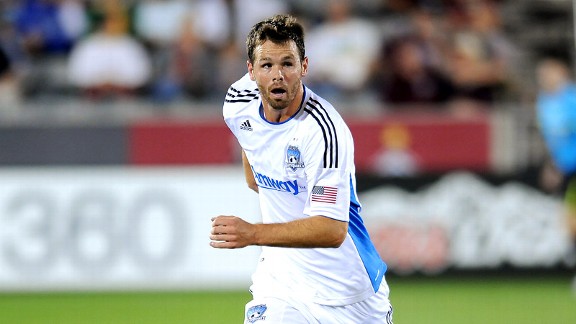 Ron Chenoy/US PresswireBobby Burling hopes to hook on with Chivas USA after a contract dispute with Montreal.
CARSON --
Bobby Burling
is "just kind of doing the MLS tour," spending a week or so with Colorado and now with Chivas USA, hoping a backline job will come his way.
He needs things to clear up north of the border first.
The 27-year-old center back, a 2007 Galaxy draft pick who spent all or parts of three seasons with Chivas USA, joined fellow trialist
Scott Morrison
on the Goats' backline for Friday's MLS Reserve League game against the San Jose Earthquakes at Home Depot Center.
Burling, a Coloradan who starred at Loyola Marymount University, has been in camp with Chivas since last week. His rights are owned by the Montreal Impact, which took him from San Jose in November's MLS Expansion Draft, but he has no future in Quebec.
"It's been a frustrating five or six months, to say the least ...," Burling said after going the full 90 minutes in Chivas' 3-1 victory. "The situation with Montreal has been kind of a dead end, and for whatever reason it's taken longer than I would of definitely liked for something to happen."
Burling was unable to reach a deal with the Impact, and he's been unable to secure his release so he could join another MLS club. If a team wants him, it likely would have to make a trade for his rights.
"Long story short, a bit of a contract dispute," he said. "He said/she said what I was going to get when I came up there, and basically things went backwards from there, and now here we stand.
"It's frustrating. I was really looking forward to going there, and now it's all kind of up in the air."
June, 8, 2012
6/08/12
4:52
PM PT
By
Scott French
| ESPNLosAngeles.com
CARSON -- Chivas USA's coaches issued a challenge to
Paolo Cardozo
as the team returned to full-time training this week, something along the lines of let's see something more concrete from all that skill.
The Argentine midfielder obliged them Friday morning, putting on a clinic to steer the Goats to a 3-1 MLS Reserve League victory over San Jose on one of the training fields west of Home Depot Center's stadium.
[+] Enlarge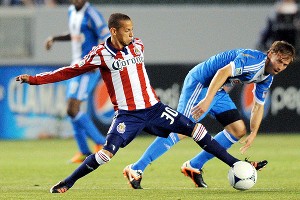 Kelvin Kuo/US PresswireAfter performing well in a reserve game, Paolo Cardozo hopes to join Chivas USA's regular lineup soon.
He scored two goals, drew the penalty kick for the third, and played with a joie de vivre that ought to have everyone in red and white stripes smiling broadly. Might Cardozo, who arrived from the Galaxy two months ago, be ready to join Chivas' attacking revolution?
"I think today he's put in his best effort since he's been here," assistant coach
Greg Vanney
said. "He was dangerous -- he was goal-dangerous. ... For him, it's getting him to think about the goal and think about the final product and not just about possessing around the field."
Possession-wise, few can match Cardozo, a 22-year-old Uruguayan born magician who came to the Galaxy last year on loan from Quilmes and was sent down the hall when L.A., in dire need of backline help, came calling for
David Junior Lopes
-- who, by the way, dropped by to watch some of Friday's action.
Cardozo had the best foot skills on the Galaxy, but a pretty good margin, and to watch him weave through foes in tight spaces is something truly to behold. If the chief aim in the game were to weave through players in limited space, he'd be
Lionel Messi
.
That skill has never translated into production, one reason the Galaxy found him expendable -- and why Chivas, as it has added dynamic young attacking talent (with, especially,
Jose Erik Correa
and
Juan Agudelo
), has used him in only three of 10 first-team games since his arrival.
"We challenged him over the last few days," Vanney said. "He's crafty in possession and can speed around, but at the end of the day, as an attacking midfielder you have to have final product. ... Today he definitely had some good looks."
November, 23, 2011
11/23/11
3:38
PM PT
By
Scott French
| ESPNLosAngeles.com
CARSON -- Chivas USA played one of the bigger roles in Major League Soccer's expansion draft, surrendering three players and picking up a new right back.
First-year right back
Zarek Valentin
, the No. 4 overall selection in last January's MLS SuperDraft, was among 10 players the Montreal Impact claimed from rivals' rosters Wednesday, and MLS's 19th club also picked up forward/midfielder
Justin Braun
and midfielder
Gerson Mayen
in a trade.
James Riley
, whom Montreal grabbed from Seattle, is coming to the Goats, along with allocation money.
The Galaxy did not lose a player in the draft.
Chivas failed to protect Valentin, 20, who "graduated" last week from the Generation adidas program, changing a designation that would have left him exempt in the expansion exercise. Clubs were permitted to protect 11 players, and Montreal -- led by manager
Jesse Marsch
, a former Chivas USA star -- could take no more than one player off any club's roster.
Valentin, who has enormous potential, started 24 games for Chivas as a rookie, playing in the center and on the right. He came to MLS after winning an NCAA title his sophomore year at Akron. He was listed as Montreal's second choice in the draft, following Houston Dynamo captain
Brian Ching
, but the order of selection is manufactured; Marsch and his staff made their choices over the two days of intense study and bargaining with clubs around the league.
That's how the Braun/Mayen-for-Riley deal was finalized. A source said Marsch wanted Braun, a former teammate, who was on Chivas' protected list, and Goats coach
Robin Fraser
agreed to make a deal if the Impact would draft and trade Riley, 29, one of the league's top right backs, to replace Valentin. The seven-year MLS veteran has been a consistent MLS starter sine 2006, his second season, for New England, San Jose and Seattle.
Braun, 24, played in 96 games, 72 as a starter, in four seasons with the Goats, scoring 24 goals, second on the club's all-time list. Mayen (Los Angeles/Manual Arts HS), 22, played in 20 MLS matches in four seasons for Chivas; he spent most of this season on loan to the Fort Lauderdale Strikers of the second-tier North American Soccer League.
Montreal also selected 6-foot-5 San Jose defender
Bobby Burling
, a former Loyola Marymount standout who was drafted by but did not play for the Galaxy and spent 2½ seasons with Chivas USA, and Columbus midfielder
Josh Gardner
, who was with the Galaxy in 2004-06.
The Impact later acquired defender
Tyson Wahl
(Newport Beach/Newport Harbor HS) from Seattle for allocation money.
February, 7, 2011
2/07/11
1:21
PM PT
By
Scott French
| ESPNLosAngeles.com
The San Jose Earthquakes arrived Sunday for a week of training at Oxnard College, and they've got scrimmages planned against Chivas USA, the Galaxy and the Ventura County Fusion.
The Quakes meet Chivas on Monday afternoon at Home Depot Center Field 4, west of the main stadium. They'll face the Galaxy on Thursday at the HDC track and field stadium and take on the Premier Development League's Fusion on Friday at Oxnard College.
Here's a quick look at the Earthquakes:
WHO ARE THEY?
The Galaxy's former No. 1 rival, before Chivas USA arrived and MLS's original Clash/Quakes hightailed it to Houston after the 2005 season. This model returned to MLS in 2008, with Oakland A's owner
Lew Wolff
(encouraged by super soccer fan/A's GM
Billy Beane
) putting up the money, former star center back
John Doyle
as GM and the return of coach
Frank Yallop
, who guided the previous Quakes to MLS titles in 2001 and 2003. They reached the playoffs last year, knocking off Eastern Conference champ New York to make it to the MLS Cup semifinals.
THE MAN IN CHARGE
Yallop is no stranger to these parts. The English-born Canadian former defender was the Galaxy's head coach the last part of 2006 and during that wasted 2007 campaign, unfairly jettisoned afterward with the Quakes asking for his hand.
Yallop, who's one of the really good guys in MLS, spent 13 seasons with Ipswich Town, played in Tampa Bay in the first three MLS seasons, then worked for the Mutiny and then at D.C. United before taking over in San Jose in 2001. After three seasons and two MLS Cup titles, he became Canada's national team coach, a post he left for the Galaxy job after failing to qualify for the 2006 World Cup.
THE STAR PLAYER
The closest thing San Jose has to a star is forward/midfielder
Chris Wondolowski
, who burst into everyone's consciousness last year (his sixth in MLS) with 18 goals, 10 of them in the final eight games, to swipe the Golden Boot from L.A.'s
Edson Buddle
on the final day of the season.
November, 23, 2010
11/23/10
1:10
PM PT
By
Scott French
| ESPNLosAngeles.com
Twenty-one players with Southland roots will be available to the Portland Timbers and Vancouver Whitecaps in Wednesday's Major League Soccer expansion draft.

The full list of available players can be found at MLS's Web site.

Here are the local guys on the unprotected list: