Los Angeles Soccer:

Brandi Chastain
May, 29, 2012
5/29/12
2:34
PM PT
By
Scott French
| ESPNLosAngeles.com
Orange County Blue Star sits atop the Southwest Division standings in the Premier Development League following last week's 3-2 win at archrival Southern California Seahorses, and another victory in Tuesday night's rematch would put a little space between them and Fresno Fuego.
The sides are even on points and have virtually identical goal totals -- Blue Star's 12 for-7 against just above Fresno's 12-8 -- but Blue Star (3-0-3) have a game in hand and are on a three-game winning streak, scoring three times in each victory.
Kyle O'Brien
(Garden Grove/Marina HS and Vanguard University), Floridian
Nico Olsak
and U.S. youth national-teamer
Miles Byass
(Highland/Redlands HS), a junior at San Diego State, scored the goals against the Seahorses.
Fresno (3-1-3) has won just one of its last six games, and that against the U.S. Club Soccer's rep in the first round of the U.S. Open Cup. The Fuego were on the road last week, getting bombed in the Open Cup's second round by second-division Fort Lauderdale Strikers, then managing only draws against the PDL's Utah clubs, who have never been in contention for playoff berths.
Elsewhere in minor-league soccer:
May, 17, 2011
5/17/11
7:09
PM PT
By
Scott French
| ESPNLosAngeles.com
Hollywood United FC is awaiting word on a National Premier Soccer League rival's appeal of sanctions for fielding an ineligible player to find out, for sure, that it is headed to the U.S. Open Cup.
The Hitmen are set to take one of four NPSL slots in the annual competition after the San Diego Flash, an ambitious club led by former English pro and current Fox Soccer analyst
Warren Barton
, forfeited two games for using an ineligible player, Englishman
Lee Underwood
.
Early-season games in the NPSL double as qualifiers for the Open Cup, which dates to 1914 and features clubs from all strata of American soccer -- amateur to Major League Soccer -- and the forfeits gave the Flash's berth to HUFC. First-round games are slated for June 14.
It's all pending appeal, but the Hitmen's record becomes 7-0-1 after a 3-1 loss to San Diego (now 5-2-0) in their opener was changed to a 3-0 victory. The winless Bay Area Ambassadors also picked up a win.
HUFC's five-game winning streak was stopped Saturday in a 1-1 draw with visiting Sacramento Gold.
Elsewhere in the NPSL:
Santa Ana Winds (5-1-0) won their fifth in a row, beating San Diego Boca, 3-1, on goals by Chong Yong Park, Torrance's Diego Turoldo (North Torrance HS/Cal State Dominguez Hills) and Carlos Godinez. That puts them on top in the Southwest Flight, because, it turns out, Hollywood United is in the Northwest Flight. That's according to HUFC, who learned of it only on Monday. The Hitmen were listed in the Southwest on the league's website until last week.
Thousand Oaks' FC Hasental (2-4-1) toppled Boca, 3-1, the day after a wild, 5-4 loss loss to Sonoma County Sol. Los Conejos let a 4-2 lead slip away in the last half-hour.
Lancaster's Rattlers FC won its first NPSL game, winning, 2-1, at Real San Jose on an 82nd-minute goal by Roberto Mariscal (Palmdale/Palmdale HS). Miguel Guillen (Rosamond/Rosamond HS) also scored for the Snakes.
PDL: Defending Southwest Division champ Ventura County Fusion (3-0-1) grabbed first place with shutout victories over L.A. Blues 23 and Southern California Seahorses in the USL Premier Development League. Former UC Santa Barbara standout David Walker (Orange/Villa Park HS), a 2010 Houston Dynamo draft pick, scored and set up two more goals in Friday's 4-0 romp over the Blues, then assisted UCLA's Reed Williams (Newport Beach/Corona del Mar HS) to start Sunday's 2-0 win against the Seahorses.
December, 27, 2010
12/27/10
6:21
PM PT
By
Scott French
| ESPNLosAngeles.com
Our countdown of 2010's top 10 soccer stories and newsmakers -- from a Southern California slant -- continues.
Newsmakers/No. 5: Maurice Edu
It might have been the biggest moment in American soccer history, the point when everything -- the quality of the soccer, the loyalty of the fans -- came together in a way it didn't or couldn't with
Paul Caligiuri
's "shot heard 'round the world," the 1994 World Cup,
Brandi Chastain
's bra or the 2002 quarterfinal run.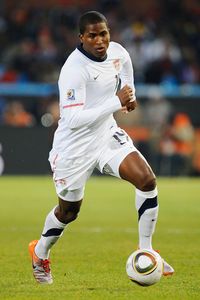 Kevork Djansezian/Getty Images
The goal Maurice Edu scored but did not count for the U.S. was the tipping point for the team at the World Cup.

Fontana's
Maurice Edu
scored the most compelling U.S. goal at the World Cup, all because it didn't count.
It's
Landon Donovan
's strike, the one in stoppage to beat Algeria, that will forever be remembered, but Edu's goal five days earlier against Slovenia -- and Malian referee
Koman Coulibaly
's decision to omit it -- was the tipping point for the U.S. and the World Cup.
The Americans had started slowly, as they did throughout the Cup, and fallen behind, 2-0, by halftime. They halved the deficit just three minutes into the second half, with Donovan finishing from
Steve Cherundolo
's feed, and pulled even on
Michael Bradley
's goal in the 82nd minute.
Then Edu, making his World Cup debut, got on the end of a perfect Donovan free kick, and the U.S. was five minutes plus stoppage from a 3-2 victory. Except Koulibaly whistled for a foul nobody else could see.
The injustice of the moment rallied the fans at home, those fervently following the World Cup and casual observers who couldn't name a U.S. player, Donovan aside, perhaps.
We
had been wronged, and that self-identification with this U.S. team hit a crescendo when Donovan beat Algeria to give the Americans the Group C title and send them to the knockout phase. No telling how big it might have gotten had the U.S. beaten Ghana in the round of 16.
It was a breakthrough year for the Etiwanda High School alum. He emerged as a true contributor during Rangers FC's run to its 53rd Scottish league title, cemented his spot with the U.S. national team, and made a convincing argument that he's the best partner for Bradley in central midfield.
November, 26, 2010
11/26/10
1:45
PM PT
By
Scott French
| ESPNLosAngeles.com
It is perhaps an indication of the U.S. women's national team's popularity in the post-Mia Hamm era that the most important qualifying match the Americans have ever faced will not be available to television viewers.

And it's a crime.

We get so much soccer on TV these days -- every MLS game, with the right package; every game from Mexico's Primera Division; dozens of matches from England, Spain, Italy, Germany and France each week; regular telecasts of Australia's A-League; UEFA Champions League; CONCACAF Champions League; Copa Libertadores and Copa Sudamericana from South America; Uruguayan, Argentine, Brazilian and Colombian league play; national team matches from around the globe; and, of course, wall-to-wall coverage of the World Cup -- that it's easy to forget what it was like 30 or 35 years ago, when PBS's "Star Soccer" trimmed an English game of the week (usually involving Liverpool) to an hour, "Soccer Made in Germany" made Cologne fans of us with a weekly broadcast on Channel 22, and Univision offered a slow-paced clash each Sunday from what was a most substandard Mexican League. We could watch the NASL final each summer on ABC's "Wide World of Sports."

The U.S. women were the biggest thing in America 11 years ago, when the Women's World Cup enthralled the country and Hamm and Co. toppled a superior Chinese side on penalties in a packed Rose Bowl. Now, not so much.

Hamm has retired. Brandi Chastain, whose bra-baring celebration of that title triumph over China, was the iconic moment of '99, is strictly an amateur now. Michelle Akers is better known as a horsewoman than as the greatest of all female players. Mission Viejo's Julie Foudy (Mission Viejo HS) is a television commentator. Huntington Beach's Joy Fawcett (Edison HS) is, primarily, a mom.

Aside from forward Abby Wambach (Hermosa Beach) and goalkeeper Hope Solo, no U.S. women's player possesses star power. Nobody in the American game can match Brazilian superstar Marta. There are some outstanding U.S. players, but none have caught the imagination of the public -- and none aside from Solo have offered much in the way of personality.