Los Angeles Soccer:

Brent Richards
June, 18, 2012
6/18/12
6:18
PM PT
By
Scott French
| ESPNLosAngeles.com
CARSON -- Neither of Chivas USA's center backs Monday morning was under contract, and one of them hadn't played competitively in months -- focused more on his UCLA degree and keeping up with two young sons.
One winger played on the indoor Anaheim Splash's reserve team last winter, and his replacement's experience is primarily in the minor leagues of Germany and the Netherlands. Neither are under contract.
Add in a couple of Chivas Academy stars -- high-schoolers, really -- and the Goats produced a most experimental lineup for their MLS Reserve League clash with Portland. They came out of it with a point -- rookie
Casey Townsend
and German trialist
Sebastian Stachnik
scored goals in an entertaining 2-2 draw in Home Depot Center's Track and Field Stadium -- and, more important, without having to expend much first-team energy.
Chivas is through one of four games in a grueling 11-day stretch, facing a critical Major League Soccer showdown Wednesday against Montreal, and the last thing it needs is to find minutes for players. There are enough meaningful minutes to spread around.
"For sure, we have a game in two days and another three days after that. And the [U.S.] Open Cup game next week," head coach
Robin Fraser
said. "We have a busy schedule and are trying to manage the schedule for everyone involved."
Only six first-team players saw action, and among them, only wingers
Laurent Courtois
and
Ryan Smith
, who came on in the second half, can be considered major contributors.
All three trialists in camp -- Stachnik, center back
Bobby Burling
and Brazilian winger (and former Spash reserve)
Tiago Luzardi
-- were given roles, and Academy midfielder
Eric Gonzalez
(Corona/Santiago HS) and forward
Ben Spencer
made their Reserve League starts since last year.
Also on hand was MLS veteran
Nelson Akwari
, who has played for the MetroStars, Columbus, Real Salt Lake and Vancouver (when it was a second-division team) before returning to UCLA last year to complete his education. He doubled up in the L.A. Blues' backline last season, but this year has been about school (he's two years from an engineering degree) and family.
May, 30, 2012
5/30/12
11:36
PM PT
By
Scott French
| ESPNLosAngeles.com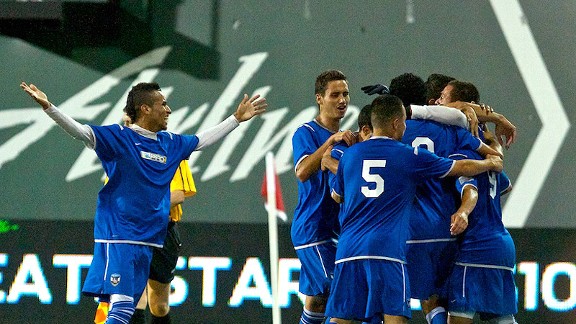 Leah Parr/Portland Timbers Cal FC players celebrate with Artur Aghasyan after his overtime goal against the Portland Timbers.

Cal FC's stirring run through the U.S. Open Cup hadn't been all that unexpected -- this is a team filled with pros, remember, even if they're amateurs here, or at least close to it.

But what the Thousand Oaks club pulled off Wednesday night defied belief.

Artur Aghasyan finished a breakaway five minutes into overtime, and Cal FC fended off wave after wave of attacks by the Portland Timbers to stun the Major League Soccer side, 1-0, in a third-round clash at Jeld-Wen Field, a result that shook the foundations of American soccer.

Eric Wynalda's side was outshot, 43-11, conceded 11 corner kicks and dodged more than a dozen bullets to pull off what might be the greatest upset in this country's premier knockout tournament since MLS's formation 16 years ago.

The reward: a showdown next week in Tukwila, Wash., with three-time defending champion Seattle Sounders, which routed the second-tier Atlanta Silverbacks, 5-1, on Wednesday to advance to the round of 16.

"I think we are the ultimate Cinderella story -- that's for sure," Wynalda told reporters in Portland. "A bunch of misfit kids who did something unbelievable. This is what this Cup is about."

Cal FC is the first U.S. Adult Soccer Association team to defeat an MLS club in the Open Cup, although Texas' Roma FC toppled Chivas USA on penalties following a 0-0 third-round draw in 2006. The Galaxy took care of the amateurs in the following round.

Timbers Army, Portland's fanatical supporters group, serenaded Cal FC when it was over with chants of "You deserve it!" and "Beat Seattle!" The game drew 5,489 fans to the stadium a few blocks west of downtown Portland.

Wynalda, a veteran of three World Cups and a star striker in Germany and in MLS, had on his mind the UEFA Champions League final a week and a half ago in Munich, which he covered as a studio analyst for Fox Sports. Chelsea upset Bayern Munich on penalties in that one after being outshot, 43-9, and outcorner-kicked, 20-1.


January, 5, 2012
1/05/12
10:20
PM PT
By
Scott French
| ESPNLosAngeles.com
Aston Villa manager Alex McLeish on Thursday finally confirmed what everybody already knew, that he's trying to sign Galaxy forward Robbie Keane on a two-month loan deal.
McLeish is looking to bolster a Villa attack that has scored just 22 goals in 20 games, the sixth-worst total in the 20-team English Premier League.
"We're having a look at it and trying to pursue it, so that's the latest, although nothing is actually done and dusted as yet," McLeish told reporters. "If we don't know by Monday, then it'll probably be not done. That's why I don't want to say too much, in case it doesn't happen, but we're certainly pursuing it, and at the moment both parties are keen."
Keane, an Irish striker who signed with the Galaxy in August, is training with his former club Tottenham through Jan. 20. British wire service The Press Association reported that Villa would pay nearly $775,000 to the Galaxy.
WORTH NOTING: Nothing official on David Beckham's new contract with the Galaxy is expected for another week or so, but new Paris Saint-Germain coach Carlo Ancelotti -- who was in charge at AC Milan during the English star's first Serie A loan stint -- says he's staying with L.A. "We had the possibility to have Beckham," Ancelotti told reporters after PSG returned to Paris following a winter break in the Middle East. "But Beckham decided to stay in Los Angeles because his family requested him." Reports have Ancelotti now looking to bring in forward Ivorian forward Didier Drogba. ... Reports in Sweden claim former Galaxy defender Gregg Berhalter's next signing as Hammarby's head coach likely will be forward Billy Schuler, who turned down a Generation adidas contract from Major League Soccer after helping North Carolina to the NCAA title.