Los Angeles Soccer:

Brent Whitfield
May, 15, 2012
5/15/12
12:20
AM PT
By
Scott French
| ESPNLosAngeles.com
Fullerton Rangers coach Raul Zico Ruiz expects a classic battle of opposing styles when his club takes on the Ventura County Fusion in Tuesday's opening round of the U.S. Open Cup.

Fusion coach Ole Mikkelsen doesn't know what to expect, and really doesn't care.

"At the end of the day, in the first round, you just want to play your game and get a few fortunate bounces of the ball," he said. "I knew very little about the teams we've played in the first round the past few years, and I know very little about [Fullerton]. At the end of the day, we'll focus on the style of soccer we want play. Hopefully, it's enough to get you through.

"Last year it was. The year before it wasn't."

The Rangers probably have the advantage at Santa Ana Stadium, owing to schedule and holdovers. They made the National Premier Soccer League playoffs last year as the Santa Ana Winds, and most of the players stuck around when the team changed sponsors -- so there's some continuity at work. They were playing Open Cup qualifiers in March and opened National Premier Soccer League play on April 7.

The Fusion, with a relatively new roster, played their first Premier Development League game last week. Many of the players who were with the team during preseason -- when they took on (and beat) Major League Soccer clubs -- are with bigger teams in more advanced leagues.

"It's a huge advantage for us," said Ruiz, who scouted the Fusion's 1-0 PDL loss Sunday against L.A. Misioneros and says Ventura County's direct approach will contrast with the Rangers' possession-first game. "We had a couple of losses in league, but they brought the team together. We've been together now two years, and they know how each other plays and moves off the ball."

The winner advances to a second-round game next week against the L.A. Blues, tentatively slated for Riverside Community College's Norco campus.

The Rangers are 4-2-0 in the NPSL, but both losses came when they were without midfielder leader Andre Turoldo (Torrance/North Torrance HS and Cal State Dominguez Hills) and backline anchor Leobardo Alvarez.

The Fusion (0-1-1 in the PDL) lost to the Arizona Sahuaros on penalties in the first round of the 2010 Open Cup -- they had qualified by winning the PDL title -- and last year beat Manhattan Beach's Doxa Italia in the first round and lost to the L.A. Blues in the second round.

Two more Southern California teams, both with pro talent, also play openers Tuesday. U.S. Adult Soccer Association Region IV champion PSA Elite, from Irvine, visits 2010 PDL champ Portland Timbers U-23, and Region IV runner-up Cal FC, from Thousand Oaks, plays at reigning PDL titlist Kitsap Pumas in Bremerton, Wash.


May, 9, 2012
5/09/12
5:35
PM PT
By
Scott French
| ESPNLosAngeles.com
The Premier Development League season kicked off around these parts with a bunch of ties -- and one very intriguing storyline.

It involves star attacker Brent Whitfield, a former Chivas USA outside back from Long Beach (Poly HS/Cal State Fullerton) who has played for several top local clubs and was set to serve as a player-coach for L.A. Misioneros, a PDL team that's brought in some big talent in a bid to compete for a trophy.

Misioneros cut ties with Whitfield just before the season began -- it also cost them former Galaxy defender Mike Randolph, whom Whitfield had brought to the club -- and he has turned up with the Ventura County Fusion, a club he bolted two years ago to play for pay with Hollywood United.

The Fusion opened their season Saturday night at Ventura College against, wouldn't you know, the Misioneros, who took a lead midway through the first half through Edwin Miranda (Reseda/Reseda HS and Cal State Northridge), who played last year for the L.A. Blues.

Whitfield gave Ventura a share of the points, scoring just before halftime.

The other two games involving local teams also finished 1-1. Cal State Northridge's Christian Gonzalez Diaz (Mission Viejo/Mission Viejo HS) scored in stoppage Friday to lift Orange County Blue Star against visiting Pali Blues, which got a goal from UCLA's Evan Raynr (Calabasas/Viewpoint HS). Blue Star rallied against Misioneros in L.A. two nights later, with Loyola Marymount's David Ponce (Foothill Ranch/Trabuco Hills HS and UC Santa Barbara) scoring the equalizer.

Elsewhere in minor-league soccer:

USL PRO: The L.A. Blues got a home win last week, and, true to form, it came away from Cal State Fullerton's Titan Stadium. The 2-1 triumph over Wilmington at Fullerton College was their first victory of the season and just their fourth in what now is 16 league home games.

The record at CSUF is far worse: no wins in nine games (0-6-3), including a "road" loss to the Galaxy in last year's U.S. Open Cup. That includes Sunday's 2-2 draw with Wilmington in the second meeting of the weekend.

The Blues (1-2-1) climbed out of the third-division league's cellar, from 11th to 10th, two points ahead of the Dayton Dutch Lions (0-2-2), the only USL Pro team without a victory, and that after winning just two of 24 league games last year. Midfielder Allan Russell, who converted a penalty kick and assisted Matt Fondy's opener in Friday's win, was selected to the USL Pro Team of the Week.


July, 28, 2011
7/28/11
6:36
AM PT
By
Scott French
| ESPNLosAngeles.com
Hollywood United FC has a storied past, featuring more big names than the Galaxy could hope to sign -- movie stars, musicians and former footballers -- but it's reaching its greatest heights as a competitive club rather than a novelty act.

The Hitmen (13-2-1) are in Madison, Ala., this week for the National Premier Soccer League's final four, just 180 minutes from their first national title. They meet the Milwaukee Bavarians (8-2-2) in the first semifinal Thursday, and the winner takes on the Erie Admirals (11-1-1) or Jacksonville United (6-4-0) in Saturday's final.

Here's a quick take on Hollywood United:

ORIGINS: God save the queen, indeed! Former Sex Pistols guitarist Steve Jones and drummer Paul Cook were behind HUFC's formation in the late 1980s, spurred by an English ex-pat community of actors and musicians that gathered regularly at The Cat & the Fiddle, the Sunset Boulevard pub.

STAR POWER: HUFC played for years in L.A.-area amateur leagues, but it made its name in charity matches and exhibitions, bringing teams loaded with Hollywood vets and former soccer stars.

Anthony La Paglia, a fine goalkeeper in his youth, has supported the club financially and on the field, and others in red and black include actors Gilles Marini, Jimmy Jean-Louis and Donal Logue, musicians Ian Astbury, Robbie Williams, Ziggy Marley, director Danny Cannon and lots of big-name players, from Franck Leboeuf, a defender for France's 1998 World Cup championship team, to Scottish great Richard Gough to notorious English Premier League hard man-turned-Hollywood tough guy Vinnie Jones to American soccer Hall of Famers Eric Wynalda, Alexi Lalas and John Harkes.

July, 10, 2011
7/10/11
10:39
AM PT
By
Scott French
| ESPNLosAngeles.com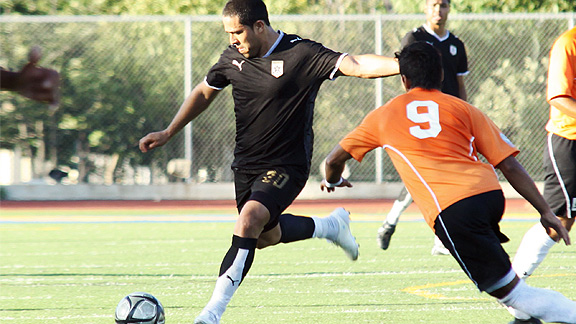 Tony Flores/Hollywood United FC
Hollywood United's Arturo Albarran shoots past Santa Ana's Andre Turoldo during Saturday's Western Conference semifinal.
Hollywood United FC took advantage of an early red card and cruised past the Santa Ana Winds in a National Premier Soccer League playoff opener Saturday night in Los Angeles.
What was happening 100 or so miles to the south might have meant more to the Hitmen's championship hopes.
HUFC's 3-1 victory at Crenshaw High School, on goals from Ghanaian forward
Emmanuel Bentil
, former Chivas USA winger
Brent Whitfield
(Long Beach/Poly HS and Cal State Fullerton) and
Nick Blanco
(Loyola Marymount), sends it to the Western Conference final next Saturday against the Sacramento Gold, which stunned the San Diego Flash -- the best in the West -- in the other conference semifinal.
The winner will advance to the league final four in Alabama at the end of the month.
Santa Ana played a man down from the 11th minute, after goalkeeper
Carlos Alberto Hernandez
was red-carded for handling the ball outside his box. The Hitmen took advantage right away, with Bentil scoring from
Carlos Morales
' corner kick in the 17th minute.
Whitfield headed home Arturo Albarran's cross in the 31st, and Blanco beat three defenders on a run from midfield for the third goal just five minutes into the second half. Greg Piechota (Cal State Dominguez Hills) tallied for the Winds (7-5-1) in the 35th minute.
Hollywood United (12-2-1) was the top seed for the Western final four but really were second-best. The Flash (10-4-1) had lost on the field just once this season -- it forfeited two games, including a 3-1 start-of-the-season triumph over the Hitmen, for using an ineligible player -- was coming off a 5-1 destruction of HUFC in the regular-season finale and were overwhelming favorites to represent the West in Alabama.
Sacramento (8-3-4), the defending NPSL champion, ousted San Diego, 2-1, to set up next week's clash at Crenshaw. Hollywood United won the first meeting this season with the Gold, 3-0, and the second was a 1-1 draw.
HUFC, which in the spring moved from the USL's Premier Development League to the NPSL, had reached the playoffs in both of its previous seasons but failed to advance.
May, 10, 2011
5/10/11
5:26
PM PT
By
Scott French
| ESPNLosAngeles.com
Hollywood United FC is mowing down most of the competition in the National Premier Soccer League, perhaps a little flummoxed that the level of the other teams -- San Diego Flash and perhaps Santa Ana Winds aside -- isn't quite what they saw most nights in the Premier Development League.
This week it was the Bay Area Ambassadors who took a beating, a 7-0 decision that kept HUFC (6-1-0) atop the Southwest Flight. The Hitmen, who scored six second-half goals, have struck 32 times in seven games, 30 in a five-game winning streak that has featured four shutouts.
Rene Corona
(Corona/Centennial HS and Santa Ana College) was this week's hero, joining the Hitmen's hat-trick club with goals in the 19th, 58th and 78th minutes. Former Chivas USA winger
Brent Whitfield
(Long Beach/Poly HS and Cal State Fullerton) and Cuban forward
Jose Miranda
had registered three-goal games in HUFC's two previous encounters.
Whitfield scored twice and Miranda added a goal against Bay Area.
April, 25, 2011
4/25/11
10:49
PM PT
By
Scott French
| ESPNLosAngeles.com
Hollywood United FC is finding that the National Premier Soccer League's Western Division not as tough as it hoped it would be.
The Hitmen, atop the Southwest Flight, hammered Real San Jose, 11-0, on Saturday night to improve to 4-1-0. The last three wins, all shutouts over Northwest Flight clubs, have been by an 18-0 margin. HUFC joined the NPSL, primarily for financial reasons, after playing several seasons in the rival Premier Development League, and club management cited the competitiveness of NPSL clubs when they announced the switch.
It's clear the divisional championship, barring something wholly unexpected, will be going to HUFC or the San Diego Flash, who are 4-0-0 after a 3-0 win over Bay Area Ambassadors up in Hayward. The Flash beat the Hitmen, 3-1, on April 9
Former Chivas USA winger
Brent Whitfield
(Long Beach/Long Beach Poly HS and Cal State Fullerton) had a hat trick after 34 minutes, and
Jose Miranda
and
Andy Contreras
pitched in with two goals apiece.
HASENTAL WINS:
Thousand Oaks' FC Hasental claimed its first victory, spoiling Rattlers FC's NPSL debut with a 3-1 victory at Palmdale High School. Romanian forward
Lucian Leu
,
Johnny Gonzalez
and
Omar De la Piedra
(L.A. Mission College) scored for Hasental (1-3-0).
Santa Ana Winds (2-1-0) made it two in a row on the road with a 3-2 triumph at San Diego Boca on a last-minute strike by
Diego Turoldo
(Torrance/North Torrance HS and Cal State Dominguez Hills).
GRIFFIN STRIKES AGAIN: Max Griffin
(Palmdale/Littlerock HS and UCLA) has two two-goal games in three games for Orlando City FC in the third-tier USL Pro. He netted a pair in a 2-2 draw Friday with Puerto Rico United and leads the third-tier league with four goals.