Los Angeles Soccer:

Brett Lawrie
January, 26, 2012
1/26/12
11:07
PM PT
By
Scott French
| ESPNLosAngeles.com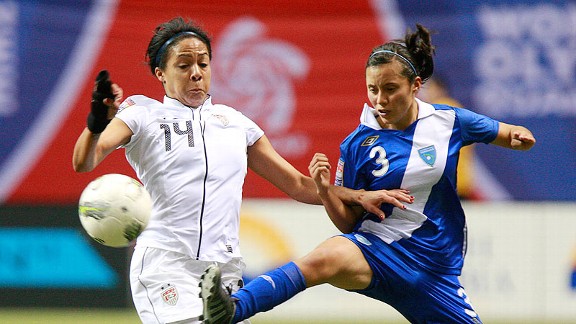 Jeff Vinnick/Getty ImagesSydney Leroux, left, battles against Guatemala recently -- a game in which she scored five goals.

MANHATTAN BEACH -- Sydney Leroux was a little girl with a big dream that, following many years of hard work and sacrifice, is starting to come true.

Don't mistake her story for a fairytale.

The three-time UCLA All-American is taking her place among the stars on the U.S. women's national team -- her five-goal extravaganza the other night at the regional Olympic qualifiers is, by all accounts, just the beginning -- but the journey hasn't been simple.

Whether it has been worth it might be open to debate, but the only opinion that matters is Leroux's, and she's in a good place. Some six years after leaving her native Canada in pursuit of soccer stardom -- enduring catcalls of "Judas!" and "Traitor!" from her countrymen, battling depression during a brutal high school existence in Arizona, following astonishing international success with defeat more devastating -- the 21-year-old striker has, just like that, crossed a chasm from promising could-be to genuine contributor.

It's rather fittingly the product of more turbulence, she reports -- the end of a relationship with Toronto Blue Jays third baseman Brett Lawrie -- and it's had an immediate payoff: A victory in Friday's CONCACAF semifinal against Costa Rica (in, of all places, Vancouver, British Columbia, her hometown) sent the U.S., and likely Leroux, to next summer's London Games. (The U.S. faces Canada in Sunday's regional final.)

It's what she has been dreaming about since she was 6, not long after she'd kicked her first ball. She had the genes -- her father was a former major-league pitcher, her mom a standout on Canada's national softball team -- and she had the drive, and as she developed into a strong, fast, athletic attacker, she got noticed.

Leroux was the youngest player, just 14, at FIFA's 2004 Under-19 Women's World Cup, getting into two games as Canada made it to the quarterfinals. A year later, she was off to America, and nothing would ever be the same.

"It's crazy to me. It was not easy," Leroux said earlier this month as the U.S. was finalizing preparations for the Olympic qualifiers. "It was probably one of the most difficult things I ever had to do, move away from everything that I knew and was comfortable with to something that I had no idea about. Not having any family around. Doing it on my own. As a 15-year-old, that's kind of hard.

"I had to grow up really fast. I look back at it now, and I'm like, wow, I cannot believe I did that. It was hard. It was very hard. And I don't think I realized how hard it was. But I guess it's all worth it. Now I have a chance to prove myself, and that's what I enjoy, and that's why I did what I did."

TWELVE HUNDRED MILES: Leroux grew up more baseball player than soccer star. It was in the blood -- her dad, never really in the picture, was former Angels right-hander Ray Chadwick -- and she was a center fielder with great speed who matched or surpassed the boys, at least until adolescence.

"I thought I was actually going to be the first girl in the MLB," Leroux said. "And then everyone, like, grew up, and I didn't. I stayed at my height and size, and I said, 'Maybe this isn't going to work.' "

She had soccer to fall back on, fortunately, and it was clear very early that she was a special player, one who might spur Canada to unprecedented success. Leroux had other ideas. She was going to play for the U.S. Because her father was American, so was she.