Los Angeles Soccer:

Bryan Burke
June, 30, 2012
6/30/12
8:47
PM PT
By
Scott French
| ESPNLosAngeles.com
If the horrid start to its showdown Saturday evening in North Carolina didn't doom the L.A. Blues, then certainly Maykel Galindo's red card took care of that. Nothing on this crucial East Coast swing is going their way.

The Blues dropped their second in a row after conceding twice in the first five minutes, falling to the Wilmington Hammerheads by a 4-2 count in a wild, sloppy, at times invigorating USL Pro affair that ought to have some bearing on the third-division league's playoff race.

Bright Dike scored for the fourth straight game for the Blues (5-5-2), who dropped from fifth to sixth in the standings and can fall to seventh with another loss Tuesday at Richmond.

Bryce Taylor scored from former Cal State Northridge standout Dylan Riley's feed after just 137 seconds, then fed Corey Hertzog two minutes later to give Wilmington a two-goal lead by the fifth minute.

L.A. twice crept within a goal, but the second strike -- from Bryan Burke in the 60th minute -- was costly. Galindo was caught in a scuffle in the net after the goal, and referee David McPhun produced the red card.

Hertzog, whose loan agreement from the New York Red Bulls was extended this week for the rest of the USL Pro season, scored his second 13 minutes later. Corey Miller hit the net in the 88th for the Blues, but it was waved off.


April, 20, 2012
4/20/12
12:46
PM PT
By
Scott French
| ESPNLosAngeles.com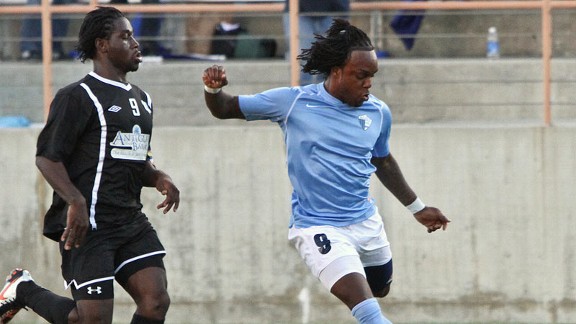 L.A. BluesFormer Chivas USA forward Chukwudi Chijindu, who played last year for the L.A. Blues, is with the Wilmington Hammerheads.

If you're looking for a local team to support in the USL Pro, the third-division league in American soccer's pyramid, the L.A. Blues aren't your only option.

There's also the Wilmington Hammerheads.

The North Carolina club, which will visit the Blues for a couple of games next month at Cal State Fullerton, have the largest collection of Southern California talent in the league: seven players from the area, another who played college ball here, and one more -- not sure he really counts -- who was with the Blues for a short spell last year.

They're among 32 players from Greater Los Angeles in USL Pro, which heads into its third weekend of games with Friday night's Blues-Rochester match at Fullerton.

The Blues, who featured a heavily local roster in their first season, have three players from the area (Anaheim's Carlos Borja, Newport Beach's Bryan Burke and Long Beach's Luis Gonzalez), four more from local colleges (UC Irvine's Irving Garcia, Cal State Fullerton's Shay Spitz and Bethesda Christian's Sun-Hyung Cho and Cheun-Yong Park), plus a former Galaxy winger who has called SoCal home since signing with MLS at 16 nearly five years ago (Israel Sesay).

The Rochester Rhinos, who won a league opener over the Blues last weekend, also have a decent contingent led by former UCLA star Mike Zaher and UC Santa Barbara products Conor Chinn and Tyler Rosenlund. All three, plus former Galaxy defenders Quavas Kirk and Troy Roberts, have MLS experience.

Orlando City has Palmdale's Maxwell Griffin, a UCLA alum whose performance for the champs last year led to a late-season loan deal to the San Jose Earthquakes. Pittsburgh has Long Beach's Tino Nuņez, from UC Santa Barbara, who spent a couple seasons with Real Salt Lake. Three goalkeepers are in the group: L.A.'s Kevin Klasila at Charlotte, Huntington Beach's Kyle Polak with Wilmington, and Laguna Hills' Eric Reed at Charlotte.

Wilmington's So Cal group includes former Chivas USA forward Chukwudi Chijindu, a Fontana product who spent last season with the Blues on loan from the Goats, plus Hollywood's Jack Avesyan and Hagop Chirishian, Laguna Hills' Trey Cole, Lakewood's Manny Guzman and Thousand Oaks' Dylan Riley.

Here's a full list of players with local ties in the USL Pro (with hometown and local high school/college in parenthesis, with local adult club following):


April, 13, 2012
4/13/12
6:31
PM PT
By
Scott French
| ESPNLosAngeles.com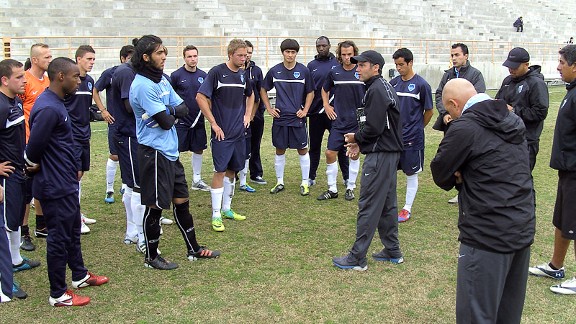 Blues Pro SoccerCharlie Naimo addresses his team during the buildup to the 2012 USL Pro season.

FULLERTON -- The Los Angeles Blues embark Saturday night on their second go-round in the USL Pro, looking to right what went wrong in the inaugural season, when their championship-caliber side unraveled after its big-name star abandoned ship.

Head coach/general manager Charlie Naimo and his staff gutted the team, keeping just four players and bringing in a mix of veterans and youngsters with perhaps not quite the flair of last year's group but with far more grit and resilience, and the Blues are thinking title as they kick off against the Rochester Rhinos at Cal State Fullerton's Titan Stadium.

The Blues want desperately to improve on last year's 8-7-9 campaign, followed by a first-round exit in the third-division professional league's playoffs, and challenge defending champion Orlando City SC and several prime contenders, including the Rhinos, who won the National Division last year, seven points ahead of third-place L.A.



But the real fight is off the field, where Steve Donner -- the club's new vice president of business operations -- is leading a charge to professionalize the organization, create for it a role on Southern California's crowded sports landscape, and create a foundation that will enable the Blues to survive and succeed for years to come. The most important move has been hauling the team's offices from Santa Monica to Fullerton, just a couple of blocks from the club's training ground at Fullerton College, and pledging its future to Titan Stadium after splitting a dozen league games last year among Cal State Fullerton and venues in Corona, Norco and Pacific Palisades.

Tickets are cheap, certainly in comparison with the Galaxy (and, less so, Chivas USA), parking is free and the soccer is better than decent. That's what Donner -- a sports marketing executive with extensive experience in hockey, minor-league soccer and lacrosse -- and his staff are trying to sell.

"A very convenient, very entertaining sports option in the Orange County and the L.A. Metro market: That's the niche we hope to create," said Donner, who was chief executive officer last year at Orlando City, which led the USL Pro in attendance. "It's going to take some time in order for people to understand what we really are."

That's because word didn't get out last year. A short lead-time to the club's debut -- the Tampa, Fla.-based United Soccer Leagues accepted the Blues for its top division in December 2010, and play began five months later -- had the organization scrambling from the start just to put on a season. Marketing was nearly nonexistent, sponsorship was sparse, and little more than 4,500 showed up for the entire 12-game home schedule, with just four crowds above 600.

A BAD START: "It couldn't have been worse last year," Naimo acknowledged. "It's really no one's fault. We started so late. Geographically, we were a constellation, and bottom line: You can't market to people you're not around."

"It did not work, as far as sponsorship, ticket sales," Ali Mansouri, who owns the club with his wife, Maryam, said at the close of last season. "We had a budget, what this thing is going to cost us. And we were very close to it. We were about 10 percent [above] what we estimated the cost is going to be. Very happy about that. But we also had an estimate of how much money we're going to bring in. We [made] 20 percent of that. That wasn't good."


November, 14, 2010
11/14/10
6:21
PM PT
By
Scott French
| ESPNLosAngeles.com
Tanya Taylor
scored one goal and set up another as UC Irvine, in its first NCAA Division I women's soccer appearance, advanced to the Sweet 16 on Sunday with a 2-0 triumph over regional No. 4 seed Wake Forest at Anteater Stadium.
The 16th-ranked Anteaters (19-2-2) will meet Washington (12-8-2) next weekend in the third round. The Huskies stunned second-ranked Portland on penalty kicks following a 1-1 draw.

Portland was one of two national No. 1 seeds to lose Sunday. Maryland was beaten on penalties by Georgetown.
Taylor (Buena Park/Sunny Hills HS) tallied in the 12th minute, her team-best 11th goal of the season, and set up
CoCo Goodson
in the 71st, her ninth, as the UCI prevailed in a tight, defensive battle.
No. 21 Wake Forest (13-8-3) managed just five shots, and only two of them on target, against a defense led by Goodson and midfielder
Judy Christopher
(Ontario/Upland HS).
TROJANS TRUMPED: Rose Augustin
and
Lauren Fowlkes
scored in the first nine minutes, and seventh-ranked Notre Dame (17-2-2) romped to a 4-0 victory over No. 22 USC (13-6-3) in a Division I second-round game in South Bend, Ind.
Augustin scored in the eighth minute and Fowlkes in the ninth for the Irish, a No. 2 regional seed who gave what coach
Randy Waldrum
called "probably our most complete 90-minute performance of the season" to advance to a third-round game next weekend against third-ranked North Carolina (19-2-2), the defending national champion and a regional No. 1 seed.
Fowlkes also assisted goals by
Melissa Henderson
in the 58th minute and
Adriana Leon
in the 71st.
UCLA GETS NO. 1:
UCLA (13-7-2), which beat Central Florida in a second-round game Saturday, heads north to face No. 1 Stanford (20-0-2) in the third round. The Cardinal held off Santa Clara, 2-1, as
Marjani Hing-Glover
and
Alina Garciamendez
scored goals.
NO AUTOMATIC FOR LMU:
A late goal by
Bryan Burke
(Newport Beach/Corona del Mar HS) lifted San Francisco to a 1-0 victory at Loyola Marymount, costing the Lions (12-6-2) the West Coast Conference's automatic berth in the NCAA Division I men's tournament.
The Lions, who clinched a share of the WCC title with a victory Friday over St. Mary's, will await their fate when NCAA pairings are announced Monday. Santa Clara, which beat Gonzaga, 2-0, on Sunday, is the WCC's top seed because it went 1-0-1 against LMU this season.
REDLANDS ROMPS AGAIN:
Surprising Redlands stomped host Cal Lutheran in a women's Division III second-round win, its second victory in 11 days over the Regals.
Fionna Connolly
scored her third goal of the NCAA tournament and team-best 12th of the season to start the Bulldogs (12-9-0) toward a 3-0 romp over Cal Lu (18-3-1), which held a commanding 18-4 advantage in shots.
Connolly scored in the seventh minute,
Chelsea Hafley
(Redlands/Redlands HS) doubled the advantage in the 60th, and
Jaimie Morton
put the game out of reach with a strike in the 68th.
Redlands will play next weekend at second-ranked Hardin-Simmons (21-0-0) in Abilene, Texas.
NAIA BERTHS:
Golden State Athletic Conference champion Vanguard (13-7-0) opens the NAIA men's tournament with a rematch of the conference tournament final, against Azusa Pacific (16-4-1).
Vanguard, which routed the Cougars, 3-0, on Saturday, is unseeded and will play at APU, whioch is seeded 13th. Cal Baptist (15-4-0) is seeded 11th and will be home for next Saturday's opening round against Holy Names (11-5-2).
GSAC champ Azusa Pacific is seeded third, The Master's (16-2-2) sixth and Cal Baptist (13-5-2) 11th for the NAIA women's tournament, and all received home assignments for the first round.
APU will open against William Jessup (11-4-3); TMC, from Santa Clarita, will meet Maine-Fort Kent (19-2-0); and CBU, from Riverside, will take Texas' Northwood (15-3-1).
Saturday's winners will advance to the 16-team, five-game-in-six-days finals, with the men playing at Orange Beach, Ala., and the women at Decatur, Ala.