Los Angeles Soccer:

C.J. Sapong
June, 26, 2012
6/26/12
10:35
PM PT
By
Scott French
| ESPNLosAngeles.com
Chivas USA has reached the U.S. Open Cup semifinals for the second time in club history. A familiar foe awaits.

The Goats will meet three-time defending champion Seattle Sounders, who won the meeting in the semis two years ago, on July 10 in Tukwila, Wash. The Sounders toppled the San Jose Earthquakes, 1-0, in Tuesday's semifinal in San Francisco.

Jose Erik Correa's second goal of the evening, nearly four minutes into stoppage, lifted Chivas to a 2-1 victory over USL Pro side Charlotte Eagles at Cal State Fullerton.

The Philadelphia Union and Sporting Kansas City will meet in the other all-MLS semifinal after cruising past opposition from the third-division USL Pro.

The Union scored three times in the first half-hour en route to a 5-2 romp over the Harrisburg City Islanders; Sporting received goals three minutes apart early in the second half from Graham Zusi and C.J. Sapong to pull away to a 3-0 victory over the Dayton Dutch Lions.

Philadelphia will be home for the July 11 clash. The U.S. Open Cup final will be played Aug. 7 or 8.

A quick look at the three quarterfinal matches not involving Chivas USA:


April, 1, 2012
4/01/12
10:42
PM PT
By
Scott French
| ESPNLosAngeles.com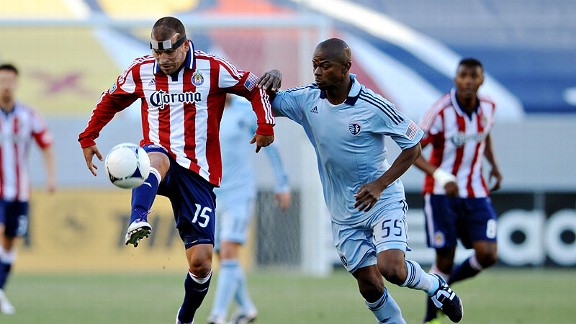 Kelvin Kuo/US PresswireChivas USA forward Alejandro Moreno passes the ball defended by Sporting Kansas City defenseman Julio Cesar.
CARSON -- There's an all-too-familiar quality to all of Chivas USA's matches this year, and that's not a good thing. Tremendous defensive work and decent possession, but few goalscoring chances, one breakdown and that's that.

It happened again Sunday night, when the Goats wasted another solid effort in their third 1-0 loss of the campaign, all at home. Sporting Kansas City took advantage of a letdown right after halftime, then fended off an increasingly direct Chivas attack to improve to 4-0-0, the only perfect record four weeks into the Major League Soccer campaign.

"It's frustrating. I'm frustrated. I know a lot of guys are frustrated," defender Heath Pearce said after Chivas dropped to 1-3-0 to remain at the bottom of the Western Conference standings, behind the Galaxy only on goal difference. "We tried to find some positives in this game, and we've been saying for a while now that we have bright moments and stuff, but at the end of the day, bright moments aren't enough if we're not scoring goals and keeping clean sheets.

"I just feel like we make it really difficult on ourselves every single game."

The Goats have zero margin for error. They've scored just once in four games -- rookie Casey Townsend's finish in last weekend's 1-0 stunner at Real Salt Lake -- so one breakdown or one superb play by the opposition is enough to destroy a firm foundation built on wonderful defending up and down the field.

That breakdown/superb play, a little of both, arrived in the 47th minute. Chivas failed to deal appropriately with a turnover at midfield, providing space for a long Graham Zusi run, almost to the top of the box. He unloaded from there, with the ball caroming off goalkeeper Dan Kennedy's outstretched hands and off the crossbar and high into the air. Zusi outleapt Ante Jazic for the header, sending the ball toward the left post, and C.J. Sapong tucked it home.

Chivas, which dominated the first half-hour but struggled to turn almost constant possession into penetration, went to a direct game from that point, lobbing balls over the top. There were chances, but just one that mattered: Nick LaBrocca hitting the left post following a Laurent Courtois run in the 54th minute.

"Our retention of possession needs to be a lot better," said winger Ryan Smith, who with Laurent Courtois fueled Chivas' attack in the first half. "In the second half, we just kept giving it away. In the first half, we wasn't so bad, we got some chances, but I don't know what happened in the second half. We came out, they got the early goal, we didn't retain possession. That's key. If you don't have possession, you can't get into good areas. You can't just hit it and hope to get on the end of a long ball. Sometimes, you have to keep the ball, move the opposition around, then make a decisive pass or switch a play, but it just didn't happen in the second half."

The Goats put only one shot on frame -- LaBrocca's off the post -- against a team that had surrendered just one shot on goal in two of its first three matches. They had another decent chance just before halftime, when James Riley chipped to Smith at the top of the box, but his touches, the first to pull away from Aurelien Collin and the next to avoid goalkeeper Jimmy Nielsen, took the Englishman beyond the end line.


March, 31, 2012
3/31/12
8:09
PM PT
By
Scott French
| ESPNLosAngeles.com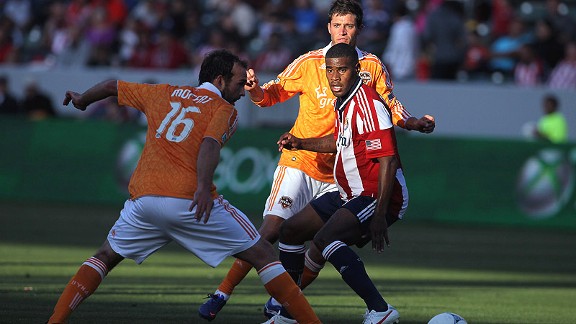 Victor Decolongon/Getty ImagesChivas USA's Rauwshan McKenzie has helped lead a strong defensive effort so far.

CARSON -- Chivas USA last weekend heroically gutted out a victory over Major League Soccer's early Supporters' Shield leader. Now they'll try to do so again, and it will require the same kind of grit.

That's what the Goats are counting on when they meet Sporting Kansas City (3-0-0) on Sunday evening at Home Depot Center, and that's fine by them.



Real Salt Lake dominated Chivas through huge portions of last week's clash in Sandy, Utah, but superb defensive work -- especially by former RSL backup Rauwshan McKenzie and goalkeeper Dan Kennedy -- and a heads-up finish by rookie Casey Townsend delivered to the Goats (1-2-0) a 1-0 triumph.

Sporting K.C., which vaulted over RSL to the top of the overall standings with a comeback victory last weekend over FC Dallas, can be expected to apply similar pressure, and Chivas is ready for it.

"We've got a fight about us. We've got a determination," said midfielder Blair Gavin, asked what's different about Robin Fraser's second Chivas team. "We've got guys who get stuck into tackles, who work hard offensively and defensively. This is Robin's second year, so his ideas are coming in now. He's getting more players he likes and [who] understand his system, and at the end of the day, we've got a lot of winners on this team, and we're going to be fighting for every victory."

That desire to fight is pivotal -- it's built into former U.S. defenders Fraser's and assistant coach Greg Vanney's DNA and that of their teams -- but it won't be enough to contend for a playoff berth in the Western Conference. That will require greater dynamism on attack. With winger Michael Lahoud and striker Juan Pablo Angel dealing with injuries and newcomer Miller Bolaņos still looking to contribute, it's still a ways off.

"We still have a lot of work to do," said midfielder Peter Vagenas, noting that this group has just three competitive games together. "This is a work in progress. The soccer is going to get better and the way we want to play, that's going to get better, but you need time. While you're doing that, you need success, especially in the win department, to validate what you're doing.


December, 22, 2011
12/22/11
2:39
PM PT
By
Scott French
| ESPNLosAngeles.com
Omar Gonzalez, the man most desired by U.S. soccer fans, has made his way onto Jurgen Klinsmann's first January roster.
Teammate
Todd Dunivant
was snubbed.
Gonzalez, Major League Soccer's Defender of the Year, is joined by Galaxy teammate
A.J. DeLaGarza
on the 20-man roster, but the fourth Galaxy backliner,
Sean Franklin
, who was part of the last January camp, also was left home.
Chivas USA defender
Heath Pearce
, who was on the 2010 World Cup preliminary roster, also is on Klinsmann's list, as are So Cal products
Nick Rimando
(Montclair/Montclair HS and UCLA), the Real Salt Lake goalkeeper, and
Benny Feilhaber
(Irvine/Northview HS and UCLA), a New England Revolution midfielder.
The team is missing its Europe-based stars, with just two players (Danish-based defender
Michael Parkhurst
and 2010 World Cup midfielder
Ricardo Clark
, who plays in Germany) brought in, both while their clubs are on winter break.
Camp opens Jan. 3 in Phoenix, heads to Home Depot Center from Jan. 13 to 20, then returns to Arizona for the Jan. 21 friendly against Venezuela at University of Phoenix Stadium in Glendale. The team then heads to Panama for a Jan. 25 match.
The roster, as always, is filled with mostly younger, lesser-experienced MLS players, and if Gonzalez's inclusion, which was expected, is a positive -- fans and media have clamored for the big Texan's involvement with the national team most of this year -- Dunivant's omission is most curious, given the Americans' deficiencies at left back.
Dunivant, 30, is coming off a sensational MLS Best XI campaign with the Galaxy, and the annual January camp -- at least under
Bob Bradley
, Klinsmann's predecessor -- usually has rewarded players coming off outstanding MLS seasons.
Klinsmann's philosophy differs from Bradley's in many respects. He's brought in a smaller group -- just 20 players; Bradley had 24 in last January's camp and 30 in 2010 -- and appears to have a sharper concept of what he's looking for.
"We have an internal ranking of players in each position based on how we want to play, and many of these players are next in line," Klinsmann told U.S. Soccer's website. "The European-based players and the Mexican-based players aren't available, so this is their shot. Their goal has to be to move ahead of the guy in front of him in their position, and the only way they can do that is to show how good they are.
November, 8, 2011
11/08/11
12:51
PM PT
By
Scott French
| ESPNLosAngeles.com
The first big award has been announced by Major League Soccer, and it's no surprise. Sporting Kansas City forward C.J. Sapong was an expected runaway winner, and he, indeed, was that.

Sapong easily won in each voting bloc -- media, club and player -- for a weighted vote of 106.28 after starting 22 games and contributing five goals and five assists as Sporting captured the Eastern Conference regular-season title. He scored another goal while playing every minute of K.C.'s three playoff games.

He was followed by D.C. United's Perry Kitchen (34.56), Philadelphia's Michael Farfan (33.50), Portland's Darlington Nagbe (28.76) and Houston's Will Bruin (27.44). Kitchen finished second in the media and club votes but fourth among players, who had Nagbe second and Farfan third.

Farfan (Wildomar) starred at Cal State Fullerton for two seasons, then transferred to North Carolina.

Previous winners of the award include Galaxy defenders Sean Franklin (in 2008) and Omar Gonzalez (2009), former Chivas USA star Jonathan Bornstein (2006), Inland Empire products Carlos Bocanegra (2000) and Maurice Edu (2007), U.S. national team star Clint Dempsey (2004) and D.C. United head coach Ben Olsen (1998).

MLS also gave out its Fair Play awards, with Philadelphia forward Sebastien Le Toux repeating as individual winner after committing just 20 fouls with no cards of either color while playing every minute of the season, and the expansion Portland Timbers winning the team honor. Chivas USA was a finalist for the team award.

COACHING NOTES: Two coaching jobs are open now. Colorado has parted ways with Englishman Gary Smith, who guided the Rapids to the MLS Cup title last year but acknowledged near the end of this campaign that he had working conflicts with technical director Paul Bravo. Steve Nicol stepped down as New England coach two weeks ago.



November, 7, 2011
11/07/11
3:41
PM PT
By
Scott French
| ESPNLosAngeles.com
There's
David Beckham
's name on the list of award finalists that Major League Soccer just released, only it's not with the players up for the biggest honor.
The Galaxy midfielder, the club's best hope for the MVP award, is a finalist for Comeback Player of the Year. D.C. United's
Charlie Davies
and Chicago's
Dominic Oduro
are the other finalists. Davies, who returned from a deadly car crash that ended his 2010 World Cup hopes to restart his career in MLS, is heavily favored.

The three MVP possibilities are Houston's
Brad Davis
, D.C. United's
Dwayne De Rosario
and FC Dallas'
Brek Shea
. Beckham mentioned after L.A.'s Western Conference final victory Sunday night over Real Salt Lake that Davis has won the honor, although no confirmation will be coming from the league, at least not until Nov. 18.
Omar Gonzalez
is up for Defender of the Year, along with Real Salt Lake's
Jamison Olave
and
Nat Borchers
-- Olave won among the same trio last year -- and
Bruce Arena
joins Seattle's
Sigi Schmid
(Torrance/Bishop Montgomery HS and UCLA) and Sporting Kansas City's
Peter Vermes
among Coach of the Year finalists.
Chivas USA is a finalist for the Team Fair Play honor, UCLA product
Kevin Hartman
(Palos Verdes/Peninsula HS) is up for Goalkeeper of the Year, and former Cal State Fullerton midfielder
Michael Farfan
(Wildomar) is a Rookie of the Year finalist. The best-referee trio includes Chino's
Kevin Stott
.
The top-rookie award, expected to go to K.C. forward
C.J. Sapong
, will be announced Tuesday, along with the Fair Play awards. Defender of the Year is due Wednesday, with announcements following for the Best XI (Thursday). Other awards will be coming next week.
November, 2, 2011
11/02/11
10:29
PM PT
By
Scott French
| ESPNLosAngeles.com
Real Salt Lake conceded twice at the start of the second half, then held on as Seattle sought a necessary third goal, claiming a 3-2 aggregate victory Wednesday night in the other Western Conference first-round series to set up a showdown Sunday with the Galaxy or New York Red Bulls.
Osvaldo Alonso
converted a penalty kick and
Lamar Neagle
finished from
Fredy Montero
's pass five minutes later as the Sounders posted a 2-0 victory in the second leg, not quite enough after RSL romped, 3-0, in its home leg of the two-games, total-goals series Saturday night.

The result knocks out MLS's second-best team this season and ends retiring goalkeeping legend
Kasey Keller
's career while potentially setting up a rematch of the 2009 MLS Cup final in Sunday's Western Conference final. The Galaxy take a 1-0 advantage into the second leg of their first-round series and will be home Sunday with a draw or better Thursday night against New York.
A one-goal Galaxy loss would force overtime and, to follow, penalty kicks, and New York will head to Sandy, Utah -- a rematch of the 2008 Western Conference final -- with a two-goal victory Thursday at HDC.
Real Salt Lake beat the Galaxy on penalties in the 2009 MLS Cup title game. New York beat RSL in 2008 en route to a MLS Cup loss to Columbus at HDC.
Defending champion Colorado also was eliminated, dropping a 2-0 decision at Eastern Conference regular-season champion Sporting Kansas City, which prevailed, 4-0, on aggregate.
March, 20, 2011
3/20/11
12:18
AM PT
By
Scott French
| ESPNLosAngeles.com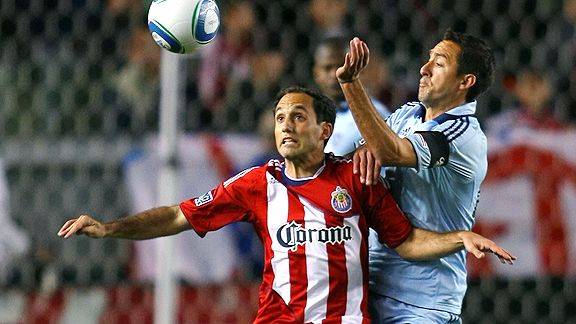 Victor Decolongon/Getty ImagesNick LaBrocca of Chivas USA tries to play the ball while under pressure by Davey Arnaud of Sporting Kansas City.

CARSON, Calif. -- We could pick apart the miscues that cost Chivas USA in its opener -- there were several, and they were costly -- but the big picture provides a more comprehensive glimpse of where the Goats are and where they're headed than can any of the details.

There was a lot more to like than dislike in Saturday night's 3-2 defeat to Sporting Club Kansas City at Home Depot Center, but if Chivas was pleased by its play, and it was, the defining emotion afterward was disappointment.

"Obviously, a very disappointing result," Robin Fraser started his first postgame news conference. "I feel like when you play at home, you should win, end of story. But I was very, very encouraged by a lot of the soccer that we saw tonight.

"I thought that at times, for good portions of the match, we played very good soccer, got into the attacking end. I thought it was difficult for them to handle us as we came forward in waves. I would have liked to see us have a little bit more of a killer instinct in the final third, but I think that's coming as well. The disappointing thing is that I feel like individual mistakes led us to where we are, because for the most part, the team played fairly well.

THE GOOD: Here are three things that worked for the the Goats:
Marcos Mondaini: The Argentine playmaker, attacking mostly from the left flank, made Sporting's defenders dizzy with space-opening runs that might have led to more chances -- and surely will, as chemistry thickens -- had everyone on attack been on the same page. "He's good at creating space, pulling off of guys," defender Jimmy Conrad said. "I think that proved difficult for [Sporting]. They really didn't know how to handle him. … I think as we understand him more, it's just going to make our team better."
Team defense: Sporting has the foundation of a dynamic attack, even with Teal Bunbury on the sidelines, but it accomplished little against Chivas' defense, except on the goals, all product of mental lapses. Fraser judged it "fair to decent, in terms of our organization and being able to win balls back right when we lose them. … When we did a good job of it, I think it was difficult for Kansas City to find clear-cut options forward, and you could see sometimes it was good, and sometimes it was a step or two off, and then the other team becomes dangerous."
Set-piece scoring: Chivas scored just two goals last season from dead balls, one off a corner kick and the other a penalty kick. They netted two Saturday, both from corner kicks, and both finished emphatically. Conrad, wearing the captain's armband, netted his first goal as a Goat, and his 20th in MLS, in the 55th minute to make it 2-1 -- he's on target for 34 this season, he pointed out afterward -- and Ben Zemanski stayed just onside to finish Nick LaBrocca's put-back from a clearance, his first MLS goal.
January, 12, 2011
1/12/11
11:19
PM PT
By
Scott French
| ESPNLosAngeles.com

The best players available in Thursday's Major League Soccer "SuperDraft"? They're below, in our mock first round. Trades will alter the order, with Real Salt Lake, in particular, looking to deal -- if anybody wants the No. 14 pick.
Several teams, the Galaxy included, could be looking to move up in the draft -- the first half-dozen or so players would help anybody, and there are a few more role players available in a class that might be better than first thought.
The draft has shrunk to just three rounds -- 54 picks -- but those not selected will be available in a four-round supplemental draft Tuesday.
And on to the picks: