Los Angeles Soccer:

California
November, 5, 2011
11/05/11
1:50
AM PT
By
Scott French
| ESPNLosAngeles.com
Pepperdine romped past San Francisco in its West Coast Conference women's soccer finale, a not-unexpected outcome, but the more meaningful action was taking place about 125 miles to the south.
The eighth-ranked Waves (15-1-4) claimed their first conference title since 2002 when San Diego routed Santa Clara, 3-0, knocking the seventh-ranked Broncos from the top spot they wrested last weekend from Pepperdine.
San Diego (12-7-0), which was led by three
Stephanie Ochs
assists, also claimed a share of the crown, but Pepperdine wins the automatic berth to the NCAA tournament after beating the Toreros last month.
Santa Clara (13-2-5) fell to 6-1-1 in WCC play; USD and Pepperdine finished 7-1.
The Waves scored a 4-0 victory over San Francisco in Malibu, with
Laura Cole
(Whittier/La Habra HS) and
Amanda LeCave
scoring first-half goals and
Karissa Garcia
and
Michelle Pao
tallying after halftime.
In other women's action:
Sydney Leroux scored her 15th and 16th goals and assisted two by freshman Sam Mewis as fourth-ranked UCLA (15-1-3) romped to a 5-2 win over USC (7-13-0) in front of 3,826 at Drake Stadium. Zakiya Bywaters had three assists for the Bruins, who finished second to Stanford in the Pacific 12 Conference.
January, 8, 2011
1/08/11
6:57
AM PT
By
Scott French
| ESPNLosAngeles.com
Major League Soccer's technical staffs are in Fort Lauderdale the next four days to assess top draft prospects at the league's annual combine. Seventy players have been divided among four teams, and doubleheaders will be played Saturday, Sunday and Tuesday.
The draft, with three rounds of 18 picks apiece, is Thursday in Baltimore. Chivas USA has the fourth overall selection, and the Galaxy will pick 16th.
Ten players, nine of them college underclassmen plus 17-year-old forward
Omar Salgado
, who signed with the league when he was forced to depart Club Deportivo Guadalajara after committing to the U.S. under-20 national team, are on Generation adidas contracts and will count neither against the roster size nor salary cap for the clubs that select them. GA players traditionally are among the most talented and coveted in the draft.
The list includes UC Santa Barbara junior
Michael Tetteh
, a Ghanaian midfielder who prepped at the Dunn School in Los Olivos. Five GAs -- including
Darlington Nagbe
and
Perry Kitchen
, widely seen as the top two prospects in the draft -- come from NCAA champion Akron. Also among the group is defender
Zarek Valentin
, whose brother,
Julian
, was a defender for the Galaxy in 2008-09.
Four GAs -- Salgado, Kitchen, Valentin and Maryland goalkeeper
Zac MacMath
-- will miss the combine while playing for the U.S. U-20s. Nagbe, who on Friday won the Hermann Trophy as college soccer's top player, also will skip the conbine.
Five foreign players who did not play at U.S. colleges are in the combine, including forward
John Rooney
, the brother of Manchester United superstar
Wayne Rooney
. John Rooney spent time on trial with the Seattle Sounders and Portland Timbers to prepare for the draft.
November, 22, 2010
11/22/10
12:48
AM PT
By
Scott French
| ESPNLosAngeles.com
Chandler Hoffman
tallied twice as UCLA rolled into the third round of the NCAA Division I men's tournament Sunday, scoring four second-half goals in a 4-1 victory over visiting Sacramento State.

The eighth-seeded Bruins (15-4-1) will be home next Sunday against Dartmouth (12-6-1), which beat Notre Dame, 2-1, in overtime.
UCLA took command of a tight game as Hoffman scored in the 55th minute and freshman
Reed Williams
(Newport Beach/Corona del Mar HS) in the 58th. Hoffman, who has scored in four straight games, got his second in the 73rd, and freshman
Victor Chavez
(Fontana/A.B. Miller HS) made it 4-0 in the 85th.
Ernesto Carranza
scored for Sacramento State (11-5-7) in the 87th.
"We started out the game a little bit slowly," UCLA coach
Jorge Salcedo
told the school's website. "I thought some of the guys seemed nervous, and it took us a little bit to get going, but in the second half, how can you not be happy with four goals? Our production in front of goal in the second half was very good."
November, 15, 2010
11/15/10
4:13
PM PT
By
Scott French
| ESPNLosAngeles.com
UCLA was seeded eighth, but UC Irvine and Loyola Marymount were left in disbelief when the 48-team NCAA Division I men's soccer tournament bracket was released Monday afternoon.

The ninth-ranked Bruins (14-4-1), runners-up in the Pac-10, will be home Sunday at 5 p.m. against West Coast Conference co-champion Santa Clara (10-5-5) or Mountain Pacific Sports Federation tournament titlist Sacramento State (10-4-7), who meet Thursday in Sacramento.
Big West Conference tournament champion UC Santa Barbara (13-4-3), which will play host to the Dec. 10-12 College Cup final four, will be home Thursday against Denver (9-6-4), with the winner playing at Pac-10 champ California (12-2-3) on Sunday.
Loyola Marymount (12-6-2), which won a share of the WCC title but lost the automatic berth to Santa Clara when it lost Sunday on a late goal to San Francisco, isn't in the field.
More shocking is the omission of Big West Conference regular-season champion UC Irvine (14-3-3), which was ranked 10th in last week's National Soccer Coaches Association of America poll. The Anteaters will surely drop in this week's rankings, which come out Tuesday, after losing to Cal State Fullerton in the Big West tournament semifinals.
October, 29, 2010
10/29/10
6:44
AM PT
By
Scott French
| ESPNLosAngeles.com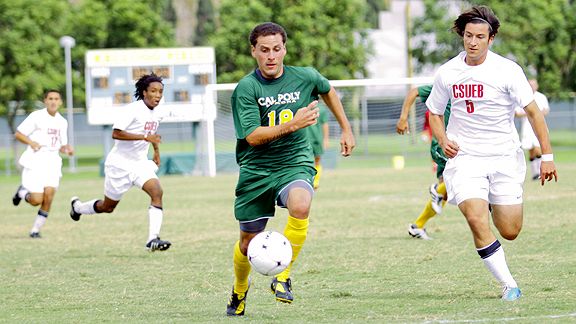 Pedro Corona/Courtesy of Cal Poly Pomona athletics
Cal Poly Pomona's Luis Gonzalez had four goals and two assists against Cal State East Bay last week to set a CCAA points record.
Cal Poly Pomona's
Luis Gonzalez
was unstoppable in a 7-0 romp over Cal State East Bay last Sunday, totaling 10 points -- on four goals and two assists -- to set a California Collegiate Athletic Conference record.
It made for a five-goal, three-assist week for the junior forward from Millikan High School in Long Beach -- our Player of the Week -- who also had a goal and assist in a 2-1 victory Friday over UC San Diego. The Broncos (9-6-1 overall, 7-6-1 CCAA) need victories this weekend at Cal State Dominguez Hills and Cal State L.A. -- and help elsewhere -- to claim a berth in the CCAA tournament, which begins next Friday.
The four goals tied a CCAA record set last year by teammate
Tyler Reinhart
.
Gonzalez, who leads Pomona with 11 goals and seven assists, is a two-time junior college All-American who scored 51 goals in two seasons at Cerritos College and led the Falcons to the this year as the reigning national junior college Player of the Year. Gonzalez, who scored 51 goals with 35 assists in two seasons at Cerritos College (leading the Falcons to the 2008 state JC title). He was the NSCAA's JC Division III Player of the Year in 2009.
GREATEST GOAL:
What a sweet finish by USC freshman
Autumn Altamirano
(Tustin/Beckman HS) in the 86th minute to beat UCLA, 1-0, last Friday in front of an NCAA women's regular-season record crowd of 8,527 at the Coliseum.