Los Angeles Soccer:

Camilo
February, 2, 2012
2/02/12
7:25
PM PT
By
Scott French
| ESPNLosAngeles.com
CARSON --
Kyle Nakazawa
couldn't wait to get home. He was on a plane almost the minute his trade to the Galaxy was completed Wednesday and was out at practice, wearing No. 34, Thursday morning at Home Depot Center.
"Happiest couple days of my career so far," he beamed when the session was over. "You know, I couldn't be happier -- being back home, playing in front of family and friends, and, of course, playing for the defending champs, a great organization. I couldn't be happier."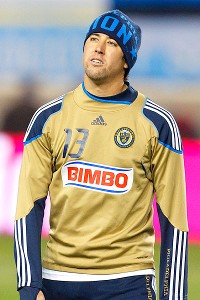 Jason O. Watson/US PresswireKyle Nakazawa, a UCLA product from Palos Verdes, is thrilled to be with the Galaxy.
The former UCLA All-American from Palos Verdes Estates arrives after two years with the Philadelphia Union, where he started 22 of his 36 Major League Soccer appearances but struggled to find a regular role in Peter Nowak's system. He had heard word of talks between the clubs before, "but nothing materialized, and then the last couple days things kind of came together."

The deal, with the Galaxy also picking up a 2013 second-round draft pick and surrendering an international slot for this season, was finalized Wednesday afternoon Philly time, "and I was on a plane back here already," Nakazawa said. "I was happy for what happened in Philadelphia. It was a good two years. But like I say, I couldn't be happier to be back home playing here."

The 23-year-old midfielder, who played for the Irvine Strikers and at Peninsula High School before joining the U.S. under-17 national team's Florida residency in advance of the 2005 FIFA U-17 World Cup, adds to L.A.'s deepening midfield. He provides head coach Bruce Arena another option -- to go with former Bruins teammate Michael Stephens and three second-year players, playmaker Paolo Cardozo, organizer Dan Keat and winger Hector Jimenez -- behind the anticipated first-choice quartet: Landon Donovan, David Beckham, Marcelo Sarvas and Mike Magee.

"I think he's a very good two-way player," Arena said. "He plays simple. He's a very good competitor. In the college level he could score goals; at the professional level we saw that he was a very good player on set pieces, serving balls, hitting free kicks. He's got some qualities that we can use on our team."

Nakazawa likely won't get the chance in too many dead-ball situations -- David Beckham is the Galaxy's primary set-piece taker, and Landon Donovan is No. 2 -- but his versatility will come in handy as Arena rotates his lineup among at least 41 competitive matches. Nakazawa is a central midfielder by trade but can play on the flanks, too, especially with the Galaxy, which doesn't use its wide midfielders as out-and-out wingers.

"I'm just looking to help this team in any form I'm asked upon," Nakazawa said. "Any position on the field that Bruce and the coaching staff wants me to step up and play, I'm willing to do, and just work as hard as I can and help the team get another championship."

He describes himself as a "linking player" who is "trying to grow myself more into a box-to-box midfielder" and realizes adding goals to his résumé is part of his evolution "to become a complete professional." He scored 20 at UCLA, but has just one (and three assists) in MLS play. He started 14 games last year as the second-year Union qualified for the postseason, but Nowak has turned over his roster during the offseason. Nakazawa was the 13th departure.

"I don't know what's going on, but I know there's a lot of changes, and, you know, I was one of those players going out," he said. "But I think the situation worked out well for me."


September, 17, 2011
9/17/11
11:59
PM PT
By
Scott French
| ESPNLosAngeles.com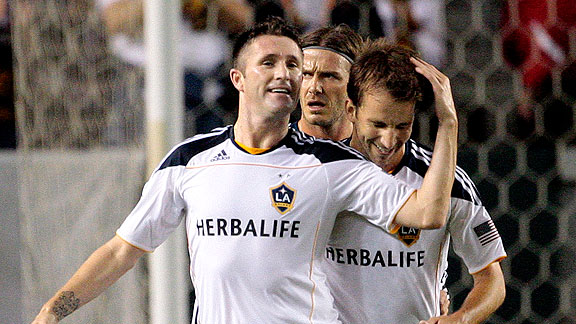 AP Photo/Jason RedmondMike Magee, right, celebrates with Robbie Keane after the first of Magee's two goals Saturday. Keane helped set up Magee's first goal and later scored a goal of his own.

CARSON -- Sept. 17 might mean something special to Mike Magee, if only he would allow it to. He has played twice on the date in his Major League Soccer career, and both times he found the net twice.

He scored from Robbie Keane's feed just before halftime, then headed home a Bryan Jordan cross to finish off the Galaxy's 3-0 triumph Saturday night over the Vancouver Whitecaps, a victory that pushed L.A. closer to its second successive Supporters' Shield and within two clean sheets of the league's shutout mark.

Six years ago, Magee tallied twice as New York overcame New England, 5-4.

His memories of that one: "Nothing. I remember my whole L.A. career -- that's it. The L.A. goals. That's it. That's all that matters."

Both his goals mattered plenty Saturday night, as the Galaxy (16-3-10) withstood an early onslaught from the 'Caps' skilled attackers, took command with Magee's strike in the 40th minute, then pulled away with two late goals, wide-open headers by Keane in the 64th minute and Magee in the 75th from Jordan's crosses.

"That's not a 3-0 game," head coach Bruce Arena said. "I think Vancouver is one of the teams I've recognized over the last couple of months that has really improved. ... I'm pleased by our players' efforts tonight. Obviously, a pretty full week we've just experienced, and we're going to be experiencing full weeks for a little bit now."

The Galaxy bounced back nicely from Tuesday's disappointing defeat at Morelia and now face another CONCACAF Champions League trip, to Costa Rica for Wednesday's showdown with Alajuelense.

The shutout was L.A.'s 15th of the season, just two off the record set by the Kansas City Wizards en route to the 2000 MLS Cup title, and it required two big saves from goalkeeper Josh Saunders, in fine form after struggling at the end of the Morelia match, in which mistakes enabled the Monarcas to turn a deficit into a 2-1 victory in the final 10 minutes.

"I was really happy for [Saunders], because he's been great this year, and I know he felt really bad about the other day," Galaxy captain Landon Donovan said. "I thought he was really sharp."

A quick look at the Galaxy's victory:

BEST PLAYER: Keane was very good, terrifically setting up Magee's first goal, scoring his second league goal (and third of the week, although one was called back in Mexico), and working nice combinations with David Beckham and Paolo Cardozo. Best of all was his off-the-ball movement, and that paid off for Magee, who credited his second goal to the Irishman.


July, 30, 2011
7/30/11
11:11
PM PT
By
Scott French
| ESPNLosAngeles.com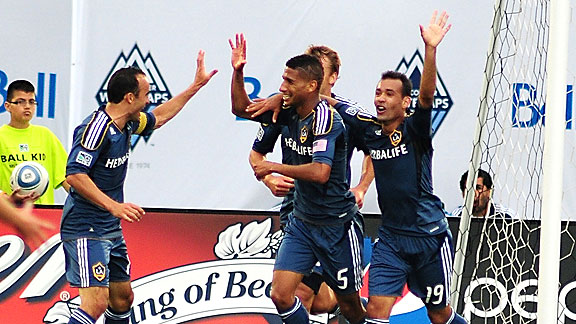 Anne-Marie Sorvin/US PresswireGalaxy players congratulate Sean Franklin (5) after scoring a goal during L.A.'s 4-0 win at Vancouver on Saturday.

VANCOUVER, British Columbia -- The Galaxy had all of the ball but none of the chances for the first 30 minutes Saturday, but as their most pivotal player's involvement in the proceedings increased, so did their dominance.

Landon Donovan scored two goals, set up another and provided the tactical shift that sent L.A. to a 4-0 rout of the Vancouver Whitecaps, a triumph fueled by a terrific final hour -- perhaps the Galaxy's best sustained soccer of the season.

It turned a vibrant match featuring end-to-end action, both ways for a time, into a most one-sided affair as L.A. (12-2-9) began a two-game Pacific Northwest trek by matching their best output of the season with their most emphatic triumph.

All four goals came in the second half, with Donovan -- returning to the field after missing last weekend's friendly against Manchester City and Wednesday's Major League Soccer All-Star Game because of a calf strain -- scoring superbly from Sean Franklin's long ball in the 61st minute and converting a penalty kick in the 75th, then setting up Franklin for No. 3 in the 80th. Adam Cristman's fortuitous header in the 90th completed the romp.

It was closer than the score suggests, and better aim might have given the Whitecaps (2-11-9) an upset, but the Galaxy took charge about a half-hour in, created myriad chances and was certain of victory once Donovan netted his first.

"First half, I thought Landon was quiet," Galaxy coach Bruce Arena said. "Second half, he was real loud."

The goals were his 10th and 11th of the season, pulling him even with New York's Thierry Henry for the top spot among Major League Soccer's scorers, but more important was the impact he had ripping apart a Whitecaps backline that had done well to limit the Galaxy's chances despite a serious advantage in possession.

L.A. had almost all of the ball through 30 minutes but never seriously tested goalkeeper Joe Cannon. Vancouver created eight solid opportunities in that span -- and several more to start the second half, the best Shea Salinas' deposit off the left post after a weaving run to the top of the Galaxy box after a giveaway.

Juninho twice forced diving saves from Cannon, who did well to keep out shots by Juan Pablo Angel and Mike Magee, too.

"I thought it looked like we were a little tired in the beginning," defender Gregg Berhalter said. "Then we settled in, got our second wind. When we control the game and we look for a quick switch of the attack, we're really dangerous."

Angel, who struggled to connect with teammates in the first half but was involved after halftime, until exiting in the 67th minute, said Empire Field's artificial turf slowed down L.A. at the start.

"I think it's normal." he said. "It takes a little bit of time to get used to the field, the surface, but then we managed to be accurate with the passing, and when we got the movement right, we were very dangerous. ... And when Landon scored the first goal, it was just game over."

Arena said the Galaxy's "ball movement was the key to the game. We passed better and we got out of pressure better. In the first 30 minutes, we were turned over in the middle third of the field, and they were dangerous on the counter. But as our passing got better, we got into a rhythm."

A quick look at the Galaxy's victory:

BEST PLAYER: Donovan was magnificent in the second half, especially after moving into the middle about 10 minutes or so into the second half because, Arena said, "I thought we needed a little bit more pace up top to get behind."

He scored one superb goal, converted a penalty kick and set up Franklin's second goal in as many games (and in a 3˝-year MLS career) with a perfect ball across the goalmouth to the far post.


June, 2, 2011
6/02/11
12:05
AM PT
By
Scott French
| ESPNLosAngeles.com
CARSON -- The glow that surrounded Chivas USA a month ago -- after that win at San Jose, the romp over New England and the heroic effort in the loss at Real Salt Lake -- is gone now, and
Robin Fraser
admits he's seeing some of the same troubles that dogged the Goats in the first weeks of the season.
A passive performance in the attacking third, at least until Vancouver's monster forward,
Eric Hassli
, was red-carded with 25 minutes or so to go, cost Chivas another opportunity to pick up three points Wednesday night.

"How disappointing is it?" Fraser said after the 1-1 draw at Home Depot Center. "Very. We're all about improving, and the goal is to improve every week … and this is an opportunity to come out and continue what has been, for the most part, pretty good soccer over the last number of games. …
"We missed an opportunity tonight, for sure. I mean, being a man up for [25-plus] minutes at home is certainly a very, very favorable situation, and we are definitely disappointed that we didn't do as well as we would have liked to."
The Goats (3-4-5), with five starters suspended or away on international duty, surrendered another lead just four days after Columbus rallied three times for a 3-3 draw and struggled, despite a significant advantage in possession, to find paths through a tight and capable defense marshaled by U.S. national team veteran
Jay DeMerit
.
Nick LaBrocca
gave Chivas a lead just 21 seconds into the second half, drilling the ball inside the left post after a 30-yard run from midfield, but the advantage was gone within two minutes, when
Camilo
latched onto a rebound and sent it into the upper-90.
They were far too passive in the early going -- "We'd done a tremendous job of getting away from that in the last, I don't know, eight games maybe, so tonight really felt like one of the earlier games," Fraser said -- and not clinical enough at the end, and that's not going to be good enough if Chivas wants to contend for a playoff berth.
"I think we get a little complacent at times," said center back
Heath Pearce
, who wore the captain's armband with forward
Alejandro Moreno
away with Venezuela's national team. "We find ourselves swimming against the current for 90 minutes because we stop moving, we stop being creative, we stop being in the right position, we stop defensively organizing. … We just kind of get complacent, and that's something we have to get away from."
The game turned on Hassli's 66th-minute dismissal, the French striker's third red card this season, for a late tackle on
Ben Zemanski
. The Goats had crafted only two reasonable scoring opportunities to that point, to nine by the Whitecaps (1-5-7), but spent the final half-hour -- spurred by
Paulo Nagamura's
and
Michael Lahoud's
returns from injury -- on top of the Vancouver goal.
Nagamura and Lahoud, who came on in the 60th minute, were definite bright spots for Chivas.
April, 16, 2011
4/16/11
1:22
PM PT
By
Scott French
| ESPNLosAngeles.com
Chivas USA's struggles to start the season are about continuity and consistency more than anything else.

Continuity continues to challenge the Goats (0-2-2), who have had to use several players' versatility -- sometimes previously unmined -- to deal with an injury crisis in midfield and along the backline.

Despite the turmoil, Chivas at its best has dominated possession and created chances while playing solid team defense nearly everywhere on the field. The attack has sometimes suffered a lack of ideas or initiative, and individual errors have led to goal opportunities opponents have put away.

A first victory is the primary aim Saturday afternoon in Vancouver against the Whitecaps, but seeing real improvement in deficient areas is almost as important.

"In the situation we're in right now," forward Alejandro Moreno said, "we need to focus on putting a good 90 minutes together … a consistent 90 minutes of a good, solid performance and a little continuity into our play, and hopefully that will translate into a good result."

The expansion Whitecaps possess an attack that can cause Chivas' backline problems, so head coach Robin Fraser must decide whether he'd be better off with veteran Andy Boyens, rather than rookie Zarek Valentin, partnering converted outside back Heath Pearce in the middle.

Vancouver has surrendered 10 goals in five games, so here's an opportunity for the Goats, after just four goals in five games, to find their footing up front.