Los Angeles Soccer:

Canada
December, 16, 2010
12/16/10
12:11
PM PT
By
Scott French
| ESPNLosAngeles.com
We knew we were getting the final. Turns out only one other date at next summer's Gold Cup will be played in Southern California.
CONCACAF's urge to spread its nations championship to many sites has left Angelenos just two viewing options: A June 6 opener at Home Depot Center -- it'll be a doubleheader -- and the June 25 title game at the Rose Bowl.
No clue on who will be playing -- seven of 12 qualifiers have been determined and the draw will be held in early February -- but odds are it will be the U.S. and Mexico in the championship encounter.
The U.S. beat Mexico, 2-1, in the 2007 final in Chicago, and Mexico routed the U.S., 5-0, in the 2009 title game in East Rutherford, N.J.
Quarterfinals will be played in East Rutherford and Washington and semifinals in Houston. In all, 13 venues will stage games.
This will be the ninth time in 11 tournaments since the current format was adopted in 1991 that games will be played in Southern California. Five of the first six finals were played at the Rose Bowl or Coliseum, but next year's will be the first since 2002, when the U.S. beat Costa Rica at the Rose Bowl.
Home Depot Center has been the only So Cal venue in the past three competitions.
The U.S., Mexico and Canada automatically are entered into the tournament, and Jamaica, Cuba, Grenada and Guadeloupe qualified from the Caribbean Championship. Five Central American nations will emerge from the Jan. 14-23 Copa Centroamericana in Panama.
November, 29, 2010
11/29/10
2:03
PM PT
By
Scott French
| ESPNLosAngeles.com
There's always a "Group of Death" in any FIFA competition, or so it seems, and that group at next summer's Women's World Cup in Germany belongs to the U.S.
And to Germany. And to Brazil.
There are three "death" groups in this year's field, product of the rapid growth of women's soccer outside the traditional strongholds of the U.S., Germany, Scandinavia and the Far East.
The Americans, seeded Sunday atop Group C, welcomed North Korea, Colombia and Sweden into their quartet during Monday's WWC draw in Frankfurt. That's three legitimate contenders (for at least semifinal berths) for just two spots in the eight-team knockout bracket. And we'll see about Colombia.
And it gets worse: A quarterfinal awaits with Brazil or Australia or Norway (and we'll see about Equatorial Guinea), and the likeliest semifinal foe are the Germans, prohibitive favorites to win their third successive WWC.
November, 11, 2010
11/11/10
7:36
PM PT
By
Scott French
| ESPNLosAngeles.com
Former Chivas USA defender Jonathan Bornstein got the call this week: He's heading back to South Africa with the U.S. national team.
Bornstein is one of five players from last summer's World Cup squad that U.S. coach Bob Bradley placed on his roster for Wednesday's "Nelson Mandela
Challenge" friendly against South Africa in Cape Town. The former Los Alamitos High School, Cal Poly Pomona and UCLA standout, who will join Mexico's UANL Tigres in January, is the most experienced player on the roster, with 34 international appearances.
Bradley also called in Aston Villa goalkeeper
Brad Guzan
, who played for the coach when he was in charge at Chivas USA, West Ham United defender
Jonathan Spector
, Orebro midfielder
Alejandro Bedoya
, and Real Salt Lake forward
Robbie Findley
from the World Cup team.
Columbus Crew winger
Robbie Rogers
(Palos Verdes and Huntington Beach/Mater Dei HS), who was on the U.S. preliminary World Cup roster but did not go to South Africa, also is on the team.
Six uncapped players are on the roster. The most intriguing is Kansas City Wizards forward
Teal Bunbury
, who has turned down invitations to play for his native Canada, saying he has a better chance to realize his goal of playing in a World Cup by declaring for the U.S. That he does.
November, 8, 2010
11/08/10
7:52
PM PT
By
Scott French
| ESPNLosAngeles.com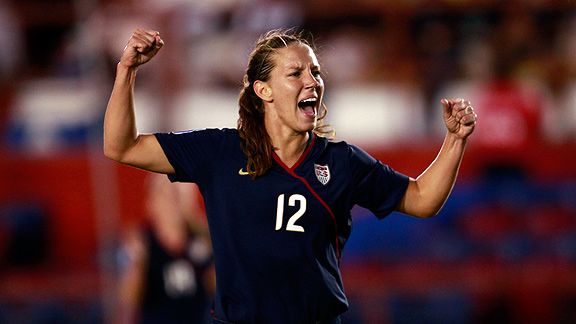 AP Photo/Dario Lopez-Mills
Lauren Cheney opened up the scoring in the U.S.'s 3-0 win over Costa Rica. Next up: a must-win home-and-home series against Italy later this month to qualify for the World Cup.
All is right again in the women's soccer world. The U.S. national team, stunned last week by Mexico in CONCACAF's Women's World Cup qualifying semifinals, dominated Costa Rica just as expected in Monday's third-place game to keep its Germany 2011 hopes alive.
Actually, hope doesn't begin to describe the Americans' situation or expectations. Not qualifying for the WWC, after winning twice and finishing third three times in the previous five, would be disastrous. Losing to Mexico, in Mexico, might be good for the game and for the U.S. program, but not so failing to reach the sport's most important event.
Hermosa Beach's
Abby Wambach
scored two more goals -- her seventh and eighth of the tournament and her 116th and 117th in international play -- and former UCLA star
Lauren Cheney
also tallied in a 3-0 U.S. victory in Cancun. Other locals playing Monday were midfielder
Shannon Boxx
(Redondo Beach/South Torrance HS) and forwards
Amy Rodriguez
(Lake Forest/Santa Margarita Catholic HS and USC) and
Alex Morgan
(Diamond Bar/Diamond Bar HS).
The U.S. will meet Italy in a home-and-home series -- Nov. 20 in Padova and Nov. 27 in Bridgeview, Ill. -- with the winner joining the 16-nation field.
Canada beat Mexico, 1-0, in the final on
Christine Sinclair's
penalty kick early in the second half. The Canadians and Mexicans claimed CONCACAF's berths for next summer's championship.
November, 6, 2010
11/06/10
7:22
AM PT
By
Scott French
| ESPNLosAngeles.com
We've been hearing, and sometimes actually seeing, how the rest of the world has caught up to the U.S. in women's soccer, and no matter how much truth there is to the notion, it doesn't lessen the blow when something thought impossible occurs.
Such as the Americans' loss Friday night to Mexico.
It was an American -- San Mateo's
Veronica Perez
-- who knocked out the U.S. in the CONCACAF World Cup qualifying semifinal, her 27th-minute header finishing off a 2-1 triumph in Cancun that sends Mexico into Monday's regional final against Canada.
The Mexicans and Canadians, who crunched Costa Rica, 4-0, in the other semifinal, qualified for next year's WWC in Germany. The U.S. must beat Costa Rica in Monday's third-place game, then beat Italy in a home-and-home series for another berth. The Americans' failure to qualify would be disastrous and would -- absolutely should -- cost Swedish coach
Pia Sundhage
her job.
The U.S. has been in transition the past decade as the legends of the previous generation -- including
Mia Hamm
,
Julie Foudy
(Mission Viejo/Mission Viejo HS) and
Joy Fawcett
(Huntington Beach/Edison HS) -- retired one by one, the Europeans began asserting their technical superiority and the sport's growth around the globe began to mirror what had occurred in North America a generation or two ago.
November, 2, 2010
11/02/10
11:39
PM PT
By
Scott French
| ESPNLosAngeles.com
The U.S., as sure a sure thing as exists in Women's World Cup qualifying, needs only a victory Friday over Mexico to claim its berth in next year's championship in Germany. The Mexicans finished second in their group Monday, falling to Canada, 3-0, in the group-stage finale in Cancun.
Canada, which got goals from FC Gold Pride defender
Candace Chapman
,
Josee Belanger
and
Jonelle Filigno
, takes on Costa Rica -- the Ticas were second to the U.S. in Group B -- in the other semifinal Friday. The semifinal winners advance to the WWC, and the third-place team takes on Italy in a home-and-home series for another berth.
November, 1, 2010
11/01/10
11:38
PM PT
By
Scott French
| ESPNLosAngeles.com
The U.S. has done its part, sweeping through Group B in CONCACAF's Women's World Cup qualifying tournament in Mexico -- Monday's 4-0 victory over Costa Rica made the scoreline 18-0 -- and will discover Tuesday its semifinal foe.
Canada and Mexico have claimed Group A's final-four slots and their showdown in the last of the group games will determine the group winner (which will meet Costa Rica) and runner-up (which gets the U.S.). The winners of Friday's semis advance to next year's WWC in Germany; the third-place winner meets Italy for a berth.
LOCAL HEROES:
Diamond Bar's
Alex Morgan
(Diamond Bar HS), a senior at the University of California, scored her third goal in five international appearances to finish off Monday's win. Hermosa Beach'
s Abby Wambach
(with her sixth goal of the tournament, a penalty kick), former UCLA star
Lauren Cheney
and
Yael Averbuch
also scored for the U.S.
Thirteen of the 18 U.S. goals have been scored by SoCal-bred players, residents or former area collegians.
October, 30, 2010
10/30/10
10:04
PM PT
By
Scott French
| ESPNLosAngeles.com
It was Amy Rodriguez's turn to score three Saturday night -- and the U.S. is one win from another Women's World Cup.
Rodriguez, Lake Forest's premier soccer product, followed the hat trick in the region's qualifying opener by Hermosa Beach's
Abby Wambach
with one of her own as the Americans decimated Guatemala, 9-0, in Cancun, Mexico.
Wambach added two more goals and Diamond Bar's
Alex Morgan
(Diamond Bar HS) scored a goal and assisted the 88th-minute finale by Rodriguez (Santa Margarita HS/USC). The U.S. and Costa Rica, also 2-0-0 after a 3-0 win over Haiti, will meet Monday for the Group B title.