Los Angeles Soccer:

Carlos Mendes
December, 5, 2011
12/05/11
4:48
PM PT
By
Scott French
| ESPNLosAngeles.com
Chivas USA has decided to invest in veteran winger/forward
Arturo Alvarez
, claiming him in Monday's first-stage draft in Major League Soccer's re-entry process, even with his salary close to $200,000.
Alvarez, 26, a Texan who plays for El Salvador's national team after representing the U.S. at the youth levels, has scored 24 goals and 20 assists in 187 MLS games over nine seasons, but he's coming off an unhappy experience at Real Salt Lake, where he played in just 16 games, starting eight, in 2011.
He has started 20 games in a season just three, in 2007 at FC Dallas, in 2008 between Dallas and San Jose, and in 2009 in San Jose. He scored a career-best six goals in 2008 and five the following season.

"Arturo is a player who I've always thought had a very interesting skill set," Chivas coach
Robin Fraser
told ESPN Los Angeles. "He's very, very comfortable on the ball, good taking players on. The type of player who I think it is very difficult for defenders to deal with."
Alvarez is out-of-contract, and Chivas is forced to make a "Bona Fide Offer" that is at least equal to Alvarez's 2011 salary, which was $192,585 ($201,933.50 average guaranteed compensation). The forward also is believed to be considering options in Mexico.
"I think there is a possibility that Arturo has had an eye for leaving the league for a long time ...," Fraser said. "The word on him is thatt he's always wanting to go overseas. Hopefully, he's interested in staying. Perhaps he goes overseas and doesn't like to options available to him, in which case we have the opportunity to keep him."
Fraser said Alvarez's price tag was not a deterrent.
"There's a negotiation to be had, no matter what," Fraser said. "I think he's a player who can be extremely, extremely dangerous in this league and has shown he's a player who can be very dangerous creating opportunities both for himself and other people. We don't necessarily look at that number and say no way, because we do think he can be very productive."
October, 30, 2011
10/30/11
7:43
AM PT
By
Scott French
| ESPNLosAngeles.com
MONTCLAIR, N.J. -- The New York Red Bulls understand the magnitude of the challenge they face, and there's no question they believe they're up for it.
The last team to qualify for Major League Soccer's postseason plans to be the final team standing in three weeks, and to get there it will need an inspired effort in Sunday's opener of a two-games, total-goals, first-round series against the Galaxy.
Getting here was tougher than imagined -- the Red Bulls (10-8-16) have the league's highest payroll and, arguably, greatest talent -- but the team has been in fine form the past month and a half or so and believes it can take down the Supporters' Shield winners.
"All I can tell you," says French striker
Thierry Henry
, the biggest of the Red Bulls' big-name players, "is [the Galaxy] are the best team in the league. Every time we had a chance to upset them, it's because we also raised our game and played better, so, hopefully, we can do the same thing."
They need to score more goals than L.A. in games Sunday, with a noon kickoff PT (ESPN2 and ESPN Deportes), and Thursday night at Home Depot Center, or prevail on penalty kicks if the sides finish on even terms.
"We did match up well with them since I have arrived [in MLS]," said Henry, who scored in both meetings with the Galaxy this season, a 1-1 draw in Carson and a 2-0 victory early this month over a truncated L.A. squad at Red Bull Arena. "They're consistent, they don't concede a lot of goals. That leaves always a chance for them to score in the last minute or even before that.
"They don't concede a lot, they can keep a 1-nil up, so we need to be careful. We know what can happen [when] they score a lot of goals. You have to stop [
David
]
Beckham
from playing those long balls that can kill you. And with
Landon Donovan
and some of the players who can play short.
"They've been not only this year but last year, also, the best team in the league, so let's see what we can do. But we all know it will be a tough test."
The Red Bulls figure to benefit from the return of English forward
Luke Rodgers
, who missed the midweek wild-card victory at FC Dallas with fluid on his knee but said Saturday he's "definitely" ready to go 90 minutes. That's a big deal: New York's months-long struggles coincided with his absence with a plantar fasciitis injury.
Rodgers, the Bulls' emotional leader, says going against the Shield winners -- the regular-season champs -- is a perfect way to start the postseason after so difficult a regular-season campaign.
"All the lads are buzzing," he said. "It's a big team [we're playing against], we're at home. ... Everyone wants to play in big games. It'll just be a tough game, a very hard game. They've got great players, but so have we. ...
"They're a solid team, a good team, and they've proved that by winning the league. I don't see no weakness."
October, 27, 2011
10/27/11
10:39
PM PT
By
Scott French
| ESPNLosAngeles.com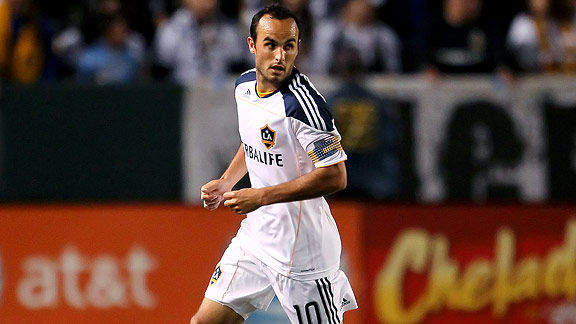 Jeff Gross/Getty ImagesThe Galaxy's Landon Donovan has battled a quadriceps strain but says "body feels as good as it has since probably the first day of preseason."

CARSON -- Thursday's preparation for the Galaxy's playoff opener wasn't impacted much by New York's victory Wednesday night, which gave L.A.'s first-round opponent a face, and a rather pretty one at that.

The details for their first-round battle with, it turns out, the Red Bulls have come into focus, but the Galaxy already was focused on what they need to do Sunday, no matter which of the three wild-card possibilities had fallen into their path.




They learned Wednesday night they're headed to Newark, for the game Sunday afternoon at Red Bull Arena in Harrison, N.J. (noon PT, ESPN2 and ESPN Deportes), which might seem an advantage over waiting until Thursday. Had FC Dallas beaten the Red Bulls, the Galaxy would be facing Colorado, which beat Columbus in the second wild-card encounter.

Asked about this, whether it's better to know earlier whom you're going to face, L.A. coach Bruce Arena shook his head.

"For them?" he asked.

No, for you.

"I think it's probably more a plus for them than it is for us," he said. "It gives them another recovery day. Nothing changes for us. Basically, I think it probably favors the Red Bull."

Arena, a former Red Bulls coach, means New York gets one more day between games than Colorado would have. That's no help at all. Especially against a side Landon Donovan termed "the most talented team in the league, and they're playing better than anybody in the league is right now."

New York is talented, no question. And the Bulls have been in better form the past month and a half, following a difficult campaign in which they won just once during one rough 4½-month stretch.

"Going in there is going to be a real challenge," Donovan said. "I think they've done a good job of figuring out their weaknesses and addressing them. I think middle part of he year, defensively, they were all over the place, and now they seem to have done a really good job defending. They're hard to break down, they're hard to score against, and then when you have the talented players they have going forward, it makes it really difficult."


July, 17, 2011
7/17/11
12:29
AM PT
By
Scott French
| ESPNLosAngeles.com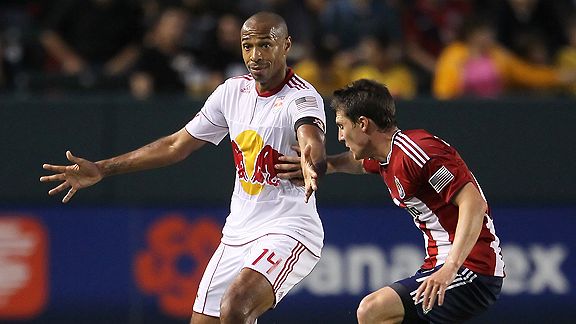 Jeff Gross/Getty ImagesThierry Henry of the Red Bulls fends off Chivas USA's Ben Zemanski during Saturday night's game.

CARSON -- Chivas USA didn't manage to put one shot on target, and here they were, on the verge of victory. For a few seconds, at least.

Then referee Mark Kadlecik conferred with his linesman, and the penalty kick he'd awarded the Goats in the 90th minute was waved off.

The Goats' peaks-and-valleys campaign went through another one of those nights Saturday, and all in all, a 0-0 draw with New York was a reasonably positive result. But, oh, what could have been.

Chivas' half-chances weren't enough to test debuting Red Bulls goalkeeper Frank Rost, fresh from the German Bundesliga, but some fine play, as always, by goalkeeper Dan Kennedy was enough to keep a clean sheet as the Goats (5-7-8) extended their unbeaten streak to four games.

It was the struggles connecting in the final third, a problem that keeps resurfacing, that defined the match for Chivas, which put one shot off the crossbar (a Jorge Flores blast in the 38th minute) but couldn't get on the end of crosses into the box and found it difficult to find shots that might matter.

The attack could be strengthened in the next week, head coach Robin Fraser and general manager Jose Domene acknowledged, with signings of "more than one" player apparently imminent.

"Sure. Yes," Fraser said when asked if a signing was about to happen. How soon? "You know how the process works, with signing and visas and that sort of thing, so as soon as it can happen, you will know."

Domene said deals were "almost done" and that Chivas "wants to bring in [players] right away, but it's a process. It takes time. It's pretty much done, but it's not finalized." A forward is the the biggest need, and Fraser acknowledged that signing one "certainly is a very big priority."

No shots on goal usually means no goals, but the Goats had to think one was coming when Kadlecik whistled Red Bulls defender Carlos Mendes for handling a Pearce corner kick in the final minute. The Red Bulls quickly surrounded the referee, who talked it over with linesman Jeff Hosking before reversing himself.

"That's quite a roller-coaster there in a matter of seconds," said midfielder Nick LaBrocca. "You're in there, and the end of the game is in sight, you're given something, and to have it taken away is an emotional thing."

Fraser didn't want to talk about it much. "It's extremely disappointing and confusing, to say the least, but whatever," he said. "Anything else I say will lead to me getting fined."

Mendes was sliding toward the goal when the ball hit him, and Kadlecik apparently thought it caught his arm. Replays seemed to indicate the ball hit Mendes in the face, caroming toward the goal, where Rost made the stop.

"It would have been really frustrating to gt that kind of wrong decision against you," Red Bulls coach Hans Backe said, "but luckily the linesman saw that the ball hit Mendes' chin and not a handball."

Chivas forward Justin Braun acknowledged the officials seemed to get it right, not that that eases the frustration.

"It just sucks that the ref did call it at first," he said. "That's stuff that shouldn't go on. At this level, if you call a PK, you should stick with it."

A quick look at Chivas' draw: