Los Angeles Soccer:

Carlos Reinoso
September, 20, 2011
9/20/11
6:36
AM PT
By
Scott French
| ESPNLosAngeles.com
That's not a misprint atop Mexico's Primera Division standings. Unfancied Jaguares, the Chiapas club that dropped 12 of 17 games and finished last during the spring Clausura, is, indeed, No. 1.

A 5-3 triumph Saturday over visiting America, with Edgar Andrade scoring two goals and setting up another, vaulted Jaguares (5-2-2) to the top spot, ahead of giants Cruz Azul and Guadalajara on goal difference, following a third successive victory.

Since dropping its first two Apertura matches, to Monterrey and Guadalajara, Jaguares has been Mexico's finest club, going 5-0-2 to climb from 18th -- last -- to 16th to 12th to sixth to fourth to first.

Previous leader Guadalajara (5-2-2) did its part, losing to Puebla, and No. 2 Tigres (4-1-4) suffered its first loss, a 1-0 decision at Atlante.

Jaguares also leapt past Cruz Azul (5-2-2), which toppled Monterrey, 2-1, in the week's featured match.



1. ANOTHER CHANGE AT AMERICA

America's disastrous campaign finally hit bottom -- or close enough.

The Aguilas' loss at Jaguares cost technical director Carlos Reinoso his job, no surprise, and club legend Alfredo Tena has been brought in and asked to make things right.

There's plenty wrong at the Mexico City giant, which has won just one of its last eight league games -- and that over last-place Atlas -- and sits 16th of 18 clubs with the worst defensive record in the Apertura.

Reinoso, who took over for Manuel Lapuente last January after America opened last spring's Clausura with a 0-2-1 mark, was facing the ax when he submitted his resignation following the defeat in Tuxtla Gutierrez.


August, 30, 2011
8/30/11
10:06
PM PT
By
Scott French
| ESPNLosAngeles.com
Monterrey paid tribute to those who lost their lives in last week's brazen drug-cartel attack on a casino in the city, organizing a white-out for its Mexican Primera Division showdown with Santos Laguna.
The Rayados, playing just two days after the arson attack, encouraged fans to wear white and the players released white balloons to honor the 52 killed and send a message that Mexicans are tired of the violence and want to see positive, peaceful change.
It worked for the club, too. Goals by
Luis Perez
and
Humberto Suazo
led Monterrey to a 2-0 triumph, ending a four-game stretch in which it was beaten by San Luis and Guadalajara in league play and the Seattle Sounders in the CONCACAF Champions League.
1. CHANGING AMERICA?
Seems about time for Club America's bosses to cut ties with
Carlos Reinoso
, whether or not that would be the wisest move. The underachieving Aguilas, riding a string of disappointments despite always possessing some of Mexico's best talent, have won just two of six games in the Apertura and slipped to 11th overall with a 2-0 defeat at Pachuca.
It's too early to panic -- America (2-2-2) is just one point out of the top eight with 11 games to go -- but that hasn't stopped the club before, and there's a growing disillusionment with the Chilean Reinoso, who is in his third stint as Aguilas boss.
Rumors are swirling, but he says he's going nowhere, that the speculation that he'll be dismissed is "normal" and doesn't bother him.
"I work here for free because I love America. Who wouldn't want to be here?" he told Mexican media this week. "I'm not leaving. We know and believe and want to succeed -- and we will succeed. We will achieve the objectives, which is to qualify for the playoffs and then fight for the title. ... America fans want the best for America, and the dream of all America fans is to be champion. So we are aware that we need to improve, that we must be in the final."
February, 14, 2011
2/14/11
11:41
PM PT
By
Scott French
| ESPNLosAngeles.com
Jonathan Bornstein has brought UANL Tigres some needed luck. Give Danilinho and Hector Mancilla some credit, too.
The club from suburban Monterrey, known more for its disappointments than its triumphs, are atop the Primera Division's Clausura standings after Danilinho set up one goal and scored another in a 2-0 victory Saturday over visiting Cruz Azul.
Up next: Clasico Regiomontano rival Monterrey, which won the Apertura crown in December and has prevailed in three of its last four games.
Bornstein, who joined Tigres after five seasons with Chivas USA, made his fourth start (going 45 minutes) for UANL (4-1-1), which is 4-0-0 with the UCLA/Los Alamitos High School product in the lineup and winless when he's left on the bench.
Danilinho, a Brazilian midfielder who arrived from Jaguares, and Mancilla, a Chilean forward acquired from Toluca, have been huge additions, and their partnership proved too much for Cruz Azul (3-2-1), which fell from third to fifth overall with the loss.
Mancilla scored the first goal, a one-touch finish in the 69th minute after Danilinho burst past two defenders to the right byline and sent in a cross. The Brazilian added the second deep into stoppage, setting up his shot with a superb first touch.
Monterrey (3-3-0, in ninth overall) also won, routing Jaguares, 4-1, as Chilean World Cup star
Humberto Suazo
had a hat trick -- giving him 19 goals for the fall/spring campaign -- and
Dario Carreņo
set up two goals, one my
Aldo de Nigris
.
FALL FROM FIRST:
Pumas UNAM's time atop the overall standings was short. The Mexico City club dropped to third overall after an error by goalkeeper
Alejandro Palacios
and missed penalty kick by former Chivas USA forward
Francisco Palencia
allowed Guadalajara to escape with a 1-1 draw.
February, 8, 2011
2/08/11
3:06
PM PT
By
Scott French
| ESPNLosAngeles.com
America has righted things in a hurry, reeling off two more wins in the past week to leap into the overall top five and all but push the horrid-by-club-standards 0-2-1 start out of mind.
Matias Vuoso
scored three goals as the Aguilas (3-2-1) routed San Luis, 3-0, and dominated Gallos Blancos de Queretaro, 3-1, to push Chilean coach
Carlos Reinoso
's mark to 3-0 in his third stint in charge of the Mexico City giant.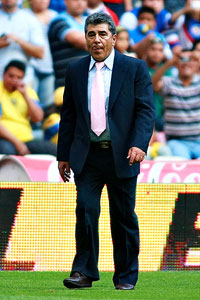 Francisco Estrada/Getty ImagesCarlos Reinoso, in his third go-around with America, has his 11 with a 3-0 record under his guidance.

"We've gotten good results, but we've been at this just 10 days," Reinoso told media as America began preparations for Friday's match at last-place Necaxa. "Suddenly, people are asking us to be more offensive ... but we're improving little by little, and what makes me happy is that the players have received [my] message."

The Aguilas dismissed Manuel Lapuente in a panic after sandwiching home losses to Pachuca and UANL Tigres around a draw with Jaguares, but the move worked as well as hoped. America responded to the firing with a 2-0 victory over previously perfect Atlas on Jan. 29, and it was more impressive in Wednesday's win over San Luis, a forward makeup -- the match was initially scheduled for April 13.

Vuoso converted two penalty kicks against San Luis and scored the second goal, just before halftime, against Gallos Blancos. Sunday's win wasn't assured until Aquivaldo Mosquera's 86th-minute goal.

"We went back to basics," Vuoso, who has five Clausura goals and 15 for the fall/spring season, explained to the Mexican media. "[Lapuente] had nothing to do with [the poor start] -- it was us, the players. We had forgotten the basics, forgotten to play as before, as we usually do. ... It was the fault of the players, not the fault of other people."

IN MONTERREY: Los Alamitos' Jonathan Bornstein, making his third start of the season for Group 1 leader UANL Tigres (3-1-1), set up Hector Mancilla's eighth-minute opener in a 2-0 victory at Santos Laguna. The home side was without top scorer Christian Benitez, who has an ankle injury.

Tigres' crosstown rival Monterrey (2-3-0) also posted a 2-0 victory, over Pachuca on Aldo de Nigris and Neri Cardozo goals, to vault to 11th in the overall standings. The Rayados have shutouts in four of their past five home games. Pachuca turned to former Galaxy forward Herculez Gomez and fellow U.S. World Cup pick Jose Francisco Torres, giving each his first Clausura start, but the Tuzos (1-2-2) fell to the bottom of Group 2 after failing to score for the third time in four games.


February, 1, 2011
2/01/11
6:43
AM PT
By
Scott French
| ESPNLosAngeles.com
America fired its coach and won. Monterrey expressed confidence in its quality and lost. Guadalajara just drifts aimlessly along.
Three Mexican Primera Division clubs dealing with crisis in different ways, and two of them, at least, are expected to contend for the Clausura title, no matter their slow starts.
America, which dumped
Manuel Lapuente
after opening the "spring" season 0-2-1, won as
Carlos Reinoso
started his third stint as head coach with a 2-0 win over previously perfect Atlas as
Matias Vuoso
and
Angel Reyna
scored second-half goals.
It might have finished differently: Atlas could have pulled even moments after Vuoso's strike, but
Hebert Alferez
tripped over the ball facing a virtually open net from close-range. And Reyna's goal was the product of the worst possible clearance attempt, by
Darvin Chavez
.
"I think we're on the right track, and we deserved the win because we never gave up on it," Reinoso told media. "I'm going to be very demanding, and America must be a team that always goes out to dictate play on any field and against any rival."
Monterrey (1-3-0) is 17th overall -- only pointless Necaxa is worse -- after falling, 3-2, at Pumas UNAM, the Rayados' sixth loss in their past eight regular-season games. And that after dropping just one of the previous 31 en route to two league titles and a best regular-season record.
"We realize that victories are always urgent, especially with a team that is normally used to winning and to playing good football," Monterrey assistant coach
Carlos Barra
told reporters. "We need to reach the level of previous tournaments."
Both clubs have the talent to turn their seasons around. Guadalajara (0-1-3), which sank to 16th overall with a 1-0 defeat to crosstown rival Estudiantes Tecos, is one of two winless clubs (Necaxa's the other) and has shown no knack for winning games. They've finished ahead just twice in their past 16 matches, dating to early September.
January, 26, 2011
1/26/11
7:16
PM PT
By
Scott French
| ESPNLosAngeles.com
Club America's awful start to the Mexican Primera Division's Clausura campaign has cost coach
Manuel Lapuente
his job.
The Mexico City giant on Tuesday dismissed Lapuente, a former Mexico national team coach, after the club, among the favorites to win the spring championship, followed a season-opening loss to Pachuca and draw at Jaguares with a last-minute loss Sunday to UANL Tigres.
Chilean
Carlos Reinoso
's third stint with the Aguilas begins with Saturday's game at overall leader Atlas, the only 3-0-0 team in Mexico's top division. The moves were announced Wednesday.
Lapuente, who coached Mexico at the 1998 World Cup, guided America to the Apertura semifinals last year. The Mexican season's length -- just 17 matches, plus playoffs -- allows clubs little time to find chemistry or rebound from a poor start. America is 16th overall but could jump into the top eight with wins over Atlas and in the following weekend's game against Gallos Blancos at Estadio Azteca.
Reinoso, a former America midfielder, led the Aguilas to league titles in 1983-84 and 1984-85 and also coached the club in 1998. Since then, he has been in charge at Estudiantes Tecos, Leon, Atlante, San Luis and Gallos Blancos.