Los Angeles Soccer:

Carlos Ruiz
November, 20, 2011
11/20/11
3:24
PM PT
By
Scott French
| ESPNLosAngeles.com
strong>D.C. United 3, Galaxy 2 (OT)
L.A. takes a 2-0 lead into the final 10 minutes, watches it disappear, then loses to an
Eddie Pope
header four minutes into sudden-death overtime. In a Nor'easter. Without captain
Dan Calichman
, suspended for playoff yellow cards.
D.C. United 2, Galaxy 0

Bad fortune all around. Top defender
Robin Fraser
goes down because of a shoulder injury in the opening minutes, and goalkeeper
Kevin Hartman
whiffs on a back pass to gift D.C. a second goal. And that was it.

San Jose Earthquakes 2, Galaxy 1 (OT)
Mexican star
Luis Hernandez
provides an early lead, but
Landon Donovan
is a 19-year-old star for San Jose, not L.A., and his first MLS Cup strike pulls the Quakes even before halftime.
Dwayne De Rosario
comes off the bench to tally the overtime winner.
Galaxy 1, New England Revolution 0 (OT)
The third trip to Foxborough brings success, finally!
Sigi Schmid
delivered the first MLS Cup crown to the Galaxy in front of an event-record 61,316, with
Carlos Ruiz
's strike 23 minutes into overtime -- just moments after
Winston Griffiths
hit the crossbar from distance for New England -- starting the celebration.
Galaxy 1, New England Revolution 0 (OT)
The Galaxy was the bottom seed for the playoffs, but they went on a run after stunning San Jose in the first round and conquered the Revs again. Guatemalan forward
Guillermo "Pando" Ramirez
-- scoring his first goal on his 62nd shot of the season, worst ratio in MLS history -- was the hero, knocking in a cleared corner kick 17 minutes into overtime.
Real Salt Lake 1, Galaxy 1 (OT)
(RSL wins on penalties, 5-4)
Injuries dogged the Galaxy, with goalkeeper
Donovan Ricketts
and defender
Omar Gonzalez
forced to the sidelines in the second half, and a first-half lead through
Mike Magee
disappeared in the 64th minute, courtesy of
Robbie Findley
.
Nick Rimando
was the difference in the shootout, making two saves to give bottom seed RSL an unexpected title.
August, 22, 2011
8/22/11
11:50
PM PT
By
Scott French
| ESPNLosAngeles.com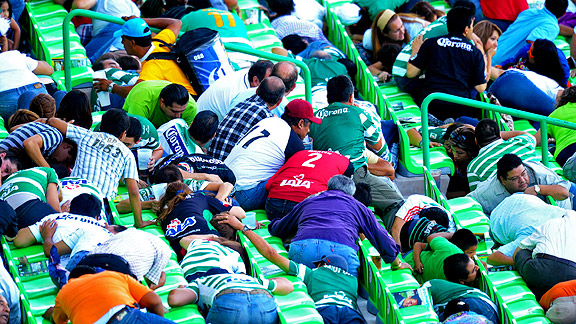 AP Photo/El Siglo de TorreonFans of soccer club Santos take cover between the stadium seats as they hear shooting outside the stadium in Torreon, Mexico.

Scenes of terror and turmoil unfolded at Santos Laguna's Estadio Corona in the most newsworthy event in the Mexican Primera Division last weekend, as gunshots rang out during the Guerreros' showdown with Morelia.

Players dropped to the turf, then scrambled off the field, and fans escaped from the stands and onto the stadium floor or ducked under seats after a series of explosions -- from outside the Torreon stadium, it turned out -- went off late in the first half Saturday.

Nobody at the game was hurt, but the stadium was evacuated and the match suspended amid great chaos. No word yet on when it will be rescheduled.

According to Mexican media, the trouble began when a pickup truck, allegedly carrying drug-cartel members, sped through a checkpoint and was chased by police. Once the truck was cornered, outside the stadium, a gun battle broke out. Part of the stadium afterward was pockmarked by bullet holes.
1. UPGRADE AT TIGRES:
UANL Tigres has one of the deepest, most talented sides in Mexican soccer and -- under former Chivas USA youth director
Dennis te Kloese
, who has brought to suburban Monterrey a handful of very promising players from Southern California -- possibly the country's best development set-up, although those connected to Pumas UNAM and Guadalajara can make convincing arguments otherwise.
No question, the club will contend for the Primera Division's fall Apertura title, especially once the attack catches up, as it should, to Brazilian manager
Ricardo Ferretti
's masterful defensive plan.
August, 8, 2011
8/08/11
10:27
PM PT
By
Scott French
| ESPNLosAngeles.com
Club Tijuana deserved more than it got from its opening-game loss to Morelia, and the Xolos gave mighty Monterrey a scare in week two, opening a two-goal lead and holding onto a tie until two quick, late goals knocked them down.
Couldn't hope for much more at Santos Laguna, the best team to start the Mexican Primera Division season, after routs of Pachuca and Atlante, right? Hardly. Tijuana's first top-tier triumph was one to remember.
San Diego's
Joe Corona
, looking more and more like someone who should be in Philadelphia this week, played linkman as the Xoloitzcuintles (1-2-0) overcame a first-half deficit for a 3-1 victory.
Jose Sand
scored the 54th-minute winner and set up two more:
Fernando Arce
's fine equalizer just before halftime and
Dayro Moreno
's finale in the 64th.
The Dogs will be back home Sunday, taking on Puebla at Estadio Caliente.
1. FIRST WINS: There were eight winless sides, out of 18, after the first two rounds of Primera play. All eight, Tijuana included, notched first victories during last week's "doble jornada," so now there are 13 teams with one win. That's 13 teams with three or four points.
June, 26, 2011
6/26/11
8:41
PM PT
By
Scott French
| ESPNLosAngeles.com
Chivas USA was just to tonic the struggling Philadelphia Union needed: The burgeoning Eastern Conference power claimed its first victory in a month Saturday, rallying from a first-half deficit in a 3-1 decision in Chester, Pa.

Danny Mwanga's superb finish in the 82nd minute, just five minutes after Justin Braun pulled Chivas even, lifted the Union, who dominated the action and might have scored a half-dozen goals or more if not for the woodwork, two saves on the goal line and a high defensive line that led to nine offside calls.

Michael Umaņa's first MLS goal, the third header in a sequence after Philly goalkeeper Fayed Mondragon punched away a corner kick, provided a 28th-minute lead, but the Goats struggled to keep the ball and -- recurring theme here -- created few chances.

Veljko Paunovic and Carlos Ruiz scored goals for Philadelphia, which would have poured in more if not for Dan Kennedy in the nets, clearances off the goal line by Paulo Nagamura and Andy Boyens, and a deflected Ruiz shot that caromed off the top of the left post.


June, 25, 2011
6/25/11
8:17
PM PT
By
Scott French
| ESPNLosAngeles.com
Chivas USA's difficulties holding leads reared up again Saturday, when the Philadelphia Union overcame a halftime deficit to pull out a 3-2 victory.
Danny Mwanga
's team-best fifth goal of the season, a superb shot off a quick turn, settled things in the 82nd minute.

Michael Umaņa
gave the Goats a 28th-minute lead -- finishing following three headers after Union goalkeeper
Fayed Mondragon
punched away a corner kick -- and
Justin Braun
pulled them even in the 77th after
Veljko Panunovic
and
Carlos Ruiz
netted second-half goals.
Chivas (4-7-5) has surrendered six leads in its last six games and has won just once in its last seven. Philadelphia (7-4-5) is atop the Eastern Conference, three points ahead of New York, which plays Sunday at Chicago.
June, 18, 2011
6/18/11
9:41
PM PT
By
Scott French
| ESPNLosAngeles.com
Mexico rallied to keep its Gold Cup title hopes alive and Honduras survived at the spot as CONCACAF nations championship produced its first two semifinalists.

Javier "Chicharito" Hernandez's tournament-best sixth goal, a nifty little backheel in the 66th minute, sent El Tri to a 2-1 triumph over surprising Guatemala. The Chapines scored early and bunkered in, but they couldn't keep Mexico's high-power attack dormant beyond halftime in front of 78,807 in East Rutherford, N.J.

Honduras prevailed in the best game so far in the Gold Cup, clipping fellow Central American giant Costa Rica on penalties after a 1-1 draw. Real Salt Lake's Alvaro Saborio takes the brunt of blame for the Ticos after missing a second-half spot kick and again in the tiebreaker.

A quick look at the 14th day in the region's championship:

CHICHARITO, OF COURSE: Hernandez, the Manchester United star who just turned 23, is CONCACAF's biggest star and best player, and his cheeky winner was his 20th goal in just 27 international matches.

Former Galaxy striker Carlos Ruiz, now with the Philadelphia Union, gave Guatemala a fifth-minute lead, but the Chapines' defensive tactics couldn't close off the Mexicans, who dominated most of the action to advance to Wednesday's semifinals in Houston against Honduras.

Ruiz volleyed over goalkeeper Alfredo Talavera as he fell at the top of the box, a superb use of his body to place the ball inside the right post after beating Rafa Marquez to a long ball into the box.

Aldo de Nigris, a halftime substitute, scored the equalizer less than three minutes into the second half, slipping home a rebound after goalkeeper Ricardo Jerez rejected Hector Moreno's header and defender Carlos Gallardo swept Moreno's follow-up off the goal line.

COSTA RICA SPOT OFF: Honduras reached the final four primarily because its exactness at the penalty spot couldn't be matched by Costa Rica. The Catrachos weathered one penalty kick in regulation and prevailed on the PK shootout at the end when their Central American rival twice struck the crossbar.


June, 13, 2011
6/13/11
10:31
PM PT
By
Scott French
| ESPNLosAngeles.com
Jamaica finished a perfect run through Group B, notching its third shutout in a showdown Monday night with Honduras, and Guatemala romped to claim one of two third-place berths in the CONCACAF Gold Cup's quarterfinals.
San Jose Earthquakes forward
Ryan Johnson
scored the lone goal in Jamaica's triumph, which also sent the Hondurans to the knockout stage, where they will meet the other Central American power, Costa Rica, in Saturday's quarterfinal opener in East Rutherford, N.J.
Jamaica will face the No. 2 team from Group C in Sunday's quarterfinal doubleheader in Washington. The likeliest foe: United States.
Chicago Fire midfielder
Marco Pappa
scored one goal and set up another to lead Guatemala to a 4-0 rout of Grenada in the opener at Red Bull Arena in Harrison, N.J.
A quick look at the ninth day of group play in the region's nations championship:
ROCKSTEADY REGGAE BOYZ:
Jamaica followed shutout victories over Grenada and Guatemala with a 1-0 triumph over the Hondurans, who started just four first-choice players from last year's World Cup squad and lost star forward
Carlo Costly
to a rib injury midway through the first half.
The group title is another achievement for the Reggae Boyz, who failed to reach the final round of qualifying for last year's World Cup, then bounced back to win the Caribbean Championship in January. Outsiders when the tournament began, they'll likely enter the knockout phase as the Gold Cup's No. 2 team, trailing only Mexico on goal difference.
Johnson netted his second goal of the tournament on a wild sequence in the 36th minute. His blast caromed down off the crossbar, smacked Catrachos goalkeeper
Noel Valladares
in the back of the head, and the ball bounced into the net.
May, 23, 2011
5/23/11
11:11
PM PT
By
Scott French
| ESPNLosAngeles.com
There's one early-stage CONCACAF Gold Cup doubleheader slated for the these parts, and now we know who's coming.
CONCACAF released all 12 rosters Monday for its nations championship, which begins June 5 and ends with the final -- U.S.-Mexico is hoped for, certainly -- on June 25 at the Rose Bowl.
A Group B twinbill is coming to Home Depot Center on Monday, June 6, with a Caribbean showdown (Jamaica vs. Grenada) at 6 p.m. and a Central American matchup (Honduras vs. Guatemala) at 8.
Honduras' roster features a dozen players from last year's World Cup team, including four who played every minute for the Catrachos (goalkeeper
Noel Valladares
, defenders
Osman Chavez
and
Maynor Figueroa
, and midfielder
Wilson Palacios
), plus Sporting Kansas City left back
Roger Espinoza
, who was raised in Denver, and former Chivas USA midfielder
Ramon Nuņez
.
Guatemala is led by former Galaxy star Carlos Ruiz, now in Philadelphia, and Chicago Fire midfielder Marco Pappa.
The Jamaicans have eight MLS players, including Galaxy goalkeeper
Donovan Ricketts
and former Galaxy defender
Tyrone Marshall
, and 11 based in Europe, nine of them in Sweden or Norway. Grenada has Brooklyn-raised New England Revolution midfielder
Shalrie Joseph
, who would have played in two World Cups already had he chosen to play for the U.S.
May, 10, 2011
5/10/11
11:48
PM PT
By
Scott French
| ESPNLosAngeles.com
When the Galaxy takes on the Philadelphia Union in a critical showdown Wednesday, they'll be without their biggest star. David Beckham was left at home when the Galaxy traveled to Pennsylvania, and head coach Bruce Arena says he's just taking a rest, nothing more.
We'd love to believe him, but who can be sure? Arena has been caught lying to media about injuries on a few occasions this season, so when he told a group of Philadelphia-based reporters Wednesday that Beckham was dealing with "fatigue" and would be back on the field Saturday night at Home Depot Center against Sporting Kansas City, there's no telling if it's true or not.
We'll know come Saturday.
Beckham's absence, Arena acknowledged, is "always difficult," and Galaxy captain
Landon Donovan
says L.A. (4-2-4), Major League Soccer's Western Conference leader, won't have it easy against the Union (4-2-1) without him.
"It's obviously going to hurt us," Donovan told media Tuesday. "His qualities aren't easily matched by other people. You can't just throw someone in and expect them to play the same way David plays."
Donovan didn't travel east for a three-game swing last month through D.C., Toronto and Chicago because, Arena said, he was fatigued after playing in two late-March games for the U.S. national team and needed to rest. No injury. Turned out Donovan was sidelined with a knee injury that he termed a "minor sprain."
Arena was less than truthful about goalkeeper
Donovan Ricketts
' injury before the season began and rarely is forthcoming about any player who is ailing. But rather than a "no comment," he seems to prefer to lead media astray.
"We're resting David right now," Arena said Tuesday. "Three games in a week, and we've decided to rest him."
So, he was asked, no injury of any sort? Just resting?
May, 9, 2011
5/09/11
10:10
PM PT
By
Scott French
| ESPNLosAngeles.com
Everybody seems to have something to say about the Galaxy.
New York Red Bulls forward
Luke Rodgers
ripped into Landon Donovan
, telling the
New York Post
the L.A. captain's antics in Saturday's 1-1 draw at Home Depot Center made him "an [expletive] jerk" who "needs to be a bit more humble." Among other things.

And Philadelphia Union forward
Carlos Ruiz
, who led the Galaxy to the 2002 MLS Cup title at the start of the first of his two stints with the club, weighs in that L.A. just isn't very good.
It's bulletin-board material in advance of Wednesday's game in Chester, Pa., between the Galaxy (4-2-4) and Union (4-1-1), no more and no less.
"The Galaxy have great players that can make a difference, I have no doubt about that," Ruiz told Major League Soccer's website. "But when they play as a team, they have a lot of mistakes. … From my point of view, L.A. Galaxy is in trouble right now."
Trouble, like how? Oh, because they're playing Philly.
"They've played more games than any other team," he continued. "They are going to come here and try to do something about it, but we are in a better position than them. We're going to try to play smart this game so we can [overtake New York and] be in first place in the East."
The Galaxy beat Philadelphia 5― weeks ago at Home Depot Center, with
Leonardo
heading home a
David Beckham
free kick for the lone goal, and Ruiz said he was not impressed.
The Galaxy, he charged, aren't "good like everyone thinks," said they "don't do anything spectacular," and noted that in the first meeting "we didn't play good against them, and they also didn't play good. … We're going to try to do better things this game."
The game kicks off at 4:30 p.m. PDT. Fox Sports West will televise.
April, 2, 2011
4/02/11
1:54
PM PT
By
Scott French
| ESPNLosAngeles.com
The Galaxy will want to show their home supporters they've put last week's disaster at Real Salt Lake behind them, and David Beckham believes they will when they take on surprise Eastern Conference leader Philadelphia on Saturday night at Home Depot Center.
L.A. (1-1-1) is coming off a 4-1 defeat at RSL that could have, and probably should have, been far worse. L.A. was down, 2-0, by the 10th minute, had surrendered a third before halftime and never provided any real competition for their Western Conference rival. Beckham called it "humiliating" and "kind of embarrassing."
"It was a bad game for us," he said. "I don't think there's an huge separation between our two teams. Obviously, Salt Lake, they're a very good soccer team. They play the ball around well, they work well together, they've got that unity. And we've got all those attributes, but on the day we just didn't perform.
"We turned up and it was a little bit windy, little bit cold, and we wasn't ready to just go at it. That's one of the things we can't have happen. If you're not ready for a fight, not ready to play, you're going to get walked over. And we did. Simple as that."
The Galaxy hopes to be closer to full strength against the Union.
Landon Donovan
is back from U.S. national team duty, and goalkeeper
Donovan Ricketts
and center back
Omar Gonzalez
have been participating more fully in training and might be considered for starting roles.
More important for the Galaxy is to start the game with better concentration. They gave up a goal to New England just 2 minutes, 32 seconds into their home opener, a 1-1 draw; RSL needed only 1:15 to score.
"Obviously, the players are well aware in the last two games, obviously, that we can't concede early and we have to be smart at the beginning of games, and it wasn't accomplished," head coach
Bruce Arena
said. "But it will get accomplished this week. I'm pretty sure of that."
February, 23, 2011
2/23/11
10:28
PM PT
By
Scott French
| ESPNLosAngeles.com
Chivas USA's playoff hopes increased dramatically Tuesday. Major League Soccer added two teams to the postseason mix.
The league boosted its playoff participants to 10 teams with the addition of two single-game wild-card showdowns, which should be welcomed by Chivas and Columbus, Chicago and D.C., K.C. and New England, even Toronto FC.
The Galaxy and the like? Are you kidding?
Here's how the postseason works this year:

The top three teams in each conference qualify for the main draw, which is just like before: home-and-home conference semifinals, one game conference finals, MLS Cup. The next four best teams, regardless of conference, take the wild-card slots, with the No. 7 seed playing 10 and 8 playing 9 and the winners advancing to play the regular-season champs, and … well, you know how it works.
This system will cut down on all that confusing cross-conference movement in the playoffs, which led to an all-West showdown in last year's Eastern Conference final, an Eastern Conference title (en route to MLS Cup glory) by Real Salt Lake in 2009, and a Western championship by New York in 2008.
Had this system been in place last year, K.C. would have been the No. 3 seed in the East and opened against Columbus, which the then-Wizards might have won. Which would have left them 90 minutes from MLS Cup.
One wild-card battle would have matched Colorado against San Jose. ... Hey, they did play -- in the Eastern Conference final. The Rapids prevailed, then won the MLS Cup crown. (The other wild-card matchup would have been Seattle-Chicago; the Galaxy likely would have opened against Colorado.)
MLS has had eight playoff teams since its 1996 start, when there were only 10 clubs. As the league slowly grew to 16 teams by 2010, eight playoff berths seemed sufficient. Portland and Vancouver make for 18 teams this season and Montreal for 19 next year, and eight still sounds perfect.
L.A. would have reached the 2006 playoffs had this format been in place, but nothing could have saved the Galaxy in 2007 and 2008. And forget Chivas last year or in 2005.
December, 29, 2010
12/29/10
12:04
AM PT
By
Scott French
| ESPNLosAngeles.com
Organizers promise that Wednesday's meeting between Club America and Guatemala's national team is the beginning of an annual series, with the Mexican giant taking on a different "international" team each winter -- and with a trophy at stake.
That aside, the 7 p.m. Home Depot Center clash (ESPN Deportes) is little more than your everyday preseason friendly. The Aguilas, semifinalists in the Mexican Primera Division's fall Apertura, are working toward their Clausura opener Jan. 9 against Pachuca. Guatemala is beginning preparations for the Jan. 14-23 Copa Centroamericana, which will send five teams (of seven competitors) to next summer's CONCACAF Gold Cup.
"It's a very serious game," America coach
Manuel Lapuente
said Tuesday afternoon. "It's our second-to-last game of preseason, and we don't have a lot of time left. We really need this game, because we have to show what we've got for the [Clausura]."
Five things about Wednesday's "El Reto Aguila" encounter:
1. TWO HOME TEAMS?
Neither of these teams are strangers to Southern California, and both have significant followings here. America is, with Guadalajara, one of Mexico's two true giants, and they're making their third 2010 appearance in L.A. Many Guatemalans live in SoCal, and they're getting to see their team for the third time this year, too.
America played two games at HDC during last January's InterLiga event, draws with Estudiantes Tecos and Monterrey, and beat Cruz Azul on July 10 at the Rose Bowl. Guatemala played two Coliseum friendlies, beating El Salvador in March and losing to Honduras in October.
2. AMERICA'S STARS
America made few changes from a side that made a nice late-season run during the Apertura, adding midfielder Nicolas Olivera from Puebla and bringing back defender Rodrigo Iņigo from Gallos Blancos de Queretaro. The big stars: goalkeeper Guillermo "Memo" Ochoa, midfielder Pavel Pardo -- Ochoa is a Mexican national team standourt, Pardo a former El Tri star -- forwards Matias Vuoso, Vicente Sanchez and Daniel Montenegro, and defender Aquivaldo Mosquera.