Los Angeles Soccer:

Carolina RailHawks
June, 5, 2012
6/05/12
9:14
PM PT
By
Scott French
| ESPNLosAngeles.com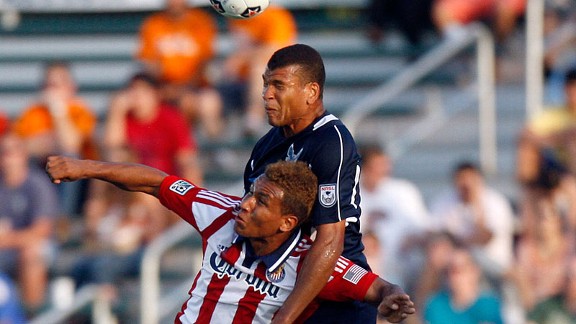 Travis Long/Raleigh News & Observer/MCT/Getty ImagesChivas USA's Juan Agudelo battles against Amir Lowery of the Carolina RailHawks during Tuesday's U.S. Open Cup game.

Chivas USA should have gotten more from its early dominance in Tuesday's night's U.S. Open Cup clash, but that's to be expected. The Goats have a knack for not taking advantage of their chances -- or not creating chances from their possession.

They got one goal, a beautiful header from Juan Agudelo, and then ran into some fortune at the finish, and so they'll play on into the quarterfinals of the 99-year-old knockout tournament, and do so at home.



Juan Pablo Angel converted a penalty kick in the third minute of stoppage to deliver a 2-1 third-round triumph over the Carolina RailHawks in Cary, N.C. The Goats advance to a June 26 final-eight matchup with the Charlotte Eagles, a third-tier side from the USL Pro that beat the second-division San Antonio Scorpions, 2-1, in overtime.

Chivas' victory was neither simple nor particularly impressive, at least not after the break.

"I thought we started well," Chivas coach Robin Fraser told ESPN Los Angeles. "We created quite a few chances, were able to put them on their heels. We probably didn't do well enough with our opportunities early on. ... We came out the second half and didn't put together a whole lot, but real credit to the group for coming out with a lot of resiliency after their goal."

The Goats looked good in the first half, moving the ball swiftly through Peter Vagenas in midfield and feeding off a sensational first half-hour, especially, from Agudelo. The big teenager's movement flummoxed the RailHawks, and his strength overpowered them.

He generated several opportunities -- the best: setting up Laurent Courtois to fire just over the crossbar in the 16th minute, firing to force a tough save by former FC Dallas goalkeeper Ray Burse a minute later, nodding a cross that Burse somehow kept out in the 25th -- and should have scored in the 18th, when he delayed his shot and the opening disappeared.

Agudelo tallied in the 31st from a Courtois cross with a sharp, glancing header from the edge of the 6-yard box across the goalmouth and into the right-post netting.

"He was finding a lot of good spaces," Fraser said. "He was very, very difficult for them to deal with, running in behind, holding off guys, running at guys. That activity was very important for us."


June, 4, 2012
6/04/12
9:46
PM PT
By
Scott French
| ESPNLosAngeles.com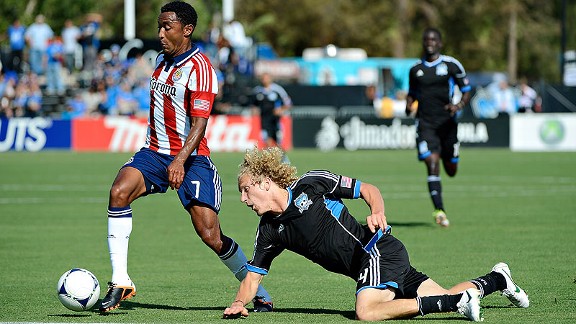 Thearon W. Henderson/Getty ImagesJames Riley was with Seattle for its Open Cup triumphs the past three years.
Chivas USA approaches everything with a seriousness of purpose and respect for the details, so there isn't a chance they're heading into Tuesday's U.S. Open Cup showdown with the Carolina RailHawks figuring that showing up will be enough.
These knockout tournaments are a minefield, which was made plain with last week's third-round results, in which half of the 16 Major League Soccer clubs failed to advance against lower-level competition. Chivas was one of those that did; the RailHawks, from the second-division North American Soccer League, rallied late to oust the Galaxy.
It makes for an intriguing matchup in Cary, N.C., with a quarterfinal berth -- June 26 against a lower-than-MLS foe -- awaiting the victor. The RailHawks, with nine players who have been on MLS rosters (including
Ty Shipalane
, impetus in last week's win), won't be intimidated. Not after stunning the Galaxy last Tuesday, then following up with a weekend league victory over first-place Puerto Rico Islanders, Carolina's first NASL victory this season.
"They've had a great week, and I think they're on a run of confidence ...," Chivas coach
Robin Fraser
told ESPN Los Angeles on the eve of the match. "I think over the course of a season, there's probably a difference [between MLS and the NASL], but on any given day -- we've seen these guys are good players. They were in MLS for a reason and they're successful players for a reason. On any given day, they have enough quality."
Chivas grinded out a 1-0 win in its tournament opener last week against the fourth-tier Ventura County Fusion and are aiming to surpass their 2010 run to the semifinals. A victory would send the Goats either to Texas to face first-year NASL club San Antonio Scorpions or back home for a meeting with third-tier Charlotte Eagles from the USL Pro.
Right back
James Riley
knows Open Cup success. He was part of the Seattle Sounders teams that captured the last three titles. The key to success? Taking it one game at a time, he says.
"I think on any given day, anyone can beat anyone. That's definitely the case in MLS, and it's more the case here," said Riley, who played college soccer at Wake Forest. "You saw all the upsets in the Open Cup already. We're going into the game with full respect for [Carolina]. They're professionals, they like to play, they like to win. We're not going to fear them, but we have respect."
May, 31, 2012
5/31/12
9:36
PM PT
By
Scott French
| ESPNLosAngeles.com
The stunning U.S. Open Cup run by Thousand Oaks' Cal FC has caught attention around the globe, and when Eric Wynalda's sort-of amateurs take on their second Major League Soccer foe next week, the cameras will be there.

Fox Soccer announced on its Twitter account Thursday that Tuesday's fourth-round game, with Cal FC taking on three-time defending Open Cup champion Seattle Sounders in Tukwila, Wash., will be televised live on Fox Soccer Channel. The game is not yet listed on the programming schedule.

Kickoff is 7 p.m.

Wynalda, the Hall of Fame forward who put together a team of mostly unaffiliated pros for this Open Cup run, is an analyst on Fox Soccer's broadcasts. So is Nick Webster, who works with the team and has served as head coach when Wynalda has been on assignment.

Cal FC stunned the Portland Timbers, 1-0, on Artur Aghasyan's overtime goal Tuesday night in a third-round game, the first time a U.S. Adult Soccer Association side has beaten an MLS team in the 17 years the first-division league has existed. The Open Cup is America's oldest and most prestigious tournament, dating to 1913.

The Ventura County club, which features nine players with professional experience and five with some sort of MLS connection, opened the tournament two weeks ago with a 3-1 victory at Premier Development League champion Kitsap Pumas in Bremerton, Wash. They routed third-division pros Wilmington (N.C.) Hammerheads, 4-0, in the second round last week. Tuesday's winners advance to the June 26 quarterfinals.

Chivas USA also remains alive in the Open Cup and will play the Carolina RailHawks in Cary, N.C., on Tuesday. The match, which begins at 4:07 p.m. PT, will be streamed on the RailHawks' website.
May, 29, 2012
5/29/12
9:25
PM PT
By
Scott French
| ESPNLosAngeles.com
Former D.C. United forward
Ty Shipalane
came off the bench to score the equalizer and set up
Brian Shriver
's 88th-minute winner and lift the Carolina RailHawks to a 2-1 victory Tuesday night over the Galaxy in the third round of the U.S. Open Cup.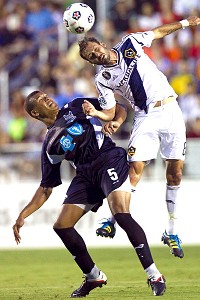 Robert Willett/Raleigh News & Observer/MCTThe Galaxy's Marcelo Sarvas rises over Railhawks' Amir Lowery for a header in the second half on Tuesday at WakeMed Soccer Park in Cary, North Carolina. The Railhawks won 2-1.
Shriver, who scored four goals in the North American Soccer League club's second-round win over Irvine's PSA Elite last week, headed Shipalane cross at Galaxy goalkeeper Bill Gaudette, who made the save as he fell backward. The ball bounced in front, then skidded slowly over the goal line and into the net.

The RailHawks, who are winless in the NASL, will be home for next Tuesday's fourth round against the winner of Tuesday night's Ventura County Fusion-Chivas USA clash.

The Galaxy exit America's oldest and most prestigious knockout competition in their opener for the fourth time and the first since 2009. L.A. has lost four in a row -- the last three after giving away the lead -- and have dropped six of their last seven matches. Their winless streak in all competitions has reached eight games.

Pat Noonan, who wore the captain's armband, gave L.A. a 38th-minute lead from Chad Barrett's feed after Hector Jimenez stole a pass from RailHawks defender Austen King.

Shipalane scored from a feed by former New England Revolution forward Zack Schilawski in the 75th minute as Carolina, playing before a record crowd of nearly 8,000 at WakeMed Soccer Park in Cary, N.C., took charge in the final 20 minutes.

The Galaxy, weary in their fourth game in 11 days, lost two players to injury. Jimenez departed just before halftime with a potentially serious knee injury, and left back Bryan Gaul leaving with about 20 minutes left after he was hit in the eye during an aerial battle in Carolina's box.

Noonan could have forced overtime deep into stoppage, but he fired over the crossbar after a Rafael Garcia feed left him one-on-one with former FC Dallas/Columbus Crew goalkeeper Ray Burse.


May, 28, 2012
5/28/12
9:42
PM PT
By
Scott French
| ESPNLosAngeles.com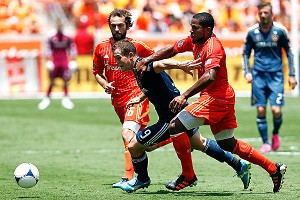 Bob Levey/Getty ImagesChad Barrett of the Galaxy attempts to break through the defense of Jermaine Taylor and Adam Moffat of the Houston Dynamo.
The Galaxy heads into Tuesday's U.S. Open Cup game in North Carolina without seven starters, and that includes David Beckham, all three established backliners and those two big names who are off playing for their national teams.
It's a reserve side they'll field for the third-round game against the Carolina RailHawks, but that no reflection on how much L.A. wants to win. Nor the clamor to watch them try to do so.
Winning a third title in America's biggest cup competition would be nice, sure, but the Galaxy could use any sort of victory about now. They're at the bottom of Major League Soccer's Western Conference (at 3-8-2) after failing to win in their last seven MLS games -- with four losses in their last five outings.
And stars or no stars, the fans around Raleigh and Durham snapped up the tickets as soon as they went on sale, all 8,000-plus, with the RailHawks adding a temporary stand to increase capacity at WakeMed Soccer Park in Cary.
"We know it's a tough environment to play against," Galaxy forward
Edson Buddle
told media in Cary on Monday. "I heard there's going to be a few more people at the game than normal. ... It seems every team we play against, they really look forward to this game, and they raise their game."
The RailHawks will need to. They're 0-4-5 in the second-tier North American Soccer League, and they've been struggling since former manager Martin Rennie, two-thirds through last season, was announced last August as the Vancouver Whitecaps' future coach, a deal took effect in November. Carolina was the NASL's best team at the time, and it is 4-10-6 since.
Colin Clarke
, who guided the Puerto Rico Islanders (with Galaxy goalkeeper
Bill Gaudette
) past L.A. in the CONCACAF Champions League preliminary round two years ago, is trying to restore some luster to the RailHawks. He's got an experienced roster, with nine former MLS players -- including veteran forward
Jason Garey
, who spent five years with Columbus and last season at Houston, plus former FC Dallas/Columbus goalkeeper
Ray Burse
and former New England forward
Zack Schilawski
-- and former U.S. youth national team star
Gale Agbossoumonde
, on loan from Portugal's Estoril Praia.
"We have a lot of talent, a lot of guys who played in MLS," former Colorado/San Jose/Kansas City midfielder
Amir Lowery
told local media. "We're not necessarily strangers to that level, so we're not afraid of anybody."
Galaxy coach
Bruce Arena
understands the lower division-versus-upper division dynamic that will be at work.
"It always does play a role [in these games]," he said. "Every time you play a lower-division team, they're certainly going to be ready to play, and the game means a lot to them."
May, 23, 2012
5/23/12
3:46
PM PT
By
Scott French
| ESPNLosAngeles.com
Ready for another Galaxy-Chivas USA showdown? If both clubs win their U.S. Open Cup openers next week, it will happen.
U.S. Soccer's fourth-round pairings are out, and the Galaxy and Chivas are set to meet June 5 at Home Depot Center, as long as both advance. Chivas faces Premier Development League power Ventura County Fusion in a third-round game Tuesday night at Ventura College, and the Galaxy meet the Carolina RailHawks, from the second-division North American Soccer League, in Cary, N.C.
If it's the Galaxy against the Fusion, it will be played at HDC. If Carolina beats L.A., the fourth-round game will be in Cary.
Major League Soccer clubs enter the country's oldest soccer competition -- the initial games were played in 1913 -- in the third round. Ventura County has won twice in overtime,
ousting USL Pro side L.A. Blues
on Tuesday evening, to advance to the final 32.
The Galaxy and Chivas have played once before in the Open Cup, with L.A. cruising to a 5-2 fourth-round victory at HDC's Track and Field Stadium en route to the 2005 title. Goal scorers for the Galaxy included
Cobi Jones
,
Landon Donovan
and
Herculez Gomez
.
The pairing was expected. Rather than a blind draw, U.S. Soccer regionalizes pairings to cut down on travel costs.
Thousand Oaks' Cal FC, a U.S. Adult Soccer Association side coached by Eric Wynalda, would play three-time defending champion Seattle Sounders in Tukwila, Wash., if it beats the Portland Timbers in the third round. No site has been determined if Cal FC and the Atlanta Silverbacks, who meet the Sounders next week, both pull off upsets.
May, 22, 2012
5/22/12
10:39
PM PT
By
Scott French
| ESPNLosAngeles.com
Eric Wynalda put together a team with a simple, perhaps unachievable goal: win the U.S. Open Cup.
Thousand Oaks' Cal FC took another step toward that Tuesday night, routing USL Pro side Wilmington Hammerheads, 4-0, in North Carolina to advance to the third round of the nation's oldest soccer competition, in which it will face Major League opposition.
Danny Barrera
scored twice from assists by his brother,
Diego
, and the U.S. Adult Soccer Association side earned a date next week with the Portland Timbers.
Wynalda, an American soccer legend and first-ballot National Soccer Hall of Famer from Westlake Village, was on hand to guide Cal FC after missing last week's first-round win over Premier Development League champion Kitsap Pumas while he was in Munich preparing for Fox's coverage of the UEFA Champions League final. Wynalda is a studio analyst on Fox soccer broadcasts.
"Tonight was a good demonstration of what the guys are capable of, at times good and bad," Wynalda told the Wilmington (N.C.) StarNews. "All in all, I'm very happy with them. I think they've come together remarkably, in a very short span of time."
The Barrera brothers hooked up in the 25th and 57th minutes, the first on a corner kick. Former Real Salt Lake forward
Artur Aghasyan
made it 2-0 in the 35th and
Pedro Ferreira-Mendes
added another on a 79th-minute free kick.
The game in Portland will be played next Wednesday.
In the other East Coast game involving a local team:
Carolina RailHawks 6, PSA Elite (Irvine) 0:
The Galaxy is headed to North Carolina after the RailHawks, from the second-tier North American Soccer League, crushed the USASA Region IV champs in Cary, N.C. Carolina will be home for next Tuesday's third-round clash against the reigning MLS champion.
Brian Shriver
scored a club-record six goals, with a first-half hat trick, to lead the Railhawks.
Zack Schilawski
and
Amir Lowery
also tallied for Carolina.
January, 11, 2011
1/11/11
11:38
AM PT
By
Scott French
| ESPNLosAngeles.com
Daniel Paladini, a former Cal State Northridge standout who spent time on the Galaxy's and Chivas USA's developmental rosters before developing into a fine professional defender in the United Soccer Leagues system, signed Tuesday with the Chicago Fire.
Paladini (Northridge/St. Francis HS), 26, spent 2006 with the Galaxy but never appeared in a first-team match, but he played eight games and scored one goal for Chivas USA in 2008. He was All-USL1 selection the past two seasons for the Carolina RailHawks.