Los Angeles Soccer:

Chad Marshall
June, 7, 2012
6/07/12
2:03
PM PT
By
Scott French
| ESPNLosAngeles.com
Fan balloting for the July 25 MLS All-Star Game begins Friday morning, and a name missing from last year's list of candidates has found its way onto the ballot: Galaxy defender Todd Dunivant's.

He's one of six L.A. players eligible to make the All-Star First XI, the first group of players for Philadelphia coach Peter Nowak's side for the clash with England's Chelsea at PPL Park in Chester, Pa.

The First XI will be determined by fan voting at Major League Soccer's website, via text messaging and, in two weeks, during a two-day Twitter session. Additional players will be selected by Nowak, MLS Commissioner Don Garber and in a players vote.

Midfielders David Beckham, Landon Donovan and Juninho, forward Robbie Keane and goalkeeper Josh Saunders are the other Galaxy players on the ballot. Donovan would make a record 12th appearance is selected; he shares the record with retired defender Eddie Pope.

Chivas' eligible players are goalkeeper Dan Kennedy, defender James Riley, midfielders Nick LaBrocca and Oswaldo Minda, and forwards Juan Pablo Angel and Alejandro Moreno.

A media panel determined the 114 names on the ballot, just six per team, including one goalkeeper from each side. As always, there are omissions, although for the local teams none as wrong-headed as Dunivant's omission last year.

Given the Galaxy's struggles, only a few players -- Beckham chief among them -- are worthy of consideration, although the priority is more about putting together a team that can compete with Chelsea than in rewarding players for their performances in the first half of the season.

The biggest omissions among local players are Galaxy midfielder Mike Magee, one of the few L.A. players who has done well this season, and Chivas USA center backs Danny Califf and Rauwshan McKenzie.


December, 19, 2011
12/19/11
3:20
PM PT
By
Scott French
| ESPNLosAngeles.com
Chivas USA's roster could soon be bolstered by the additions of two more midfielders, Frenchman Nicolas Dieuze and Ecuadoran Oswaldo Minda.
Both have been in head coach
Robin Fraser
's sights for some time, and although the club has announced nothing on either of them, their signings are thought to be imminent if not completed.
Dieuze, 32, who has played alongside Chivas assistant coach
Greg Vanney
and midfielder
Laurent Courtois
, spent part of October on trial with the Goats, playing 45 minutes in an MLS Reserve League victory over Vancouver.
Chivas has been looking at Dieuze since his contract with second-tier French side Grenoble Foot 38 ended last spring, and his acquisition is expected to be completed soon, his representative told MLS-News, a French website that focuses on America's league.
Dieuze played with Courtois at Toulouse from 1999 to 2001 and was Vanney's teammate at Bastia from 2001 through 2003. He then returned to Toulouse for five years, spent a season with Le Havre and two at Grenoble.
"I think he's an excellent two-way midfielder," Vanney said in October. "He's an interesting player. We're always looking to gain some experience. ... He was always one of the fitter players -- he's a guy who can cover ground. Extremely fit, hard-nosed, yet has technique. He's a leader, was a captain at Toulouse for a while and helped them into the [UEFA] Champions League."
Minda earlier this month told Guayaquil daily
El Universo
he'd been offered a three-year contract by the Goats, and he says he's coming to Los Angeles. Saturday's title-series finale in Ecuador's Serie A was his final game for Deportivo Quito, where he's played since 2008.
"Dear God, this is so amazing," Minda told reporters after Deportivo Quito toppled Emelec to claim its third national title in four years. "This club has given me so much. ... It's a shame I have to leave this institution that has given me everything and now gives me these tears. That has helped me and given me so much love.
"I came [to Quito] fulfilling a dream, and I'm reaching another."
Fraser, who wasn't available for comment Monday, said earlier this month that Minda was "a talented, intense, focused player that we've identified that we have interest in."
ELSEWHERE:
In other MLS news ...
Columbus signed central defender
Chad Marshall
(Riverside/Rubidoux HS) to a contract extension that will keep him with the Crew through 2015. No terms were announced, but Marshall, 27, a two-time MLS Defender of the Year, made $250,000 last season.
Montreal signed Canadian international
Patrice Bernier
, 32, a Quebec native who played for the Impact in the second tier a decade ago. The defensive midfielder has been in Europe since 2003 and has been with Danish club Lyngby since August.
Philadelphia midfielder
Amobi Okugo
spent a week training with Freiburg and told soccer blog The USA 10 Kit that the German club told him they'd be in contact with his agents. Okugo, 20, left UCLA following his freshman season to sign a Generation adidas deal and was the No. 6 pick in the 2010 draft.
UC Santa Barbara junior
Sam Garza
has accepted a Generation adidas contract offer, the Soccer By Ives blog reports. UCLA's
Kelyn Rowe
and
Chandler Hoffman
also are considering GA deals, and Rowe, SBI says, has European options.
September, 24, 2011
9/24/11
11:23
PM PT
By
Scott French
| ESPNLosAngeles.com
COLUMBUS, Ohio -- The Galaxy were going to be very pleased to escape Crew Stadium with a draw Saturday night, especially after the onslaught they withstood over the final frightful minutes.
Then they demonstrated, again, why they're Major League Soccer's premier club.
In the matter of seconds, a midfield header fed a
Landon Donovan
volley, the rebound fell to
Chad Barrett
, and his volley in the third minute of stoppage turned a scoreless tie into a most improbable 1-0 triumph over the Columbus Crew.
And it also might have settled the Supporters' Shield race.
The Galaxy, with a makeshift lineup missing
David Beckham
,
Robbie Keane
and, until the 62nd minute, Donovan, gave a game effort but needed some late magic to claim their 17th victory, maintain a seven-point lead in the Western Conference and create an opportunity, with just a little aid, to clinch the regular-season trophy next weekend with a victory at Home Depot Center over Real Salt Lake.
It required another huge game from goalkeeper
Josh Saunders
, a save on the goal line by
Michael Stephens
, some heady play by homecoming king
Frankie Hejduk
and Barrett's finish at the end.
"Let me tell you," head coach
Bruce Arena
said, "between the 85th and 92nd [minutes], if you tell me would you take a point, I would have gladly taken it."
Barrett, who came off the bench in the 84th minute, overshadowed a superb performance by another second-half substitute,
Emilio Renteria
, who spearheaded a Crew attack that created eight scoring chances -- to none by L.A. -- between the 70th and 90th minutes and was unfortunate not to find the net.
Saunders made five superb stops, the two best on
Andres Mendoza
, and Stephens kept out a
Chad Marshall
header from a corner kick that beat Saunders in the 48th minute -- the play of the game before Barrett's strike.
"Sometimes I'm there to save it, sometimes they're their to save it," Saunders said. "I can't say enough about his concentration on the play. Calm and collected, and just played the ball away."
Arena, coming off a tough CONCACAF Champions League loss three nights earlier in Costa Rica and facing a must-win clash with Mexico's Morelia on Wednesday in the regional championship, heavily rotated his lineup. Beckham headed home to L.A. after the team arrived Thursday in Columbus, Keane was kept out with a strained gluteal muscle, and iron-man left back
Todd Dunivant
was given a rest, his first minutes off all season.
Donovan and first-choice midfielder
Mike Magee
also started on the bench, although both came on in the second half.
July, 26, 2011
7/26/11
10:59
PM PT
By
Scott French
| ESPNLosAngeles.com
A Major League Soccer player of some distinction was musing about the league's selections for Wednesday's All-Star Game against Manchester United in Harrison, N.J. (ESPN2 and TeleFutura, 5:30 p.m. PT).
"What'd you think about it?" he asked, then turned his thumb down, toward the ground. "Four guys from Houston?"

The analysis is spot on. How do four players from a mediocre Dynamo side that has underachieved make it to the All-Star Game? Only New York, a very fine side that has underachieved even more violently than Houston, has as many players available to Red Bulls coach
Hans Backe
, who will guide the MLS side.
In all, 32 players have been accorded All-Star status, and 21 of them will play, or at least be available to play, against Man United. (Five pulled out because of injury or conflict; six were non-roster selections required in the collective bargaining agreement.)
There were a lot of very good players enjoying very good seasons left out. Here's our MLS No-Star XI, the best of those who were snubbed:
GOALKEEPER
Stefan Frei (Toronto FC):
We thought Frei could have been the starter for MLS, although there are other very good options (including expected starter Faryd Mondragon from Philadelphia) and, really, Real Salt Lake's Nick Rimando ought to be on the field rather than on the CBA list. Nobody sees as much action as Frei, whose sensational saves have kept Toronto from losing, 8-0, every week.
July, 21, 2011
7/21/11
12:19
AM PT
By
Scott French
| ESPNLosAngeles.com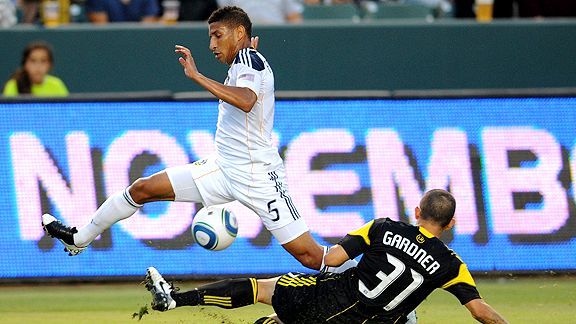 Kelvin Kuo/US PresswireSean Franklin scored his first MLS goal for the Galaxy in a 1-0 win over Columbus on Wednesday.

CARSON -- Sean Franklin scored his first Major League Soccer goal Wednesday night, and it was one to remember -- even if teammates teased him that he wouldn't get credit for it.

Franklin's low blast from a blocked David Beckham free kick sent the Galaxy to a 1-0 triumph over the Columbus Crew at Home Depot Center, extending their league unbeaten streak to 13 games -- and their Western Conference and Supporters' Shield advantages to four points -- with a victory that was a lot tougher than it ought to have been.

The Galaxy (11-2-9) created chance after chance through 16 corner kicks -- just three off the MLS record -- and a handful of free kicks around the box but struggled to beat an organized Crew backline anchored by Riverside's Chad Marshall.

The Galaxy missed their towering target on set pieces, 6-foot-5 defender Omar Gonzalez, who was on the bench but didn't play because of a fractured nose sustained last week in training.

Juan Pablo Angel nearly scored twice, but didn't -- he has only three goals this year, and none in more than a month -- and L.A. was en route to a second straight 0-0 draw before Franklin came through with a 26-yard blast in the 70th minute.

The ball caught Crew midfielder Eric Gehrig on the way in, and so Franklin wasn't sure he'd receive credit. Not after teammates kidded him that the goal wasn't his.

Said Beckham: "I've tried to tell him it's an own goal. But he's not having that."

"I think it might have deflected," said Franklin, a fourth-year right back from Palmdale and MLS All-Star who has tallied just once before for L.A., in last year's CONCACAF Champions League series with the Puerto Rico Islanders. "They might call it an own goal, but I'm gonna try to claim it as my first goal.

"I'm happy I got it, but I'm more happy that the team played well tonight. We created numerous chances, corners and shots. The whole team effort was great tonight."

The Galaxy didn't get nearly enough from the set pieces. Two of the 16 corners led to real opportunities, but Crew goalkeeper Will Hesmer did well to snare a 30-yard Franklin blast from a 34th-minute corner kick and to hold on under pressure from Todd Dunivant after Angel's header challenged him on the goal line in the 54th.

Miguel Lopez had the best chance before Franklin's goal, a glancing header from 14 yards off a Beckham cross late in the first half that Hesmer leapt to parry around the right post.

"[Columbus] did very well, packed their team in," head coach Bruce Arena said. "Marshall kind of zoned and attacked every ball. Pretty difficult. The ball we played out to Franklin for the shot off the corner, probably have to do that a little more often or play the short corner, but they were tightly packed in there on corners, and you have the 6-foot-5 guy [Marshall] that has the freedom to attack every service, and he did a pretty good job."

The game ended sourly, with referee Andrew Chapin giving Beckham a yellow card in stoppage for not taking a free kick. It was the Galaxy star's eighth caution of the season and comes with a one-game suspension -- for the July 30 match at Vancouver -- his second yellow-card ban of the campaign.

A quick look at the Galaxy's victory:


June, 8, 2011
6/08/11
8:18
PM PT
By
Scott French
| ESPNLosAngeles.com
Major League Soccer's All-Star Game fan ballot was released Wednesday, and the name of its best striker over the last five years is nowhere to be found.
Galaxy forward
Juan Pablo Angel
, who frankly hasn't played to an all-star standard in the season's first three months, was the biggest omission on the list of those eligible for the July 27 clash against Manchester United at Red Bull Arena in Harrison, N.J.
Also not on the list, and most deserving, is Galaxy left back
Todd Dunivant
.

They were left out in a new voting format, in which only 108 players -- and no more than six from any club -- were tabbed for the First XI ballot by a committee of media. Fans may cast their votes at
MLS's website
.
The Galaxy's ballot sextet is goalkeeper
Donovan Ricketts
, defenders
Sean Franklin
and
Omar Gonzalez
, midfielders
David Beckham
and
Juninho
, and forward/midfielder
Landon Donovan
.
Chivas' six: goalkeeper
Dan Kennedy
, defenders
Ante Jazic
and
Heath Pearce
, midfielder
Nick LaBrocca
, and forwards
Justin Braun
and
Alejandro Moreno
. The biggest Goats omission is forward
Marcos Mondaini
; would-be finalists
Jimmy Conrad
,
Blair Gavin
and
Paulo Nagamura
have missed almost all of the campaign through injury.
In addition to Franklin (Palmdale/Highland HS and Cal State Northridge), Donovan (Redlands/Redlands East Valley HS) and Kennedy (Yorba Linda/El Dorado HS and UC Santa Barbara), nine players from the L.A. area and another who attended college here are on the ballot:
FC Dallas goalkeepers Kevin Hartman (Palos Verdes/Peninsula HS and Cal State Dominguez Hills/UCLA)
New England Revolution goalkeeper Matt Reis (Mission Viejo/Santa Margarita Catholic HS and UCLA) and midfielder Benny Feilhaber (Irvine/Northwood HS and UCLA)
Real Salt Lake goalkeeper Nick Rimando (Montclair/Montclair HS and UCLA)
Philadelphia defender Danny Califf (Orange/Orange HS)
Columbus defender Chad Marshall (Riverside/Rubidoux HS) and midfielder Robbie Rogers (Palos Verdes and Huntington Beach/Mater Dei HS)
D.C. United midfielder Chris Pontius (Yorba Linda/Servite HS and UC Santa Barbara)
Sporting Kansas City forward/midfielder Kei Kamara (Lawndale/Leuzinger HS and Cal State Dominguez Hills)
Seattle midfielder Brad Evans (UC Irvine)
April, 10, 2011
4/10/11
12:50
AM PT
By
Scott French
| ESPNLosAngeles.com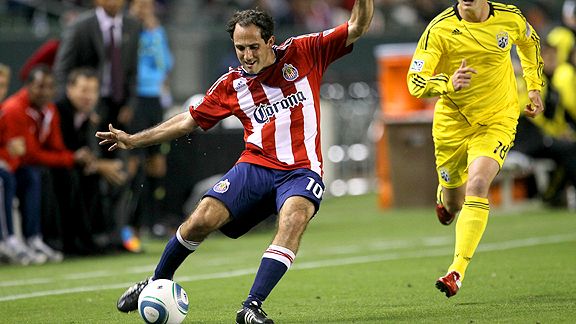 Stephen Dunn/Getty ImagesChivas midfielder Nick LaBrocca said Saturday's shutout of Columbus is something to build on.

CARSON, Calif. -- Let's start with the one really big plus for Chivas USA from its scoreless draw Saturday night against Columbus at Home Depot Center: the shutout.

The Goats kept their foe out of the nets for the first time this season, were fortunate to do so, and that was reward enough on a night where the energy and the means to break down the Crew's packed-in defense was lacking.

"A shutout's good," midfielder Nick LaBrocca noted after Chivas (0-2-2) picked up its second point of the season. "That's definitely something we wanted to get out of this game. That's No. 1. Obviously, with a win, but you've got to start somewhere, I guess, and a shutout's huge. Something to definitely build on."

Another fine performance by goalkeeper Dan Kennedy, getting his third successive start, alleviated individual errors by the Goats that fueled a Columbus counterattack that caused problems, especially when Emilio Renteria was running at the Goats' defense.

The Crew managed just two decent chances, both from counters, but rookie Zarek Valentin got a foot in to knock the ball from Renteria on the doorstep in the 57th minute and Kennedy just got a piece of Eddie Gaven's blast from just outside the box, sending it inches wide of the right post.

Chivas also had two opportunities, both off corner kicks. The first, on a counter in the 79th following a Crew corner, had Alejandro Moreno feed Justin Braun on the right flank, and his first-time cross into the box found LaBrocca, who volleyed left-footed at Columbus goalkeeper Will Hesmer. Heath Pearce's header from Gerson Mayen's corner in the 90th got past Hesmer, but Dilly Duka stepped off the goal line to clear it easily.

"We feel like at times we've been good enough to win games and probably let a few games get away from us," coach Robin Fraser said. "Tonight, we probably could have stolen the game, or they could have stolen the game. I felt like maybe we weren't as aggressive as we needed to be, and at the end, maybe a draw is a fair result."

A quick look at Chivas' draw:

BEST PLAYER: Columbus defender Chad Marshall, from Riverside, is off to a terrific start, and the Goats were overmatched in their duels with the big center back. Sure, Chivas might have gotten more had their energy been comparable to that against Toronto last week, but the Crew have conceded nearly nothing while posting three successive shutouts, and Marshall has been a big reason for that.

For Chivas, Kennedy was the clear hero, expertly dealing with crosses all night -- and then that save on Gaven, the biggest of the game.


April, 9, 2011
4/09/11
2:08
PM PT
By
Scott French
| ESPNLosAngeles.com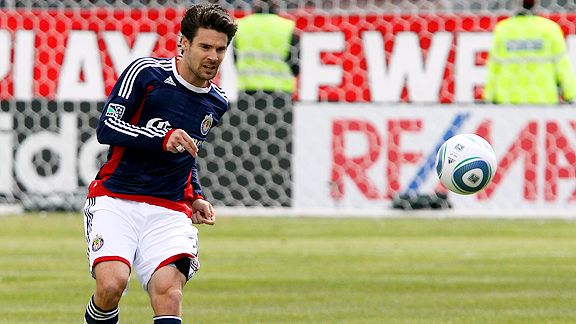 Abelimages/Getty ImagesChivas USA's Heath Pearce is versatile enough to play all four backline positions for the Goats.
Chivas USA's injury crisis and tentative start to its new era has forged a deeper side with more options in every sense, and the Goats hope -- no, expect -- to take a big step forward in Saturday night's Home Depot Center clash with the Columbus Crew.
Coach
Robin Fraser
and his staff have been forced to juggle things, especially on the backline, and their solutions have worked mostly.
Michael Lahoud
has slid seamlessly into the right-back slot -- "I think he's tailor-made to be an outside back," Fraser says -- and
Heath Pearce
, in last week's draw in Toronto, took to center back like an old hand.
Pearce, a natural left back who has been the Goats' starting right back, has played in Europe and for the U.S. national team -- he was on the U.S.'s 30-man preliminary World Cup roster last year -- and so he understands the game. Perhaps it's not so surprising that he's adapted to the new position, one he says he'd previously played only in a couple of training sessions with the national team, without the least struggle.
"As left or right back, you're playing next to a center back, and it's imperative that you know the center-back position to understand where you're supposed to be," said Pearce, who was acquired in a preseason trade from FC Dallas. "So I don't think the learning curve is that big. It's a position I'm definitely comfortable with. Anywhere that they feel that I can help the team the most, I'm willing to do that."
Fraser said the move sparked signs of leadership from Pearce that he's been waiting to see emerge.
"A player in his situation isn't going to step in an impose himself. He's going to learn the lay of the land and that sort of thing," Fraser said. "I think he'd been through enough situatioins where he's starting to recognize the leadership void that we have had. And I'll tell you, the second he jumped into center back, it's almost like he slid into the driver's seat."
Chivas (0-2-1) gets rookie
Zarek Valentin
back from the U.S. under-20 national team. He started the opener at center back before leaving for the CONCACAF U-20 Championship, but it's uncertain that he'll start against Columbus. Backline leader
Jimmy Conrad
remains out with a concussion.
MARSHALL'S MENTOR:
Fraser and Crew defender
Chad Marshall
, who's from Riverside, teamed together for Columbus in 2004 (Marshall's rookie year) and 2005 (Fraser's final season). Fraser, who was MLS's 2004 Defender of the Year, served as a mentor to the big, young center back.
February, 23, 2011
2/23/11
10:28
PM PT
By
Scott French
| ESPNLosAngeles.com
Chivas USA's playoff hopes increased dramatically Tuesday. Major League Soccer added two teams to the postseason mix.
The league boosted its playoff participants to 10 teams with the addition of two single-game wild-card showdowns, which should be welcomed by Chivas and Columbus, Chicago and D.C., K.C. and New England, even Toronto FC.
The Galaxy and the like? Are you kidding?
Here's how the postseason works this year:

The top three teams in each conference qualify for the main draw, which is just like before: home-and-home conference semifinals, one game conference finals, MLS Cup. The next four best teams, regardless of conference, take the wild-card slots, with the No. 7 seed playing 10 and 8 playing 9 and the winners advancing to play the regular-season champs, and … well, you know how it works.
This system will cut down on all that confusing cross-conference movement in the playoffs, which led to an all-West showdown in last year's Eastern Conference final, an Eastern Conference title (en route to MLS Cup glory) by Real Salt Lake in 2009, and a Western championship by New York in 2008.
Had this system been in place last year, K.C. would have been the No. 3 seed in the East and opened against Columbus, which the then-Wizards might have won. Which would have left them 90 minutes from MLS Cup.
One wild-card battle would have matched Colorado against San Jose. ... Hey, they did play -- in the Eastern Conference final. The Rapids prevailed, then won the MLS Cup crown. (The other wild-card matchup would have been Seattle-Chicago; the Galaxy likely would have opened against Colorado.)
MLS has had eight playoff teams since its 1996 start, when there were only 10 clubs. As the league slowly grew to 16 teams by 2010, eight playoff berths seemed sufficient. Portland and Vancouver make for 18 teams this season and Montreal for 19 next year, and eight still sounds perfect.
L.A. would have reached the 2006 playoffs had this format been in place, but nothing could have saved the Galaxy in 2007 and 2008. And forget Chivas last year or in 2005.
October, 28, 2010
10/28/10
10:31
PM PT
By
Scott French
| ESPNLosAngeles.com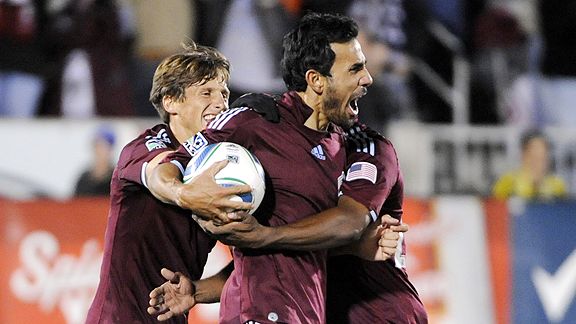 AP Photo/Jack Dempsey
Pablo Mastroeni and his Colorado teammates celebrate the game's only goal against the Crew.
IN BRIEF:
Colorado's first-half dominance paid off with a nifty goal, and the Rapids held off Columbus' late charge to open Major League Soccer's postseason with a 1-0 victory.
BEST PLAYER:
It was never a secret that the key player in this series would be speedy Rapids forward
Omar Cummings
, and he repeatedly tore apart the Crew's backline to run onto balls out of the midfield, most from strike partner
Conor Casey
and from
Brian Mullan
. He found space primarily on the right wing, slicing between big UC Santa Barbara alum
Andy Iro
and rookie left back
Shaun Francis
, then firing across the face of the goal or delivering dangerous balls for, primarily, Casey. He set up one goal and was unfortunate not to produce more.
BEST GOAL:
There was just one, in the 23rd minute, and it told the story of the game. Two quick passes out of midfield, the second a defense-splitting pass from Mullan to Cummings on the right flank, and the Jamaican forward sent in a low cross toward the goalmouth. Casey dragged Crew defender
Chad Marshall
(Riverside/Rubidoux HS) to the near post, then got a back-heel touch to the ball, helping it to the far post for
Pablo Mastroeni
, who raced in ahead of
Robbie Rogers
(Palos Verdes and Huntington Beach/Mater Dei HS) for the last touch.