Los Angeles Soccer:

Charlotte Eagles
June, 29, 2012
6/29/12
1:32
PM PT
By
Scott French
| ESPNLosAngeles.com
UPDATE (3:15 p.m.): An official scoring change has been made, with Bright Dike losing credit for the second goal. Instead, it goes to Irving Garcia, with Dike picking up his second assist of the season. Garcia, who starred at UC Irvine and spent a season with the New York Red Bulls, has two goals this year.

ORIGINAL POST: Bright Dike scored two more goals but they only made the score more respectable for the L.A. Blues, who opened a six-day, three-game Atlantic Coast swing with a 3-2 USL Pro loss Thursday night to the Charlotte Eagles.

Dike, on loan from Major League Soccer's Portland Timbers, tallied in the 58th and 88th minutes, each time narrowing the Eagles' advantage to a goal.

That's six goals in the past six games for Dike, a fast, muscular striker who has found the net in five of seven appearances since joining the Blues (5-4-2). He'll look to add to the total Saturday night in crucial showdowns against the Wilmington (N.C.) Hammerheads and Tuesday against the Richmond Kickers.

The Kickers (4-5-5) are even on points with the fifth-place Blues, and Wilmington (5-5-4) is in fourth place. The top six teams advance to the playoffs.

Mauricio Salles converted a penalty kick after an Erlys Garcia hand ball to give Charlotte (4-8-2) a 28th-minute lead, and Christian Meza made it 2-0 four minutes later. Jorge Herrera scored the third one minute before Dike's second goal.

Blues coach Charlie Naimo was so unhappy with the Blues' play in the first half that he made four substitutions at halftime, changing three flank players and pulling former Chivas USA striker Maykel Galindo.

Charlotte (4-8-2) made seven changes in the team that lost to Chivas USA in a U.S. Open Cup quarterfinal two days earlier on the Blues' home field at Cal State Fullerton, then brought on four more Open Cup starters in the second half.


June, 26, 2012
6/26/12
11:51
PM PT
By
Scott French
| ESPNLosAngeles.com
FULLERTON --
Jose Erik Correa
took a goal away from Chivas USA a half-hour into Tuesday night's U.S. Open Cup showdown, and he wasn't about to let that be his legacy in the Goats' biggest game so far this season.
The Colombian forward, returning from a hamstring injury that had sidelined him most of June, made up for his miscue by scoring two goals, including a dramatic stoppage-time winner, as Chivas USA overcame the pesky Charlotte Eagles to advance to the 99-year-old competition's semifinals for the second time in club history.

Correa headed home a
Laurent Courtois
free kick nearly four minutes into added time to deliver a 2-1 triumph at Cal State Fullerton and set up a July 10 date with
three-time defending champion Seattle Sounders
, a 1-0 winner over the San Jose Earthquakes. The Sounders beat the Goats two years ago in the semifinals.
"This is huge ...," said Chivas coach
Robin Fraser
after the Goats' third one-goal victory in this Open Cup and the second in a row on a stoppage-time finish. "Sometimes the play's been good, sometimes the play's not been great, but at the end of the day, the team is finding ways to get results. That's going to serve you well in the long run."
Correa also tallied in the 64th minute, finishing a through ball from
Juan Agudelo
that looked as if it would hold up until the end. Charlotte, a third-division side that beat FC Dallas in a third-round game nearly a month ago, pulled even in the 89th minute when
Mauricio Salles
knocked home the remains of a
Jorge Herrera
shot that
James Riley
slid in to block.
"It goes to show you waste some really big chances and you let the team stay in it, they're going to fight until the very end," said center back
Danny Califf
, who wore the captain's armband. "We didn't make it easy on ourselves, especially in the second half. We weren't able to hold the ball, we didn't finish our attacks very well, they were able to get rebounds and come at us with numbers.
"It wasn't pretty, but in the end it showed a lot of character. That's two games in a row that we've done that, so we'd like to make it easier on ourselves, but a win is a win is a win."
Correa clinically finished on the first, with Agudelo -- a late-first-half substitute for
Miller Bolaņos
, who retweaked his hamstring injury in his first game since May 23 -- feeding him after Courtois chested a
Tim Melia
clearance onto his path near midfield. The second was almost as nice, with Correa getting assistance from countryman
Juan Pablo Angel
to nod home Courtois' free kick from about 30 yards out on the right flank.
"I was arriving at that ball with not a lot of strength, and [Angel] pushed me from the back with a lot of strength," Correa said through a translator. "The next thing I know, he yells, 'Goal!' and then I turn around. Practically, the whole strength on that goal was from him. He pushed me."
June, 25, 2012
6/25/12
11:12
PM PT
By
Scott French
| ESPNLosAngeles.com
CARSON -- Chivas USA has survived stiff tests from two lower-division teams to reach the U.S. Open Cup quarterfinals for just the second time, and they know that's not about to change.

The Charlotte Eagles, the Goats' foe in Tuesday night's final-eight showdown at Cal State Fullerton's Titan Stadium, have an air of destiny about them -- and a belief, tested and proved, they can handle whatever a Major League Soccer team throws at them.


[+] Enlarge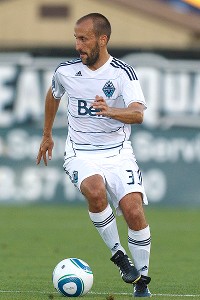 Jason O. Watson/US PresswireMidfielder Peter Vagenas of Chivas USA.
The third-division club has shown it already, winning its first three matches in the 99th edition of America's longest-running soccer tournament on the road, in Texas, the last two against higher-division teams. The defining result: 2-0 over FC Dallas, the MLS club.
"We feel like we deserve to be here, because we've really put some good games together," said Charlotte head coach
Mark Steffens
, whose team also beat second-tier San Antonio Scorpions in the fourth round. "Now if we added all of our play the whole season, I'd say, no, we don't deserve to be here. But the way we've played the second half of the season, it hasn't been a surprise winning a few big games."
The Eagles, who are affiliated with Christian group Missionary Athletes International and, Steffens says, consider their religious mission more important than winning trophies, are ninth in the 11-team USL Pro with a 3-8-2 record (and a game at home Thursday against the L.A. Blues). They're 6-4-1, including the Open Cup wins, since the end of April, and the losses have come to the league's Nos. 1 and 3 teams and to longtime rival Richmond Kickers, a result they answered in a 4-1 romp a week and a half ago.
"Our turnaround has been defensively," Steffens said. "So we're not going to do anything different than we've done [during a 4-2-1 run] the last six weeks. We're just working on defending and defending as a unit and getting behind the ball, so that's what we're going to do. If we can counter and get one [goal], it's always good to get ahead."
Chivas, which made it to the semifinals two years ago, understands well Charlotte's approach. The Goats have had to battle to get past amateur powerhouse Ventura County Fusion in the third round, then needed a
Juan Pablo Angel
penalty kick in stoppage to beat second-tier Carolina RailHawks three weeks ago.
"In some respect, these games are harder than MLS games because you're playing guys who are salivating at the mouth, and that's always difficult," said Chivas midfielder
Peter Vagenas
, who has won four Open Cups, twice with the Galaxy and twice with three-time defending champion Seattle Sounders. "You're playing teams that are desperate and have nothing to lose, and that's always difficult. ...
"By no means are we taking it lightly. The first two games were, quote-unquote, lesser opponents, and at some point they gave us everything we could handle, and we expect more of the same. We have to make sure that we match [their] intensity, and if we match [their] intensity -- this is no disrespect to them -- but certainly our soccer will prevail."
June, 21, 2012
6/21/12
3:05
PM PT
By
Scott French
| ESPNLosAngeles.com
Chivas USA would play at San Jose or Seattle if it wins its U.S. Open Cup quarterfinal Tuesday night.
U.S. Soccer announced the semifinal pairings Thursday, and they followed the expected regionalization, with all three West Coast teams on one side of the bracket and the clubs in the East and Midwest in the other bracket.
Chivas plays against an Eastern team, third-division Charlotte Eagles, on Tuesday at Cal State Fullerton's Titan Stadium. MLS rivals San Jose Earthquakes and Seattle Sounders meet in San Francisco.
Seattle is the 99-year-old tournament's three-time defending champion.
If the Earthquakes advance, they will stage the semifinal at Santa Clara University's Buck Shaw Stadium, their home field until a planned permanent stadium opens possibly next year or in 2014. The Sounders would play at their No. 2 facility, Starfire Sports Complex in Tukwila, Wash.
Chivas reached the semifinals in 2010, losing to Seattle.
Semifinal games would be played July 10 or 11.
Here are the semifinal pairings:
Chivas USA (MLS)/Charlotte Eagles (USL Pro) at Seattle Sounders (MLS), June 10, 7 p.m., or Chivas USA (MLS)/Charlotte Eagles (USL Pro) at San Jose Earthquakes (MLS), June 10, 7:30 p.m.
Sporting Kansas City (MLS) at Philadelphia Union (MLS), July 11, 4:30 p.m., or Dayton Dutch Lions (USL Pro) at Philadelphia Union (MLS), July 10, 4:30 p.m., or Dayton Dutch Lions (USL Pro) at Harrisburg City Islanders (USL Pro), July 10, 4:30 p.m., or Harrisburg City Islanders (USL Pro) at Sporting Kansas City (MLS), July 10, 5:30 p.m.
And here are Tuesday's quarterfinal pairings:
Charlotte Eagles (USL Pro) vs. Chivas USA (MLS) at Cal State Fullerton, 7:30 p.m.
Harrisburg City Islanders (USL Pro) at Philadelphia Union (MLS), 4:30 p.m.
Dayton Dutch Lions (USL Pro) at Sporting Kansas City (MLS), 5:30 p.m.
Seattle Sounders (MLS) at San Jose Earthquakes (MLS), 7:30 p.m.
June, 14, 2012
6/14/12
10:36
PM PT
By
Scott French
| ESPNLosAngeles.com
Chivas USA won't play its U.S. Open Cup quarterfinal at Home Depot Center, opting to return to Cal State Fullerton, where the Goats last played a home game in the competition.

The club Thursday confirmed that Titan Stadium would be the site of the June 26 clash with the Charlotte Eagles, a third-division club that plays in the USL Pro. Chivas has won road games against the fourth-tier Ventura County Fusion and second-division Carolina RailHawks in its first two games in the competition.

U.S. Soccer, which must approve all venues, had announced the game would be held at HDC, but Chivas' website listed the site as undetermined until this week.

The Goats beat the second-tier Austin Aztex, 1-0, at Fullerton in a third-round game en route to the 2010 semifinals. Their only other home game in the 99-year-old competition was played in Goleta, at UC Santa Barbara's Harder Stadium. Dallas-based amateurs Roma FC advanced on penalties after a scoreless draw.

Chivas also played a 2008 SuperLiga game against the New England Revolution, a 1-1 draw, at Fullerton.

Titan Stadium, which seats 10,000, is a more intimate venue than HDC, and the rent is cheaper. It was universally considered Southern California's best smaller soccer venue (and, thus, best soccer venue) for more than a decade and has been No. 2 on the list since HDC opened in 2003.


June, 5, 2012
6/05/12
10:34
PM PT
By
Scott French
| ESPNLosAngeles.com
The U.S. Open Cup quarterfinals are set after a wild fourth round that provided four overtime games and just one major upset, and the biggest story of the round concerns the USL Pro's unexpected success.
All three third-division teams in action Tuesday pulled out victories, all in overtime, to advance to the June 26 quarterfinals in the 99th edition of American soccer's oldest and most prestigious knockout tournament.
The Charlotte Eagles, Dayton Dutch Lions and Harrisburg City Islanders join five Major League Soccer clubs in the final eight, all of them set to take on first-division opposition.
The Islanders pulled off the upset, booting MLS power New York Red Bulls from the competition for the second time in three years.
Sainey Touray
, a former Red Bull, scored his second goal of the night in the 94th minute and rookie
Lucky Mkosana
added another in the 117th for a 3-1 victory.
Harrisburg overcame a three-goal overtime deficit last week to beat the New England Revolution on penalties.
Dayton toppled amateurs Michigan Bucks, 2-1, and Charlotte claimed a 2-1 win at San Antonio, on
Mauricio Salles
' 116th-minute penalty kick, in the USL Pro's only showdown with the second-division North American Soccer League.
Charlotte will play
Chivas USA at Home Depot Center
. Dayton has a date at Sporting Kansas City.
The Philadelphia Union also needed overtime to get past D.C. United in one of two all-MLS clashes.
Yorba Linda's
Steven Lenhart
was the hero for the the San Jose Earthquakes, scoring in the 85th minute to beat the NASL's Minnesota Thunder, 2-1, at Stanford.
Here is a scorelist and schedule:
June, 5, 2012
6/05/12
9:14
PM PT
By
Scott French
| ESPNLosAngeles.com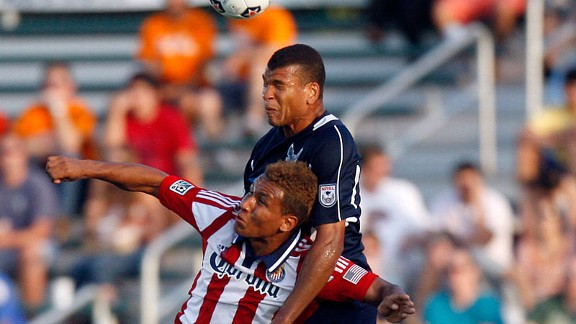 Travis Long/Raleigh News & Observer/MCT/Getty ImagesChivas USA's Juan Agudelo battles against Amir Lowery of the Carolina RailHawks during Tuesday's U.S. Open Cup game.
Chivas USA should have gotten more from its early dominance in Tuesday's night's U.S. Open Cup clash, but that's to be expected. The Goats have a knack for not taking advantage of their chances -- or not creating chances from their possession.
They got one goal, a beautiful header from
Juan Agudelo
, and then ran into some fortune at the finish, and so they'll play on into the quarterfinals of the 99-year-old knockout tournament, and do so at home.

Juan Pablo Angel
converted a penalty kick in the third minute of stoppage to deliver a 2-1 third-round triumph over the Carolina RailHawks in Cary, N.C. The Goats advance to a June 26 final-eight matchup with the Charlotte Eagles, a third-tier side from the USL Pro that beat the second-division San Antonio Scorpions, 2-1, in overtime.
Chivas' victory was neither simple nor particularly impressive, at least not after the break.
"I thought we started well," Chivas coach
Robin Fraser
told ESPN Los Angeles. "We created quite a few chances, were able to put them on their heels. We probably didn't do well enough with our opportunities early on. ... We came out the second half and didn't put together a whole lot, but real credit to the group for coming out with a lot of resiliency after their goal."
The Goats looked good in the first half, moving the ball swiftly through
Peter Vagenas
in midfield and feeding off a sensational first half-hour, especially, from Agudelo. The big teenager's movement flummoxed the RailHawks, and his strength overpowered them.
He generated several opportunities -- the best: setting up
Laurent Courtois
to fire just over the crossbar in the 16th minute, firing to force a tough save by former FC Dallas goalkeeper
Ray Burse
a minute later, nodding a cross that Burse somehow kept out in the 25th -- and should have scored in the 18th, when he delayed his shot and the opening disappeared.
Agudelo tallied in the 31st from a Courtois cross with a sharp, glancing header from the edge of the 6-yard box across the goalmouth and into the right-post netting.
"He was finding a lot of good spaces," Fraser said. "He was very, very difficult for them to deal with, running in behind, holding off guys, running at guys. That activity was very important for us."
May, 15, 2011
5/15/11
8:36
AM PT
By
Scott French
| ESPNLosAngeles.com
The good news for the L.A. Blues: They're atop their new division and have an opportunity next weekend to build on that lead with road games against the USL Pro's only two winless sides.
The bad news: The Charlotte Eagles were winless before coming to So Cal, and, after Saturday's finale of a two-game series with the Blues, they're winless no more.
Jorge Herrera
's stoppage-time penalty kick lifted the Eagles to a 2-1 victory at Cal State Fullerton. L.A. won Thursday's encounter, 2-1, at Centennial High School in Corona.
Cheyne Roberts
' half-volley from a Herrera corner kick gave Charlotte (1-4-1) a 22nd-minute advantage, but
Walter Gaitan
knocked home a loose ball after a 75th-minute corner to pull the Blues (4-2-1) even. Herrera's penalty winner followed a
Leonard Griffin
hand ball.
The Blues played short a man after central defender
Erlys Garcia
was sent off in the 42nd for a studs-up tackle on Alan Sanchez. Chivas USA loaner
Chukwudi Chijindu
, who netted the winner Thursday, hit the crossbar, and a Garcia header was cleared off the Charlotte goal line.
L.A. is 0-2 on its primary home field, and the crowd again was a disappointment. Only 623 were in the stands for a tripleheader that featured La Mirada's Southern California Seahorses, a Charlotte affiliate, and the Pali Blues, the Blues' championship women's team. Three home games have drawn 1,993.
May, 12, 2011
5/12/11
10:33
PM PT
By
Scott French
| ESPNLosAngeles.com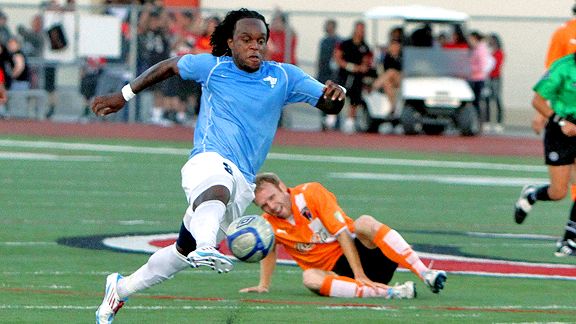 Courtesy L.A. BluesChukwudi Chijindu, on loan to the Blues from Chivas USA, had an impressive goal in a victory Thursday.
CORONA --
Chukwudi Chijindu
would rather be in Carson, battling for time on the field -- and a job putting the ball away -- with Chivas USA. A few more finishes like Thursday night's, and that might be on the menu.
Chijundu finished a superb sequence in the 88th minute to answer a late Charlotte Eagles equalizer and lift the L.A. Blues to a 2-1 victory at Centennial High School in the club's Inland Empire opener.
Chijindu took a fine feed from
Cesar Rivera
, danced past two defenders at the top of the box and fired past former UCLA goalkeeper
Eric Reed
as the Blues (4-1-1) triumphed in a USL Pro encounter that drew 676 fans -- plus another couple of hundred people attending a Centennial football event -- to Husky Stadium.
Former Galaxy outside back
Mike Randolph
scored the first goal and played a wise backheel to Rivera to start the sequence that led to the winner.
CHUCKY IN CHARGE:
Chijindu, a Fontana product known to all as "Chuck," made his first start for the Blues; he has been slowed down by a hamstring injury and acknowledged he's "still not 100 percent."
"Any time you can get three points, it's always a good feeling," he said. "To get the winning goal was a good feeling as well. … I think one thing we have is good chemistry. We have very good players with the ball at our feet. That's our strength. Whenever we're able to move the ball quick, make runs off of each other and support each other, I think good things can happen."
Chijindu joined the Blues on loan from Chivas, sent down to the third-tier club, Goats coach
Robin Fraser
said, to tidy his game. The dreadlocked forward didn't agree with the decision.
"Obviously, you want to show [Chivas] they made a mistake or were too quick to judge, however you want to put it," Chijindu said just before the season opened. "But my main goal is to stay healthy and to score a lot of goals. To be dangerous every game, create chances, set my teammates up for chances and just work hard, because I feel like that's the route to all success, is hard work."
May, 11, 2011
5/11/11
4:56
PM PT
By
Scott French
| ESPNLosAngeles.com
The L.A. Blues are heading into a new market, taking their game to Riverside County, which they hope has a hunger for soccer that they can quench.
Head coach
Charlie Naimo
just wants to get back on the field, no matter where.
"I'm just looking forward to playing," said Naimo, whose Blues (3-1-1) take on the Charlotte Eagles in a USL Pro game Thursday evening at Centennial High School in Corona, the first of four scheduled games in the Inland Empire. "You drop your honme opener, and then you've got to wait 11 days to play? That stinks. You just want to get back on the horse."
The Blues were beaten, 1-0, by Antigua Barracuda on May 1 at Cal State Fullerton, and the statuses of Argentine playmaker
Walter Gaitan
and local forward
Cesar Rivera
, who weren't available in that one, are uncertain. Jamaican forward
Akeem Priestley
also is ailing, and Iranian right back
Mehrshad Momeni
is still awaiting receipt of his visa.
Forward
Chukwudi Chijindu
, on loan from Chivas USA, is expected to make his first start after a slow beginning to the campaign because of a hamstring injury.