Los Angeles Soccer:

Chelsea
July, 9, 2012
7/09/12
2:33
PM PT
By
Scott French
| ESPNLosAngeles.com
Frank Lampard's rumored move to the Galaxy isn't happening, he told English media, claiming his time in L.A. was just vacation.
Chelsea's star midfielder watched L.A.'s Fourth of July loss to Philadelphia from a Home Depot Center luxury box with suspended
David Beckham
amid reports he'd been offered a two-year contract worth $20 million to join the Galaxy. He's been linked to the club since last year.
"There's nothing in that at all," he told
The Sun
, a British tabloid. "I'm here in Los Angeles on holiday with
Christine
[
Bleakley
, my fiancee]. We got engaged here last year, and we love it over here. [Agent
Steve Kutner
is] over here on music and football business. He organized a box so we could go to see the Galaxy game.
"Becks was suspended for the match, so he came and sat with us, and we had a good laugh -- that's all."
Lampard, 34, has a contract with the European champions through next summer, and he said he was "really looking forward to getting back to Chelsea" after missing Euro 2012 with a thigh strain. "Maybe missing the Euros was a blessing in disguise for me. I had a full summer off, and I'm ready to go back to start the hard work for the new season."
July, 8, 2012
7/08/12
1:57
PM PT
By
Scott French
| ESPNLosAngeles.com
David Beckham and Landon Donovan won the fans' vote for Major League Soccer's All-Star First XI, the first step in selecting the team that will take on European champion Chelsea later this month in Chester, Pa.

MLS on Sunday announced the first 11 players, selected in a 4-4-2 formation, and the list includes New York Red Bulls star Thierry Henry, San Jose striker Chris Wondolowski and reigning league MVP Dwayne De Rosario from D.C. United.

Chivas USA goalkeeper Dan Kennedy lost out to Sporting Kansas City's Jimmy Nielsen for the First XI goalkeeper slot but was among seven players MLS cited as being "close to the leading vote-getters at their positions."

The First XI is not the starting lineup, merely the first 11 players chosen for the team. Commissioner Don Garber has two selections and D.C. United coach Ben Olsen, who will guide the MLS side in the July 25 match, will fill out the remainder of the 18-man game roster, with the announcement of their picks scheduled for next Sunday. Olsen will determine his starters from the 18.

Fourteen additional players will be announced July 25 as all-stars, per the MLS Players Union's Collective Bargaining Agreement with the league, but none will be eligible to play.

Donovan is a 12-time All-Star selection, and Beckham is making his third appearance on the list. Beckham's availability is uncertain; he might be in London for the Olympics, which begin July 25.

Sporting Kansas City placed three players on the First XI, with defender Aurelien Collin and midfielder Graham Zusi joining Nielsen. Former Chivas USA defender Heath Pearce is the second Red Bull on the list, and San Jose also has a second player, defender Steven Beitashour.

Here is the First XI:

GOALKEEPER
Jimmy Nielsen (Sporting Kansas City), Denmark, second All-Star appearance

DEFENDERS
Steven Beitashour (San Jose Earthquakes), U.S., first
Aurelien Collin (Sporting Kansas City), France, first
Jay DeMerit (Vancouver Whitecaps), U.S., first
Heath Pearce (New York Red Bulls), U.S., first

MIDFIELDERS
David Beckham (Galaxy), England, third
Dwayne De Rosario (D.C. United, Canada, seventh
Landon Donovan (Galaxy), U.S., 12th
Graham Zusi (Sporting Kansas City), U.S., first

FORWARDS
Thierry Henry (New York Red Bulls), France, second
Chris Wondolowski (San Jose Earthquakes), U.S., second


July, 2, 2012
7/02/12
4:29
PM PT
By
Scott French
| ESPNLosAngeles.com
CARSON -- British reports claim the Galaxy has offered Chelsea's Frank Lampard a two-year, $20 million offer, and that the veteran central midfielder is strongly considering a move to Los Angeles.
It's not the first time Lampard's name has been linked to the Galaxy, but the reports have never been so specific.
Several outlets made the claim, none identifying their sources, but
David Beckham
lobbied his former England teammate last year and club owner AEG president
Tim Leiweke
has publicly expressed interest in signing the star.
"I'm a fan of Frank's. I think he's a great player. When I think of Chelsea, I think of Frank Lampard ...," Leiweke told Sky Sports in January. "It took us two years to get David to come here the first time.
"We're working on the next [Designated Player], and we'll continue to work on the next DP. There are a half-dozen guys we have a good relationship with, and we'll see how that goes. But first we've got to have a spot, and at the moment we don't have a spot."
The Galaxy still doesn't have a spot. MLS clubs may sign up to three DPs, whose salaries go beyond the $350,000 maximum hit to the salary cap. Beckham,
Landon Donovan
and Irish striker
Robbie Keane
occupy L.A.'s slots.
Sources with knowledge of the talks confirmed to ESPN Los Angeles that AEG is holding discussions with Lampard's representatives.
Lampard, who turned 34 on June 20, still has one year on a Chelsea contract that pays him about $12 million a year. He's been with the Blues since 2001 and captained them, in
John Terry
's absence to suspension, to triumph over Bayern Munich in the UEFA Champions League final in May.
He is considered one of the finest midfielders of his generation and has played in two World Cups and two European Championships for England, including Euro 2012, in which the English reached the quarterfinals.
June, 7, 2012
6/07/12
2:03
PM PT
By
Scott French
| ESPNLosAngeles.com
Fan balloting for the July 25 MLS All-Star Game begins Friday morning, and a name missing from last year's list of candidates has found its way onto the ballot: Galaxy defender Todd Dunivant's.

He's one of six L.A. players eligible to make the All-Star First XI, the first group of players for Philadelphia coach Peter Nowak's side for the clash with England's Chelsea at PPL Park in Chester, Pa.

The First XI will be determined by fan voting at Major League Soccer's website, via text messaging and, in two weeks, during a two-day Twitter session. Additional players will be selected by Nowak, MLS Commissioner Don Garber and in a players vote.

Midfielders David Beckham, Landon Donovan and Juninho, forward Robbie Keane and goalkeeper Josh Saunders are the other Galaxy players on the ballot. Donovan would make a record 12th appearance is selected; he shares the record with retired defender Eddie Pope.

Chivas' eligible players are goalkeeper Dan Kennedy, defender James Riley, midfielders Nick LaBrocca and Oswaldo Minda, and forwards Juan Pablo Angel and Alejandro Moreno.

A media panel determined the 114 names on the ballot, just six per team, including one goalkeeper from each side. As always, there are omissions, although for the local teams none as wrong-headed as Dunivant's omission last year.

Given the Galaxy's struggles, only a few players -- Beckham chief among them -- are worthy of consideration, although the priority is more about putting together a team that can compete with Chelsea than in rewarding players for their performances in the first half of the season.

The biggest omissions among local players are Galaxy midfielder Mike Magee, one of the few L.A. players who has done well this season, and Chivas USA center backs Danny Califf and Rauwshan McKenzie.


February, 11, 2012
2/11/12
1:48
PM PT
By
Scott French
| ESPNLosAngeles.com
Galaxy captain Landon Donovan was again at the center of an Everton victory, creating the second goal as the Toffees took down Chelsea, 2-0, for their second straight home upset in the English Premier League.

Donovan fed Argentine forward Denis Stracqualursi in the 71st minute as Everton thrilled its fans at Goodison Park by beating another EPL power.

The victory follows a 1-0 win Feb. 1 over first-place Manchester City and pulls Everton (9-10-6) to 10th place in England's top league.

Donovan collected a ball from Phil Neville on the right flank, cut inside past two defenders, played a through ball to split two defenders, and Stracqualursi's first-time shot caught goalkeeper Petr Cech's hand en route to the net.

That's six of Everton's last 10 goals over eight games, including F.A. Cup, that Donovan has assisted. The Galaxy star's second loan stint to the Liverpool-based club has two games remaining, including next week's F.A. Cup fifth-rounder against Blackpool.


January, 2, 2012
1/02/12
3:14
PM PT
By
Scott French
| ESPNLosAngeles.com
David Beckham's proposed move to Paris Saint-Germain is looking iffier and iffier, with the latest reports across the Atlantic claiming he's leaning toward re-signing with the Galaxy.

It's about family, as we always thought it would be, with sources "close to" Beckham telling British tabloid Daily Mail that he is reluctant to relocate his family, which is happily settled in Beverly Hills.

And now there are questions about Paris Saint-Germain's desire to sign the English superstar. French sports daily L'Equipe reports that new PSG coach Carlo Ancelotti would rather bring in Brazilian midfielder Kaká, from Real Madrid, as Leonardo, the club's sporting director, says he's willing to give Beckham more time to consider the offer.

"The question has never been professional but about family. It is a difficult choice to make the whole family move to Paris," Leonardo said in remarks published by Sky Sports. "We will wait a little. It is a personal choice, and it is not that easy to him. We have some time, and he has some time, too.

"We never stated it has been done. There is no contract. We won't push him -- we respect him a lot. I know him and have an amazing admiration toward him both as a player and as a father. I can understand it is difficult to move. We will leave him in peace."

Beckham is expected to make a decision after talks with Simon Fuller, whose XIX Entertainment serves as Beckham's agents. His five-year, $32.5 million contract with the Galaxy expired Dec. 31, but L.A. reportedly has offered a rolling one-year contract to replace it. PSG is dangling an 18-month, $18.7 million pact, according to media reports.

KEANE TO VILLA?: Robbie Keane was adamant following the Major League Soccer season that he was not interested in an offseason loan, but there appears to be interest in England to bring him back for a spell.


January, 1, 2012
1/01/12
8:11
PM PT
By
Scott French
| ESPNLosAngeles.com
The newest big name to emerge as a potential replacement for David Beckham: Samuel Eto'o.

An old name gaining traction: Frank Lampard.

Eto'o first. The National, an English-language daily in Abu Dhabi, United Arab Emirates, reports that Major League Soccer has offered $25 million to the superstar Cameroonian striker, with the Galaxy or New York Red Bulls his likely destination.

Eto'o, 30, is paid $25 million annually after taxes by rising Russian club Anzhi Makhachkala, according to media reports. Beckham, whose decision to stay with the Galaxy or accept a contract from Paris Saint-Germain is expected any day, has been MLS's highest-paid player, making $5.5 million in salary each year. His contract with the Galaxy expired Saturday.

It sounds far-fetched. The report claims that MLS "manages the recruitment of overseas players on a league-wide basis," but the league doesn't do that at all. Rather, all contracts within MLS are with the league, although Designated Player pacts -- such as Beckham's or any contract that Eto'o might consider -- are framed differently than others. In addition, nobody in MLS is going to be paying $25 million to any player.

Anzhi Makhachkala, which in August signed Eto'o to a three-year, $75 million deal from Inter Milan, has reportedly set a $62 million transfer fee for the former Barcelona striker.
There has been speculation and reports of negotiations with several top international stars as Beckham's contract has neared its end, with the Galaxy reportedly interested in, talking to or making offers to, among others, Flamengo's Ronaldinho and Chelsea's Didier Drogba.

Lampard, also at Chelsea, might be the likeliest arrival should L.A. go for the big splash. British tabloid The Sun reported Saturday that Beckham has twice spoken to the midfielder in the past two weeks to encourage his interest.


November, 29, 2011
11/29/11
3:52
PM PT
By
Scott French
| ESPNLosAngeles.com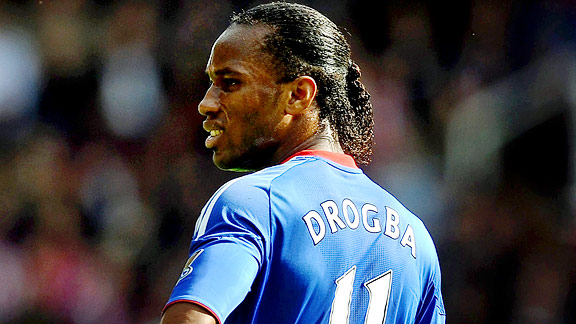 Laurence Griffiths/Getty ImagesDidier Drogba's agent says the "L.A. Galaxy are a possibility" in terms of where his client could next sign.

If David Beckham decides his future is in France, might Didier Drogba fill his shoes?

Drogba's agent suggested it could happen after the Ivorian striker declined to extend his contract with English Premier League giant Chelsea.



Drogba, 33, among the world's elite forwards, is expected to sign in Russia or Qatar, but Thierno Seydi, his Senegal-based agent, said he could end up with the Galaxy.

"L.A. Galaxy are a possibility, among many others," Seydi said, in comments published Tuesday in British tabloid The Sun. "He has been linked with Anzhi Makhachkala in Russia, as they pay well. But neither Didier nor I have had an offer from them."

The Galaxy has been linked in the media with many top players, including Ronaldinho, Frank Lampard, Alessandro Del Piero, Luca Toni, Guti -- and now German star Michael Ballack, too, according to a report in German tabloid Berliner Kurier. The club does not comment on potential signings and, unlike many top European clubs, does not campaign through the media.

Beckham's five-year contract with the Galaxy expires in December, and he'll decide after the club's postseason tour of Asia and Australia whether to re-sign with L.A., accept offers from Paris Saint-Germain or English club Tottenham or retire. He is not expected to retire.


January, 4, 2011
1/04/11
5:38
PM PT
By
Scott French
| ESPNLosAngeles.com
Blackburn Rovers FC have joined the pursuit to bring in David Beckham on loan, the English Premier League club's Indian owner has told Reuters, and Tottenham Hotspur is becoming impatient as it awaits word on its bid for the Galaxy midfielder.
Landon Donovan
, meanwhile, has informed Everton supporters he'd like to join the Toffees again next year.
Blackburn joins nearly a dozen clubs that have expressed interest in acquiring Beckham for a short loan stint, to end before the Galaxy's March 15 season opener.
"We have made an effort to get Beckham on loan ...,"
Venkateshwara Rao
, who purchased a controlling interest in Blackburn two months ago, told Reuters. "Nothing has come out of it so far."
Harry Redknapp
, manager of London-based Tottenham, on Tuesday told reporters in England that he needs to know soon whether the Galaxy are willing to make a deal.
"I haven't heard anything for a few days," Redknapp said, according to an Agence France Presse report. "I was looking at (bringing him in for) at least three months, really. If it is a very short-term thing, it can be a problem, as much as I would like him and I am a great fan of his.
December, 27, 2010
12/27/10
3:01
PM PT
By
Scott French
| ESPNLosAngeles.com
The latest loan talk involving David Beckham has Chelsea and Real Madrid in the picture.
The Sunday Mirror
reports the clubs are ready to sign the Galaxy midfielder, who said eight days ago that he was looking for a loan.
He also said it was unlikely he would go to any English club aside from Manchester United, but London's Chelsea -- one of Man U's primary challengers for the English Premier League title -- almost certainly would provide playing time, given its injury situation.
Real Madrid seems the more enticing possibility, if it really is a possibility. Beckham played four seasons for the Merengues, playing a key role in their 2007 La Liga title run before joining the Galaxy.
The Galaxy's position on a loan deal: Beckham is expected in camp when the team begins preseason training in late January.
December, 23, 2010
12/23/10
9:00
PM PT
By
Scott French
| ESPNLosAngeles.com
Our countdown of 2010's top 10 soccer stories and newsmakers -- from a Southern California slant -- continues.
Stories/No. 9: Real Madrid's visit
The gap between Major League Soccer's best and the world's finest clubs has rarely been more aptly illustrated than at the Rose Bowl last Aug. 7.
The Galaxy, en route to the Supporters' Shield (as MLS's regular-season champion), stood toe to toe with mighty Real Madrid through 45 minutes, taking a two-goal lead to the locker room at halftime.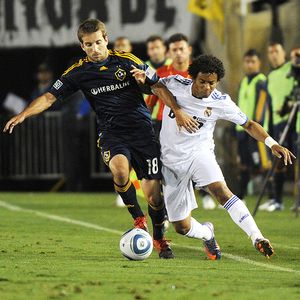 Mark Ralston/AFP/Getty Images
Real Madrid defender Marcelo, right, clashes with Galaxy forward Mike Magee during their friendly at the Rose Bowl on Aug. 7.
Then
Jose Mourinho
, the "Special One," unleashed his A side, bringing on World Cup stars
Cristiano Ronaldo
,
Gonzalo Higuain
,
Xabi Alonso
and
Iker Casillas
. Real Madrid, demonstrating a substantial superiority in skill, quickness of thought and ball movement, destroyed L.A. over the final 45 minutes, rallying for a 3-2 victory -- with Argentine forward Higuain scoring two of the goals.
The encounter delighted a crowd of 89,134 -- the second-largest crowd to watch a soccer game in Southern California this year, just off the 90,526 count for Mexico's Rose Bowl game against New Zealand on March 3. And it delighted the Galaxy, who considered it an honor to be on the same field with one of the globe's greatest clubs.