Los Angeles Soccer:

Cheun-Yong Park
May, 6, 2012
5/06/12
11:21
PM PT
By
Scott French
| ESPNLosAngeles.com
FULLERTON -- The L.A. Blues battled from behind again Sunday -- twice, this time -- and picked up another point, but a bigger addition arrives Monday.
Blues head coach/general manager
Charlie Naimo
said after his team's 2-2 USL Pro draw with the Wilmington Hammerheads that third-year Portland Timbers forward
Bright Dike
is coming in on loan.
With former star Chivas USA forward
Maykel Galindo
in the fold, and looking to get over a sprained ankle before next weekend's trek east, the speedy Dike's arrival ought to provide untold attacking dimensions for the Blues, especially with
Irving Garcia
pulling strings in midfield.
Garcia, a former UC Irvine standout who spent 2010 with the New York Red Bulls, was the catalyst Sunday, breathing real life into a dull affair after coming on in the 60th minute and scoring a brilliant goal as L.A. (1-2-1) rallied from its first deficit.
Cheun-Yong Park
also tallied, also a fine shot inside the left post, and nearly netted a stoppage-time winner as the Blues swapped out the direct style they started with -- and that drove them to a 2-1 comeback victory Friday over the Hammerheads (2-2-2) -- and pieced together some entertaining soccer for a crowd announced as 847 but probably half that.
"Game like today, it's good that we found a way not to lose here," Naimo said. "That's a step in the right direction. Four points on the weekend is not terrible -- we'd like to have had six -- and we've got reinforcements coming. We've got players coming into the team now who have got experience scoring goals at higher levels than this. And we're going to get out captain-type figure in [Iranian defender
Rahman
]
Rezaei
when he gets here. We're only going to get better."
Dike, 25, was a first-round pick by Columbus out of Notre Dame in the 2010 MLS SuperDraft, but he signed with the Timbers -- then a second-division team -- when he didn't make the Crew roster. He scored 10 goals in 23 D2 Pro League games that year, also netted a U.S. Open Cup hat trick against PDL power Kitsap Pumas and was one of the first players Portland signed when it joined Major League Soccer last season.
Dike played in 11 games for all of 175 minutes last year, scoring one goal. He hasn't played for the Timbers' first team this season but has started all three MLS Reserve League games and has two goals.
Jack Avesyan
(Hollywood/La Caņada HS) netted both goals off the bench for Wilmington, knocking home the rebound after Blues goalkeeper
Amir Abedzadeh
parried a shot by
Chukwudi Chijindu
(Fontana/Damien HS) in the 66th minute and heading home a corner kick from former Ventura County Fusion teammate
Hagop Chirishian
(Hollywood/A.G.B.U. Manoogian-Demirdjian School and Pasadena City College) in the 75th.
The second goal was made simple by atrocious marking at the near post. "Our defense on set plays was shocking," Naimo said. "If we could just defend a set piece, we win the game."
Garcia answered the first within two minutes, blasting a ball from just outside the area across the box and inside the left post. Park (Bethesda Christian University) netted the decisive goal in the 84th.
WORTH NOTING:
Play of the game: Abedzadeh's scrambling save to push a sensational, off-balance volley by
Bryce Taylor
past the right post in the 73rd minute. ... Avesyan had a significant cheering section, all wearing jerseys with his name and No. 22 on them, and they displayed an Armenian flag. "All my family was out there, all my cousins, everyone I know," Avesyan said. "This is my home, you know. This is what it's all about, the fans." ... Naimo, on Garcia: "Irving always steps it up when we're down. I don't know what it is, and it might not be always, but from what I've seen since he's been with us, he plays at a different pace and level when we're behind." ... Chijindu, who played last year for the Blues on loan from Chivas USA, departed with an ankle injury. ... The Blues have conceded the first goal in all four games. They play Friday at Dayton and Saturday at Pittsburgh. ... The Rochester Rhinos (4-0-0), which beat the Blues twice to open the season, have not yet given up a goal.
USL PRO
Titan Stadium, Cal State Fullerton
L.A. Blues 2, Wilmington Hammerheads 2
W -- Jack Avesyan 66
LA -- Irving Garcia (Ricky Waddell) 68
W -- Jack Avesyan (Hagop Chirishian) 75
LA -- Cheun-Yong Park (Bryan Burke) 84
L.A. Blues:
Amir Abedzadeh; Erlys Garcia (Israel Sesay, 46), Cory Miller, Ebrima Jatta, Sun-Hyung Cho; Allan Russell (Irving Garcia, 62); Bryan Burke, Carlos Borja, Ricky Waddell (Ladislas Bushiri, 82), Brian Farber (Shay Spitz, 58); Matt Fondy (Cheun-Yong Park, 46).
Unused subs:
Chad Bond, Jose Miranda.
Wilmington Hammerheads:
Alex Horwath; Troy Cole, Gareth Evans, Tyler Lassiter, Yahaya Musa; Mark Briggs, Paul Nicholson; Bryce Taylor, Daniel Roberts (Hagop Chirishian, 54), Andres Cuero (Jack Avesyan, 54); Andriy Budnyy (Chukwudi Chijindu, 56; Dylan Riley, 82).
Unused subs:
Manny Guzman, Tom Parratt.
Yellow cards:
Briggs 40, Jatta 43, Cole 63, Evans 64, Park 64, Lassiter 77, Spitz 82, I. Garcia 88.
Referee:
Reed Christy.
Att.:
847.
April, 20, 2012
4/20/12
12:46
PM PT
By
Scott French
| ESPNLosAngeles.com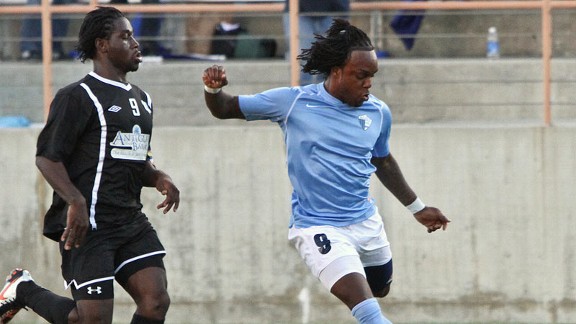 L.A. BluesFormer Chivas USA forward Chukwudi Chijindu, who played last year for the L.A. Blues, is with the Wilmington Hammerheads.

If you're looking for a local team to support in the USL Pro, the third-division league in American soccer's pyramid, the L.A. Blues aren't your only option.

There's also the Wilmington Hammerheads.

The North Carolina club, which will visit the Blues for a couple of games next month at Cal State Fullerton, have the largest collection of Southern California talent in the league: seven players from the area, another who played college ball here, and one more -- not sure he really counts -- who was with the Blues for a short spell last year.

They're among 32 players from Greater Los Angeles in USL Pro, which heads into its third weekend of games with Friday night's Blues-Rochester match at Fullerton.

The Blues, who featured a heavily local roster in their first season, have three players from the area (Anaheim's Carlos Borja, Newport Beach's Bryan Burke and Long Beach's Luis Gonzalez), four more from local colleges (UC Irvine's Irving Garcia, Cal State Fullerton's Shay Spitz and Bethesda Christian's Sun-Hyung Cho and Cheun-Yong Park), plus a former Galaxy winger who has called SoCal home since signing with MLS at 16 nearly five years ago (Israel Sesay).

The Rochester Rhinos, who won a league opener over the Blues last weekend, also have a decent contingent led by former UCLA star Mike Zaher and UC Santa Barbara products Conor Chinn and Tyler Rosenlund. All three, plus former Galaxy defenders Quavas Kirk and Troy Roberts, have MLS experience.

Orlando City has Palmdale's Maxwell Griffin, a UCLA alum whose performance for the champs last year led to a late-season loan deal to the San Jose Earthquakes. Pittsburgh has Long Beach's Tino Nuņez, from UC Santa Barbara, who spent a couple seasons with Real Salt Lake. Three goalkeepers are in the group: L.A.'s Kevin Klasila at Charlotte, Huntington Beach's Kyle Polak with Wilmington, and Laguna Hills' Eric Reed at Charlotte.

Wilmington's So Cal group includes former Chivas USA forward Chukwudi Chijindu, a Fontana product who spent last season with the Blues on loan from the Goats, plus Hollywood's Jack Avesyan and Hagop Chirishian, Laguna Hills' Trey Cole, Lakewood's Manny Guzman and Thousand Oaks' Dylan Riley.

Here's a full list of players with local ties in the USL Pro (with hometown and local high school/college in parenthesis, with local adult club following):


April, 14, 2012
4/14/12
10:43
PM PT
By
Scott French
| ESPNLosAngeles.com
The L.A. Blues couldn't find the net in their USL Pro opener Saturday night and dropped a 1-0 decision to the Rochester Rhinos at Cal State Fullerton's Titan Stadium.

Former Colorado Rapids forward Tam McManus scored the goal against the run of play in the 22nd minute, his header from J.C. Banks' cross leaving teen goalkeeper Amir Abedzadeh no chance.

The Blues nearly evened the score three times, but Cheun-Yong Park headed Brian Farber's cross wide moments after the goal and two Irving Garcia corner kicks -- with Kristian Nicht clearing Farber's header off the line in the 65th minute and Erlys Garcia firing high in the 70th -- just missed connecting.

The match drew an announced 2,432 fans, more than half the Blues' season attendance over 12 home games last year.

The teams meet again Friday night at Titan Stadium.
April, 13, 2012
4/13/12
6:31
PM PT
By
Scott French
| ESPNLosAngeles.com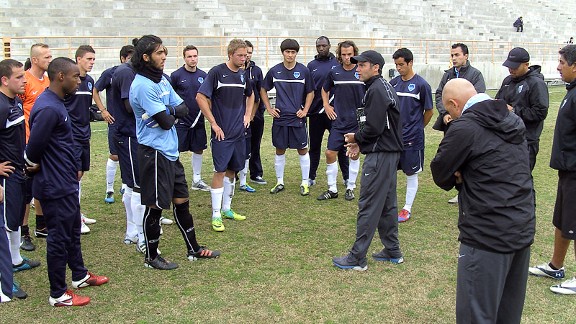 Blues Pro SoccerCharlie Naimo addresses his team during the buildup to the 2012 USL Pro season.

FULLERTON -- The Los Angeles Blues embark Saturday night on their second go-round in the USL Pro, looking to right what went wrong in the inaugural season, when their championship-caliber side unraveled after its big-name star abandoned ship.

Head coach/general manager Charlie Naimo and his staff gutted the team, keeping just four players and bringing in a mix of veterans and youngsters with perhaps not quite the flair of last year's group but with far more grit and resilience, and the Blues are thinking title as they kick off against the Rochester Rhinos at Cal State Fullerton's Titan Stadium.

The Blues want desperately to improve on last year's 8-7-9 campaign, followed by a first-round exit in the third-division professional league's playoffs, and challenge defending champion Orlando City SC and several prime contenders, including the Rhinos, who won the National Division last year, seven points ahead of third-place L.A.



But the real fight is off the field, where Steve Donner -- the club's new vice president of business operations -- is leading a charge to professionalize the organization, create for it a role on Southern California's crowded sports landscape, and create a foundation that will enable the Blues to survive and succeed for years to come. The most important move has been hauling the team's offices from Santa Monica to Fullerton, just a couple of blocks from the club's training ground at Fullerton College, and pledging its future to Titan Stadium after splitting a dozen league games last year among Cal State Fullerton and venues in Corona, Norco and Pacific Palisades.

Tickets are cheap, certainly in comparison with the Galaxy (and, less so, Chivas USA), parking is free and the soccer is better than decent. That's what Donner -- a sports marketing executive with extensive experience in hockey, minor-league soccer and lacrosse -- and his staff are trying to sell.

"A very convenient, very entertaining sports option in the Orange County and the L.A. Metro market: That's the niche we hope to create," said Donner, who was chief executive officer last year at Orlando City, which led the USL Pro in attendance. "It's going to take some time in order for people to understand what we really are."

That's because word didn't get out last year. A short lead-time to the club's debut -- the Tampa, Fla.-based United Soccer Leagues accepted the Blues for its top division in December 2010, and play began five months later -- had the organization scrambling from the start just to put on a season. Marketing was nearly nonexistent, sponsorship was sparse, and little more than 4,500 showed up for the entire 12-game home schedule, with just four crowds above 600.

A BAD START: "It couldn't have been worse last year," Naimo acknowledged. "It's really no one's fault. We started so late. Geographically, we were a constellation, and bottom line: You can't market to people you're not around."

"It did not work, as far as sponsorship, ticket sales," Ali Mansouri, who owns the club with his wife, Maryam, said at the close of last season. "We had a budget, what this thing is going to cost us. And we were very close to it. We were about 10 percent [above] what we estimated the cost is going to be. Very happy about that. But we also had an estimate of how much money we're going to bring in. We [made] 20 percent of that. That wasn't good."