Los Angeles Soccer:

Chicago Red Stars
July, 31, 2011
7/31/11
7:57
PM PT
By
Scott French
| ESPNLosAngeles.com
The Orange County Waves' inaugural season finished just as planned, with a trophy following a dramatic victory in Sunday's Women's Premier Soccer League title game in Lisle, Ill.
Former UC Irvine star
Tanya Taylor
(Buena Park/Sunny Hills HS) finished a feed from veteran pro
Brittany Klein
(Arcadia/Arcadia HS) 11 minutes into overtime, and the Waves (14-1-3) held on for a 2-1 triumph over the Chicago Red Stars at Benedictine University.
Kiki Bosio
(Mission Viejo/Santa Margarita Catholic HS and Capistrano Valley HS), like Klein a veteran of Women's Professional Soccer (both are Santa Clara University alums, too), gave the Waves an advantage just before halftime, and the Waves were counting down to a 1-0 victory when
Julie Ewing
pulled Chicago even in the 88th minute.
The speedy Taylor beat Chicago's offside trap to latch onto Klein's through ball on the decisive play.
"Tanya is a handful for anybody," Waves coach
Abner Rogers
told the WPSL's website. "She can just turn it on and just beat you. I felt the game could have gone either way. Like any big game, you're going to have to dodge some bullets, and we certainly got our breaks today."
Kristina Larsen
(Mission Viejo/Mission Viejo HS and UCLA), another WPS vet, came on as a substitute. She suffered a broken collarbone and fractured wrist last month and had been thought done for the season.
It was the fourth successive year a Los Angeles-area team reached the WPSL title game. Ajax America won its second championship in 2008, then lost in the 2009 and 2010 finals.
July, 31, 2011
7/31/11
8:00
AM PT
By
Scott French
| ESPNLosAngeles.com
Hollywood United rallied twice from deficits but couldn't do so a third time and lost in Saturday's National Premier Soccer League title game.
Tommy Krizanovic
's hat trick, with each goal assisted by
Rafak Safi
, prodded Florida's Jacksonville United to a 3-2 triumph at Madison, Ala. Krizanovic netted the winner in the 87th minute.
Hollywood United's
Arturo Albarran
also might have scored a hat trick, but he missed one of two penalty kicks. The Hitmen finish the season with a 14-3-1 mark, and Jacksonville closes at 8-4-0 after losing its first four games.
California teams had won four of the previous five NPSL titles: Sacramento Knights in 2006, Carlsbad-based Southern California Fusion in 2007, Sonoma County Sol in 2009 and Sacramento Gold last year.
WPSL:
The Orange County Waves romped into Sunday's Women's Premier Soccer League's championship game with a 3-0 romp over defending champion Boston Aztec Breakers Reserves in heavy heat in Lisle, Ill.
Meagan Snell
scored two goals and
Kiki Bosio
(Mission Viejo/Santa Margarita Catholic HS and Capistrano Valley HS) assisted a pair of strikes, one by
Katrin Omarsdottir
, for the Waves (13-1-3), who will face final-four host Chicago Red Stars (11-1-0) -- a club on hiatus from Women's Professional Soccer -- in the title match.
"This was a well-played game against a very good Boston team," said Orange County coach
Abner Rogers
. "They really composed some problems for us in the first 20 minutes, but we were able to score on our first or second quality scoring chance. That made a big difference for us in the match, and we're very pleased with the way our team continued to perform ... especially in this heat."
Boston Aztec, which is affiliated with the WPS's Boston Breakers, finished 8-3-3.
The Red Stars pulled out a 2-1 victory over Tampa Bay Hellenic (10-3-1) as former Notre Dame All-American
Michele Weisenhofer
scored and assisted goals.
Rogers was head coach of the L.A. Sol. Chicago's brain trust includes advisor
Charlie Naimo
, who was the Sol's general manager and currently directs the USL Pro's L.A. Blues, who are owned by the Sol's former co-owners.
PDL:
The Ventura County Fusion (10-1-6) completed their season a few steps earlier than they'd hoped to, falling, 1-0, to Kitsap Pumas (13-1-3) in the USL Premier Development League's Western Conference semifinals in Fresno.
Bryan Burke
's 11th-minute goal stood up for the Bremerton, Wash.-based club, which will face Fresno Fuego (14-0-3) on Sunday for a berth in next week's league final four.
Fresno romped to a 3-1 win over the Victoria (B.C.) Highlanders on
Tyler Reinhart
's hat trick, which gives him 15 goals this season.
December, 25, 2010
12/25/10
7:59
AM PT
By
Scott French
| ESPNLosAngeles.com
Our countdown of 2010's top 10 soccer stories and newsmakers -- from a Southern California slant -- continues.
Stories/No. 7: Sol starts a trend
The L.A. Sol set the standard in Women's Professional Soccer's inaugural campaign in almost every regard, with the league's most professional organization, the most sponsorship and merchandising revenue, the best fan experience (in the league's best stadium) -- and, especially, on the field.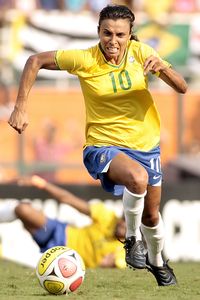 Rodrigo Coca/Getty ImagesThe Sol's lone season was a memorable one because it included Brazilian star Marta.
The Sol, featuring Brazilian superstar Marta and local heroine Shannon Boxx (Redondo Beach/South Torrance HS), went 12-3-5 in 2009, easily capturing WPS's regular-season title. They likely would have won the championship if not for a controversial red card not quite a half-hour into the final.

The team would never play another game. The team folded on Jan. 28 after negotiations with a potential new ownership group fell apart.

It began a trend in the league, and not a good one. Saint Louis Athletica, which posted the second-best regular-season record in year one, dissolved just six weeks into the 2010 campaign, and Bay Area-based FC Gold Pride -- winner of the 2010 title with Marta and Boxx leading arguably the finest women's team ever assembled -- packed up shop in November.

A month later, the Chicago Red Stars went on hiatus, with plans to return in 2012. The Washington Freedom, the lone survivor from the late, great 2001-03 Women's United Soccer Association, nearly went under, too.

What's left? A six-team league, entirely on the East Coast for 2011. The San Francisco-based front office has been all but scuttled, and survival remains uncertain, perhaps unlikely. Yet there are groups angling to join in 2012 and beyond, including one that wants to put a team in Orange County.

The Sol lost somewhere around $3 million in 2009. Anschutz Entertainment Group, which owned half the team and paid about 90 percent of the bills, pulled out -- as planned, it turned out -- after the first season, and Blue Star LLC, a partnership that included L.A. Blues owner Ali Mansouri and Australian actor Anthony LaPaglia, couldn't afford to run things on its own.

The league took control of the club in November 2009 and had a new owner, never identified, all but signed, sealed and delivered. That owner pulled out in mid-January, and the Sol was dead a week later.


December, 23, 2010
12/23/10
9:00
PM PT
By
Scott French
| ESPNLosAngeles.com
Our countdown of 2010's top 10 soccer stories and newsmakers -- from a Southern California slant -- continues.
Stories/No. 9: Real Madrid's visit
The gap between Major League Soccer's best and the world's finest clubs has rarely been more aptly illustrated than at the Rose Bowl last Aug. 7.
The Galaxy, en route to the Supporters' Shield (as MLS's regular-season champion), stood toe to toe with mighty Real Madrid through 45 minutes, taking a two-goal lead to the locker room at halftime.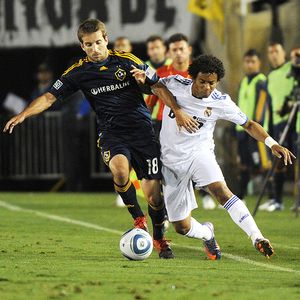 Mark Ralston/AFP/Getty Images
Real Madrid defender Marcelo, right, clashes with Galaxy forward Mike Magee during their friendly at the Rose Bowl on Aug. 7.
Then
Jose Mourinho
, the "Special One," unleashed his A side, bringing on World Cup stars
Cristiano Ronaldo
,
Gonzalo Higuain
,
Xabi Alonso
and
Iker Casillas
. Real Madrid, demonstrating a substantial superiority in skill, quickness of thought and ball movement, destroyed L.A. over the final 45 minutes, rallying for a 3-2 victory -- with Argentine forward Higuain scoring two of the goals.
The encounter delighted a crowd of 89,134 -- the second-largest crowd to watch a soccer game in Southern California this year, just off the 90,526 count for Mexico's Rose Bowl game against New Zealand on March 3. And it delighted the Galaxy, who considered it an honor to be on the same field with one of the globe's greatest clubs.
November, 24, 2010
11/24/10
9:55
PM PT
By
Scott French
| ESPNLosAngeles.com
L.A.'s already got the Galaxy and Chivas USA. Here comes a third professional men's team, set to begin play next year, likely at Cal State Fullerton's Titan Stadium.
Blue Star LLC, which had a stake in the late L.A. Sol, will announce next month formation of a club to play in the United Soccer Leagues' First Division, the second tier of American pro soccer. The enterprise was confirmed by
Charlie Naimo
, the group's technical director -- and possibly (probably?) the club's soon-to-be head coach.
"We're still working on a couple final things before [announcing]," Naimo, who attended last week's USL annual general meeting in Florida, said Wednesday. "I think we're shooting [to have] everything in line in a couple of weeks. We want to announce this for real, that we've got a team, this is our first player, this is where we'll play, who coach is. We want it to be complete."
Blue Star, which is run by husband-and-wife team
Ali
and
Maryam Mansour
and has a connection with Australian actor
Anthony La Paglia
and Hollywood United FC, operates the Pali Blues women's club (which plays in the USL's W-League) and was co-owner with Anschutz Entertainment Group of the Sol, which posted the best regular-season record in Women's Professional Soccer's inaugural season and folded earlier this year after AEG pulled out.
The organization is awaiting USL approval of the L.A. Blues name -- the name used by its former team in the USL's semiprofessional Premier Development League -- and is working to reach an agreement to use the 10,000-seat stadium in Fullerton.
"It's certainly one of the venues we're very keen on, and it's a strong possibility we'll get a deal done," Naimo said. "It's the best stadium in the area for anything other than MLS."
Naimo, who was the Sol's general manager, is head coach and president of operations for the Pali Blues -- he guided the team to W-League titles in 2008 and 2009, its first two seasons -- and a consultant for the Chicago Red Stars, a WPS club facing a Dec. 15 deadline to attract funding for the 2011 season.
November, 16, 2010
11/16/10
11:05
AM PT
By
Scott French
| ESPNLosAngeles.com
Shannon Boxx is looking for a new home. FC Gold Pride, which the imposing midfielder from the South Bay helped to Women's Professional Soccer's title in September, disbanded Tuesday after failing to find the investment required to continue.
The Bay Area-based team follows the L.A. Sol and Saint Louis Athletica into oblivion. The Sol folded last January and Saint Louis' demise arrived seven weeks into the 2010 season. Boxx was on both clubs' rosters when they disbanded.
An effort by a group of investors to purchase part or all of Gold Pride and move the club to Orange County fell through. The group is one of two in Southern California seeking a WPS franchise for 2011.
Gold Pride, which played in Santa Clara in 2009 and in Hayward last year, put together the most impressive collection of talent the women's game has seen and posted a 16-3-5 record, finishing 17 points ahead of second-place Boston. The club routed Philadelphia, 4-0, in the title game.
The roster starred Brazilian superstar
Marta
-- the two-time WPS MVP -- Canadian striker
Christine Sinclair
and Boxx (Redondo Beach/South Torrance HS), plus WPS Rookie of the Year
Ali Riley
(Pacific Palisades/Harvard-Westlake School). Other local players were forward
Kiki Bosio
(Mission Viejo/Santa Margarita Catholic HS and Capistrano Valley HS), defender
Kandace Wilson
(Los Angeles/Walnut HS and Cal State Fullerton) and midfielder
Rosie Tantillo
(USC).