Los Angeles Soccer:

Chris Cortez
February, 26, 2012
2/26/12
12:52
PM PT
By
Scott French
| ESPNLosAngeles.com
CARSON -- Chivas USA is heading to Portland a little lighter. The club Saturday released forward Chris Cortez and left two trialists at home when it departed Sunday for the final phase of preseason.
Cortez, 23, lost his battle for a roster spot, dropping further down the depth chart with the additions of first-round draft choice
Casey Townsend
and just-signed
Cesar Romero
. The 6-foot-4 striker from Mission Viejo joined the Goats during preseason last year and made nine Major League Soccer appearances, with one start.
"We had a lot of high hopes for Chris when he came in," Chivas coach
Robin Fraser
told ESPN Los Angeles on Sunday morning. "He's a big, strong man who hits the ball extremely hard. We certainly expected him to develop quite a bit, and while he's come along, probably not as quickly as we would have needed him to.
"He definitely has qualities that will make him a big pro, for sure. It's a matter of time -- we have to make decisions as we get close to the season here, and some of the other forwards have proven to be more dangerous on a daily basis."
Cortez made appearances in six of eight preseason games, all off the bench, and he scored in the victory over Thousand Oaks-based minor-leaguers FC Hasental. The former Cal star played in all 10 MLS Reserve League games last year, scoring five goals.
Fraser must submit by Thursday a roster of as many as 30 players, with the first 18 to 20 counting against the league $2.81 million salary cap. Some decisions likely won't be made until after that date, with trialists fighting for open spots or the club making further roster moves to accommodate additional signings.
The season begins March 11 against Houston at Home Depot Center; the roster freeze date and trade deadline don't arrive until Sept. 15.
Fraser left at home defender
Mario Ledesma
, from Woodland Hills, and Mexican midfielder
Pablo Sandoval
, who have been in camp since preseason began in mid-January. The coach said both had a chance to continue with the club when it returns after a week in Portland.
February, 3, 2012
2/03/12
8:52
PM PT
By
Scott French
| ESPNLosAngeles.com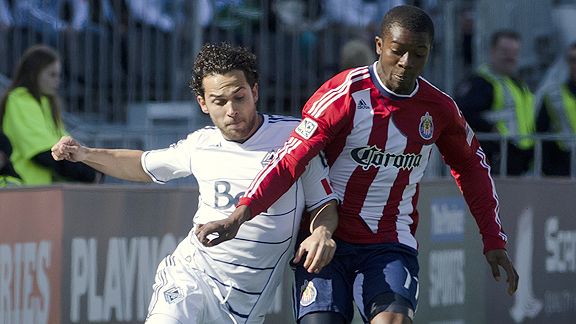 Rich Lam/Getty ImagesMichael Lahoud, right, looked sharp in midfield during Chivas USA's preseason match Friday.

CARSON -- Chivas USA's second preseason match was a little bit like the first, in that there were some very fine things to be seen across midfield. That's good news -- it's the area of the field the Goats amassed so much depth over the offseason.

Newcomer Ryan Smith and fourth-year veteran Michael Lahoud looked very sharp on the wings and Peter Vagenas paired well in the middle with debutant Oswaldo Minda as Chivas romped to a 5-0 triumph Friday at Home Depot Center over FC Hasental, a Thousand Oaks club that plays in the fourth-tier National Premier Soccer League.

Lahoud and Smith scored first-half goals, Juan Pablo Angel converted a penalty kick, Chris Cortez added a second-half goal, and trialist Cesar Romero -- a very interesting prospect -- netted at the finish to push the Goats to 1-1-0, whatever that's worth.

"It's one of those things where we're looking at specific things: how we move as a unit, our thoughts attacking-wise, and it's great to see for a group of guys that is basically playing together for the first time, that they had a number of good ideas," said head coach Robin Fraser, who started used a 4-2-3-1 alignment in the first half, just as he did in last week's wind-blown hour exercise against the Ventura County Fusion. "Cohesion was decent, and it'll get better, but at the end of it, as we're trying to get results going forward, it's important."

Smith, an Englishman whose rights were acquired from Sporting Kansas City the day after the MLS Cup final, is a speedy attacking presence on the left flank. Lahoud is prospering in his best position after spending most of last season at right back.

"Both players, they're taking steps forward and working on fitness, but one of the keys for us is going to be how dangerous our wide players are," Fraser said. "Both guys showed the ability to be dangerous today, and it's good that we keep moving in that direction where things seem to be getting better."

Minda slid in next to Vagenas at the base of the five-man midfield and showed he can be commanding, even if he's not match-fit yet.

"He's very solid, he's got a lot of good ideas before he gets the ball, his first touch is clean," Fraser said. "He covers ground, he covers ground, he covers ground. He's a guy who is very experienced and very professional player. He brings a lot to us."

So might Romero, a former U.S. under-18 national-teamer from Chula Vista who has played in Mexico's (with Murcielagos FC) and Germany's (with TSG Thannhausen) lower divisions and is tearing up the Premier Arena Soccer League (local entrants: Anaheim Bolts) -- with 33 goals in seven games, including two nine-goal games, for the Tijuana Revolucion.


October, 18, 2011
10/18/11
5:02
PM PT
By
Scott French
| ESPNLosAngeles.com
CARSON -- Next season has begun for Chivas USA, which already is in assessment mode -- with Robin Fraser and his staff determining who will return in 2012, who won't, and who might be worth bringing in.

There's still one game left on the schedule, Saturday night against Seattle at Home Depot Center, but it means nothing in the grand scheme, not much more than Tuesday's MLS Reserve League clash with Vancouver, a 1-0 triumph claimed on Victor Estupiņan's goal near the end of the first half.

Most newsworthy was a second-half appearance by French midfielder Nicolas Dieuze, a 32-year-old midfielder who has played alongside assistant coach Greg Vanney and midfielder Laurent Courtois.

Dieuze, out of contract since his pact with Grenoble Foot 38 expired last spring, came on at halftime for Mariano Trujillo and fared well in his first real action for the Goats.

"Where we are, we're open to everything, and we're looking at everyone," Fraser said. "We're going to look at everything we can see, everything we think might be worthwhile. With Nicolas, the opportunity to look at him came up, and we figured we'd take it."

Dieuze played with Courtois at Toulouse from 1999 to 2001, then was Vanney's teammate at Bastia from 2001 through 2003. He then returned to Toulouse for five years, spent a season with Le Havre and two at Grenoble.

"I think he's an excellent two-way midfielder," Vanney said. "He's an interesting player. We're always looking to gain some experience and look at players who can maybe help our team in the future."


June, 5, 2011
6/05/11
6:30
PM PT
By
Scott French
| ESPNLosAngeles.com
Tristan Bowen's return to action after two months away with an ankle injury brought him a new position, a new set of challenges and, best of all, a goal. An important one, too.
The 20-year-old attacker from Van Nuys headed home a
Mariano Trujillo
feed Sunday as Chivas USA, down to 10 men for more than an hour, rallied for a 3-3 MLS Reserve League draw with the Portland Timbers at Home Depot Center's Track and Field Stadium.
The strike trimmed the Timbers' advantage to 3-2 in the 63rd minute, and
Victor Estupiņan
scored from another Trujillo pass five minutes later to deliver a share of the points.
Bowen, who has be sidelined with a sprained ankle since the first week of April, was on the game-day roster Saturday, for the 1-0 victory over the Timbers in MLS play, for the first time since March 26. He played 68 minutes Sunday atop the midfield diamond, just behind Estupiņan and fellow forward
Chris Cortez
.
"It felt good, getting in there and getting a run with the guys," said Bowen, who came to Chivas in an offseason trade from the Galaxy. "I was a little bit gassed in the first half, but I caught my second wind going into the second half."
By then Chivas was down a man -- Cortez, who scored the first goal, was ejected after punching Timbers defender
Eric Brunner
in the 28th minute -- and behind, 2-1.
Eddie Johnson
's second goal of the game, two minutes into the second half, made that 3-1.
No problem.
"We fought hard," Bowen said. "We went down a man early in the game. It's nothing we don't practice in our regular sessions, so it was more of another exercise."
So was Bowen's move to central midfield. He's played up top and on the flank and said he was "a bit surprised" when asked to take on the role. Chivas head coach
Robin Fraser
said it was a move with Bowen's future in mind.
"It's important for Tristan [to be back]," Fraser said, "and he played more in the middle of the field, and he had to make more decisions and that sort of thing, which is important in his growth. I thought he did well."
May, 15, 2011
5/15/11
3:51
PM PT
By
Scott French
| ESPNLosAngeles.com
Chivas USA made a move for a striker Sunday, signing trialist Chris Cortez, who has played impressively in the Goats' MLS Reserve League games.
Cortez, 22, who is from Mission Viejo, will start on the bench for Sunday's game against the New York Red Bulls in Harrison, N.J., part of the 18-man game roster.
The 6-foot-4 forward has been on trial with Chivas since shortly after camp opened in January. Complications over his rights, which had been held by Pachuca, prevented the Goats from signing him until reaching an agreement with the Mexican club. No details of the agreement nor Cortez's contract have been released.
Cortez has four goals in four games for the reserves. He scored the final goal in Chivas's Reserve League victory May 3 over the Galaxy, and he had two more in a reserve-team loss last weekend at Seattle. He tallied against Vancouver on April 17.
Chivas' struggles early in the season scoring goals led to trials for English forward
Jason Banton
and Trinidadian forward
Kerry Baptiste
, but the club declined to sign either.
Cortez played at Trabuco Hills High School, for Mission Viejo Pateadores, in Chivas USA's youth academy and at the University of California.
May, 12, 2011
5/12/11
3:34
PM PT
By
Scott French
| ESPNLosAngeles.com
Chivas USA forward
Marcos Mondaini
had nothing to say Thursday after he was suspended four games and fined $1,500 for injuring Real Salt Lake's
Javier Morales
last weekend.
Or if he had something to say, he was instructed to forget it.

Mondaini, club sources acknowledged, was told not to speak to the media about Saturday's gruesome foul, which left Morales with two broken bones and torn ligaments in his left ankle. The Argentine midfielder, MLS's premier playmaker, is expected to be sidelined about five months.
Mondaini, also from Argentina, received a red card on the play, and Major League Soccer's disciplinary committee added to the automatic one-game suspension and $250 fine that accompanies all expulsions.
Goats coach
Robin Fraser
said the club would not appeal the sanctions, which are seen as too lenient in some quarters -- especially among those connected or close to Real Salt Lake, which has lost its best player -- and far too harsh in others.
The foul was not as brutal as the result made it appear, and the length of the suspension seems to have as much to do with Morales' injury, with how ugly it looked -- his ankle was turned outward nearly 90 degrees -- and with tackles that have injured other top MLS players this year than it did with the actual infraction. Mondaini was initially assessed a yellow card on the play, changed to red after the extent of Morales injury was clear, and RSL coach
Jason Kreis
said after the game that he did not consider the tackle to be "egregious."
Mondaini wouldn't say, but teammate
Alejandro Moreno
reported that the Chivas forward had talked twice this week with Morales, checking in to see how he was doing and again offering apologies. Mondaini apologized publicly immediately after Saturday's game.
Fraser's response to the sanctions: "It is what it is, and we respect what the league has done, and at the end of the day, I just wish Javier the very best."
May, 10, 2011
5/10/11
12:00
AM PT
By
Scott French
| ESPNLosAngeles.com
Michael Lahoud played 90 minutes for Chivas USA on Monday. Nobody seems certain whether he should have been allowed to.
The third-year veteran from Wake Forest, out since suffering a concussion April 16 at Vancouver, was stationed at right back for the Goats' MLS Reserve League clash against the Seattle Sounders in Tukwila, Wash. A team spokesman acknowledged it was uncertain if Lahoud had been cleared to play.
Reserve coach
Carlos Llamosa
, who took the side to Washington following Chivas' loss Saturday at Real Salt Lake in a Major League Soccer match, said through a spokesman that Lahoud trained Friday and Saturday without any symptoms, so it was decided that he could play.
MLS, after several players were forced to retire because of concussion issues, this year implemented a protocol in which players may train after a full week without symptoms, then must see a neurologist and be cleared before returning to the field. Lahoud, team officials said last week, had not been asymptomatic.
A club spokesman's attempt to get clarification from a team doctor Monday night was not successful. Head coach
Robin Fraser
had remained in Utah, where his family still lives, after Saturday's game; he was due to return to Southern California late Monday night.
May, 3, 2011
5/03/11
5:20
PM PT
By
Scott French
| ESPNLosAngeles.com
Adam Cristman and Gregg Berhalter returned to action in Tuesday's SuperClasico in miniature, a huge step forward as the Galaxy gets healthier with the thickest part of their schedule just ahead.
Cristman, coming off start-of-the-season knee surgery, played the first half and set up L.A.'s goal in a 3-1 MLS Reserve League defeat to Chivas USA. Berhalter, sidelined two and a half months by a sprained knee, stepped onto the Galaxy backline for the final half-hour.
It was L.A.'s best news out of the midday clash at Home Depot Center's Track and Field Stadium, a fairly even affair swayed by Chivas' superior inventiveness (especially
Gerson Mayen
) and finishing touch (especially
Victor Estupiņan
) in front of goal.
Estupiņan scored twice and Mayen set up the Ecuadoran forward's first goal and trialist
Chris Cortez
's second-half as Chivas improved to 1-1-1 in the reserve league's Western Division. The Galaxy is 0-2-0.
"It certainly was good to get [Adam and Gregg] out," said Galaxy assistant coach
Curt Onalfo
, who is in charge of L.A.'s reserve side. "Obviously, that's part of what these games are for."
The idea is to get both back with the first team as soon as possible, with a six-games-in-22-days span starting with Saturday's showdown at HDC against the New York Red Bulls.
April, 24, 2011
4/24/11
8:42
PM PT
By
Scott French
| ESPNLosAngeles.com
The Galaxy's dominance of the Portland Timbers extended into Sunday afternoon's MLS Reserve League meeting, but it lasted less than a half-hour.
Once
Michael Stephens
, the most influential player to begin the match, was sent off for a last-man foul in the 28th minute, the Timbers found their legs, started linking passes and took advantage of their opportunities for a 3-1 victory in a league opener at Home Depot Center's Track and Field Stadium.
Rookie forward
Spencer Thompson
, out of UC Irvine, scored two of the Timbers' goals, and former Santa Barbara High School standout
Rodrigo Lopez
assisted a pair.
Jovan Kirovski
, the Galaxy captain, slotted into central defense, his "first real game" he's played at the position.
"I think I can play there," he said. "We're short on central defenders, and I can do the job there. So it's fun. I had fun playing there."
Both teams used experienced lineups, each with at least a half-dozen players who wouldn't look out of place in the first teams. Included: Galaxy Designated Player
Juan Pablo Angel
, who faded after an energetic first 25 minutes and departed at halftime.
SEEING RED:
Stephens, teamed with
Paolo Cardozo
in central midfield, was outstanding both ways and provided a foundation to the Galaxy's possession game. Until he was red-carded, for dragging down
Ryan Pore
just outside L.A.'s box while trying to make up for a give-away, the game had been played overwhelmingly between the midfield line and Portland's box.
April, 17, 2011
4/17/11
10:15
PM PT
By
Scott French
| ESPNLosAngeles.com
Chivas USA opened its first MLS Reserve League slate since 2008 with a late goal Sunday afternoon for a 1-1 draw at Vancouver, a result that means practically nothing to the club in a game with importance that can't be underestimated.
It was first of 10 games for the Goats in a competition of sorts for MLS players deprived of first-team action whether because of injury, form or pecking order, but the Reserve League's larger role is as part of a maturing policy on player development.
It is why rosters have been lengthened to 30 players -- the last six in developmental slots -- and has generated promises that the problems of the previous Reserve League, which ran from 2005 through 2008, will not be repeated this time.


"It means a lot of things," said
Curt Onalfo
, the Galaxy assistant coach who will lead L.A.'s reserve side into its league opener next weekend against Portland at Home Depot Center. "It's an opportunity to develop some younger players, to keep guys in form that haven't been getting regular minutes, to help guys back from injury get back in form.
"It's the next step in the right direction, something we look certainly to take very seriously."
WINNING CULTURE:
Teams will be able to use players from its youth academy -- Chivas had had three in its lineup Sunday -- and approved trialists, enabling coaching staffs to observe players in real competition. Standings will be kept, in three self-contained geographic divisions, but no playoffs are planned. Winning does matter.
"Winning is the kind of thing that you want to make it part of your culture, so winning is certainly always the goal," Chivas head coach
Robin Fraser
said last week. "But simultaneously, you have a lot of little goals within that that you're trying to achieve."
Fraser accomplished several against Vancouver. He was able to get goalkeeper
Zach Thornton
and central defender
Michael Umaņa
, depose starters from last year, some action; bring
Mariano Trujillo
back from a hamstring injury; give several youngsters, including rising playmaker
Gerson Mayen
and teen prospect
Bryan de la Fuente
, extended action; reward a couple of players from the U-18 side, and take a look at a former MLS midfielder who's seeking work.
February, 7, 2011
2/07/11
10:02
PM PT
By
Scott French
| ESPNLosAngeles.com
Yes, that was Simon Elliott in midfield for Chivas USA on Monday afternoon, the holding midfielder in a 4-1-4-1 formation Goats coach Robin Fraser presented in a Home Depot Center scrimmage against the San Jose Earthquakes.
The New Zealander, whose Major League Soccer career started 12 years ago with the Galaxy, began a trial this past weekend with Chivas USA. He's 36, but his performance in South Africa during last summer's World Cup testifies he's capable of being influential in the right role.
"Simon has played hundreds of games and the Olympics and World Cup and that sort of thing," Fraser said after Chivas' 1-0 victory. "You look at Simon, I thought he was New Zealand's best player in the World Cup last year. … I just think he's got a tremendous understanding of the game, and I think he can bring a lot to a team."
Elliott's countryman
Andrew Boyens
, a 6-foot-4 defender who played sparingly he past three seasons for the New York Red Bulls (and previously was with Toronto FC), also is in camp. He saw time as a center back and left back against San Jose.
Elliott, a teammate of Fraser's for two seasons in L.A. and two more with the Columbus Crew, says he also contacted the Galaxy about potential opportunities.
"I live here -- my better half is in L.A. -- so it just makes sense, if I can, to try and play here," Elliott said after Chivas' 1-0 victory. "I approached both of the teams here, and this one seemed to be a decent option."
Elliott fared well in front of the backline Monday, playing the first of three 35-minute periods in the 105-minute scrimmage. He was behind
Paulo Nagamura
and
Blair Gavin
in an inspired midfield triangle that was pivotal to Chivas' control of the early action.