Los Angeles Soccer:

Chris Pontius
June, 7, 2012
6/07/12
2:03
PM PT
By
Scott French
| ESPNLosAngeles.com
Fan balloting for the July 25 MLS All-Star Game begins Friday morning, and a name missing from last year's list of candidates has found its way onto the ballot: Galaxy defender Todd Dunivant's.

He's one of six L.A. players eligible to make the All-Star First XI, the first group of players for Philadelphia coach Peter Nowak's side for the clash with England's Chelsea at PPL Park in Chester, Pa.

The First XI will be determined by fan voting at Major League Soccer's website, via text messaging and, in two weeks, during a two-day Twitter session. Additional players will be selected by Nowak, MLS Commissioner Don Garber and in a players vote.

Midfielders David Beckham, Landon Donovan and Juninho, forward Robbie Keane and goalkeeper Josh Saunders are the other Galaxy players on the ballot. Donovan would make a record 12th appearance is selected; he shares the record with retired defender Eddie Pope.

Chivas' eligible players are goalkeeper Dan Kennedy, defender James Riley, midfielders Nick LaBrocca and Oswaldo Minda, and forwards Juan Pablo Angel and Alejandro Moreno.

A media panel determined the 114 names on the ballot, just six per team, including one goalkeeper from each side. As always, there are omissions, although for the local teams none as wrong-headed as Dunivant's omission last year.

Given the Galaxy's struggles, only a few players -- Beckham chief among them -- are worthy of consideration, although the priority is more about putting together a team that can compete with Chelsea than in rewarding players for their performances in the first half of the season.

The biggest omissions among local players are Galaxy midfielder Mike Magee, one of the few L.A. players who has done well this season, and Chivas USA center backs Danny Califf and Rauwshan McKenzie.


March, 16, 2012
3/16/12
5:52
PM PT
By
Scott French
| ESPNLosAngeles.com
TORRANCE --
Omar Gonzalez
confirms: The target for his return from a torn anterior cruciate ligament remains September, and he's in no mood to push things more quickly than he should.
But
Tim Leiweke
's assertion that the Galaxy's towering center back might be on the field again in three months made him smile.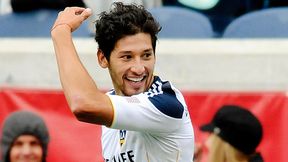 David Banks/Getty ImagesOmar Gonzalez, above, could be back in three months if Tim Leiweke's projection is correct.
Leiweke, president and CEO of Galaxy owner Anschutz Entertainment Group, was asked following a news conference Friday announcing the 10-year, $44 million
extension of its sponsorship agreement
with nutritional supplements company Herbalife whether L.A. needed to find a replacement outside the club for Gonzalez, 23, after the club conceded seven goals in three games while dropping its league opener and crashing out of the CONCACAF Champions League.
"What people have to remember here is it's not like Omar's gone for the whole year ...," Leiweke said. "Those who think he's gone for the full year are sadly mistaken. This kid will be back, he'll be back soon, and when he does get back, it will change our team."
Gonzalez, a 6-foot-5 Texan whose dominance in the back has grown through three Major League Soccer campaigns, was the league's Defender of the Year last season. He tore the ACL in his left knee Jan. 5 during his first training session following a short-term loan to German club Nuremberg. He underwent surgery in mid-January; recuperation usually requires seven to nine months.
The Galaxy has struggled in the back without Gonzalez, with mistakes by his replacements -- newcomer
Andrew Boyens
and rookie
Tommy Meyer
-- costing L.A. on three of Toronto FC's four goals across two games in the Champions League quarterfinals. The Galaxy is winless in three competitive games this season and lost back-to-back games at Home Depot Center for the first time in five years.
Leiweke called Gonzalez's absence a "very temporary" situation.
"We've got to get through about three months here," Leiweke said. "And when we get through those three months, he'll be back. … I think we're going to see the kid in the summer."
A midsummer's dream, to be sure, and Gonzalez isn't counting it out.
September, 11, 2011
9/11/11
12:54
AM PT
By
Scott French
| ESPNLosAngeles.com
CARSON -- The playoff chase isn't yet over for Chivas USA, although it might look like it following Saturday night's 3-0 disaster against D.C. United.
Charlie Davies
scored twice in the first 14 minutes, then completed his hat trick in the second half as United (8-7-10) took a huge step toward a postseason berth in the first of two meetings over 12 days.
The Goats (7-11-10), who would have climbed to ninth overall with a victory, came out with little intensity and were quickly finished -- a devastating result in what amounted to a must-win game, a prospect all the more attractive after the four teams directly ahead of them in the overall standings failed to win Saturday.
"Obviously, that's as bad as it gets," said Chivas coach
Robin Fraser
, whose 10 previous losses were all by one goal. "The disappointing part was that we didn't give ourselves a chance. So early in the game, to give up goals on simple turnovers that lead to goals is just unacceptable.
"When you're chasing the game at 2-0, then we get into the second half and give up another goal on a counterattack, tackles being missed and individual small things leading to goals. It's just not good enough."
Chivas had more of the ball but little of the game after falling behind, and not much could be done against an organized D.C. defense, which left few gaps to exploit and prevented the Goats from creating much in the final third.
Said forward
Juan Pablo Angel
: "I don't even know where to start. We were outplayed, outrun. All the things we needed to do today, we didn't do it. The first thing we needed to realize is we were playing for a chance to be in the playoffs, and that was a team that we needed to beat. Especially at home. We weren't up to the standard that we require to win these games. Simple as that."
Yorba Linda's
Chris Pontius
assisted all three goals by Davies, but he suffered a possible broken leg while diving in against Chivas center back
David Junior Lopes
for a loose ball in the 68th minute. The sound of the crack was explosive -- it could be heard in every corner of the stadium.
Lopes, who hurt his right knee on the play, not seriously, was red-carded although it appeared Pontius leapt at him with both feet.
"I don't know [what happened]," Lopes said afterward. "I went after the ball, and after I hit the ball, I don't know what happened."
Fraser acknowledged that referee
Ricardo Salazar
's decision to send off Lopes was "a call I guess I would question," but Davies called the incident "ugly, because I felt the guy really didn't need to slide, because he was first to the ball. And that's when it looked more malicious, because the intent was there to hurt Chris."
August, 29, 2011
8/29/11
7:09
PM PT
By
Scott French
| ESPNLosAngeles.com
MANHATTAN BEACH -- Chivas USA defender Heath Pearce is out, and Yorba Linda's Chris Pontius is in.

The U.S. national team on Monday made two substitutions on its 24-man roster for Friday's game at Home Depot Center against Costa Rica and next week's friendly in Brussels against Belgium, replacing Pearce and FC Dallas defender Zach Loyd with D.C. United attacker Pontius and Birmingham City's Jonathan Spector.

Pearce suffered a hamstring injury in Chivas' loss Saturday night to Real Salt Lake -- he said trainers told him they believe it is torn, but no word yet on what tests determined -- and Loyd is nursing a hamstring strain.

Pontius (Servite HS and UC Santa Barbara), 24, who was in the U.S.'s January 2009 camp at HDC, can play several attacking positions and has been employed primarily on the left wing with D.C. He has scored a career-best seven goals in his third season with the club.

DEALING WITH BRADLEY: U.S. coach Jurgen Klinsmann was asked Monday during a roundtable discussion with L.A. soccer media whether it was uncomfortable coaching Michael Bradley, the son of Bob Bradley, Klinsmann's predecessor, who was dismissed from the job last month.

Bradley, whom Major League Soccer's website reports is finalizing a deal to join Italian Serie A club Chievo Verona before Europe's transfer window closes Wednesday, was a starting midfielder for the U.S. in Klinsmann's debut, a 1-1 draw Aug. 10 with Mexico in Philadelphia.

"It was not complicated at all," Klinsmann said. "I called him up and said, 'Michael, first of all, I have the highest respect for Bob. He did a great job, and I will touch base with him down the road. ... I definitely want to sit down with Bob and pick his brain and have a soccer talk.'

"I told him I'm there simply to help him."

JOHNSON CAN'T PLAY: German-born defender/midfielder Fabian Johnson, who plays at 1899 Hoffenheim, is not yet eligible to play for the U.S. -- he represented Germany at the 2009 UEFA U-21 Championship, and FIFA must grant approval for his switch to his father's homeland.


June, 8, 2011
6/08/11
8:18
PM PT
By
Scott French
| ESPNLosAngeles.com
Major League Soccer's All-Star Game fan ballot was released Wednesday, and the name of its best striker over the last five years is nowhere to be found.
Galaxy forward
Juan Pablo Angel
, who frankly hasn't played to an all-star standard in the season's first three months, was the biggest omission on the list of those eligible for the July 27 clash against Manchester United at Red Bull Arena in Harrison, N.J.
Also not on the list, and most deserving, is Galaxy left back
Todd Dunivant
.

They were left out in a new voting format, in which only 108 players -- and no more than six from any club -- were tabbed for the First XI ballot by a committee of media. Fans may cast their votes at
MLS's website
.
The Galaxy's ballot sextet is goalkeeper
Donovan Ricketts
, defenders
Sean Franklin
and
Omar Gonzalez
, midfielders
David Beckham
and
Juninho
, and forward/midfielder
Landon Donovan
.
Chivas' six: goalkeeper
Dan Kennedy
, defenders
Ante Jazic
and
Heath Pearce
, midfielder
Nick LaBrocca
, and forwards
Justin Braun
and
Alejandro Moreno
. The biggest Goats omission is forward
Marcos Mondaini
; would-be finalists
Jimmy Conrad
,
Blair Gavin
and
Paulo Nagamura
have missed almost all of the campaign through injury.
In addition to Franklin (Palmdale/Highland HS and Cal State Northridge), Donovan (Redlands/Redlands East Valley HS) and Kennedy (Yorba Linda/El Dorado HS and UC Santa Barbara), nine players from the L.A. area and another who attended college here are on the ballot:
FC Dallas goalkeepers Kevin Hartman (Palos Verdes/Peninsula HS and Cal State Dominguez Hills/UCLA)
New England Revolution goalkeeper Matt Reis (Mission Viejo/Santa Margarita Catholic HS and UCLA) and midfielder Benny Feilhaber (Irvine/Northwood HS and UCLA)
Real Salt Lake goalkeeper Nick Rimando (Montclair/Montclair HS and UCLA)
Philadelphia defender Danny Califf (Orange/Orange HS)
Columbus defender Chad Marshall (Riverside/Rubidoux HS) and midfielder Robbie Rogers (Palos Verdes and Huntington Beach/Mater Dei HS)
D.C. United midfielder Chris Pontius (Yorba Linda/Servite HS and UC Santa Barbara)
Sporting Kansas City forward/midfielder Kei Kamara (Lawndale/Leuzinger HS and Cal State Dominguez Hills)
Seattle midfielder Brad Evans (UC Irvine)
June, 3, 2011
6/03/11
12:26
AM PT
By
Scott French
| ESPNLosAngeles.com
Bruce Arena might know Ben Olsen better than anybody aside from Olsen's wife and parents. The Galaxy's coach is family, after all, a pivotal figure in the life and career of the iconic midfielder who is working diligently toward returning D.C. United to glory following last year's worst-in-the-league fiasco.
They'll meet up again Friday night at Home Depot Center, with the Galaxy (8-2-5) seeking their fifth straight win -- and fourth in a row by shutout -- and D.C. (4-4-3) looking to build on an impressive victory last weekend in Portland.
It's the third meeting between mentor and pupil -- the Galaxy won last September, after Olsen stepped in as interim coach following current Galaxy assistant coach
Curt Onalfo
's dismissal, and the teams tied in April -- and Arena, hardly the most emotional of coaches, admits this one means a little more.
"When you've been around the game as long as I have, you know everybody ...," Arena said after the Galaxy's training session Thursday. "Obviously, with Ben, it's a little unique, in that he's a little bit like family for me. That makes it fun."
Arena recruited Olsen, now 34, to play at the University of Virginia before he took charge at D.C. for Major League Soccer's inaugural season, in 1996, and drafted the midfielder to play for United in 1998, his final season with the club before he became the U.S. national team coach. Olsen won 35 of his 37 caps and played at the 2006 World Cup under Arena.
[+] Enlarge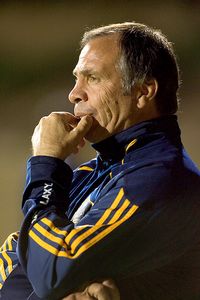 Kent Horner/Getty ImagesFriday's showdown against D.C. United means a little more to Galaxy coach Bruce Arena.
Olsen, a winger who reinvented himself as gritty central midfielder after ankle injuries sapped his speed, lived with Arena's family during his rookie year with United.
What was he like as a tenant?
"Rotten kid," Arena said, barely hiding a smile. "Used to drink beer in the basement with my son."
Gave him lots of chores, eh? Wash the dishes, mow the lawn?
"Nah, Ben wouldn't do anything like that. He's too elite."
April, 8, 2011
4/08/11
11:54
PM PT
By
Scott French
| ESPNLosAngeles.com
It's a significant trip -- three games in eight days -- and at a particularly challenging part of the Galaxy's season, with the team still figuring out connections and the best places to put people, its best lineup, and still addressing that massacre two weeks ago at Real Salt Lake.
But L.A. heads into the first encounter on the eastern trek, Saturday night at longtime rival D.C. United, feeling good about itself and where it's heading after last week's defensive effort in a shutout victory over the Philadelphia Union.


Games Wednesday at Toronto FC and the following weekend at Chicago will surely test the Galaxy's fortitude, and unquestionably their depth, and they're eager to see how they respond.
"It's going to be hard ...," coach
Bruce Arena
acknowledged this week. "It's never easy, but we've been through it before. We understand the challenge, and we'll get after it."
L.A. (2-1-1) certainly heads into the games with great confidence after holding the Union without a shot on goal, despite a man advantage after Galaxy midfielder
Chris Birchall
's 53rd-minute red card, and it will be looking for something similar against D.C. (1-2-0).
"Defense was obviously our priority going into [the Union] game, and it will be going forward, too," left back
Todd Dunivant
said. "That's kind of our bread and butter and what's made us successful the last couple years. We let ourselves down against Salt Lake -- I think we were a step slow to everything, really, all over the field, and that was something we really wanted to emphasize [last weekend], and we did a good job stepping [to] the ball, being aggressive. ...
"Every game is going to be different, and there are going to be hiccups here and there. It's how you respond to them, and we responded really well last week."
Arena and his staff have decisions to make in all three games.
Landon Donovan
skipped the training sessions at Home Depot Center this week to deal with fatigue, and he could start or come off the bench in Washington -- or take a break and return to action in Toronto. Does youngster
Miguel Lopez
again partner
Juan Pablo Angel
up front? Who plays on the right, with Birchall suspended and
David Beckham
in a new spot, at the base of midfield, where he can better influence the game with his creativity and passing ability?
February, 23, 2011
2/23/11
12:40
AM PT
By
Scott French
| ESPNLosAngeles.com
Brett Blakeschneider has found California to his liking. The rookie forward came off the bench to score again for D.C. United, lifting the Major League Soccer club to a 1-0 victory Tuesday night over UC Santa Barbara in the Gauchos' "Soccer Heaven Spring Festival."

Blakeschneider, a supplemental-draft selection, came off the bench in the 79th minute and scored in the 81st from Brandon Barklage's assist.

Blakeschneider tallied twice in a victory Sunday morning over the Ventura County Fusion. D.C. meets Chivas USA on Friday at the Home Depot Center. The club is training for 11 days at Oxnard College.

UC Santa Barbara alum Chris Pontius (Yorba Linda/Servite HS) played the first half for D.C. U.S. national-teamer Charlie Davies again got the call in the second half.

D.C.'s lineup:

First half: Pat Onstad; Jay Zayner, Perry Kitchen, Dejan Jakovic, Daniel Woolard; Andy Najar, Kurt Morsink, Branko Boskovic, Santino Quaranta; Joseph Ngwenya, Chris Pontius.

Second half: Joe Willis; Chris Korb, Ethan White, Rodrigo Bracesco, Marc Burch; Fred, Clyde Simms, Stephen King (Blake Brettschneider, 79), Brandon Barklage; Josh Wolff, Charlie Davies.
February, 20, 2011
2/20/11
9:52
PM PT
By
Scott French
| ESPNLosAngeles.com
Pat Onstad was in the nets for one half and Charlie Davies on the field for the other, but it was a little-known rookie who made the difference for D.C. United in Sunday morning's friendly against the Ventura County Fusion.

Blake Brettschneider, a supplemental-draft selection from the University of South Carolina, scored two goals in United's 3-1 victory at Oxnard College. The game was to have been played Saturday afternoon but was postponed because of heavy rains.

MEET THE OLD BOSS: Onstad was part of D.C. coach Ben Olsen's close-to-first-choice lineup, which also included reigning MLS Rookie of the Year Andy Najar, former U.S. World Cup forward Josh Wolff and, in central defense, top draft choice Perry Kitchen.

A goalkeeper injury crisis brought Onstad, 43, D.C.'s new goalkeeper coach, back to action last week. The former Canadian national-teamer retired last fall after eight seasons (in San Jose and Houston) among MLS's best netminders, but he agreed to to join the active roster after one of the top two keepers (Steve Cronin) joined the other (Bill Hamid) on the injury list.

It sounds like a part-time gig.


February, 17, 2011
2/17/11
5:54
PM PT
By
Scott French
| ESPNLosAngeles.com
D.C. United flew in Wednesday for a 10-day camp at Oxnard College, and the club has scheduled friendlies against the Ventura County Fusion, UC Santa Barbara and Chivas USA.
D.C. takes on the Fusion on Saturday afternoon (3:30) at Oxnard College, meets UC Santa Barbara in the Gauchos' Harder Stadium on Thursday night (7), and scrimmages Chivas USA at an undetermined Home Depot Center field on Feb. 25.
Here's a quick look at D.C. United:

WHO ARE THEY?
MLS's most decorated club, with four MLS Cup titles (1996, 1997, 1999, 2004) and one of the league's two CONCACAF Champions' Cup titles (1998; the Galaxy captured the other, in 2000), provided the league its first dynasty, reaching the first four title games (the first three under
Bruce Arena
) with three championships in that span. The club's heroes: Bolivians
Jaime Moreno
and
Marco Etcheverry
,
Eddie Pope
and, of course,
Ben Olsen
, who followed a revered career in D.C. by taking charge of the club late in last year's horrendous campaign. United went 6-20-4, the league's worst mark, after winning only three of its first 20 games. Injuries were an issue, but so was a roster light on talent and depth, and Olsen stepped in after
Curt Onalfo
's ouster in August. (Onalfo has since joined Arena's Galaxy staff.)
THE MAN IN CHARGE
Olsen is one of the most respected and beloved figures in American soccer, bright and funny, a real leader, with World Cup (in 2006) ability. The midfielder, who spent nearly his entire post-collegiate career with D.C. (there was a brief loan to England's Nottingham Forest) won MLS's Rookie of the Year in 1998 as a speedy winger with a sure attacking sense, but ankle injuries slowed his pace, and he transitioned into a tough, savvy central midfielder and was an MLS Best XI selection in 2007. His ankle problems forced his retirement after the 2009 season.
The former University of Virginia star -- Arena recruited him to Charlottesville -- made a positive impact for D.C. after taking charge as interim coach on Aug. 4, and the club played its best soccer down the stretch. After club president/CEO
Kevin Payne
(brother of Galaxy president of business operations
Tom Payne
) declared late in the season that Olsen would not be considered for the full-time post, he accepted the job in late November.
"Benny's installed this no-nonsense mentality. Things are going to get done his way, and if anyone has a problem with that, they're not going to be around," forward
Chris Pontius
told MLS's website. "Everyone's bought into it."
THE STAR PLAYER
Charlie Davies changes things, but we still like
Andy Najar
, the reigning MLS Rookie of the Year and one of the most electric players in the league. The Honduran-born winger, who moved to Virginia and joined D.C. United's academy when he was 13, is still a teen -- he's 17 for another month -- and he's got two nation's soccer fans on edge as he mulls his international future.
December, 12, 2010
12/12/10
12:18
AM PT
By
Scott French
| ESPNLosAngeles.com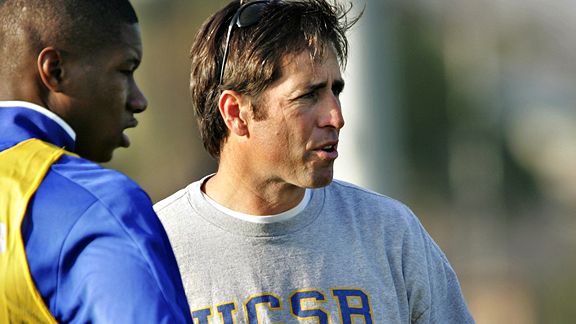 AP Photo/Reed Saxon
The UC Santa Barbara community has rallied around the efforts of soccer coach Tim Vom Steeg.
GOLETA -- They call it "Soccer Heaven," and the name fits.
UC Santa Barbara's
Tim Vom Steeg
has built in the last dozen years one of the nation's most prominent college men's soccer programs -- with nine successive NCAA tournament appearances, two College Cup title-game appearances and the 2006 national championship -- and the students and community have responded with unprecedented support.
It's evolved into what Vom Steeg calls "the perfect storm," and the reward is this weekend's NCAA College Cup final four, the biggest event on the college soccer calendar.
The Gauchos didn't make it to the party -- they were controversially eliminated by Cal in the second round -- but they've been committed to making it a most memorable event anyway.
"Our fans know soccer. They're soccer-savvy," UC Santa Barbara athletic director
Mark Massari
said before Friday's semifinals whittled the competition to No. 1 Louisville (20-0-3) and No. 2 Akron (21-1-2) in Sunday's 1 p.m. title game (ESPN2). "So we told the NCAA in the pitch two years ago [to bring the College Cup to Santa Barbara]: 'It's about soccer. Our people will come. Cross our fingers we're in it -- we'll play our butt [off] to get there -- but if we're not, you'll have four teams and a community that supports the soccer. This is "Soccer Heaven."'
"[The pitch] was all about Santa Barbara and the weather and the landscape and the stadium -- and our fans will come out."
UCSB fans have been coming out to 17,000-seat Harder Stadium in droves since 2004, when the Gauchos became a national power with a run to the College Cup final at Home Depot Center, where they succumbed to Indiana on penalties. They've draw four 10,000-plus crowds -- 15,896 for a showdown with UCLA in September -- and annually leads the nation in attendance.