Los Angeles Soccer:

Chris Schuler
March, 25, 2012
3/25/12
12:19
AM PT
By
Scott French
| ESPNLosAngeles.com
Casey Townsend
calls it the "striker instinct," and as a pure striker, he ought to know. It generated the biggest moment of Chivas USA's season so far, delivered to the Goats their first victory.
The rookie's opportunistic half-volley in the 72nd minute and another exceptional performance in the back was enough for Chivas to claim a 1-0 triumph Saturday night over powerful Real Salt Lake in Sandy, Utah, a stirring upset that might be worth a lot more than three points.

The Goats survived a half-hour under relentless pressure in the first half and a late RSL push at the end to give
Robin Fraser
his first victory over his former club and Chivas its first win at Rio Tinto Stadium. The way they did so, and how they turned their first-half turmoil into a fine second-half performance, might prod them along the next step in their evolution under the second-year coach.
"I would like to think so," Fraser told ESPN Los Angeles by phone when he was asked if he thought the victory might be a huge step forward. "In our tenure here, I don't think the results have gone that way for us in this sort of game. When times got tough tonight, our guys dug in and dug deep and defended like nothing else mattered. … These guys just fought, gritted and gutted out a victory."
It wasn't particularly pretty, even with Chivas matching RSL's possession for long stretches of the second half. The Goats created just two real scoring chances -- Townsend's goal followed
Peter Vagenas
' half-volley and
Rauwshan McKenzie
's rebound, both knocked aside by
Nick Rimando
, from a 16th-minute corner kick -- and had to stave off nearly nonstop forays by RSL, which entered the game No. 1 in Major League Soccer's overall standings.
The Utahns (2-1-0) had nearly a dozen scoring opportunities, and at least half of them were good. Former RSL reserve McKenzie was outstanding -- his 42nd-minute takeaway in the box from
Fabian Espindola
was clinical -- and fellow center back
Heath Pearce
and right back
James Riley
were nearly as good. Goalkeeper
Dan Kennedy
was a difference-maker, diving to stop Espindola in the 22nd and 93rd minutes, dominant when coming off his line to attack crosses, a master of his box. He was, Rimando said, "why we had this result."
Townsend delivered the knockout punch following the Goats' best sequence of the night. The final three passes were key:
Ryan Smith
threaded the ball through three defenders to give
Nick LaBrocca
space to head forward, LaBrocca put
Ante Jazic
into open territory on the left flank, and Jazic whipped a cross into the middle for the rookie to battle for against Rimando and big center back
Chris Schuler
.
Schuler was between Rimando, who leaped and had the ball in his hands, and Townsend, who applied the necessary physical pressure in the air. The RSL goalkeeper, a former UCLA star from Montclair, fumbled the ball. Townsend, the No. 5 overall selection in January's MLS SuperDraft, followed the ball with his eyes as it fell to the ground, instinctively kicking at it as it landed. The ball sailed hard and true into the net.
"For a first [professional] goal, it was obviously very cool," said Townsend, who scored 17 last fall as a senior at the University of Maryland. "As far as watching the ball on the way down, that's the striker instinct in me. I just kind of swung at it instinctively toward the net."
November, 7, 2011
11/07/11
12:01
AM PT
By
Scott French
| ESPNLosAngeles.com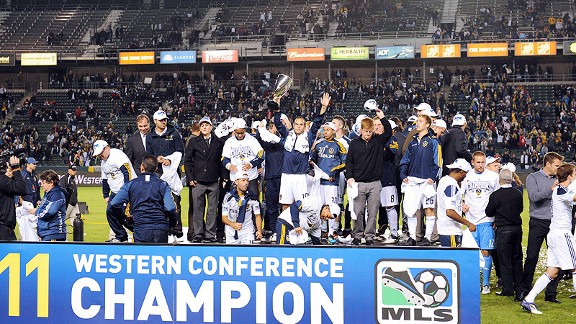 Kelvin Kuo/US PresswireThe Galaxy celebrate their MLS Western Conference title after beating Real Salt Lake 3-1.

CARSON, Calif. -- Bruce Arena credited the luck of the Irish. David Beckham cited something Mike Magee's father told him. Landon Donovan noted that L.A.'s aim was to put as much pressure on Real Salt Lake's center backs as it possibly could.

Add it all up, throw in a few more things -- Robbie Keane's tremendous movement and Josh Saunders' superb reactions -- and the Galaxy is headed to the MLS Cup, just like Tim Leiweke promised when he teased season-ticket holders nine months ago, before the league had said a thing, that Major League Soccer's championship game was coming to the Home Depot Center.

This will be the fifth time MLS' showcase game is played on the Galaxy's home field and the first time the Galaxy will be taking part.

"Let me tell you," Arena said after L.A.'s 3-1 triumph over RSL in Sunday night's Western Conference final at Home Depot Center, "it wasn't the most comfortable feeling knowing that we were going to be the hosting the final and going through the season [with that over our heads]. ... I must tell you, there was a little pressure to get there."




They did so by switching things up. Rather than battling RSL for midfield dominance, seeing who could possess and making the other team chase, the Galaxy relied on a direct attack meant to test ailing center back Jamison Olave, who got the nod after faring well enough in a pregame fitness test for RSL, and his youthful partner, Chris Schuler.

It led to a flurry of chances, one leading to Donovan's first-half penalty kick, and then second-half goals by Magee and Keane as L.A. pulled away to set up a Nov. 20 meeting with then Houston Dynamo at HDC.

Magee's 58th-minute header, his third finish from a Beckham ball in as many postseason games, broke a 1-1 draw, and Keane's strike in the 68th, after a long sprint against Olave, secured L.A.'s seventh MLS Cup appearance and second in three full seasons under Arena.

"It's maybe the luck of the Irish," Arena said afterward. "I would assume Magee's Irish, right? I don't even know."

Yes, he is, on both sides, and he acknowledged he used to throw a faux Irish accent around the locker room before Keane, a real Irishman, arrived in August.

"I was just walking around like I was the Irish guy on the team," Magee said, "but he saw right through me."


November, 6, 2011
11/06/11
5:38
PM PT
By
Scott French
| ESPNLosAngeles.com
CARSON -- Jamison Olave passed his fitness test and is in Real Salt Lake's lineup for Sunday evening's Western Conference final against the Galaxy at Home Depot Center, and Nat Borchers is available on the bench.

Olave, last year's MLS Defender of the Year, was considered the longer shot to start between RSL's first-choice center backs, who sustained quadriceps injuries in the Lions' playoff opener and missed Wednesday's decisive first-round leg in Seattle.

Both were on the HDC field testing their limits at about 4:30 p.m., and Olave -- a physical difference-maker in the back -- fared well enough to join Chris Schuler in the middle. Chris Wingert returns to his normal spot, at left back.

No surprises in the Galaxy XI. Here are the lineups:

Galaxy: Josh Saunders; Sean Franklin, Omar Gonzalez, A.J. DeLaGarza, Todd Dunivant; Landon Donovan, David Beckham, Juninho, Mike Magee; Chad Barrett, Robbie Keane. Bench: Chris Birchall, Paolo Cardozo, Adam Cristman, Frankie Hejduk, Donovan Ricketts, Dasan Robinson, Michael Stephens.

Real Salt Lake: Nick Rimando; Robbie Russell, Jamison Olave, Chris Schuler, Chris Wingert; Andy Williams, Kyle Beckerman, Javier Morales, Will Johnson; Fabian Espindola, Alvaro Saborio. Bench: Yordany Alvarez, Tony Beltran, Nat Borchers, Luis Gil, Ned Grabavoy, Paulo Jr., Kyle Reynish.
November, 5, 2011
11/05/11
9:30
PM PT
By
Scott French
| ESPNLosAngeles.com
CARSON -- The situation couldn't be more perfect for the Galaxy heading into Sunday's Western Conference title game.
They're at home (where they haven't lost all season), are as near to full strength as they've been at any point (Juninho's return from suspension a big plus), and can happily feast on a Real Salt Lake defense that might still be missing its anchors.
Scratch that last one.
Nat Borchers
and
Jamison Olave
, the best center-back tandem in MLS, could be watching from the stands, but the Galaxy (21-5-10, including playoffs) won't get much joy from that, no matter how massively that alters the odds.
This is a proud bunch, believes they are the best team in MLS and knows the best way to prove that is to beat the best. And RSL isn't at its best if Borchers and Olave aren't a go.
As noted by
Omar Gonzalez
, the Galaxy's top center back: "I hope they are on the field, so we can have the best game possible."
The team that best maintains possession and more aggressively conquers midfield is going to have the edge in the clash at Home Depot Center, but the task is considerably more difficult for Real Salt Lake (16-12-8) without the physical, dynamic Olave, a 30-year-old Colombian, and cerebral organizer Borchers, also 30, from Colorado.
"I've been reading stats all year that they write up every time one of them isn't in the game," said Gonzalez, who joined the RSL pair on last year's MLS Best XI backline. "They give up almost no goals when they're both on the field, but when they're off the field, they seem to struggle a little bit."
It's true. Since its 2009 MLS Cup triumph over the Galaxy, Real Salt Lake is 40-21-27 with Borchers and Olave in the middle and 11-14-6 using any other combination. The records this season: 10-4-8 and 6-8-0.
"Those two are arguably the best center-back pairing in the league," Galaxy captain
Landon Donovan
said. "If one of them is out, it hurts them. If both of them are out, it certainly hurts them. [But RSL is] experienced, their midfield does a good job of getting around the ball, which relieves some of the pressure on their backline, and then they have a great goalkeeper [Montclair's
Nick Rimando
], too. Even if one of both of those two aren't on the field, it's still going to be a big challenge."
Borchers and Olave exited with quadricep strains in the Lions' 3-0 rout in their first-round, first-leg victory over Seattle, and the difference was alarming in Wednesday's second leg, a 2-0 loss. Towering sophomore
Chris Schuler
and veteran left back
Chris Wingert
partnered inside and took the brunt of a very direct Sounders attack. Their teammates applauded them for their bravery under constant pressure, but RSL coach
Jason Kreis
wasn't satisfied.
November, 4, 2011
11/04/11
5:04
PM PT
By
Scott French
| ESPNLosAngeles.com
The biggest question about Sunday's Western Conference final concerns the statuses of Real Salt Lake's Jamison Olave and Nat Borchers, two of Major League Soccer's finest center backs.
Both departed the Utahns' playoff opener last weekend against Seattle with quadriceps injuries and sat out Wednesday's second leg, a 2-0 defeat that sent RSL through to meet the Galaxy on Sunday evening at Home Depot Center.
Reserve
Chris Schuler
and left back
Chris Wingert
stepped into their shoes and fared reasonably well in Wednesday's defeat, which wasn't enough to overturn RSL's 3-0 lead from the first leg, but they're not Olave and Borchers and never will be.
RSL technical director/general manager
Garth Lagerwey
said Friday afternoon on a media conference call that he wasn't sure if Olave and Borchers would be ready to go by 6 p.m. Sunday.
"We just don't know," he said. "There's muscle stuff, and obviously we elected to hold them off Wednesday. They'll be on the flight tonight to L.A., the team doctor is going with us to provide around-the-clock care ... it's going to be a close decision on game day."
Olave was MLS's Defender of the Year last year, when the smart vote went to Borchers, who was a finalist -- along with Galaxy center back
Omar Gonzalez
. All three are among contenders for the award again this season.
Lagerwey was pleased with Schuler, a second-year defender out of Creighton, and Wingert, an eighth-round veteran who last played in the middle during his college days at St. John's.
"You're not going to come under more pressure than we did in Seattle," Lagerwey said. "It was a baptism by fire, and we're going to be hit any harder. Those guys won dozens of battles all night long."