Los Angeles Soccer:

Christian Hernandez
January, 11, 2012
1/11/12
7:33
PM PT
By
Scott French
| ESPNLosAngeles.com
Chandler Hoffman and Kelyn Rowe aren't going to last very long once the MLS SuperDraft begins Thursday morning, and Luis Silva, Sam Garza, Miguel Ibarra and Andy Rose figure to be nabbed soon after.

They're the big names, but hardly the only ones, among local players aiming for an opportunity with a Major League Soccer team. There are nearly two dozen players who grew up or went to school in Greater Los Angeles hoping to hear their names called in Kansas City.

Some of them, let's be honest, don't have a shot, not with just two rounds of picks -- 38 in all. Next week's supplemental draft will provide possibilities, and players will be looking to participate in team combines and in trials during preseason training.

Some might look abroad -- there are leagues everywhere on the planet -- and there are two professional minor leagues (NASL, USL Pro) and several pro clubs in the Premier Development League and its rival NPSL.

Here's a quick rundown of 22 players who might find a job in MLS, if the right situation develops:


November, 9, 2011
11/09/11
10:53
PM PT
By
Scott French
| ESPNLosAngeles.com
UC Irvine struck at the start, doubled its advantage after a half-hour Wednesday night and coasted into the Big West Conference tournament title game, where it will get a rematch with fellow power UC Santa Barbara.
Freshman
Cameron Iwasa
headed home a cross from
Marco Franco
(Chino Hills/Chino Hills HS) just 35 seconds into the game, and
Tarek Morad
(Chino Hills/Chino Hills HS and Mt. San Antonio College) finished a feed from
Christian Hernandez
(Palmdale/Palmdale HS) in the 31st minute as the 11th-ranked Anteaters (15-5-1) toppled UC Riverside, 2-0.
No. 15 UC Santa Barbara (14-5-1) advanced to Saturday's final with a 2-0 victory over visiting UC Davis.
Irvine, which won its second straight Big West regular-season title, will want to win at home Saturday night to clinch an NCAA berth after it was controversially left out of the field last year after an upset loss in the conference semifinals.
UC Riverside (9-6-4) likely completed a superb campaign that included two victories over UC Santa Barbara and another over UCI. The Highlanders are the Big West's best bet for a third NCAA invitation.
Sam Garza
gave UCSB a 17th-minute lead, then fed Ghanaian sophomore
David Opoku
for a two-goal advantage 16 minutes into the second half. Dan Reese scored for UC Davis with 10½ minutes to go.
UCI won the regular-season meeting with the Gauchos, pulling out a 2-0 win Oct. 1 in Goleta on second-half goals by
Miguel Ibarra
(Lancaster/Lancaster HS) and
Lester Hayes III
.
In other men's action:
Conor McFadden scored 8½ minutes in, and San Diego held on for a 1-0 West Coast Conference victory in a defensive struggle at Loyola Marymount (7-11-1), which dropped three points behind the first-place Toreros with one game to go.
November, 2, 2011
11/02/11
9:41
AM PT
By
Scott French
| ESPNLosAngeles.com
Miguel Ibarra's second-half goal Tuesday night carried UC Irvine past Cal Poly. Now the Anteaters must play a waiting game.

Ibarra (Lancaster/Lancaster HS) finished a feed from his former Taft College teammate Christian Hernandez (Palmdale/Palmdale HS) in the 56th minute to give No. 14 UCI (14-5-1) a 1-0 victory in San Luis Obispo -- and a home assignment for next week's Big West Conference men's soccer tournament semifinals.

The Anteaters, who wrapped up their Big West campaign at 6-3-1, are four points above UC Davis (5-3) and No. 17 UC Santa Barbara (5-4) in the conference standings. The Gauchos can't catch UCI, but Davis has two games left -- and one victory and one tie Wednesday against last-place Cal State Fullerton and Saturday at UC Riverside -- would be enough to catch up.

Davis beat Irvine and would be the No. 1 seed for the conference tournament if they shared the regular-season title.

All four tournament berths were clinched Tuesday, thanks to Irvine's victory and UC Santa Barbara's 3-2 triumph at Cal State Northridge. The Gauchos and UC Riverside will join Irvine and Davis in Wednesday's semifinals.

CSUN and Cal Poly were eliminated from contention.

Luis Silva (Los Angeles/Salesian HS) scored twice, including a deflected shot that found the net with 19 seconds to go in overtime, to lift UC Santa Barbara.


October, 30, 2011
10/30/11
7:56
AM PT
By
Scott French
| ESPNLosAngeles.com
Cesar Diaz Pizarro struck with 2½ minutes to play Friday night, and UC Riverside completed a comeback for a 3-2 men's soccer triumph at UC Irvine, its third victory this season over a nationally ranked opponent.

The triumph leaves the Highlanders (9-5-2), who have twice beaten UC Santa Barbara this season, in position to qualify for the Big West Conference tournament and took command of the league's title race from ninth-ranked Irvine (13-5-1) and gave it to second-place UC Davis.

UCR twice rallied from deficits, with Jose Diaz (Corona/Santiago HS) answering Cameron Iwasa's early goal and Humberto Santiago scoring in the 79th minute to pull the Highlanders even after Christian Hernandez (Palmdale/Palmdale HS) provided a 2-1 edge to the Anteaters in the 68th.

Pizarro (Chino/Ayala HS) scored his team-best ninth goal -- and school-record eighth career winning goal -- in the 88th minute.

UCI remains atop the standings with 16 points from a 5-3-1 conference record, but UC Davis (5-3), one point behind, has two games remaining, one more than the Anteaters. UCR (4-3-2) and UC Santa Barbara (4-4) also are in the race.

In other men's action:
Luis Silva (Los Angeles/Salesian HS) scored twice and assisted two more goals as UC Santa Barbara (11-5-1) held on for a 4-3 victory at Cal State Fullerton (7-6-4) to climb into fourth place, putting the Gauchos into position to qualify for the Big West tournament. UCSB finishes its regular season with games against Cal State Northridge and Cal Poly, its closest pursuers.
Cal State Northridge (7-7-3) settled for its second successive scoreless draw, against visiting Cal Poly, and sits fifth, one spot outside a Big West tournament berth, with two games to go.
Paul Islas tallied twice and Fresno Pacific held on for a 4-3 victory over Concordia (12-3-1), No. 8 in the NAIA rankings, in a showdown for the Golden State Athletic Conference title. Edgar Orozco (Santa Ana/Santa Ana HS, Corona HS and Golden West College) scored twice and added an assist for the Eagles.
October, 13, 2011
10/13/11
6:23
AM PT
By
Scott French
| ESPNLosAngeles.com
Christian Hernandez and Christian Santana each contributed a goal and an assist as No. 7 UC Irvine pulled three points ahead in the Big West Conference men's soccer race with a 5-1 romp Wednesday night at UC Riverside.

Miguel Ibarra (Lancaster/Lancaster HS), Hernandez (Palmdale/Palmdale HS) and Norby Rodriguez (Thousand Oaks/Thousand Oaks HS) scored first-half goals for the Anteaters (12-2-0), and an own goal 2½ minutes into the second half made it 4-0. Santana netted Irvine's finale 10 minutes later.

The Anteaters have won four in a row since opening Big West play with a 1-0 loss to Cal Poly and lead Cal State Northridge, which is 3-1-0, by three points. UC Santa Barbara, Cal Poly and UC Davis have six points from four games.

UC Riverside (6-5-1) has stumbled badly since its Big West opener, an upset of UC Santa Barbara, losing three in a row -- including a 5-0 decision against Cal Poly in its previous match.

In other men's action:


No. 13 UC Santa Barbara (9-3-1) throttled visiting Cal State Fullerton (6-4-2), romping to a 6-0 Big West triumph Tuesday as Luis Silva (Los Angeles/Salesian HS) and David Opoku each scored twice. The shot total was close: 16-13 for the Gauchos. Fullerton lost its third in a row.
Cal State Northridge (6-5-1) is 3-1 in the Big West after a 2-0 victory Tuesday at Cal Poly. Thomas Ramos and Brian Behrad (Woodland Hills/Taft HS) netted the goals.
September, 12, 2011
9/12/11
9:42
AM PT
By
Scott French
| ESPNLosAngeles.com
UC Irvine had final-four aims a year ago, when head coach George Kuntz's talented, senior-heavy team climbed into the top 10 before an upset loss to Cal State Fullerton in the conference tournament and a poor RPI kept it out of the NCAA tournament, one of the most stunning omissions we've seen in the men's soccer brackets.
Expectations this fall aren't so towering. The Anteaters were picked fourth in the Big West Conference's preseason coaches poll, behind UC Santa Barbara, Cal Poly and Fullerton.
Might want to rethink that.
Irvine is off to a 6-0-0 start for the first time in school history after rallying twice from first-half deficits, then pulling away to a 4-2 non-conference victory Sunday at Midwest power Illinois-Chicago.
Enrique Cardenas
(Coachella/Coachella Valley HS) scored in the 58th minute and
Christopher Santana
in the 77th to lift the Anteaters, who are No. 9 in the National Soccer Coaches Association of America men's Division I rankings.
UIC (2-1-2) went ahead twice, on goals off corner kicks by
Zach Kaleta
in the fourth minute and
Craig Krzyskowski
in the 22nd, but UCI answered immediately both times, through
Christian Hernandez
(Palmdale/Palmdale HS) in the 13th and
Jonathan Rivas
(Norwalk/Santa Fe HS and Cerritos College) in the 24th.
In other men's action:
Ryan Lee and Chandler Hoffman scored first-half goals to lead UCLA (2-2-1) past 10-man Loyola Marymount (2-3-0). The Bruins dominated the game, outfiring LMU, 13-4; the Lions were handicapped when Logan McDaniel (Palmdale/Quartz Hills HS) was red-carded in the 14th minute, just 23 seconds after Lee tallied.
Jesse Escalante (Placentia/Valencia HS) and Nick Posthuma (Pasadena/St. Francis HS) scored to lead Cal State Fullerton (4-0-1) past San Francisco, 2-0, to win UNLV's event, the Titans' second tournament championship in as many weekends.
Cal State Northridge (2-3-0), just seven minutes from victory, surrendered three goals in 97 seconds and lost, 3-1, to New Mexico in the decisive encounter of the Lobos' tournament. Gustavo Villalobos (Van Nuys/Birmingham HS) tallied for the Matadors in the 35th minute.
September, 9, 2011
9/09/11
2:13
PM PT
By
Scott French
| ESPNLosAngeles.com
Cal State Fullerton not so long ago was a regional power in men's soccer, with nearly annual treks to the NCAA Tournament -- including a final four appearance in 1993 and a run to the quarterfinals the following season.

It's been rough going since the Titans last made the playoffs back in 2000, with 10 successive losing seasons, but their performance last weekend at Cal State Northridge's annual event signals that a renaissance could be at hand.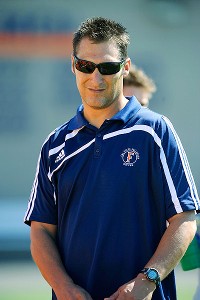 Matt Brown/CS Fullerton athleticsBob Ammann is looking for his first winning season -- and first NCAA appearance -- in his sixth season in charge at Cal State Fullerton.
Fullerton (2-0-1) set the terms with a physical game plan for a 0-0 draw against defending NCAA champion Akron, then displayed its considerable skill in a 5-1 dismantling of UNLV to win the tournament title.

Head coach Bob Ammann, a goalkeeper and assistant coach at CSUF before taking the reins following the 2005 season, has always fielded talented, competitive teams that so often controlled matches but came out one-goal losers. This year looks like it might be different -- he's got a a senior-heavy side featuring 10 returning starters, a little more grit to go with the style, and a belief that it can battle Big West Conference giants UC Santa Barbara and UC Irvine.

"We're confident in where we're at," said Ammann, who started the campaign with a 34-56-9 record. "It's a group that's been with each other for awhile now. We went through our times, obviously, and as I'm constantly preaching to them: Those are the things that grew our skin."

The Titans were a much better team at the end of last season than they'd been most of the fall, upsetting UC Irvine in the Big West tournament semifinals to highlight a 7-12-2 campaign.

Ammann's core group features five seniors: All-Big West first-team forward Nick Posthuma (Pasadena/St. Francis HS) and midfielder Kevin Venegas (Lakewood/Los Alamitos HS) and honorable mention goalkeeper Trevor Whiddon, plus midfielders Oscar Aguero (Anaheim/Katella HS) and Michael Denny. Posthuma led the Titans with nine goals last year; Venegas was the top player at CSUN's tournament.

Also making imprints are juniors Jonathan Birt (Santa Ana/Calvary Chapel HS), the lone returning starter on the backline, and Jesse Escalante (Placentia/Valencia HS), a rising forward first seen in one of Ammann's youth camps.

The Titans' approach -- ball on the ground, keep possession -- and flair required to follow it have impressed opponents all along, but defensive liabilities have hurt. The addition of Englishman Roberto Vernaschi, who transferred from Delaware -- aided by the returns of Mario Alvarez and Bobby Reiss (Palmdale/Quartz Hill HS) after missing last season through injury -- has added steel to Fullerton's game.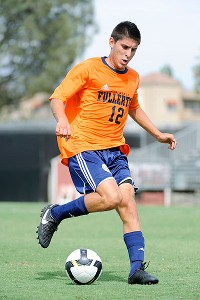 Matt Brown/CS Fullerton athleticsKevin Venegas factored in three goals in the Titans' win over UNLV, which clinched Cal State Northridge's tournament title.
"He's got that kind of bad-boy mentality," Ammann said. "He's got that 'I'm not afraid to tell you what I'm going to do to you.' That's something we've lacked, and the other players are feeding off that."

That was apparent against Akron. The Titans' physical game plan neutralized the Zips, and Fullerton had the better scoring opportunities if less of the game.

"I thought their spirit was good," said Akron coach Caleb Porter, whose team dropped from second to fourth in the NSCAA rankings this week. "I really liked their energy and their attitude and their edge. They have a chip on their shoulder, and they showed that against us, and that was good for our guys to see -- these teams weren't intimidated by Akron. These teams play the UCLAs and UC Santa Barbaras, so playing us isn't going to intimidate them."

Ammann credits depth -- "Now we can bring in guys, and we really don't drop the standard," he says -- and the ability to play both ways.

"We've always been able to score and create, but we've leaked too many goals," he said. "We're really limiting the opportunities of our opponents. This is ultimately going to be the difference. I believe we can score, and as long as we defend and we gain that confidence that we can lock the game down and finish it when we do score, we've got some potential."

Fullerton, which plays this weekend at UNLV's tournament, was third in the Big West coaches preseason pool, behind UC Santa Barbara and Cal Poly but ahead of UC Irvine, which is ranked ninth in the nation. The NCAA tournament is within reach.

"That's something we've been talking about for awhile," Ammann said. "This is definitely the team with the progress. The guys who are seniors now are the first group to come freshman through. And that pays big dividends in college soccer."

September, 5, 2011
9/05/11
10:14
AM PT
By
Scott French
| ESPNLosAngeles.com
UCLA doesn't look much like the title contender it might be destined to become -- not yet. The Bruins, ranked as high as fourth nationally, lost again Sunday, leaving them winless in three games.

Alex Henry's goal nearly 10 minutes into overtime carried UC Davis to a 2-1 home triumph, the Aggies' first victory over UCLA in program history.

"Our team executed our tactics perfectly today, and I knew that eventually we were going to get one on them," UC Davis coach Dwayne Shaffer told his school's athletics website. "It's a huge win for our program, and it means a lot not only to our players, but to our entire athletics department."

Chandler Hoffman scored from Kelyn Rowe's through ball in the 87th minute to give life to the Bruins, who were down to 10 men after Ryan Lee's red card four minutes earlier.

Goalkeeper Omar Zeenni (Arcadia/Crespi Carmelite HS) made eight saves for UC Davis (1-1-1).

UCLA (0-2-1) lost its opener at No. 1 Louisville and tied Santa Clara on Friday. The first home game is Friday night at Drake Stadium against St. Mary's.

In other men's action:
Christian Hernandez (Palmdale/Palmdale HS) scored his third and fourth goals as No. 14 UC Irvine (4-0-0) topped visiting Drake, 2-1.
David Opoku's 16th-minute goal gave No. 9 UC Santa Barbara (3-0-0) a Carolina sweep with a 1-0 victory at North Carolina State.
Jake Dobkins and Omar Mata scored goals seven minutes apart to give Tulsa a 2-1 win over No. 25 Loyola Marymount (1-2-0).
Nick Echeverry (Anaheim/Servite HS) scored just 19 seconds after kickoff, enough for Chapman (2-0-0) in a 1-0 win over Puget Sound.
Cal Lutheran got its season off to a dream start -- Raul Yepez (Oxnard/Pacifica HS) scores twice in the first 29 minutes -- but Fontbonne, from St. Louis, rallied for a 3-2 victory.
Matt Sykes' penalty kick in overtime carried Grand Canyon to a 2-1 win over Cal Poly Pomona (1-1-0).
THREE IN A ROW FOR USC: Courtney Garcia (Yorba Linda/Esperanza HS), just moments after coming off the bench, knocked home an overtime rebound, and USC (3-3-0) rallied for its third successive win, a 2-1 decision at Purdue.

Elizabeth Eddy (Newport Beach/Newport Harbor HS) scored an equalizer in the 63rd minute for USC, which beat No. 17 Illinois in Friday's opener at the Illini/Boilermaker Cup.


August, 31, 2011
8/31/11
11:04
PM PT
By
Scott French
| ESPNLosAngeles.com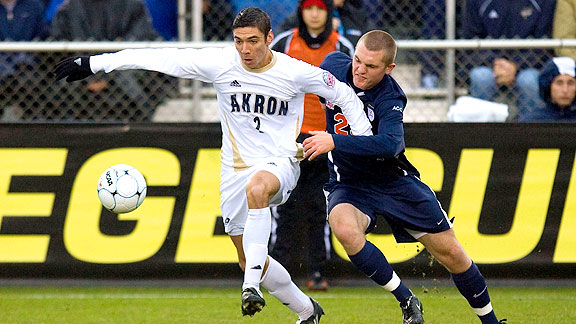 Brian A. Westerholt/Getty ImagesZarek Valentin, left, who now plays for Chivas USA, helped Akron become one of college soccer's elite programs over the last few seasons.

Chivas USA defender Zarek Valentin has made his calls, set up his meetings, even gone to the online maps to chart the best path to Cal State Northridge.

Mighty Akron is in town, and the former Zips star -- he won the NCAA Division I title with them last December in Goleta -- is, to say the least, pumped.

The defending champs take on Cal State Fullerton on Thursday afternoon at 4:30 and Cal State Northridge on Saturday night at 7 in the Matadors' annual tournament, and it's a treat for Southern California soccer fans.

Akron, 91-13-10 in five years (plus last week's season-opening win over Cleveland State) since Caleb Porter took charge, plays the game the right way: on the floor, with style, verve and attacking know-how. It should have brought the Zips successive NCAA crowns, but Virginia toppled them on penalties following a 0-0 draw in the 2009 final.

Valentin was one of seven Akron players taken in January's Major League Soccer draft, one of five selected among the first eight picks, one of three taken with the first four selections. He's hoping to offer his perspective this week to his former teammates and the program's large, talented freshman class.

"Hopefully, I can take some of the guys who are in my class out to maybe Santa Monica or something like that for a nice dinner," he said Wednesday. "Just kind of show them a little bit of, I guess, my lifestyle. Because I think we have a bunch of potential pros in the [Akron] team, because it's a good group. Hopefully, they start out following the right foot.

"Hopefully, I can talk to the team and just give them a little bit of insight, you know, my experience and how they need to live it up in college and enjoy it and play with a smile on your face."

Valentin, 20, left Akron after his sophomore year, and Chivas made him the fourth overall selection. He's started 21 games in an up-and-down rookie campaign, most at right back but several in the center earlier this year. Give him a couple of years -- his potential is immense.

His Chivas teammates Blair Gavin and Ben Zemanski, who left Akron a year before Valentin, also plan to stop by Matador Soccer Field. Valentin notes that they "want to get out and see who the Blair Gavin [and Ben Zemanski are] of this cycle."

Does he want to see this year's version of Zarek Valentin?


August, 28, 2011
8/28/11
11:09
PM PT
By
Scott French
| ESPNLosAngeles.com
USC's season-starting skid in women's soccer is done, thanks to two quick goals Sunday to beat Pacific at the University of San Diego's tournament.

Elizabeth Eddy
(Newport Beach/Newport Harbor HS) struck just 3½ minutes in and
Brittany Kerridge
converted a penalty kick just 106 seconds later to send the Women of Troy (1-3-0) to a 2-1 victory at Torero Stadium.
Pacific (1-2-0) halved the deficit with two minutes to go on
Angelica Figueroa
's penalty kick following a hand ball.
"We knew that we needed to get our confidence up -- we knew we needed to come out and get it done," Kerridge, who leads USC with two goals and two assists, said on a video posted on her school's athletics website. "It wasn't the prettiest soccer, like we have been playing, but we got the job done, and that's all that matters."
In other women's action:
All-American Sydney Leroux's scoring streak hit three games as No. 15 UCLA (4-0-0) won Tennessee's tournament with a 2-0 triumph over eighth-ranked Florida. Leroux was the event's MVP, and freshmen Ally Courtnall (who also scored), Samantha Mewis and Abby Dahlkemper made the all-tournament team.
Surprising UC Riverside (2-1-1) won its second in a row, surpassing last year's victory total with a 2-1 overtime triumph over visiting San Jose State. Kayde Hensley's 102nd-minute goal lifted the Highlanders to the title in their tournament.
No. 13 UC Irvine (4-0-0) also won both of its games at UCR's event, finishing with a 2-0 triumph over Mississippi State as UCLA transfer Natalia Ledezma (La Mirada/La Mirada HS) netted her third goal.
Karissa Garcia's goal in the sixth minute led Pepperdine (4-0-0) past visiting Long Island, 1-0.
The Waves' West Coast Conference rival Loyola Marymount also is unbeaten, 3-0-1 after a 0-0 draw with Fresno State.
Nadia Link (Rowland Heights/Walnut HS) scored her second goal of the weekend, but Long Beach State (2-2-0) lost, 2-1, at No. 12 Marquette.
August, 27, 2011
8/27/11
12:07
PM PT
By
Scott French
| ESPNLosAngeles.com
UC Riverside's women's soccer team won one game and scored three goals in 2010. The Highlanders matched that Friday night.
Aaren Casimiro (Murrieta/Chaparral HS) and Deborah Musa (La Verne/Bonita HS) scored first-half goals two minutes apart and Andrea Morales added a second-half tally as UC Riverside (1-1-1) routed Mississippi State, 3-0, in its annual Women's Soccer Invitational.
It's a big step forward following last year's 1-14-3 campaign, in which UCR was outscored, 25-3, and after five seasons of decline since going 11-4-6 and playing in the NCAA tournament in 2005.
Head coach Veronica O'Brien, who took charge when the Highlanders made the jump to Division I in 2001, posted double-digit victories in five straight seasons, through 2006, but her teams have won just seven Big West Conference games in five years and is 1-13-2 the past two.
She's got nine starters back and loads of newcomers -- 17 freshmen are on the roster, with midfielder Brianna Gonzalez (Victorville/Sultana HS) and redshirt goalkeeper Jessica Olafsen in the starting lineup Friday -- as the rebuild begins in earnest.
UCR meets San Jose State in Sunday's tournament finale. The Spartans lost, 2-1, in overtime to No. 13 UC Irvine in the event's opener. Amanda Hardeman (Laguna Niguel/Dana Hills HS and Santiago Canyon College) scored the 101st-minute winner, a blast that ricocheted off the crossbar, off goalkeeper Meghan Maiwald's back and into the net.
WILLIAMS TOPS TITANS: Freshman Lynn Williams scored in the final minute to force overtime and again in the extra period, lifting Pepperdine to a 2-1 victory at Cal State Fullerton. The Waves (3-0-0) rallied quickly after Stacey Cox (Simi Valley/Royal HS) scored a would-be winner in the 84th minute for the Titans (1-1-1).