Los Angeles Soccer:

Christine Sinclair
January, 29, 2012
1/29/12
8:30
PM PT
By
Scott French
| ESPNLosAngeles.com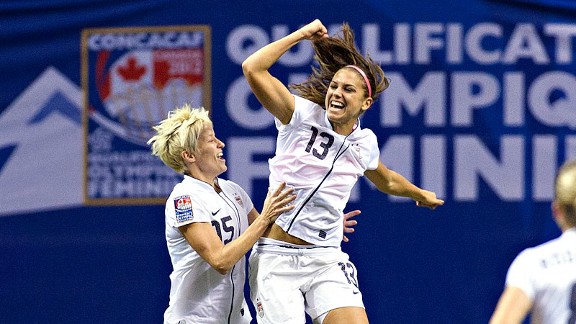 Rich Lam/Getty ImagesAlex Morgan celebrates with Megan Rapinoe after scoring the first U.S. goal against Canada on Sunday.
Alex Morgan had way too much speed for Canada's defenders, and that's the starting point of the U.S. women's national team's comprehensive victory in Sunday's title game at the CONCACAF Olympic qualifying tournament.

The rising star from Diamond Bar scored two goals and assisted both of Abby Wambach's in a 4-0 victory that might have been far worse if not for veteran Canadian goalkeeper Erin McLeod.

It completed a perfect run for the Americans in Vancouver, British Columbia, with five shutout victories, none closer than three goals, a 38-0 scoreline and a series of impressive performances that showcased their skill, movement, interchange and versatility in a 4-2-3-1 alignment that has added dynamics to the U.S. game while better utilizing the strengths of midfielders Carli Lloyd and, now the most influential figure on the field, former UCLA All-American Lauren Cheney.

U.S. coach Pia Sundhage switched things up against Canada, going back to a 4-4-2 that turned on Morgan's blinding speed. They call the 22-year-old forward "Baby Horse" within the squad -- "I think it's 'cause I gallop like a horse, and I was the baby of the team," she says -- and Canada had no hope corraling her.

She provided a fourth-minute lead, running onto a Lloyd ball that Wambach headed into space, racing past one defender and holding off another, then sprinted past the defense on the right flank to chip for a Wambach header in the 24th.

It was 3-0 four minutes later, when Lloyd hit the left post and Morgan squared the rebound for Wambach. Morgan added another 11 minutes into the second half, badly beating an offside trap, fending off McLeod and two defenders in a looping run in the box and firing into the empty net.

Morgan scored four goals with six assists during the tournament; Lloyd, Wambach (Hermosa Beach) and Amy Rodriguez (Lake Forest/Santa Margarita Catholic HS and USC) scored six apiece to lead the U.S.


January, 24, 2012
1/24/12
9:52
PM PT
By
Scott French
| ESPNLosAngeles.com
Rich Lam/Getty ImagesCarli Lloyd's hat trick led the U.S. to an easy 4-0 victory over Mexico during Olympic qualifying Tuesday.
Carli Lloyd's hat trick started with an early goal and closed with a late finale, leading the U.S. women's national team within 90 minutes of an Olympic berth with a 4-0 romp Tuesday night over Mexico.

Lloyd scored in the seventh minute and Heather O'Reilly tallied in the eighth as the Yanks completed a dominant run through Group B of CONCACAF's qualifying tournament in Vancouver, British Columbia, in which they outscored three foes, 31-0.

An expected victory Friday over Costa Rica will send the U.S., the two-time defending gold medalists, to this summer's London games. Mexico meets Canada in the other semifinal, with the winner claiming the region's other berth. The final will be played Sunday.

The U.S. overcame an injury to goalkeeper Hope Solo, who soldiered on despite a strained thigh that clearly bothered her, and obvious fatigue by Hermosa Beach's Abby Wambach, who came off in the second half.

Lloyd added goals in the 57th and 86th minutes, giving her five in the tournament and 33 in 122 international appearances. The victory avenged in some way last year's stunning defeat to the Mexicans in CONCACAF's Women's World Cup qualifying semifinals, a result that forced the U.S. into a home-and-home playoff against Italy to claim its spot in the field.


January, 10, 2011
1/10/11
6:21
PM PT
What we learned from FIFA's Ballon d'Or festivities Monday night in Zurich: Mongolians love Abby Wambach.
The Hermosa Beach-based striker picked up eight first-place votes in the Women's Player of the Year contest, and two came from Mongolian women's national team head coach
Ganjuur Bayartsogt
and captain
Sugar Bayar
.
It wasn't nearly enough to halt former L.A. Sol star
Marta
's romp to her fifth successive world's-best honor: The Brazilian forward, who led FC Gold Pride to Women's Professional Soccer's title and is now playing in Brazil for Santos, captured 151 of 266 first-place votes from 119 coaches, 121 captains and 26 media. She failed to make the top three on on only 52 ballots, and on two of those -- both from Brazil -- she was ineligible.
Argentina's
Lionel Messi
won the men's World Player of the Year award for the second straight year, beating Barcelona teammates
Xavi
and
Andres Iniesta
. The coaches of the year were Real Madrid's
Jose Mourinho
, who last spring guided Inter Milan to the UEFA Champions League title, and Germany women's national team coach
Silvia Neid
.
More interesting than who won is how everyone voted. FIFA won't make public the executive committee members' choices on a World Cup host, but every Player of the Year vote is online, both
men
and
women
.
U.S. men's captain
Carlos Bocanegra
(Alta Loma/Alta Loma HS and UCLA) voted Xavi first, Iniesta second and Dutch midfielder
Wesley Sneijder
(Inter Milan) third.
U.S. coach
Bob Bradley
(Manhattan Beach) went with, in order, Xavi, Sneijder and Messi.
December, 9, 2010
12/09/10
6:08
PM PT
By
Scott French
| ESPNLosAngeles.com
Ali Riley, the Rookie of the Year in Women's Professional Soccer, has a new club.
Riley (Pacific Palisades/Harvard-Westlake School), a left back out of Stanford University who plays for New Zealand's national team, agreed to contract terms Thursday with the expansion Western New York Flash, which will play in Buffalo and Rochester.
Riley became a free agent when WPS champion FC Gold Pride folded last month.
Gold Pride's other starting outside back,
Kandace Wilson
(Los Angeles/Walnut HS and Cal State Fullerton), and star forward
Christine Sinclair
, a Canadian national-teamer, also agreed to terms with the Flash.
November, 19, 2010
11/19/10
2:51
PM PT
By
Scott French
| ESPNLosAngeles.com
Western New York's expansion team in Women's Professional Soccer is getting started with a local player. Moreno Valley's Beverly Goebel (Moreno Valley HS) was one of the two players the Buffalo/Rochester-based club selected Friday in the league's expansion draft.
Goebel, a midfielder who played collegiately at Sacramento State and Miami, saw action in 16 games (starting nine) with one goal during her rookie season this year with the Washington Freedom.
The Flash, which won the United Soccer Leagues' W-League title but must remake its roster in stepping up to the WPS, took Atlanta Beat defender
Kaley Fountain
with the first pick. After selecting Goebel, they passed -- there were only 19 players available -- and will fill their roster through the college draft and in a deep pool of free agents.
November, 16, 2010
11/16/10
11:05
AM PT
By
Scott French
| ESPNLosAngeles.com
Shannon Boxx is looking for a new home. FC Gold Pride, which the imposing midfielder from the South Bay helped to Women's Professional Soccer's title in September, disbanded Tuesday after failing to find the investment required to continue.
The Bay Area-based team follows the L.A. Sol and Saint Louis Athletica into oblivion. The Sol folded last January and Saint Louis' demise arrived seven weeks into the 2010 season. Boxx was on both clubs' rosters when they disbanded.
An effort by a group of investors to purchase part or all of Gold Pride and move the club to Orange County fell through. The group is one of two in Southern California seeking a WPS franchise for 2011.
Gold Pride, which played in Santa Clara in 2009 and in Hayward last year, put together the most impressive collection of talent the women's game has seen and posted a 16-3-5 record, finishing 17 points ahead of second-place Boston. The club routed Philadelphia, 4-0, in the title game.
The roster starred Brazilian superstar
Marta
-- the two-time WPS MVP -- Canadian striker
Christine Sinclair
and Boxx (Redondo Beach/South Torrance HS), plus WPS Rookie of the Year
Ali Riley
(Pacific Palisades/Harvard-Westlake School). Other local players were forward
Kiki Bosio
(Mission Viejo/Santa Margarita Catholic HS and Capistrano Valley HS), defender
Kandace Wilson
(Los Angeles/Walnut HS and Cal State Fullerton) and midfielder
Rosie Tantillo
(USC).
November, 6, 2010
11/06/10
7:22
AM PT
By
Scott French
| ESPNLosAngeles.com
We've been hearing, and sometimes actually seeing, how the rest of the world has caught up to the U.S. in women's soccer, and no matter how much truth there is to the notion, it doesn't lessen the blow when something thought impossible occurs.
Such as the Americans' loss Friday night to Mexico.
It was an American -- San Mateo's
Veronica Perez
-- who knocked out the U.S. in the CONCACAF World Cup qualifying semifinal, her 27th-minute header finishing off a 2-1 triumph in Cancun that sends Mexico into Monday's regional final against Canada.
The Mexicans and Canadians, who crunched Costa Rica, 4-0, in the other semifinal, qualified for next year's WWC in Germany. The U.S. must beat Costa Rica in Monday's third-place game, then beat Italy in a home-and-home series for another berth. The Americans' failure to qualify would be disastrous and would -- absolutely should -- cost Swedish coach
Pia Sundhage
her job.
The U.S. has been in transition the past decade as the legends of the previous generation -- including
Mia Hamm
,
Julie Foudy
(Mission Viejo/Mission Viejo HS) and
Joy Fawcett
(Huntington Beach/Edison HS) -- retired one by one, the Europeans began asserting their technical superiority and the sport's growth around the globe began to mirror what had occurred in North America a generation or two ago.
November, 2, 2010
11/02/10
12:11
AM PT
By
Scott French
| ESPNLosAngeles.com
As the U.S. marches toward another Women's World Cup appearance and Canada and Mexico seek to join the Americans, what's going on in Cancun -- site of CONCACAF's ongoing qualifying tournament -- isn't the only thing on players' minds.

All of the U.S. players, several of the Canadians and a couple of the Mexicans are keeping an eye on what's going on with Women's Professional Soccer. Champion FC Gold Pride and the Washington Freedom, a Women's United Soccer Association survivor that is the only team to reach the WPS playoffs in both seasons, are desperately seeking investment to stay alive.

A report over the weekend that both teams would fold Monday was premature, but the possibility they'll become the third and fourth teams in the second pro U.S. league to disband isn't remote by any means. Gold Pride GM Ilisa Kessler on Monday told the San Jose Mercury News that "it's do-or-die week for us." Freedom president Mark Washo was quoted in The Washington Post: "We're approaching the 90th [minute], hoping for extra time."


November, 1, 2010
11/01/10
11:38
PM PT
By
Scott French
| ESPNLosAngeles.com
The U.S. has done its part, sweeping through Group B in CONCACAF's Women's World Cup qualifying tournament in Mexico -- Monday's 4-0 victory over Costa Rica made the scoreline 18-0 -- and will discover Tuesday its semifinal foe.
Canada and Mexico have claimed Group A's final-four slots and their showdown in the last of the group games will determine the group winner (which will meet Costa Rica) and runner-up (which gets the U.S.). The winners of Friday's semis advance to next year's WWC in Germany; the third-place winner meets Italy for a berth.
LOCAL HEROES:
Diamond Bar's
Alex Morgan
(Diamond Bar HS), a senior at the University of California, scored her third goal in five international appearances to finish off Monday's win. Hermosa Beach'
s Abby Wambach
(with her sixth goal of the tournament, a penalty kick), former UCLA star
Lauren Cheney
and
Yael Averbuch
also scored for the U.S.
Thirteen of the 18 U.S. goals have been scored by SoCal-bred players, residents or former area collegians.
October, 28, 2010
10/28/10
10:58
PM PT
By
Scott French
| ESPNLosAngeles.com
Hermosa Beach's Abby Wambach is one of the most prolific goalscorers of her generation -- there's also Canada's Christine Sinclair, Germany's Birgit Prinz and Scotland's Julie Fleeting -- and she added to her legacy Thursday night.

Wambach scored her sixth international hat trick and assisted a fourth goal as the U.S. women's national team opened CONCACAF's Women's World Cup qualifying tournament with a 5-0 dismantling of Haiti in Cancun, Mexico. Lake Forest's Amy Rodriguez (Santa Margarita Catholic HS/USC) added a goal, and Redondo Beach's Shannon Boxx (South Torrance HS) had an assist for the Yanks, who have Group B games remaining against Costa Rica and Guatemala.

The goals were Wambach's 110th, 111th and 112th with the U.S., which is expected to claim on CONCACAF's two guaranteed berths in next year World Cup in Germany. The third-place finisher in the regional tournament will meet Italy for an additional berth.