Los Angeles Soccer:

Clarence Seedorf
July, 24, 2012
7/24/12
11:57
PM PT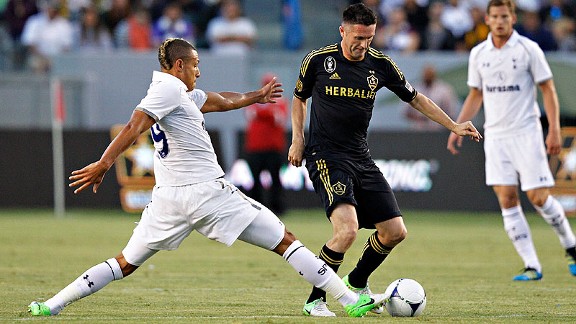 Ric Tapia/Getty ImagesWith players like Robbie Keane, above, coming to play for the Galaxy, it has helped raised the team's profile.

CARSON, Calif. -- The mission had been accomplished long before the teams even took the field Tuesday night.

The final score was irrelevant to the larger goals for the Los Angeles Galaxy, which, if you must know, played to a 1-1 draw against Tottenham Hotspur of the English Premier League in front of a near sellout crowd at the Home Depot Center.

As nice as it was to see an undermanned Galaxy team (playing without David Beckham and Landon Donovan) hold their own against a Tottenham side, which finished fourth in the English Premier League last season, the Galaxy's goal have always been larger than one game, one player and one country.

The vision of Tim Leiweke, president and CEO of AEG, has always been to make the Galaxy a global brand that would be easily recognizable around the world. He wanted fans to be familiar with the Galaxy and be able to rattle off two or three players on the team no matter what continent they were on.

It was a lofty goal, especially considering Major League Soccer's place in the global soccer landscape and soccer's place in the United States' sporting pecking order.

Yet, five years after Beckham arrived in Los Angeles, Leiweke's dream for the Galaxy has come true.

When Tottenham arrived in Los Angeles on Saturday to play the first of three exhibition matches in the U.S., they didn't come for a sun-kissed vacation on the beach and to walk over an unknown side filled with unfamiliar players.

Everyone on Tottenham was quite familiar with the Galaxy and their surging status in the soccer world. It began when the Galaxy signed Beckham in 2007 but for many who play at White Hart Lane it grew when Los Angeles signed their old friend and teammate Robbie Keane last year.

Keane played at Tottenham from 2002 to 2011 with a brief stint at Liverpool in 2008 and still captains the Ireland national team.

"A lot more players overseas know about the MLS now," said Tottenham winger Gareth Bale, who scored a first half goal on Tuesday.


July, 2, 2012
7/02/12
4:29
PM PT
By
Scott French
| ESPNLosAngeles.com
CARSON -- British reports claim the Galaxy has offered Chelsea's Frank Lampard a two-year, $20 million offer, and that the veteran central midfielder is strongly considering a move to Los Angeles.
It's not the first time Lampard's name has been linked to the Galaxy, but the reports have never been so specific.
Several outlets made the claim, none identifying their sources, but
David Beckham
lobbied his former England teammate last year and club owner AEG president
Tim Leiweke
has publicly expressed interest in signing the star.
"I'm a fan of Frank's. I think he's a great player. When I think of Chelsea, I think of Frank Lampard ...," Leiweke told Sky Sports in January. "It took us two years to get David to come here the first time.
"We're working on the next [Designated Player], and we'll continue to work on the next DP. There are a half-dozen guys we have a good relationship with, and we'll see how that goes. But first we've got to have a spot, and at the moment we don't have a spot."
The Galaxy still doesn't have a spot. MLS clubs may sign up to three DPs, whose salaries go beyond the $350,000 maximum hit to the salary cap. Beckham,
Landon Donovan
and Irish striker
Robbie Keane
occupy L.A.'s slots.
Sources with knowledge of the talks confirmed to ESPN Los Angeles that AEG is holding discussions with Lampard's representatives.
Lampard, who turned 34 on June 20, still has one year on a Chelsea contract that pays him about $12 million a year. He's been with the Blues since 2001 and captained them, in
John Terry
's absence to suspension, to triumph over Bayern Munich in the UEFA Champions League final in May.
He is considered one of the finest midfielders of his generation and has played in two World Cups and two European Championships for England, including Euro 2012, in which the English reached the quarterfinals.
June, 28, 2012
6/28/12
3:42
PM PT
By
Scott French
| ESPNLosAngeles.com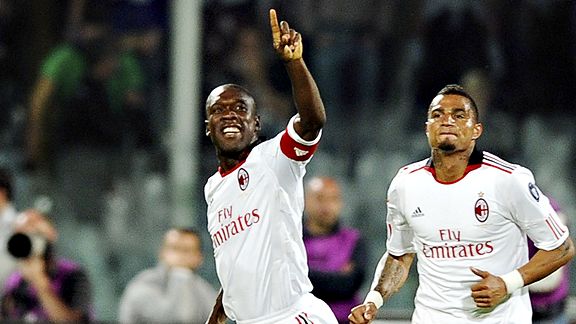 Claudio Villa/Getty ImagesClarence Seedorf, who is out of contract at AC Milan, has been training with the Galaxy though the team does not expect to sign him.

CARSON -- The Galaxy's chances of signing Clarence Seedorf?

Bruce Arena quoted "Dumb and Dumber" when asked following the club's training session Thursday at Home Depot Center.

"When [Jim Carrey's character] asked, 'Do I have a chance?' the answer was one in a million. ... They say that's a chance."

Seedorf, a 36-year-old Surinamese-born Dutch midfielder who is out of contract after a decade with AC Milan, has been training with the Galaxy this week, and his agent implied that there might be something more in L.A. than just a chance to get a little work in.

Seedorf is expected to sign with Rio de Janeiro giant Botafogo, and Arena, the Galaxy's head coach and general manager said he "is just in town, looking to train a little bit."

Seedorf was not made available, but his agent, Deborah Martin, told Brazilian website Lancenet that the former Dutch national-teamer would make a decision on where he will play "soon, by Monday at the latest. ... I can say he is enjoying the time he's been spending in California. He has been enjoying training at L.A. Galaxy. But I can't say if that has anything to do with his future career decision."

Arena was dismissive of the idea but acknowledged he'd like to have Seedorf on his roster.

"I'd be glad to sign him," Arena said. "And if [Lionel] Messi walks through town, I would do the same" with him.

Galaxy captain Landon Donovan said it has been a treat to have the veteran of a World Cup and three European Championships in camp.

"It's been fun. He's a good player," Donovan said. "You can tell even though he's not really fit, you can tell he knows how to play the game, so it's beeen fun for the guys and good for some of the young guys to seen how he moves and the things he does."

Wouldn't it be nice to see him in a Galaxy uniform?

"Sure, sign him up," Donovan said. "You going to pony up for him?"

Well, Landon, you make a lot more money than any of us media.

"I went through a divorce, man."
March, 16, 2012
3/16/12
5:52
PM PT
By
Scott French
| ESPNLosAngeles.com
TORRANCE --
Omar Gonzalez
confirms: The target for his return from a torn anterior cruciate ligament remains September, and he's in no mood to push things more quickly than he should.
But
Tim Leiweke
's assertion that the Galaxy's towering center back might be on the field again in three months made him smile.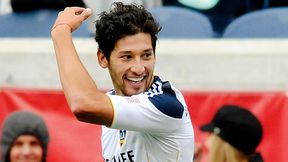 David Banks/Getty ImagesOmar Gonzalez, above, could be back in three months if Tim Leiweke's projection is correct.
Leiweke, president and CEO of Galaxy owner Anschutz Entertainment Group, was asked following a news conference Friday announcing the 10-year, $44 million extension of its sponsorship agreement with nutritional supplements company Herbalife whether L.A. needed to find a replacement outside the club for Gonzalez, 23, after the club conceded seven goals in three games while dropping its league opener and crashing out of the CONCACAF Champions League.

"What people have to remember here is it's not like Omar's gone for the whole year ...," Leiweke said. "Those who think he's gone for the full year are sadly mistaken. This kid will be back, he'll be back soon, and when he does get back, it will change our team."

Gonzalez, a 6-foot-5 Texan whose dominance in the back has grown through three Major League Soccer campaigns, was the league's Defender of the Year last season. He tore the ACL in his left knee Jan. 5 during his first training session following a short-term loan to German club Nuremberg. He underwent surgery in mid-January; recuperation usually requires seven to nine months.

The Galaxy has struggled in the back without Gonzalez, with mistakes by his replacements -- newcomer Andrew Boyens and rookie Tommy Meyer -- costing L.A. on three of Toronto FC's four goals across two games in the Champions League quarterfinals. The Galaxy is winless in three competitive games this season and lost back-to-back games at Home Depot Center for the first time in five years.

Leiweke called Gonzalez's absence a "very temporary" situation.

"We've got to get through about three months here," Leiweke said. "And when we get through those three months, he'll be back. … I think we're going to see the kid in the summer."

A midsummer's dream, to be sure, and Gonzalez isn't counting it out.