Los Angeles Soccer:

Corona Extra
February, 16, 2011
2/16/11
11:56
PM PT
By
Scott French
| ESPNLosAngeles.com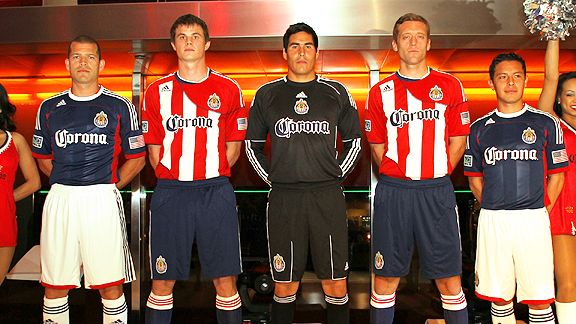 Courtesy Chivas USAChivas USA unveiled its new jerseys for the 2011 MLS season in an event at The Standard on Wednesday.

If you needed concrete proof that Francisco "Panchito" Mendoza is back to stay, it was there on stage Wednesday night at the Standard in downtown L.A.

Chivas USA was unveiling their new jerseys, with the Corona logo on the front, and the club flew in five players from the team's camp in Arizona for the occasion. Among the quintet: Mendoza.

Need more proof: Managing partner and club president and Antonio Cué says the deal is done, that Mendoza has signed, that all the loose ends have been tied.

Not quite: Another Chivas official said the contract has been submitted to the league, which has not yet signed off on it -- and has asked more than once for additional paperwork. That official's understanding is that Mendoza is coming on loan from Guadalajara, which he joined in 2009 after four seasons with Chivas USA. He has played little for the Mexican powerhouse and in loans to Jaguares and second-tier Club Tijuana and last fall for second-tier Indios de Ciudad Juarez.

Also signed, but not yet announced: Mexican goalkeeper Sergio Arias, who is definitely arriving on loan from Guadalajara. (Coach Robin Fraser said when camp opened that the deal was done.) Arias, too, was on display at the Standard, and Cué told him, while introducing him to those on hand: "You're the future of this team. We believe in you."

(Wonder what Zach Thornton and Dan Kennedy, Chivas' other netminders, will think of that.)

Also working as models: defender Jimmy Conrad and forwards Justin Braun and Alejandro Moreno. All head back to Arizona on Thursday morning, and the team returns home after scrimmaging the Vancouver Whitecaps on Friday.

PROGRESS REPORT: Conrad on how the club had progressed in Arizona:

"I would say that we've really started to make concrete the way we're going to move as a team, our team shape. I think having a couple games against quality opponents [in losses to Seattle and Real Salt Lake] has really helped us out because we got to see that what we've been working on really does work.

"And once that belief starts to kick in, that this is the right way to play -- and this is the way we're going to play -- then that becomes a spark. Once you get that spark, I mean … you know, it's limitless. You're bound by nothing by that point."


January, 25, 2011
1/25/11
5:27
PM PT
By
Scott French
| ESPNLosAngeles.com
They've got a new coach, several new influential players -- and now a new look. Chivas USA is changing jersey sponsors to Corona in 2011.
The club on Tuesday announced the sponsorship agreement with Mexican brewery Grupo Modelo, a multiyear contract that makes the Corona Extra brand the club's "presenting" sponsor.
The announcement makes no mention of the jersey sponsorship, but a Chivas USA official confirmed the new uniforms will be unveiled at a Feb. 16 event in Los Angeles. Details on the sponsorship will be announced then, too, the club says.
Extra, another Grupo Modelo brand, was Chivas' jersey sponsor last year. Mexican paint company Comex was on the Goats shirts from 2007 to 2009.
Other Chivas news:
French midfielder Oliver Kapo, looking for a new club after he was released by Scotland's Celtic FC, told France Football magazine that he's received a contract offer from Chivas USA that is "attractive, it's true."
University of California goalkeeper David Bingham signed a Generation adidas contract with Major League Soccer and will be awarded to a club through lottery Wednesday.