Los Angeles Soccer:

Cristiano Ronaldo
May, 7, 2012
5/07/12
5:37
PM PT
By
Scott French
| ESPNLosAngeles.com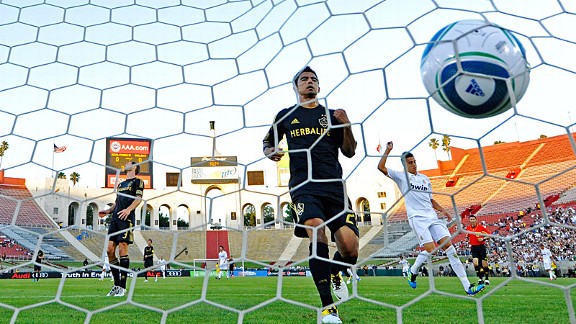 Kevork Djansezian/Getty ImagesA.J. DeLaGarza of the Galaxy reacts as the ball bounces in the net after a goal by Jose Callejon of Real Madrid during the Herbalife World Challenge at the L.A. Coliseum on July 16, 2011.
The Galaxy's Aug. 2 friendly against Real Madrid at Home Depot Center, which was announced Monday, will be the fourth meeting between the teams as Jose Mourinho brings the Merengues back to Southern California for the third straight preseason.

The last two were at far bigger venues -- 2010 at the Rose Bowl and last year at the Coliseum -- but this year's battle returns to cozy Home Depot Center, site of the first encounter, back in 2005.

Real Madrid is expected to play more games while in America, and soccer blog The Offside Rules reports that it will meet AC Milan in an Aug. 5 friendly in Las Vegas.

Here is a quick rundown of the first three Galaxy-Real Madrid games:

July 18, 2005, at Home Depot Center
Real Madrid 2, Galaxy 0
David Beckham makes his L.A. debut, in Real colors, but it's Zinedine Zidane's presence that makes this one of the most special occasions in Southern California soccer history. Zidane was mesmerizing in an hour's performance, and he set up Michael Owen's goal six minutes in. The dominance was greater than the margin of victory -- Roberto Soldado's second-half header doubled the advantage -- but L.A. clearly missed Landon Donovan, in his first year with the club, who was away on national team duty.
Att.: 27,000.

Aug. 7, 2010, at the Rose Bowl
Real Madrid 3, Galaxy 2
L.A. was on its way to an upset after Todd Dunivant and Donovan provided a two-goal lead by halftime, but then Real Madrid put in some of its bigger stars -- Cristiano Ronaldo, Gonzalo Higuain, Xabi Alonso and Iker Casillas included -- and tore apart the Galaxy. Higuain, coming off a superb World Cup performance for Argentina, scored twice, and Xabi Alonso netted the winner in the 71st minute.
Att.: 89,134.

July 16, 2011, at the Coliseum
Real Madrid 4, Galaxy 1
Real's quality overwhelmed the Galaxy, with Jose Callejon and Joselu scoring in the 15 minutes before halftime and Cristiano Ronaldo and Karim Benzema in the 15 minutes after the break to roll up a 4-0 lead. Fabio Coentrăo, newly arrived from Benfica, was the star among stars, repeatedly probing the L.A. defense and combining to create chances -- if not for Josh Saunders' and Brian Perk's play in the nets, Real might have scored seven or eight. Adam Cristman tallied in the 67th for the Galaxy.
Att.: 56,211.


December, 5, 2011
12/05/11
5:13
PM PT
By
Scott French
| ESPNLosAngeles.com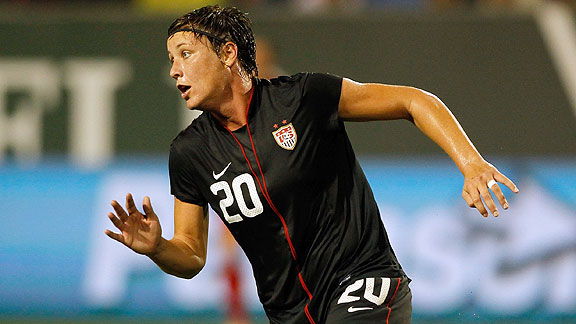 Jonathan Ferrey/Getty ImagesAbby Wambach has scored 125 goals in 165 international appearances for the U.S.

Hermosa Beach's Abby Wambach is a finalist for FIFA's Ballon d'Or women's player-of-the-year honor, joining former L.A. Sol forward Marta and Japan's Homare Sawa, who has starred in both U.S. pro league's, among the top three.

Wambach, 31, was the catalyst for the United States' run to the Women's World Cup final last summer in Germany, scoring four goals, and she led the U.S. with eight goals in 2011. She also won Women's Professional Soccer's scoring title with 11 goals in 11 games, finishing the campaign as player-coach for magicJack, a Boca Raton, Fla.-based club that last month was expelled from the league.

The big forward has in 165 international appearances scored 125 goals, fourth all-time internationally (behind Mia Hamm's 158, Kristine Lilly's 130 and German forward Birgit Prinz's 128).

Wambach, who is from Rochester, N.Y., has finished in the top five four times but never higher than fourth.

Marta, the Brazilian star who helped the Western New York Flash to the WPS title, has won the honor the past five years, deservedly on most occasions, and is again the likely victor. National team coaches and captains and select international media vote for the FIFA awards, and with so little women's soccer readily available on television or online -- unlike the men's game -- reputation carries more weight in the process.

U.S. coach Pia Sundhage is a repeat Coach of the Year finalist, joined by France's Bruno Bini and Japan's Norio Sasaki, the favorite after a surprise Women's World Cup triumph.

The finalist for the men's player-of-the-year honor are Portuguese forward Cristiano Ronaldo of Real Madrid and Argentine forward Lionel Messi and Spanish midfielder Xavi of Barcelona. Messi has won the last two years.

Men's Coach of the Year finalists are Manchester United's Alex Ferguson, Barcelona's Pep Guardiola and Real Madrid's Jose Mourinho. Finalists for the Puskas Award, for "most beautiful goal," are Messi, Manchester United's Wayne Rooney and Santos' Neymar.

Winners will be announced at a Jan. 9 gala in Zurich.
July, 17, 2011
7/17/11
7:51
PM PT
By
Scott French
| ESPNLosAngeles.com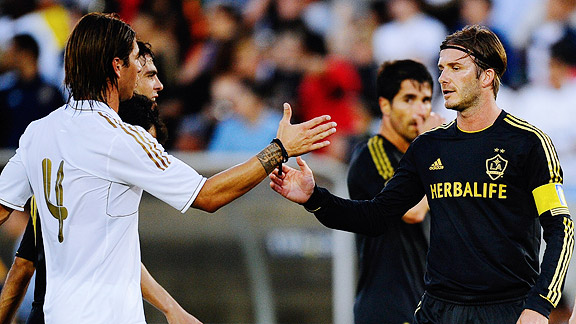 Kevork Djansezian/Getty ImagesDavid Beckham congratulates players from Real Madrid during their 4-1 victory over the Galaxy on Saturday.
The bliss for soccer fans when Real Madrid, or any team of such caliber, comes to visit -- not that that list is a lengthy one -- has nothing to do with whether the friendlies are competitive (the more so the better, of course) nor some desire to see how our local boys can stand up to so mighty a force.
It's in watching in amazement at the things these players can do.
David Beckham
has brilliant touch -- nobody plays a better ball over distance -- and
Thierry Henry
remains a regal figure with sublime skill and instinct, but games like Saturday's at the Coliseum, in which Real Madrid throttled the Galaxy, 4-1, are a reminder of how far Major League Soccer still must go to be considered a first-class league.
Consider: Real had been training all of four days before facing L.A. Two sessions every day. Yet not only were the Merengues vastly more talented, more dynamic -- more everything, really -- than MLS's No. 1 club, they were sharper and in better form, which they shouldn't be this early in their preseason.
The difference is, quite simply, quality. The Galaxy have one aging world-class star (Beckham), one player who could be a star in Europe in the right situation, such as Everton (
Landon Donovan
), and a defender with a decade and a half's worth of experience on Europe's fields (
Gregg Berhalter
), which shined through on several of Real's repeated forays into L.A.'s box.
Most impressive for the Galaxy were
Josh Saunders
and
Brian Perk
, the Nos. 2 and 3 goalkeepers, who each played for a half. Both made big saves -- the best: Saunders laying out to parry
Marcelo
in the 36th minute, Perk knocking
Mesut Özil
's blast wide in the 70th -- and did well on balls into their box. Without them, maybe this ends 7-1 or 8-1.
July, 16, 2011
7/16/11
11:45
PM PT
LOS ANGELES -- The talk heading into Saturday night's exhibition match between the Galaxy and Real Madrid centered on its value. Facing a big-name club with some of the world's premier players and getting foreign exposure was most important, Galaxy players said. A win would carry no weight, Galaxy coach Bruce Arena argued.

Arena and Real Madrid's José Mourinho both expected a competitive affair, with Mourinho emphatically proclaiming he didn't want his preseason matches to "end 10-nil" or for them to be "fun."

Real Madrid might get a stern talking to from its coach because players appeared to be having a blast.

"I'll have to sit back on that and think about it down the road," Arena said. "I think it's a good experience for the young players tonight. But I just don't think we did a good job of it. I don't think we played well and we were certainly beaten easily by this fine Madrid team."

The Galaxy, despite fielding a close rendition of its starting 11, simply couldn't hang. The Merengues grabbed a 4-0 lead in the 58th minute, which was somewhat surprising given each team's pregame comments and last year's 3-2 result at the Rose Bowl.

"It's clear that we studied them pretty well," Real Madrid defender Sergio Ramos said. "They're in the middle of their season and we're just getting started, but they've still got a solid club."

An Adam Cristman goal in the 67th minute gave the small Galaxy contingent reason to cheer, but the match had been decided long before that. The Galaxy won only 37 percent of duels and lost the possession battle, 60-40. They had eight shots on goal to Real Madrid's 20.

"Four goals against us isn't what we wanted," Galaxy backup goalkeeper Brian Perk said. "It isn't what we set out to do but, at the same time, I don't think it's flat out embarrassing."

Perhaps Cristiano Ronaldo said it best: "We won and that's what's most important."
July, 16, 2011
7/16/11
11:20
PM PT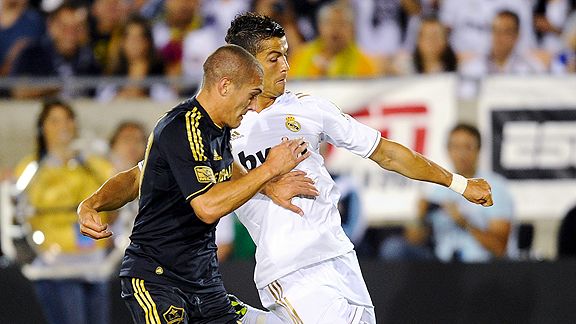 Kevork Djansezian/Getty ImagesCristiano Ronaldo unleases a wicked shot in the second half that unbelievably went into the goal from a sharp angle.

LOS ANGELES -- He danced to the right and swayed to the left. His feet fluttered. Again to the left and, finally, Cristiano Ronaldo was ready to unleash a left-footed rocket that's nowhere to be found in American soccer.

Galaxy backup goalkeeper Brian Perk did what he could, sticking his frame to the near post. Still, Ronaldo found the slightest crease, scoring on a scintillating blast that wowed those at the Memorial Coliseum. Ronaldo's goal was the highlight of all highlights, a world-class strike that stood out in Real Madrid's dominant 4-1 win Saturday night.

Galaxy defender Bryan Jordan, Ronaldo's dance partner during the sequence, did what he could, really. Jordan followed Ronaldo to the right and back to the left, forcing him wide. But the Portuguese star did everything at a different pace. Jordan never had a chance.

"When he's coming at you, you've got to drop," Jordan said. "If you get too close to him, he'll push it by you. He was cutting back and forward, so I gave him the inside originally and tried to get players to help me. He didn't have much space down there, but he hit a great shot."

Perk, meanwhile, thought he was in good position. His intention was to cut off Ronaldo's shooting angle, leaving a small space on the far post that is nearly impossible for offensive players to capitalize on.

"In retrospect, I was right in line," Perk said, shaking his head. "I couldn't get a full dive so all I could do was put my hand up. He took one step over and hit a ball. I mean, he hit the ball. I'll leave it at that. He beat me at a spot he shouldn't beat me but that's Ronaldo."


July, 16, 2011
7/16/11
8:31
PM PT
LOS ANGELES -- Kaká played a sharp, serene through ball and José Callejón viciously put it away, drawing synchronized chants of "Ma-drid, Ma-drid!" and swarms of bright flashes across the Memorial Coliseum.

Real Madrid, even without stars Cristiano Ronaldo and Xabi Alonso in the starting lineup, would add another goal to lead the Galaxy, 2-0, at the half in their World Football Challenge opener Saturday night. There were plenty of oohs and aahs but, unfortunately for the locals, they came as a product of Madrid's brilliance.

It might have been an uglier halftime score if not for a handful of saves from Galaxy goalkeeper Josh Saunders. Callejón had a favorable one-on-one chance against Saunders in the 10th minute but had his shot blocked. Later, Saunders left his feet to make a stop on a missile from Marcelo.

The Galaxy, despite fielding its usual starters, had little going offensively. David Beckham had two opportunities on set pieces but neither threatened Iker Casillas.

A shot from 21-year-old striker Joselu deflected off Beckham and sneaked past Saunders, giving Madrid a 2-0 lead in the 40th minute. It produced another flurry of camera flashes and resonating chants of "Ma-drid! Ma-drid!"
July, 12, 2011
7/12/11
10:05
PM PT
By
Scott French
| ESPNLosAngeles.com
CENTURY CITY -- Real Madrid began its preseason work Tuesday morning at UCLA, the first steps, the Merengues hope, toward taking down European champion Barcelona in Spain's La Liga and UEFA's Champions League in the coming season.
They'll be in L.A. until July 22, with games Saturday night against the Galaxy at the Coliseum and next Wednesday against Guadalajara at San Diego's Qualcomm Stadium, before heading to Philadelphia for another match, back to Europe for matches in Germany and England, then off to China for more training and a couple of games.
Superstar manager
Jose Mourinho
has a serious crush on Southern California: This is the second straight year he's brought Real to L.A., and he previously held preseason camp in Westwood -- with his teams always squired next door in Beverly Hills -- with Chelsea and Inter Milan.
"We are very happy to come, first of all because Los Angeles has become our home, in terms of preseason," said Mourinho, who won just one of the three desired trophies -- the Copa del Rey, Spain's premier cup competition -- in his first season at Real Madrid. "We feel at home."
What's the allure?
"The training conditions are good," he said. "The freedom that we have is also good, because in Europe our life is difficult. Socially, it's difficult. Here the players, they feel some freedom. They can walk in the street, they can be together, they can share some time together, not like in Europe, where they close each other in their own room and they cannot communicate.
"At this moment, I think it's important for the players to build team spirit, to let [new] players come into the group. For me, this is an important part of the situation."
So are the matches, for which Mourinho, goalkeeper
Iker Casillas
and forward
Cristiano Ronaldo
joined Galaxy coach
Bruce Arena
, forward
Landon Donovan
and midfielder
David Beckham
to discuss Tuesday afternoon at Creative Artists Agency. They're part of the World Football Challenge, a series of exhibitions CAA and Major League Soccer, along with Soccer United Marketing, MLS's marketing arm, are producing.
Also part of the 14-match series: the Galaxy's friendly July 24 against England's Manchester City FC.
"It's exactly what you need, it's exactly what you want," Mourinho said. "I don't like preseason matches to win 10-nil. I don't like preseason matches to have some fun. I like serious matches, and they always give us that [in the U.S.] ... Of course, it's not the priority, but of course everybody wants to win and everybody tries to win every single match, every single tournament."
July, 2, 2011
7/02/11
10:10
PM PT
By
Scott French
| ESPNLosAngeles.com
Major League Soccer looked into moving Chivas USA's game July 16 against the New York Red Bulls because it conflicted with the Galaxy's friendly against Real Madrid about a dozen miles up the Harbor Freeway.
The Goats weren't interested.
Club co-owner and president
Antonio Cué
said Saturday night that Chivas would keep its date with the Red Bulls and he hoped the game, one of the big draws on the team's calendar, would draw an ample crowd.
"We need to do what we need to do," Cué said after Chivas' 1-1 draw with the Chicago Fire at Home Depot Center. "I'm sure Real Madrid will draw a lot of people, but we just have to continue and have more fans come in."
The conflict means fans -- and media, too -- must decide between heading to the Coliseum to see the Spanish giant and its stars, such as
Cristiano Ronaldo
and
Kaká
, in a preseason game against the Galaxy for the second straight year or coming to HDC to watch
Thierry Henry
's second L.A. visit since joining New York last summer.
The Galaxy game begins at 7 p.m., and Chivas' kicks off at 7:30. It's not an ideal situation, surely, and the Goats seem certain to lose more than a few spectators to the game up the 110.
"Unfortunately, it came at the same time that day. [The league] thought about moving it," Cué said. "I said: 'If you want to move, you can move the other game.' Why would we move our game? ... So, hopefully, we draw some people, and, more than that, hopefully, we'll get three points."
June, 23, 2011
6/23/11
5:30
PM PT
By
Scott French
| ESPNLosAngeles.com
Real Madrid's roster for its preseason U.S. tour, including an 11-day camp at UCLA, is out, and -- as one might expect from a preseason roster -- it features all of the club's biggest stars: Cristiano Ronaldo, Kaká, Iker Casillas, Xabi Alonso, Ricardo Carvalho, Mesut Özil, Karim Benzema, Pepe, Sergio Ramos and Sami Khedira.

The Merengues arrive July 11 in Westwood, where Portuguese coach Jose Mourinho will lead training sessions for the second straight year, and have two matches planned in Southern California, on July 16 against the Galaxy at the Coliseum and July 20 against Guadalajara at Qualcomm Stadium in San Diego.

Here's the list:

GOALKEEPERS
Antonio Adán (Spain)
Iker Casillas (Spain)

DEFENDERS
Raul Albiol (Spain)
Alvaro Arbeloa (Spain)
Ezequiel Garay (Argentina)
David Mateos (Spain)
Pepe (Portugal)
Sergio Ramos (Spain)
Ricardo Carvalho (Portugal)
Marcelo Viera (Brazil)

MIDFIELDERS
Hamit Altintop (Turkey)
José Callejón (Spain)
Lassana Diarra (France)
Roysten Drenthe (Netherlands)
Fernando Gago (Argentina)
Sergio Canales (Spain)
Kaká (Brazil)
Sami Khedira (Germany)
Pedro León (Spain)
Mesut Özil (Germany)
Nuri Sahin (Turkey)
Xabi Alonso (Spain)

FORWARDS
Karim Benzema (France)
Esteban Granero (Spain)
Cristiano Ronaldo (Portugal)
May, 27, 2011
5/27/11
4:36
PM PT
By
Scott French
| ESPNLosAngeles.com
The Galaxy's friendly with Real Madrid could force Southern California soccer fans into a tough decision. Do you want to see
Cristiano Ronaldo
or
Thierry Henry
?
That's the situation after Major League Soccer, through its marketing arm, confirmed an evening start on July 16 at the Coliseum for the Galaxy's clash with the Spanish giant.


Chivas USA also is playing that night, against Henry,
Rafa Marquez
and the mighty New York Red Bulls at Home Depot Center, a dozen miles south on the Harbor Freeway. It's one of the few money games on the calendar for the Goats, who have not nearly the following the Galaxy does, and the conflict could cost them thousands of fans.
The Galaxy-Real Madrid game is part of this summer's World Football Challenge, featuring MLS clubs against big-name European opposition in a series of exhibitions produced by Soccer United Marketing, MLS's marketing arm, and CAA Sports.
Major League Soccer officials responded to an interview request with a statement: "We are aware of the situation. At this time, we are analyzing options."
Primary among those options would appear to be moving Chivas' game from Saturday night to Sunday, July 17. An MLS spokeswoman said in an email Friday that the "overlap is still being examined."
Tom Payne
, the Galaxy's president of business operations, acknowledged that the conflict was considered "for a minute, to be frank" while setting up the date.
"At the end of the day, sometimes these games are almost dictated for you," he said. "This is the time Real Madrid could play. … We certainly didn't mean it to fall on that day. We didn't have any choice in the end."
Real Madrid, which will be conducting preseason training in Southern California for the second straight year under noted Angelenophile
Jose Mourinho
, had strict timeframes with which to work. The Merengues also are playing Guadalajara on July 20 at Qualcomm Stadium in San Diego, a date that doesn't please the Galaxy.
April, 22, 2011
4/22/11
12:35
AM PT
By
Scott French
| ESPNLosAngeles.com
David Beckham again tops Forbes magazine's list of soccer's top earners, hauling down $40 million in salary, bonuses and endorsements. The Galaxy midfielder also was No. 1 on last year's list, also at $40 million.

He's one of three Englishmen in the top 10, joined by Manchester United striker Wayne Rooney (seventh, $20 million) and Chelsea midfielder Frank Lampard (tied for eighth, $17 million).

One other Major League Soccer star made the top 10: New York Red Bulls forward Thierry Henry, a Frenchman, is No. 6 with $21 million.

Real Madrid's Cristiano Ronaldo, from Portugal, is No. 2 at $38 million and reigning FIFA World Player of the Year Lionel Messi, an Argentine midfielder who stars for Barcelona, is third at $32 million.

Clubs Beckham has played for are the Nos. 1, 2 and 6 highest-valued clubs in Forbes' annual survey.

Manchester United, owned by Tampa Bay Buccaneers owner Malcolm Glazer, is atop the list, worth $1.864 billion, followed by Real Madrid ($1.451 billion), Arsenal ($1.192 million), Bayern Munich ($1.048 billion), Barcelona ($975 million) and AC Milan ($838 million). Arsenal's primary shareholder is Colorado Rapids owner Stan Kroenke.

Every club in the top 20 is European.
January, 10, 2011
1/10/11
6:21
PM PT
What we learned from FIFA's Ballon d'Or festivities Monday night in Zurich: Mongolians love Abby Wambach.
The Hermosa Beach-based striker picked up eight first-place votes in the Women's Player of the Year contest, and two came from Mongolian women's national team head coach
Ganjuur Bayartsogt
and captain
Sugar Bayar
.
It wasn't nearly enough to halt former L.A. Sol star
Marta
's romp to her fifth successive world's-best honor: The Brazilian forward, who led FC Gold Pride to Women's Professional Soccer's title and is now playing in Brazil for Santos, captured 151 of 266 first-place votes from 119 coaches, 121 captains and 26 media. She failed to make the top three on on only 52 ballots, and on two of those -- both from Brazil -- she was ineligible.
Argentina's
Lionel Messi
won the men's World Player of the Year award for the second straight year, beating Barcelona teammates
Xavi
and
Andres Iniesta
. The coaches of the year were Real Madrid's
Jose Mourinho
, who last spring guided Inter Milan to the UEFA Champions League title, and Germany women's national team coach
Silvia Neid
.
More interesting than who won is how everyone voted. FIFA won't make public the executive committee members' choices on a World Cup host, but every Player of the Year vote is online, both
men
and
women
.
U.S. men's captain
Carlos Bocanegra
(Alta Loma/Alta Loma HS and UCLA) voted Xavi first, Iniesta second and Dutch midfielder
Wesley Sneijder
(Inter Milan) third.
U.S. coach
Bob Bradley
(Manhattan Beach) went with, in order, Xavi, Sneijder and Messi.
December, 23, 2010
12/23/10
9:00
PM PT
By
Scott French
| ESPNLosAngeles.com
Our countdown of 2010's top 10 soccer stories and newsmakers -- from a Southern California slant -- continues.
Stories/No. 9: Real Madrid's visit
The gap between Major League Soccer's best and the world's finest clubs has rarely been more aptly illustrated than at the Rose Bowl last Aug. 7.
The Galaxy, en route to the Supporters' Shield (as MLS's regular-season champion), stood toe to toe with mighty Real Madrid through 45 minutes, taking a two-goal lead to the locker room at halftime.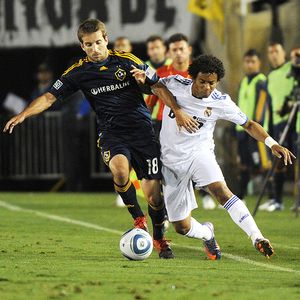 Mark Ralston/AFP/Getty Images
Real Madrid defender Marcelo, right, clashes with Galaxy forward Mike Magee during their friendly at the Rose Bowl on Aug. 7.
Then
Jose Mourinho
, the "Special One," unleashed his A side, bringing on World Cup stars
Cristiano Ronaldo
,
Gonzalo Higuain
,
Xabi Alonso
and
Iker Casillas
. Real Madrid, demonstrating a substantial superiority in skill, quickness of thought and ball movement, destroyed L.A. over the final 45 minutes, rallying for a 3-2 victory -- with Argentine forward Higuain scoring two of the goals.
The encounter delighted a crowd of 89,134 -- the second-largest crowd to watch a soccer game in Southern California this year, just off the 90,526 count for Mexico's Rose Bowl game against New Zealand on March 3. And it delighted the Galaxy, who considered it an honor to be on the same field with one of the globe's greatest clubs.