Los Angeles Soccer:

Croatia national team
June, 8, 2012
6/08/12
3:13
AM PT
By
Scott French
| ESPNLosAngeles.com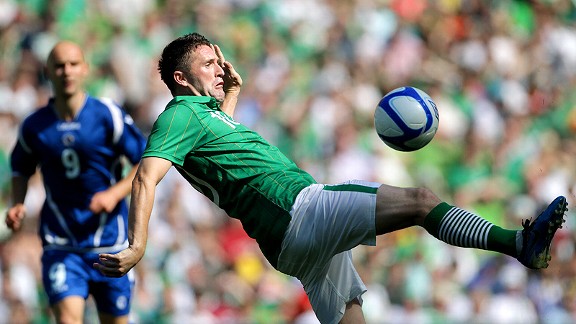 AP Photo/Niall CarsonRobbie Keane will be away from the Galaxy for the next month while competing for Ireland in Euro 2012.

CARSON -- The odds might not favor Ireland as the European Championship begins in Poland and the Ukraine, but that's fine with Galaxy striker Robbie Keane, the Irish's captain and all-time goals leader. He rather likes it that way.

The world's No. 2 soccer tournament kicks off Friday morning L.A. time, and Keane will lead the Irish into Euro 2012 action on Sunday morning, a critical meeting with Croatia before showdowns with the last two World Cup champions.

It's a ferocious challenge, but whatever Ireland lacks in technical brilliance is offset by plenty of grit and guile -- and Italian manager Giovanni Trapattoni's clampdown defensive system.

"We've certainly got the toughest group," Keane told L.A.-based reporters before heading to Europe last month. "We're underdogs, and I think with the national team it's always good -- and we've always done better -- when we're the underdogs. Hopefully, that will be the case."

It's Ireland's first major competition in a decade, since the 2002 World Cup, and its first European Championship appearance since 1988, when Keane was 7 years old. The draw could hardly have been worse.

Spain, the defending European and World Cup champion (and only the third team ever to win the titles back-to-back), is the finest side on the planet and, along with Germany and Holland, the tournament favorite. Italy comes in undervalued and, as always, with a defensive mindset that can boost Azzurri chances. Croatia always is among Europe's most talented teams.

Ireland, based in Poland for Group C play, faces Croatia in Poznan, then takes on Spain next Thursday in Gdansk and Italy on June 18 in Poznan.

"Spain, who are kind of the Barcelona of everyday kind of football, that's going to certainly a challenge," Keane said. "We'll certainly be doing a lot of running, a lot of chasing. Croatia we played against last year, and we're quite even team. Italy is Italy -- they defend very well as a team, but we've got a manager who's Italian, who knows the Italian players inside-out. ...

"We have the toughest group, we know that, we're not stupid, we're not na´ve to think that we've got an easy group, but the thing is when you play these games, there's no easy games regardless who you're playing."

The Irish beat Italy, 2-0, in a friendly last year, and they have a knack for getting results against better-fancied teams. They've lost just twice in 24 competitive games under Trapattoni and might have gone to the 2010 World Cup if not for Thierry Henry's infamous hand ball.