Los Angeles Soccer:

DaMarcus Beasley
August, 15, 2012
8/15/12
10:54
AM PT
By
Scott French, ESPNLosAngeles.com
MEXICO CITY -- The United States will face a crowd expected to approach 110,000, perhaps more, when it takes on Mexico in Wednesday night's friendly at iconic Estadio Azteca, as daunting a task as exists in international soccer.

It's a huge showdown for the Americans, as is every game against their archrival, and they've brought in six players with advanced knowledge of the Mexican game and the men who will suit up for El Tri.

That could be advantageous, but head coach Jurgen Klinsmann says the call-ups of the half-dozen from Liga MX -- Santos Laguna forward Herculez Gomez, Pachuca midfielder Jose Torres, Puebla winger DaMarcus Beasley, Club Tijuana midfielder Joe Corona and defender Edgar Castillo, and San Luis defender Michael Orozco Fiscal -- has less to do with where they play than with what they can provide for the U.S.

"We bring them in because we believe how good they are," Klinsmann said in advance of the match (ESPN2 and Univision, 5 p.m. PT; coverage starting at 4:30). "We bring them in because they are a big part of our program going forward. It's all about the quality that they provide for us . . . You come in here in this group because you proved you're good.

"These players worked their way through the Mexican league, a very difficult league, a very tough league for them. And they proved their point. They are here because they are quality."

That they know the inner workings of the Mexican game is an added bonus.

"It's important. I think that's why Jurgen brought a lot of the guys from Mexico in," said Beasley, a three-World Cup veteran who joined Puebla after seven years in Holland, England, Scotland and Germany. "We know the style, the guys [on El Tri], how they play, what they can do, what they can't do. Hopefully, that will work to our advantage."

This game is something special for the other five -- Gomez and Torres, who were Beasley's teammates on the 2010 World Cup team, plus Corona, Castillo and Orozco Fiscal -- all of whom are Mexican-American. Torres, who has been at Pachuca for seven years, since he was 17, delayed his commitment to the U.S. while awaiting a potential Mexico call-up. Corona, who is from San Diego, featured in a Mexican under-22 camp before pledging his future to the U.S.

"When I was 17, I was at Pachuca watching the U.S.-Mexico game, and I would always think I will be there one day. And I'm here now," Torres said. "I have the chance to face Mexico at Azteca, and that's something special."


January, 6, 2012
1/06/12
7:23
PM PT
By
Scott French
| ESPNLosAngeles.com
Mexico's Clausura, the second-half championship, kicks off in the Primera Division on Friday night, with Club Tijuana visiting Morelia.
The Xolos went unbeaten in their last eight games in the fall Clausura and hope that prods them up the table in the spring tournament -- they're looking to survive, since one club will be relegated to the second-tier Liga de Ascenso come May.
Here are seven things to follow in Mexico this spring:
October, 4, 2011
10/04/11
4:43
PM PT
By
Scott French
| ESPNLosAngeles.com
Defending champ Pumas UNAM is back on top of the Mexican Primera Division standings after adding to crosstown rival America's misery.
Luis Fuentes
' goal 10 minutes into the second half of Saturday's Clasico Capitalino stood up for a 1-0 triumph at Estadio Olimpico Universitario and boosted the Cats (6-3-2) from fifth in the standings, past Jaguares, Cruz Azul, Guadalajara and UANL Tigres.
Pumas is 5-0-1 the past three weeks, all competitions, after failing to win in its previous seven matches.
A rich race for the regular-season title and eight playoff berths looks set with six games to go. Pumas' lead on Jaguares is just a point, Tigres, Cruz Azul and Guadalajara are just another point back, and three more teams are another point behind. Another five clubs are two or three points out of the top eight.
Not in that group of contenders is America, which hasn't won since Aug. 21 and sits 16th in the standings with a 2-5-4 record.
1. CHANGE FOR CHIVAS
The September skid that knocked Guadalajara from the top of the Apertura standings down to fifth has cost technical director
Jose Luis Real
his job.
Chivas on Monday canned Real and replaced him with former Mexican national-teamer
Fernando Quirarte
, a center back who played 11 seasons for the club in the 1970s and '80s and has coached at Santos Laguna, Atlas and Jaguares.
The Goats have won just once in six games since late August, and Saturday's loss to Gallos Blancos was their second in a row at home and extended their winless streak to four games. They were 5-0-1 after beating Monterrey on Aug. 20 and have fallen behind Pumas, Jaguares, Tigres and Cruz Azul, but just two points off the lead.
September, 20, 2011
9/20/11
6:36
AM PT
By
Scott French
| ESPNLosAngeles.com
That's not a misprint atop Mexico's Primera Division standings. Unfancied Jaguares, the Chiapas club that dropped 12 of 17 games and finished last during the spring Clausura, is, indeed, No. 1.

A 5-3 triumph Saturday over visiting America, with Edgar Andrade scoring two goals and setting up another, vaulted Jaguares (5-2-2) to the top spot, ahead of giants Cruz Azul and Guadalajara on goal difference, following a third successive victory.

Since dropping its first two Apertura matches, to Monterrey and Guadalajara, Jaguares has been Mexico's finest club, going 5-0-2 to climb from 18th -- last -- to 16th to 12th to sixth to fourth to first.

Previous leader Guadalajara (5-2-2) did its part, losing to Puebla, and No. 2 Tigres (4-1-4) suffered its first loss, a 1-0 decision at Atlante.

Jaguares also leapt past Cruz Azul (5-2-2), which toppled Monterrey, 2-1, in the week's featured match.



1. ANOTHER CHANGE AT AMERICA

America's disastrous campaign finally hit bottom -- or close enough.

The Aguilas' loss at Jaguares cost technical director Carlos Reinoso his job, no surprise, and club legend Alfredo Tena has been brought in and asked to make things right.

There's plenty wrong at the Mexico City giant, which has won just one of its last eight league games -- and that over last-place Atlas -- and sits 16th of 18 clubs with the worst defensive record in the Apertura.

Reinoso, who took over for Manuel Lapuente last January after America opened last spring's Clausura with a 0-2-1 mark, was facing the ax when he submitted his resignation following the defeat in Tuxtla Gutierrez.


September, 13, 2011
9/13/11
12:54
PM PT
By
Scott French
| ESPNLosAngeles.com
The most important moments were at the end for three Mexican Primera Division teams over the weekend. Stoppage-time strikes delivered a huge win for Morelia and gave Club Tijuana and Monterrey a share of the points in their matches.
Morelia (3-3-1), which still has a game in hand over most of the field stemming from the gunshots-halted clash last month at Santos Laguna, vaulted from 15th to 10th with a stunning 1-0 decision at Cruz Azul.
Joao Rojas
scored the 92nd-minute decider from Aldo Ramirez's penetrating feed.
Tijuana (1-4-3), which has been hamstrung by bad luck more so than bad form, was set to go down at Toluca after conceding another questionable penalty kick, but
Jose Sand
headed home
Richard Ruiz
's cross in the 92nd to provide a 1-1 draw.
Monterrey's push for a point was more dramatic. The Rayados (4-3-1), down to 10 men after
Jesus Zavala
's 21st-minute red card surrendered a two-goal advantage against Puebla as former Chivas USA forward
Isaac Romo
tallied twice in the second half. They were redeemed by a controversial penalty-kick call, and
Luis Perez
slotted home from the spot in the 94th for a 3-3 tie.
1. TALE OF TWO ROUTS
UANL Tigres was the top team in the spring Clausura, winning the regular-season title before an upset loss in the first round of the playoffs. Pumas UNAM was crowned champion. They were on different sides of blowouts that appear to confirm their destinies this fall.
August, 22, 2011
8/22/11
11:50
PM PT
By
Scott French
| ESPNLosAngeles.com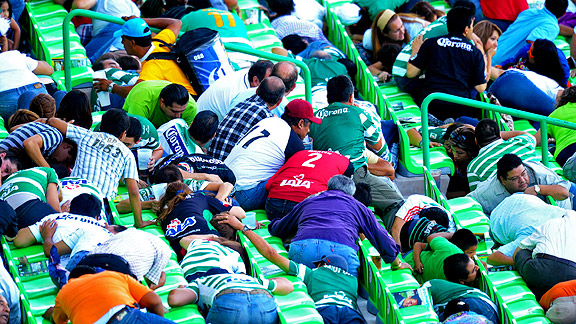 AP Photo/El Siglo de TorreonFans of soccer club Santos take cover between the stadium seats as they hear shooting outside the stadium in Torreon, Mexico.

Scenes of terror and turmoil unfolded at Santos Laguna's Estadio Corona in the most newsworthy event in the Mexican Primera Division last weekend, as gunshots rang out during the Guerreros' showdown with Morelia.

Players dropped to the turf, then scrambled off the field, and fans escaped from the stands and onto the stadium floor or ducked under seats after a series of explosions -- from outside the Torreon stadium, it turned out -- went off late in the first half Saturday.

Nobody at the game was hurt, but the stadium was evacuated and the match suspended amid great chaos. No word yet on when it will be rescheduled.

According to Mexican media, the trouble began when a pickup truck, allegedly carrying drug-cartel members, sped through a checkpoint and was chased by police. Once the truck was cornered, outside the stadium, a gun battle broke out. Part of the stadium afterward was pockmarked by bullet holes.
1. UPGRADE AT TIGRES:
UANL Tigres has one of the deepest, most talented sides in Mexican soccer and -- under former Chivas USA youth director
Dennis te Kloese
, who has brought to suburban Monterrey a handful of very promising players from Southern California -- possibly the country's best development set-up, although those connected to Pumas UNAM and Guadalajara can make convincing arguments otherwise.
No question, the club will contend for the Primera Division's fall Apertura title, especially once the attack catches up, as it should, to Brazilian manager
Ricardo Ferretti
's masterful defensive plan.
August, 8, 2011
8/08/11
10:27
PM PT
By
Scott French
| ESPNLosAngeles.com
Club Tijuana deserved more than it got from its opening-game loss to Morelia, and the Xolos gave mighty Monterrey a scare in week two, opening a two-goal lead and holding onto a tie until two quick, late goals knocked them down.
Couldn't hope for much more at Santos Laguna, the best team to start the Mexican Primera Division season, after routs of Pachuca and Atlante, right? Hardly. Tijuana's first top-tier triumph was one to remember.
San Diego's
Joe Corona
, looking more and more like someone who should be in Philadelphia this week, played linkman as the Xoloitzcuintles (1-2-0) overcame a first-half deficit for a 3-1 victory.
Jose Sand
scored the 54th-minute winner and set up two more:
Fernando Arce
's fine equalizer just before halftime and
Dayro Moreno
's finale in the 64th.
The Dogs will be back home Sunday, taking on Puebla at Estadio Caliente.
1. FIRST WINS: There were eight winless sides, out of 18, after the first two rounds of Primera play. All eight, Tijuana included, notched first victories during last week's "doble jornada," so now there are 13 teams with one win. That's 13 teams with three or four points.
August, 2, 2011
8/02/11
4:22
PM PT
By
Scott French
| ESPNLosAngeles.com
Santos Laguna and Monterrey, who met in last year's Apertura final in Mexico's Primera Division, are smoking foes. Rising Guadalajara's approach is more measured. And reigning champ Pumas UNAM is defying expectations.
They're the four sides that have won in each of the first two weekends of the current Apertura, and three of them faces a difficult slate in this week's "
doble-jornada
."
Santos, atop the standings with a plus-6 goal difference -- Atlante last weekend was the Guerreros' second three-goal victim -- have it easier, taking on promoted Club Tijuana, which continues to seek its first Primera victory.
Pumas, which dismantled its side after winning the Clausura in May, has shut out both of its opponents, San Luis and Morelia. Things get much tougher this week: Monterrey on Wednesday in Mexico City and Saturday at Chivas.
1. XOLOS XLIP AGAIN: Tijuana so dominated the Liga de Ascenso most of last season, and it added real quality with the jump to the Primera Division, so perhaps expectations for the Xoloitzcuintles' first campaign in the top division were a tad high? Too early to tell. Their early schedule certainly has done favors.
July, 25, 2011
7/25/11
10:43
PM PT
By
Scott French
| ESPNLosAngeles.com
Baja futbol fans enjoyed a historic couple of hours Saturday night at Estadio Caliente: The debut of top-flight soccer in Mexico's forgotten metropolis.
Tijuana, the country's third-largest city (with 1.65 million residents, in the 2010 census), has resided outside Mexico's sporting consciousness, all because it has lacked a Primera Division soccer team -- or the deep pockets willing to spend what's necessary to play with the big boys.
Enter
Jorge Hank
, the controversial former Tijuana mayor and self-proclaimed billionaire, who in 2007 formed Club Tijuana, which became more than successor to a lengthy line of lower-division failures. The goal, professed from the start, was to play in the top league, and it happened Saturday night, when the newly promotos Xoloitzcuintles debuted in an Apertura opener against Morelia, the runner-up in last spring's Clausura tournament.
A full, festive crowd at Caliente, a short drive south of the border, watched their heroes go down, 2-1, on a late, questionable penalty kick.
San Diego's
Joe Corona
scored the Xolos' goal with a rebound, and good thing. Of three attackers near the ricocheting ball, Corona was the only one clearly onside.
Joao Rojas
drew the penalty kick in the 81st minute, clipped from behind by Tijuana backline leader
Javier Gandolfi
-- or so it looked. Replays indicated Gandolfi expertly twisted around Rojas and poked the ball away before there was contact.
Miguel Sabah
was precise from the spot, and the Monarcas spoiled the party, but the Xolos' supporters saw something they hadn't in more than a year: a home defeat.
1. PA-CHOKE-A
Pachuca is the popular pick to zoom back into the title-game picture and steal the prize, product of nice makeover that has Tuzos fans thinking about an 11th major trophy (a sixth league title, to go with five CONCACAF Champions League and a Copa Sudamericana triumph) since 1999.
July, 22, 2011
7/22/11
5:02
PM PT
By
Scott French
| ESPNLosAngeles.com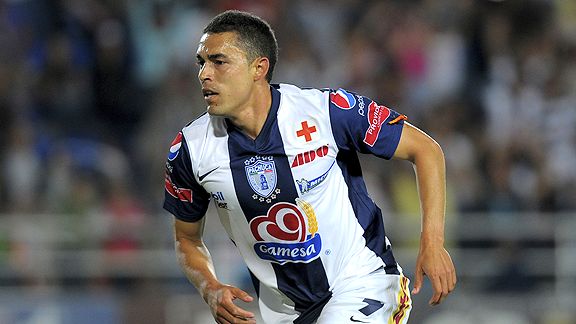 Jaime Lopez/Jam Media/LatinContent/Getty ImagesHerculez Gomez has moved from Pachuca to Estudiantes Tecos and is one of several Southern California's playing in Mexico's Primera Division.

Mexico's Primera Division kicks off the first of its twin 2011-12 seasons Friday night, and fans in this region have a new dog to cheer for. Literally.

The Xoloitzcuintles of Club Tijuana, who take their name and mascot from semi-mythical Aztec hounds that, more or less, have descended into Mexican short-hairs, bring the best league south of the border right to the border -- and soon, perhaps, into San Diego.

The Xolos were the best team in the second-tier Liga de Ascenso last season and won promotion to the Primera in May, and Mexico's third-largest city isn't the only winner. The opportunity for soccer fans in Southern California to see the region's best league -- and storied clubs such as America, Guadalajara and reigning champion Pumas UNAM, in real competition -- is unprecedented, although tickets will be scarce.

Tijuana's Apertura opener Saturday night against Morelia, another club with a large So Cal following, is sold out. There are plans, not the least formalized, to bring games against Guadalajara and America -- the two biggest clubs in Mexico -- to Qualcomm Stadium in San Diego, but that appears at least a year off, provided the Xolos survive their first year in the Primera. We've seen so many times the promoted club relegated after just one Apertura/Clausura cycle, including Necaxa last season.

There are several Southern Californians in the league, too, including Los Alamitos' Jonathan Bornstein (the former Chivas USA captain) at UANL Tigres, L.A.-born Herculez Gomez (the former Galaxy star) at Estudiantes Tecos, Orange's Michael Orozco Fiscal at San Luis, Calexico's Isaac Acuņa at America and rising Tijuana winger Joe Corona, from National City.

A newcomer to the league is fading U.S. national-teamer DaMarcus Beasley, at Puebla.

The big change this year: No divisions. The two-season approach, with the fall Apertura and spring Clausura, remain, but now a single table will be used, with the top eight teams advancing to the postseason.

As always, every game, every team, will be televised in the L.A. area by Univision (KMEX/Channel 34), TeleFutura (KFTR/Channel 46), Telemundo (KVEA/Channel 52), Azteca America (KAZA/Channel 54), Galavision and, not quite as often, on ESPN Deportes and Fox Deportes. Select Liga de Ascenso games, usually involving Veracruz, also will be aired.

Here's a quick look at the Primera Division as the Apertura kicks off:
7 BETS TO WIN THE APERTURA
1. CRUZ AZUL (Mexico City):
The excruciating wait for a trophy weighs on the Cementeros, who have come so close so many times -- losing in three Primera finals and two CONCACAF Champions League title series since 2008 -- without winning anything of consequence. They've trimmed excess from the roster, sending out players on loan (two each to Pachuca, Puebla and Morelia), and added
Israel Castro
, who's becoming an institution in midfield for Mexico's national team. The key man, as always, is
Cristian Gimenez
, but there's enough talent everywhere to win the championship.
2. MONTERREY (Monterrey, Nuevo Leon):
The Rayados tumbled a bit last spring after capturing the Apertura title, and
Humberto Suazo
's shoulder injury had a lot to do with it. So did split focus -- Monterrey won the CONCACAF Champions League crown and will play in December's FIFA Club World Cup -- and often indifferent form. But only a couple of sides can match the depth or talent commanded by
Victor Manuel Vucetich
, the league's best coach.
3. AMERICA (Mexico City):
Mexico's biggest club hasn't been its best for some time, but manager
Carlos Reinoso
has inspired some stylish play, and Mexico City money has added to the talent.
Cristian Benitez
, from Santos Laguna, is the big acquisition, but the Aguilas' iffy defense will be aided by the additions of El Tri reserve
Paul Aguilar
at right back and holding midfielder
Jesus Molina
.
May, 13, 2011
5/13/11
4:43
PM PT
By
Scott French
| ESPNLosAngeles.com
Chivas USA might soon have another decision to make on a U.S. national-teamer. Winger DaMarcus Beasley is negotiating with Major League Soccer, his agent told the league's website, and the Goats would have first dibs in his allocation should he sign.
Beasley, 28, who last August signed a two-year deal with Germany's Hannover 96 after stints in Holland, England and Scotland, is looking at clubs in Europe, Mexico and in MLS,
Lyle Yorks
said. Hannover, captained by U.S. defender
Steve Cherundolo
, has given the American veteran permission to find a new home.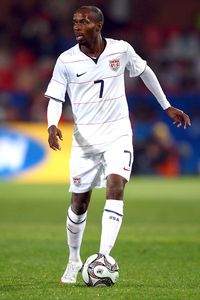 Christof Koepsel/Getty ImagesDaMarcus Beasley of the US runs with the ball during the FIFA Confederations Cup match between USA and Italy.

"Right now, we're talking with some clubs," Yorks told the website. "We're in discussions with MLS, and there's two interested clubs in Mexico. There's continuing interest [in the Netherlands], and we're also speaking with some other European clubs. "Hannover knows about all this."

Chivas remains atop MLS's allocation table after turning down an opportunity last month to acquire U.S. national team midfielder Benny Feilhaber, who ended up with New England. The club cited financial reasons for passing after Feilhaber signed with the league, and Beasley's salary likely would approach or surpass Feilhaber's, which is $300,000 in base salary and $346,000 in guaranteed compensation with a boost coming next year.

Beasley, who emerged with Landon Donovan as the rising U.S. stars during the 1999 FIFA U-17 World Cup in New Zealand, has made 93 appearances with the U.S. national team and played in the 2002, 2006 and 2010 World Cups. He was a dynamic winger, primarily on the left, nicknamed "Jitterbug" because of dizzying runs that caused havoc with opposing defenses.

Beasley signed with MLS in 1999 and was allocated to the Galaxy, for which he never played before a trade sent him to the Chicago Fire in 2000. He was an MLS Best XI selection in 2003, then left to play for Dutch giant PSV Eindhoven, followed by a loan stint with England's Manchester City FC and three seasons with Scottish powerhouse Rangers FC. Injuries have severely limited his playing time with Hannover.

He also hasn't been the same player since his time in Eindhoven, where he had to deal with some off-field issues. He played well in the Americans' run to the 2002 World Cup quarterfinals but was poor in Germany in 2006 and was a surprise selection to last year's World Cup roster, seeing just 10 minutes of action, in the group-stage victory over Algeria.

If Beasley signs with MLS and Chivas declines his services, Philadelphia would have next call, followed by Houston, Toronto FC and Chicago.
December, 26, 2010
12/26/10
7:23
PM PT
By
Scott French
| ESPNLosAngeles.com
Our countdown of 2010's top 10 soccer stories and newsmakers -- from a Southern California slant -- continues.
Newsmakers/No. 6: Kevin Hartman and Amy Rodriguez
One was a veteran goalkeeper dumped by the club he'd served admirably for three seasons. The other was a promising young striker who hadn't lived up to the acclaim and expectations.
Both delivered breakthrough campaigns in 2010.
Kevin Hartman
(Palos Verdes/Peninsula HS and UCLA) had the finest year of his career -- the finest year any Major League Soccer netminder has posted -- to lead FC Dallas to its first MLS Cup title game.
Amy Rodriguez
(Lake Forest/Santa Margarita Catholic HS and USC) asserted herself as one of the best forwards in the women's game, leading the expansion Philadelphia Independence to Women's Professional Soccer's championship game and making a real impact for the U.S. women's national team.