Los Angeles Soccer:

Dani Bosio
July, 22, 2011
7/22/11
11:21
PM PT
By
Scott French
| ESPNLosAngeles.com
It's not Women's Professional Soccer, but it is pro women's soccer, and that's a start -- for the Orange County Waves and a good number of their players. Where it leads is paramount: No less than the future of the women's game in America is at stake.
That's the starting point for the Waves, the most direct descendent of the great but short-lived L.A. Sol and a club that aspires to provide a foundation for the Westward expansion of WPS -- in whatever form that might take -- as the third-year league plots for the uncertainty ahead.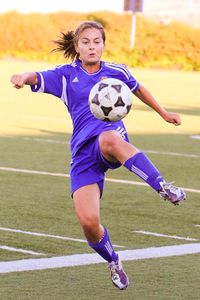 Manny Romero/OC WavesBrittany Klein of Arcadia is one of five players on the OC Waves who have WPS experience.
How that will play out is a mystery, but the Waves plan to be involved, and they've spent the last few months building a worthy résumé in the Women's Premier Soccer League, one of two national semipro/amateur women's leagues playing in the WPS's shadow.

Led by former Sol head coach Abner Rogers, the Waves have made it a point to proceed as professionals in every way -- and yes, everyone except a quintet with college eligibility is paid. It's made an impact on the field.

The Waves (11-1-2) won the WPSL's Pacific-South Division and this weekend is in the Bay Area, at Dublin High School, for the Pacific Conference finals. They take on Marin County's North Bay FC Wave (9-1-4) in a semifinal Saturday -- San Diego SeaLions (11-2-1) and Bay Area Breeze (9-2-3) play in the other semi -- and Sunday's winner heads to next week's WPSL final four in Lisle, Ill.

Rogers bids for the championship with a squad featuring five players with WPS experience (Mission Viejo's Kiki Bosio, Kristina Larsen and Jenny Anderson-Hammond, Arcadia's Brittany Klein and Czech-born midfielder Vendula Strnadova) and another selected in this year's WPS draft (Buena Park's Tanya Taylor, from UC Irvine). Larsen is sidelined because of a broken collar bone after scoring four goals in her first five games.

NOT WPS: The performances have been good, but let's be clear. The range of competition in the WPSL varies greatly, and only the Breeze and SeaLions have given the Waves much of a game. The playoffs will be much tougher: The Chicago Red Stars, one of four clubs shed through WPS's first two seasons, has already qualified for (and will play host to) the league's final weekend. The New York Fury, a virtual WPS side affiliated with the Philadelphia Independence, failed to get through the Eastern Conference bracket.

"The level of play is definitely lower than WPS," said Klein, a central midfielder who played for the Red Stars in 2009 and the Washington Freedom last season but chose not to pursue a WPS roster spot this year. "We still have some girls that are WPS level. So although our competition for the most part is definitely notches down, we try to still maintain a high level."

Says Rogers: "Oh, it's a drop. It's definitely a drop" from WPS to WPSL. "You don't have five or six foreign players. Those players make a big difference. They raise the level of competition in every training session. Everyone knows Marta, but to have [former Sol stars] Aya [Miyama] and Camille [Abily] ... that's what makes the difference."