Los Angeles Soccer:

Daniel Steres
June, 12, 2012
6/12/12
8:48
PM PT
By
Scott French
| ESPNLosAngeles.com
IRVINE -- Daniel Steres was drafted by Chivas USA, spent a month in camp with the Seattle Sounders, and has been a force -- in the back or anchoring the midfield -- as the Ventura County Fusion have turned the Premier Development League's Southwest Division into their own playground.

Now he's back with the Sounders, taking the next step in his journey to being a full-fledged professional.

Steres (Calabasas/Calabasas HS), who starred at San Diego State, was taken by Seattle in last week's college-waiver draft and headed over the weekend to Washington.

"We're getting the contract [sorted out], and then working my way up to get a starting role, obviously," Steres told ESPN Los Angeles after the Fusion's 2-1 victory Friday evening over Orange County Blue Star. "Sounds like they're excited to have me come in. I'm excited to go in."

Steres, probably a center back or right back in MLS, lost out in numbers games during preseason at Chivas and, after his release by the Goats, in Seattle. He's been superb for the Fusion, bolstering the backline next to Mickey Daly (Cal State L.A.) or Tim Pontius (Yorba Linda/Servite HS and UC Santa Barbara) or teaming with former Chivas USA/Portland Timbers midfielder Rodrigo Lopez (Santa Barbara/Santa Barbara HS) in central midfield.

The Fusion (6-1-1) are atop the Southwest Division after rallying for a 2-1 win against Blue Star at Concordia University. Travis Bowen (Van Nuys/Chatsworth HS), the older brother of Chivas USA forward Tristan Bowen, scored both goals -- his fourth and division-best fifth of the season -- with the winner coming in the 76th minute.

Ventura is one point ahead of FC Tucson, which visits the Fusion next weekend.

Pontius, the younger brother of D.C. United midfielder Chris Pontius, also is getting some MLS attention. The big center back, a Sounders draft pick, has been in camp the past week with the Galaxy. He says playing with the Fusion has helped prepare him.

"College is one thing," he said. "College prepares you for the next step. This is kind of the in-between phase between college and pros. You've got a lot of players here who can make the next step."

He said his time with Sounders in preseason was "spectacular."

"Unfortunately, it didn't work out for me, but at the end, I gained a lot of experience out of that opportunity," Pontius said. "Spots were tight there, so there's only so much you can do. You play your game, if it doesn't work out, it doesn't work out. You try the next one."

Elsewhere in minor-league soccer:


June, 9, 2012
6/09/12
12:04
AM PT
By
Scott French
| ESPNLosAngeles.com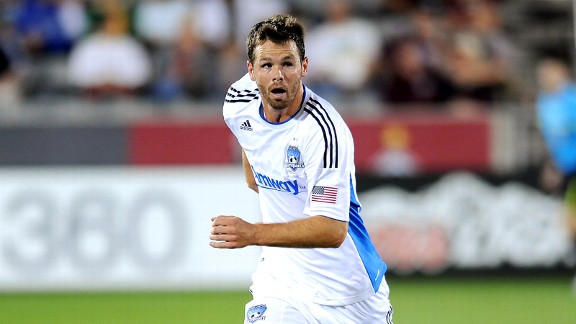 Ron Chenoy/US PresswireBobby Burling hopes to hook on with Chivas USA after a contract dispute with Montreal.

CARSON -- Bobby Burling is "just kind of doing the MLS tour," spending a week or so with Colorado and now with Chivas USA, hoping a backline job will come his way.
He needs things to clear up north of the border first.
The 27-year-old center back, a 2007 Galaxy draft pick who spent all or parts of three seasons with Chivas USA, joined fellow trialist
Scott Morrison
on the Goats' backline for Friday's MLS Reserve League game against the San Jose Earthquakes at Home Depot Center.
Burling, a Coloradan who starred at Loyola Marymount University, has been in camp with Chivas since last week. His rights are owned by the Montreal Impact, which took him from San Jose in November's MLS Expansion Draft, but he has no future in Quebec.
"It's been a frustrating five or six months, to say the least ...," Burling said after going the full 90 minutes in Chivas' 3-1 victory. "The situation with Montreal has been kind of a dead end, and for whatever reason it's taken longer than I would of definitely liked for something to happen."
Burling was unable to reach a deal with the Impact, and he's been unable to secure his release so he could join another MLS club. If a team wants him, it likely would have to make a trade for his rights.
"Long story short, a bit of a contract dispute," he said. "He said/she said what I was going to get when I came up there, and basically things went backwards from there, and now here we stand.
"It's frustrating. I was really looking forward to going there, and now it's all kind of up in the air."
May, 28, 2012
5/28/12
5:32
PM PT
By
Scott French
| ESPNLosAngeles.com
As much as the Ventura County Fusion want to beat Chivas USA in their U.S. Open Cup clash, impressing their guest might be more important.
A berth in the fourth round of America's oldest soccer competition, possibly against the Galaxy, awaits the winner of Tuesday night's showdown at Ventura College, but the Fusion's stars are looking for something more.
A strong showing against Major League Soccer competition could mean opportunities to play in the top league, perhaps for Chivas, and the Fusion's top players -- many of them with pro experience -- are looking to show what they can do.
"Not just for me, but for all the guys playing PDL,"
Rodrigo Lopez
, the former Chivas/Portland Timbers midfielder who runs the Fusion's attack, told ESPN Los Angeles after Ventura's second-round upset last week over the L.A. Blues. "I think in our situation, it's a good opportunity to show something and to get looked at. Not just to win and keep going -- that's our main goal -- but a lot of guys, that's the way to the main teams, to the MLS teams."
Lopez (Santa Barbara/Santa Barbara HS) has the most extensive MLS experience among the Fusion -- he spent two seasons with the Goats, was with Portland last year and in March played for Chivas in a reserve friendly-- but it's a roster filled with prospects.
Holding midfielder
Daniel Steres
(Calabasas/Calabasas HS), a supplemental draft pick, and winger
Kennedy Chongo
(Biola University) spent preseason with the Goats. Center back
Tim Pontius
(Yorba Linda/Servite HS and UC Santa Barbara) was a Seattle Sounders draft pick; his older brother,
Chris
, is a D.C. United star.
Travis Bowen
(Van Nuys/Chatsworth HS), Chivas forward
Tristan Bowen
's older brother, has been pursuing the pro game around the world. He's coming off a hat trick in the Fusion's Premier Development League victory Saturday over La Mirada's Southern California Seahorses.
"He deserves it more than anybody ...," said Tristan Bowen, who can't play in the game -- his loan deal to Belgium doesn't officially end until the summer transfer window opens June 27 -- but will be there to watch. "The only reason I started playing was because of him. He wandered off after school one day into a playground, and he was playing soccer, and it just kind of stuck. I wasn't very good. He was always better than me, but sometime around 12 or 13 I started scoring a lot of goals."
Travis, 22, is "talking a little bit already" about the game, but Tristan, 21, has so far declined to respond. "I don't want him to do bad," Tristan said, "but I'm in a weird position, you know? ... That would be nice if it's like a 4-3 game where Chivas wins and Travis scores another hat trick. That's an ideal world."
The Fusion went unbeaten against MLS clubs during preseason, with a 1-0 win over Chivas and scoreless draws with Houston and Chicago.
May, 22, 2012
5/22/12
10:45
PM PT
By
Scott French
| ESPNLosAngeles.com
FULLERTON -- Might there be no better soccer team in the country from the 91st minute on than the Ventura County Fusion?

After scoring four goals in overtime to win their U.S. Open Cup opener last week over the Fullerton Rangers, the Premier Development League powerhouse netted two on Tuesday, dispensing with the L.A. Blues in a second-round clash.

Francisco Lopez scored his second goal of the game in the 107th minute -- 17 minutes into the extra period -- and Travis Bowen, Chivas USA forward Tristan Bowen's brother, added another with four minutes to go, and the Fusion stunned the USL Pro club, 3-1, before a sparse crowd at Fullerton College's Sherbeck Field.

Their reward: a third-round showdown next Tuesday night against Chivas USA at Ventura College, pending expected U.S. Soccer approval of the site.

Francisco Lopez converted an extremely iffy penalty kick to force overtime, and UCLA goalkeeper Earl Edwards made a save on Allan Russell's penalty kick for a Blues win in the 85th minute, but there was no doubt which side was more deserving.

With Rodrigo Lopez, a former Chivas USA and the Portland Timbers midfield, running the field, the Fusion absorbed heavy early pressure, gave up an own goal after just 13 minutes, and spent the rest of the game outbattling the Blues all over the field.

"And now we have a home game against Chivas, which we really relish," said Fusion head coach Ole Mikkelsen, who watched the final 23 minutes of overtime from just outside Ventura County's locker room after he was sent off for angrily protesting a call. "I have to say, I thought we were [the better team]. We came out slow, which is to be expected: They're a pro team, they play together every day, they're more comfortable with each other.

"Unfortunately, a miscommunication led to that own goal -- those things happen. It could have buried us, but we kept battling, we added some rhythm, and as soon as we got that first goal, I knew that we were in it, and I knew we had a chance to take it from them."


May, 15, 2012
5/15/12
11:51
PM PT
By
Scott French
| ESPNLosAngeles.com
SANTA ANA --It looked as if it might be easy going for the Ventura County Fusion in their U.S. Open Cup opener Tuesday night after Michael Roman and Francisco Lopez provided a two-goal lead after just 22 minutes.

It was, at the finish, but getting there was anything but simple.

The Fusion scored four goals in overtime to dismiss the Fullerton Rangers, 6-2, at Santa Ana Stadium and advance to a second-round rematch with the L.A. Blues next week in Norco. The Galaxy and Chivas USA will enter the competition, in its 99th year, in the third round the following week.

It was tougher than it should have been, especially after Roman (Oxnard/Rio Mesa HS and UCLA), who stepped on the field without a practice after arriving from spring training at the University of Louisville, finished a feed from Biola University alum Kennedy Chongo in the 17th minute, and Lopez scored from Chris Tsonis' cutback five minutes later.

Fullerton, from the National Premier Soccer League, rallied to tie the score in the first 23 minutes of the second half -- netting the equalizer while down to 10 men -- but couldn't stay with the 2009 Premier Development League champion for the extra 30 minutes.

"Unfortunately, we make things harder on ourselves than they need to be," Fusion coach Ole Mikkelsen said. "We had a comfortable 2-nil lead at halftime. If we get the next goal, for all intents and purposes, we can play the game out. But we made two silly mistakes, let them back in the game. ... Clearly, you could see in the overtime period we had the gas and they didn't have the gas."

Fullerton dominated the start of the second half, even after Sean Toth (Fullerton College/Hope International) was dismissed with his second yellow card in the 63rd minute. By then it was 2-1 -- former Chivas USA/New York Red Bulls forward David Arvizu (Santa Ana/Foothill HS) scored in the 55th minute -- and Cuban striker Eder Roldan netted the equalizer five minutes later with a gorgeous chip into the far-post netting.

It was all Fusion the rest of the way, but they didn't get the winner until the third minute of overtime, a Lopez penalty kick after Leobardo Alvarez, who trialed with New York during MLS's preseason, fouled Chongo, who trialed with Chivas USA.


February, 17, 2012
2/17/12
9:35
PM PT
By
Scott French
| ESPNLosAngeles.com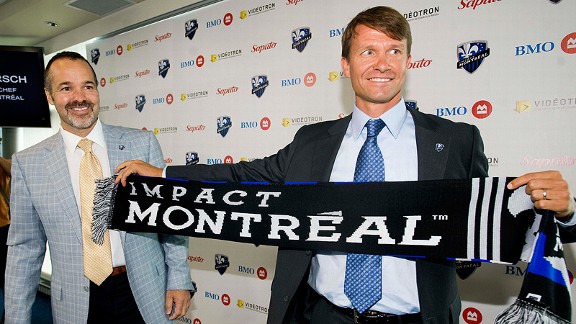 AP Photo/The Canadian Press, Graham HughesNew Montreal coach Jesse Marsch, right, says despite having to trade Brian Ching he felt the veteran forward served an important purpose for his team.

CARSON -- The expansion Montreal Impact got a lot of work done in a nearly two-week stay at Home Depot Center, a good deal of it away from the field.

They finished this swing of their preseason camp Friday with 90-minute games against UCLA (a 0-0 draw) and Ventura County Fusion (a 3-1 victory), but what's been going on off the field has been far more interesting.

The Impact on Thursday traded veteran striker Brian Ching back to the Houston Impact for a conditional first-round selection in next year's SuperDraft. They topped that Friday, shortly after their games on one of Home Depot Center's training fields, by taking former U.S. national team forward Eddie Johnson through the league's allocation dispersal process, then trading him to Seattle for top young attackers Mike Fucito and Lamar Neagle.

It wrapped a wild week that started with Montreal's announcement that Ching, who played last week at HDC against his former Houston teammates, had departed camp for "personal reasons." Turned out he was in Houston negotiating a new deal, one that would significantly trim his salary -- he'll make $250,000 rather than $450,000, The Houston Chronicle reported -- but allow him an expected final season with the club he's identified with as they open a long-awaited stadium.

"This is where I want to be, where I want to retire ...," Ching told The Chronicle. "I know how old I am, and I've been around the league long enough to know my value. I have no problem. I just want this team to be successful, and I'll do what it takes. If that means less money, that means less money. Me taking less money allows me to be here where I want to be, allows me to open up a stadium that I've always dreamed of doing. That's rewarding enough for me."

Ching, 33, considered retirement after Montreal surprisingly took him in November's expansion draft. Trade talks between the Dynamo and Montreal began almost immediately, and the Hawaii-born forward reported to the Impact's camp last month and last week said the idea of playing for Canada's third Major League Soccer franchise was "definitely growing on me. Obviously, it was a very emotional time when it all happened. But I've been with the team for about a month now and enjoy playing with the guys, enjoy the project of trying to build a competitive team here."

Impact coach Jesse Marsch was asked if the Impact had received enough in the trade with Houston.

"I don't think it went the way we all thought it was going to go, whether he was going to stay or go. But in the end, it was just so difficult," the former Chivas USA captain told ESPN Los Angeles. "He committed himself wholly, professionally to being here, but you also could see that his mind was still in Houston.


February, 11, 2012
2/11/12
6:53
PM PT
By
Scott French
| ESPNLosAngeles.com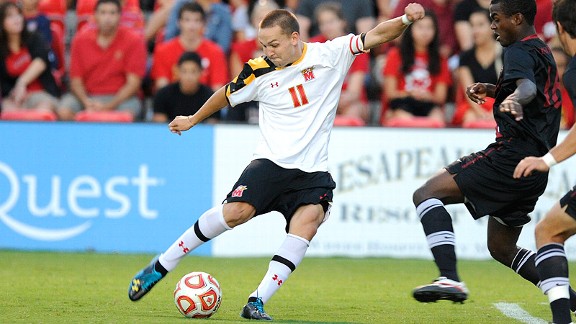 Courtesy of Maryland Athletic Media RelationsCasey Townsend, who scored 17 goals for Maryland last season, got his first game action for Chivas USA this preseason.

OXNARD -- Chivas USA has great hopes for rookie forward Casey Townsend, a forceful finisher who will be expected, at the very least, to provide cover for Juan Pablo Angel this year.

Townsend, an All-American after scoring 17 goals last fall at the University of Maryland, on Saturday finally got his first game action of preseason, playing the final half-hour of a 1-0 loss to the Chicago Fire at Oxnard College.

Townsend, who has been hampered almost from the start of camp by a hamstring strain and missed the Goats' first three preseason encounters, gave a spirited performance, then said he was happy, to a point.

"It felt good to finally be out there in a game," he said. "It was obviously a little bit of a frustrating performance overall in the second half by our team, but I felt that being back out there was fun to go out there and kick it around for a while."

Chivas' starting group, which included Laurent Courtois on one flank and trialist Cesar Rivera at forward, played very well and was unfortunate not to find the net. Chicago was better in the second half and got the only goal it needed from former Cal State Northridge midfielder Daniel Paladini four minutes into the second half.

Townsend never came close to scoring, but he was energetic and worked hard to connect with his fellow attackers, but just getting onto the field was an encouraging first step.

Townsend, who scored 43 goals in four seasons at Maryland, was the No. 5 overall pick in last month's MLS SuperDraft, but he was hurt at the end of his first week in camp -- overextending while playing in a pick-up game at the end of a training session -- and he's mostly been rehabbing the injury since.

"It's obviously frustrating when you get injured," he said. "Luckily, it was in the preseason, and I'm able to get over that hurdle so far. It's healed well, and it's progressed well."


February, 10, 2012
2/10/12
10:58
PM PT
By
Scott French
| ESPNLosAngeles.com
CARSON -- Irving Garcia's trial with the L.A. Blues was in its first hour, and the Fullerton-based USL Pro club really wasn't looking for an attacking midfielder. But in just 45 minutes Friday afternoon, the former UC Irvine star changed everything.

The skilled Garcia, who spent a year in Guatemala after a frustrating rookie campaign in 2010 with the New York Red Bulls, was the biggest winner in the Blues' 0-0 draw with the Montreal Impact on one of the training fields east of Home Depot Center's main stadium.

The single half followed a full 90 minutes for the Impact against the Portland Timbers, also a scoreless draw, that was played on the field adjacent to the field on which the Galaxy and Houston Dynamo were facing off.

The Blues, preparing for their second season in America's third-division league, were making their second appearance against MLS opposition this winter, and this one -- added to the schedule Thursday -- was a lot better than last week's 7-2 loss to the Galaxy.

"So happy we got to play this match after last week," said Blues head coach Charlie Naimo. "You know that whole you're-only-as-good-as-your-last-game thing? And when you have that as your last game and there's not another game close? It was a blessing in disguise that [Impact coach] Jesse [Marsch]'s group called us to give their group a run. Helps us put things back in better perspective."

Naimo used a blend of contracted players and trialists, and there were several interesting players -- Korean signings Cho Suhyung and Park Jonghoon, former Pittsburgh forward Matt Fondy and former Cal State Fullerton midfielder Kevin Venegas, just released from Chivas USA's camp, among them -- on display, but Garcia's imprint was most substantial.

"Oh, he was special," Naimo said. "Kind of reminded me of [last year's Blues phenom Cesar] Rivera a little bit, but on both sides of the ball. Good workrate, a guy that's going to make guys around him better. There's a strong interest [we have] in him."


January, 17, 2012
1/17/12
3:30
PM PT
By
Scott French
| ESPNLosAngeles.com
Chivas USA focused on defense in Thursday's MLS Supplemental Draft, grabbing an outside back with its first pick, then adding central defenders -- one a local kid, the other from Germany -- in the second round.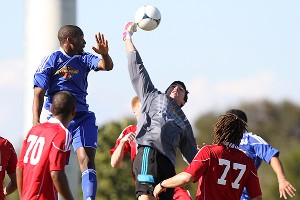 Courtesy of Major League SoccerUCLA goalkeeper Brian Rowe clears his goalmouth under pressure at MLS's pre-draft combine.
The Goats, all five of their selections in the first two rounds, also took UCLA goalkeeper Brian Rowe, who was in the MLS combine, and Cal State Fullerton midfielder Kevin Venegas (Lakewood/Los Alamitos HS), who attended a Chivas combine last weekend.

Chivas used its first pick, fifth overall, on Monmouth right back R.J. Allen, a two-time All-American who attended the league's pre-draft combine and was on Chivas' list of possibles for last week's SuperDraft.

San Diego State's Daniel Steres (Calabasas/Calabasas HS) was expected to be drafted, and the other center back, 6-foot-3 Fabian Kling from NCAA Division II champion Fort Lewis, is among the most intriguing picks of the draft season.

"[Kling is] a guy, we got an email, a recommendation from someone," Chivas general manager Jose Domene said. "He's a big dude. A big fella. An international player, from Germany."

He's from Augsburg and is a two-time D2 All-American and the division's player of the year last season, but more compelling are his numbers: 28 goals, half of them game-winners, in four seasons. That suggests he's a force on set pieces, a quality Chivas could use at both ends.

Allen, Domene said, was "on our board last week, but we didn't have a second-round pick -- not that we would have [necessarily] picked him. He's a guy we valued high, and we're lucky he fell to us."

Rowe, a second-team All-American from Eugene, Ore., shut out 12 foes as the Bruins marched to the NCAA Final Four. He's one of five goalkeepers in camp battling for two jobs backing up Dan Kennedy.


January, 11, 2012
1/11/12
7:33
PM PT
By
Scott French
| ESPNLosAngeles.com
Chandler Hoffman and Kelyn Rowe aren't going to last very long once the MLS SuperDraft begins Thursday morning, and Luis Silva, Sam Garza, Miguel Ibarra and Andy Rose figure to be nabbed soon after.

They're the big names, but hardly the only ones, among local players aiming for an opportunity with a Major League Soccer team. There are nearly two dozen players who grew up or went to school in Greater Los Angeles hoping to hear their names called in Kansas City.

Some of them, let's be honest, don't have a shot, not with just two rounds of picks -- 38 in all. Next week's supplemental draft will provide possibilities, and players will be looking to participate in team combines and in trials during preseason training.

Some might look abroad -- there are leagues everywhere on the planet -- and there are two professional minor leagues (NASL, USL Pro) and several pro clubs in the Premier Development League and its rival NPSL.

Here's a quick rundown of 22 players who might find a job in MLS, if the right situation develops:


June, 30, 2011
6/30/11
7:40
PM PT
By
Scott French
| ESPNLosAngeles.com
Jochem Graf, meet Mike Magee.

Much has been made of Magee's heroic performance in the nets for the Galaxy last weekend, when he stepped into an unfamiliar role after starting goalkeeper Donovan Ricketts went down because of a broken arm and backup Josh Saunders was red-carded, then shut out the San Jose Earthquakes for 47-plus minutes.

Magee was honored as Major League Soccer's Player of the Week, then scored the winner in the Galaxy's U.S. Open Cup third-round victory Tuesday over the L.A. Blues.

Graf, a forward for the Ventura County Fusion, has a similar tale.

The 21-year-old Texan, heading into his junior year at Bradley University, volunteered to put on the gloves when Fusion goalkeeper Sam Hayden was injured 20 minutes into the Fusion's game nine days ago at BYU.

Like Magee, he'd never played the position. Like Magee, he turned in a stellar performance, conceding just once as V.C. pulled out a 2-1 triumph -- on Daniel Steres' 90th-minute goal -- in Premier Development League action.

Two days later, Graf got his first start for the Fusion, scoring twice in the first half-hour in a 4-1 romp at Ogden that improved their record to 8-0-4 and provided a four-point lead on Fresno Fuego (7-0-3) in a tight Southwest Division race.

Orange County Blue Star forward Fernando Monge, from UCLA, joined Graf on the PDL Team of the Week after scoring twice in a 4-1 victory over the Southern California Seahorses.